We follow the same, diligent VPN review process for every service we test and research. This helps keep our comparisons fair and our opinions data-driven. As a result, we will only ever recommend VPNs that successfully pass our testing criteria.
Our principles
For each VPN review, we stick to three basic, but important principles.
Stay completely impartial and independent
Follow our strict VPN review process
Test rigorously and question more
Our goal at BestVPNz.com is simple – to provide you with unbiased reviews and to help you find the best VPN service for your needs.
Independent and 100% unbiased
When buying a VPN, or making any online purchase, your final decision relies mostly on trust.
Sadly, many review sites abuse this trust by shilling for certain services, usually in return for bigger payouts and higher affiliate commissions.
While we don't hide that affiliate links help keep our site running and stay ad-free, we can guarantee that we never accept payments or any other incentives in exchange for preferential reviews, recommendations or higher editorial scores.
---
Our VPN Review Process at BestVPNz.com
We believe having a consistent VPN review process is best and only way to judge a service and its quality.
Hence why we always follow this methodology when reviewing the pros and cons of a VPN provider.
1. We find a VPN
First of all, we find a VPN service to review.
Our research begins almost immediately as we browse the provider's website to see what services it offers.
We check which features are included and how much they cost.
We also look out for any 'bold' claims that the company makes about itself or its product, paying particular attention to statements on the main promotional landing pages.
It's important that these claims match with the fine print from the VPN provider's privacy policy and T&Cs.
We're tend to flag classic marketing terminology like:
– Zero-logs VPN (but it turns out they keep connection logs)

– Completely anonymous (yet they once handed over user data to the authorities)

– Fast speeds (but not really)

– 100+ server locations (many of which turn out to be just virtual nodes)

– 24/7 support (but live chat doesn't work at nighttime)
---
2. We get familiar with the company behind the VPN
With VPNs, you're essentially entrusting your personal online data to a private – or sometimes public – business entity.
Therefore, we will always run a background check on the company behind the VPN. We typically try to answer questions like:
Who owns the VPN service?
Has ownership ever changed hands? If so, why?
Does the parent company own other VPNs or even VPN review sites?
Where is the company registered and where does it operate out of?
Is its legal jurisdiction good for privacy, e.g., are there active data retention laws in that country?
Does the provider have a good privacy track record?
Has it ever handed over its users' data to the police or any other third parties (e.g., advertisers)?
If it was subject to a legal investigation, did the outcome prove the provider doesn't keep logs?
By all means, this is not an exhaustive list, but you get the idea.
Getting answers to these questions helps us understand what sort of company we (and potentially you) will be dealing with. And this is critical for privacy.
We'll also check various forums to see what other users have been saying about that VPN.
This usually helps paint a clearer picture of what sort of experience you can expect as a customer.
---
3. We test the VPN (for a month)
The next step in our VPN review process is to check under the hood of the product. There are a few technical things we have to test and look out for.
Apps and features – is the VPN easy to use?
VPN is a versatile technology, and can be used in several, different ways across a wide range of devices and platforms.
Nowadays, setting up a VPN is easier than ever as most services come with their own, out-of-the-box clients for popular operating systems like PC, Mac, Android, iOS, etc.
We install and test apps – normally on PC and Android – to see if they're intuitive, easy to use and reliable.
Sometimes, when there's no app available, we will manually configure the service using the built-in VPN clients on our device's operating systems.
To get a sense of how a VPN really works, we use the service continuously, on multiple devices for one month
Once we have the connections up and running, we run these tests to make sure the service works as intended:
IP leak test (IPv4 / IPv6 / DNS / WebRTC)
We run several IP leak checks using either ipleak.net or dnsleaktest.com.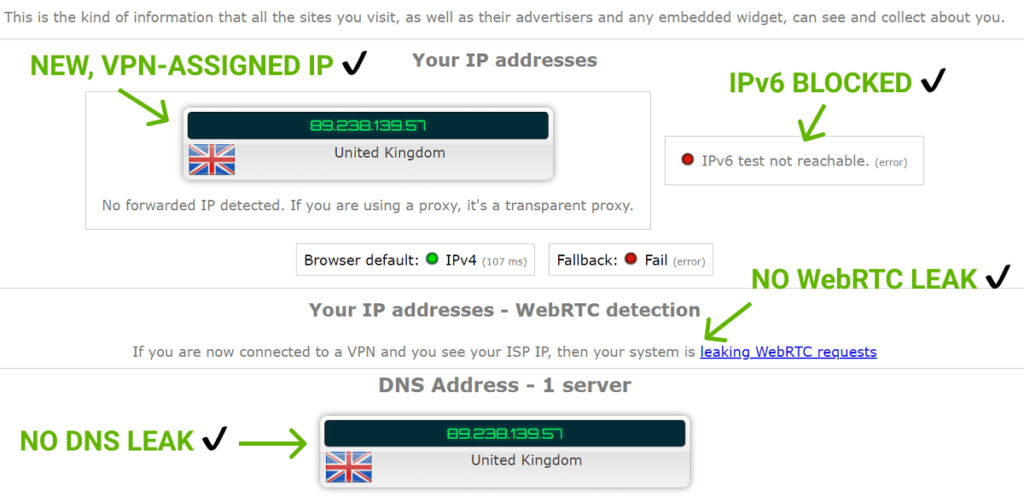 If any of the tests reveal our original IP address or pick up on DNS, WebRTC or IPv6 leaks, it means the VPN's security has critical flaws and the service should be avoided.
Bypassing geo-restrictions for streaming
We check if the VPN can unblock regional sites and streaming services like Netflix or BBC iPlayer.
Netflix in particular is known to actively blacklist VPN and proxy IPs, which is why not all VPNs will work with the popular streaming service.
Our test will show if the VPN, proxy or Smart DNS in question can successfully unblock international Netflix libraries.
Changing the torrent IP
We check if the VPN is safe for torrenting, and we do this by running a torrent IP test.
The Torrent Address Detection test on ipleak.net helps us validate if our BitTorrent client – qBittorrent – is still leaking our IP address even when the VPN is on.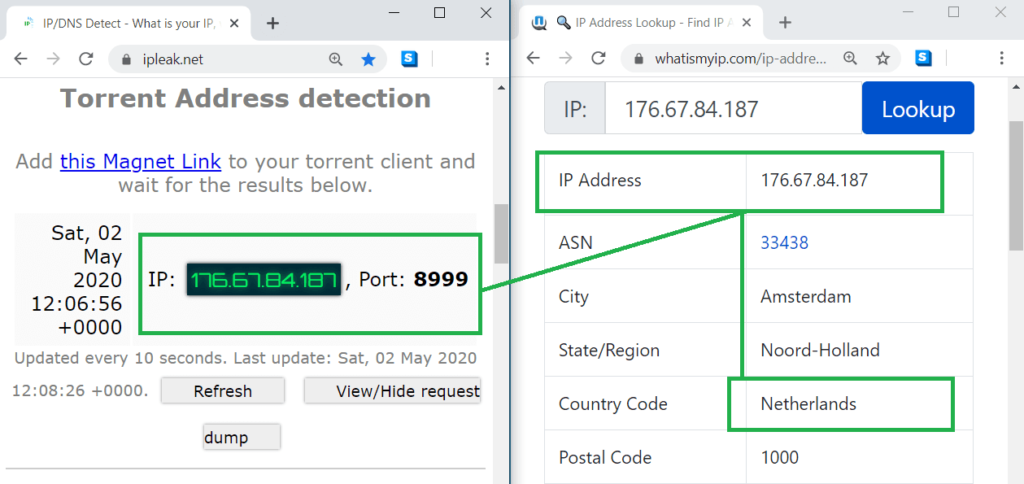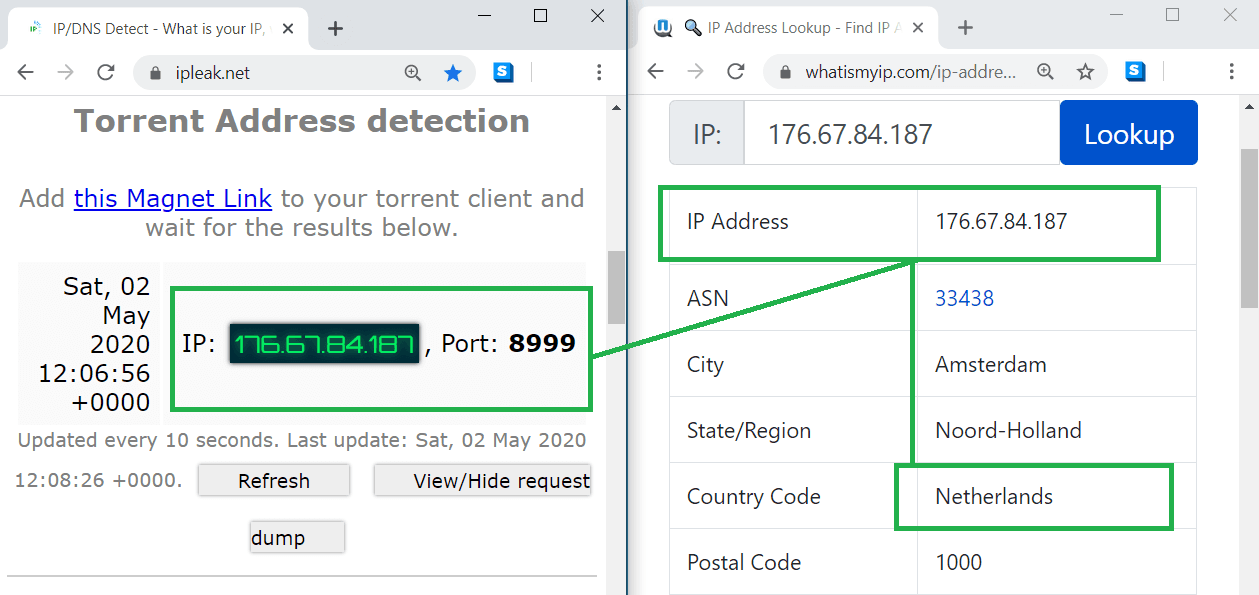 Are we able to connect to all servers?
It's not always realistic to test every single VPN server, especially when reviewing VPNs with a large network.
However, we still try to connect to as many random locations as we can.
Sometimes, we'll find certain VPN locations are not working. Meaning we can't connect to them.
If this happens, we'll mention it, as this will affect our final score for the VPN.
Is the connection reliable?
Unstable VPN connections are one of our biggest pet peeves.
Sure, the VPN might have awesome security features, strong encryption and good speeds. But all these bragging rights go down the drain and turn into frustration when the VPN connection frequently drops.
Is there a kill switch and does it work?
Most VPN apps today come with a security feature called the 'kill switch'.
The kill switch essentially blocks all internet traffic on your device should the VPN disconnect for some reason.
As we test the VPN for the duration of a month, we keep this feature turned on, monitoring the kill switch if and when our connection suddenly drops.
Speed test
Speed tests are a big part of our review.
A good VPN should deliver the shortest ping responses and the fastest download/upload speeds – close to that of your baseline internet connection.
Additionally, the tests are a telling sign if the VPN offers a quality service using top-of-the-range server infrastructure.
Our speed testing criteria
We choose six server locations to test, typically in these geographic regions:

Western Europe – UK, Netherlands, Germany, Belgium or Switzerland,
North America – US East Coast, US West Coast, Canada,
Asia – Hong Kong, Singapore, United Arab Emirates,
Pacific – Australia.

We test each of the six locations once a day, for 7 days
Normally, we test speeds on speedtest.net
We log the results in a spreadsheet, and calculate average speeds as well the drop-off rates against our baseline speed of 500 Mb/s
We factor in geographic distances and their unavoidable role in speed drop-offs when using a VPN.

To get a fair comparison between different VPNs, we always test with more or less the same locations.
---
4. We reach out to Customer Support
Some VPNs offer 24/7 live chat support, while other services are limited to email ticketing systems.
As a rule, we'll get in touch with the provider's support team to check how quick they are to respond and how helpful their advice is in resolving our query.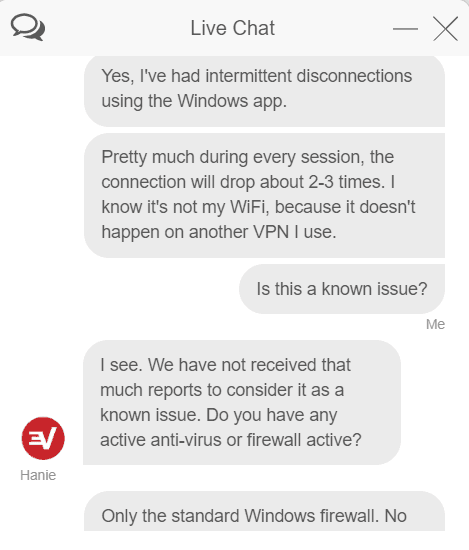 We'll also take into account if the provider offers phone support. Even better if it has helpful resources like an online knowledge base or user forums.
---
5. We evaluate the price and refunds policy
If you're completely new to VPNs, it might not be so easy to know right away if you're getting a good deal or being ripped off.
VPN companies are known to hide the real amount you'd be paying for a subscription until you're already at the checkout. This is done so potential buyers first see the lowest possible monthly price – usually on the 1+ year plans.

This is why we usually spend plenty of time breaking down a VPN's pricing model.
What we really want to get to the bottom of are answers to questions that all shoppers like yourself would be asking.
Here are some examples:
Is the price advertised clearly and accurately?
How does the price compare against other VPNs on the market?
Does it offer meaningful discounts for longer subscriptions?
Are there any deals or coupon codes available?
Does it offer a free trial?
What payment methods does it accept?
Does it offer refunds or a money-back guarantee?
But the biggest question of all for us is – 'is it good value for money?'.
If our research and testing helps you decide on that with confidence, then we've done our job.
6. How we rank VPNs
When we're finished with all of the research and testing, it's time for us to decide if we can recommend that VPN to others, or not.
We give the VPN provider our score (out of ten). This score will ultimately determine how we rank VPN services.
To make sure our score is fair and balanced, we first score the provider in each of these areas:
Criteria
Score weight
Score (example)
Price
15%
8
Speed
25%
9
Privacy
30%
5
Apps & features
20%
7
Customer Support
10%
10
Average score (weighted and rounded)
7
As you can see in the example, the final, average score for this particular VPN would be an 7 / 10.
This isn't necessarily a bad score. But it could be better as it's mainly poor attention to privacy that had let this (hypothetical) VPN service down.
Note: For the final score, we use a weighted average – not a normal average.
We do this to allow priority for criteria like 'privacy', which we feel is more critical compared to some of the other product areas.
---
In conclusion
And that's how we review and rate VPNs.
We hope you find our VPN review process to be fair and balanced.
More than anything, we hope it helps you get all the insights to decide on the right VPN.
Let us know your feedback if you think there are things we can improve.
Ready to find your ideal VPN?
Now that you know all about our VPN review process, it's time to help you find the right VPN specific to your needs.
A good place to start is by browsing our VPN reviews. New reviews are added regularly.
Send us your VPN reviews
Although we are everyday VPN users ourselves, we know very well it's not always enough to catch every tiny detail about a service.
People use VPNs in many different ways and across all kinds of locations. This often plays a big role in being able to find out which features work well and which ones perform poorly.
This is where you can help us.
Tell us about your experience with a VPN service, and we'll publish your review on BestVPNz.com.