The republic of Turkey straddles eastern Europe and western Asia and is home to almost 78 million people. According to Internet World Stats, there were just over 46 million online users with internet penetration at 60% for the end of 2014. As of November 2015, there were 41 million Facebook users, which is roughly 53% of the population.
The use of VPNs among Turkish citizens has risen in popularity in line with encroaching censorship, since strong encryption and IP-masking technology allows individuals not only to protect their privacy, but also to unblock social media platforms and numerous other online services and content that the Turkish state has blacklisted.
This guide will explain which VPN services are the best to use in Turkey (and for obtaining a Turkish IP), and will also look at some of the issues with internet censorship in the country that have risen in recent times.
---
Summary
---
Quick links
---
Data retention and cyber security
Current Turkish law stipulates that ISPs must retain data from online users for two years without judicial warrant. These logs must be disclosed to law enforcement agencies at request.
Back in 2012, the country's telecoms regulator, the Information Technologies and Communication Authority (ICTA), introduced rudimentary security requirements for data retention, as well as prohibiting the transfer of personal data internationally. This legislation came into force in 2013, but since then has seen repeated attacks from within government, particularly in relation to international data transfers, legislation on which has been ambiguous since the requirements were introduced.
In April 2015 the Turkish National Assembly amended article 51 of the current e-Privacy regulation, thus lifting the ban on the international transfer of personal data, providing the data subject's explicit consent is secured prior to transfer.

Online censorship
Censorship of media has a long history in Turkey, stretching beyond the foundation of the Turkish Republic in 1857, while the filtering of websites has become increasingly commonplace in the last eight years or so. At the time of writing, more than 30,000 websites are blocked, typically on the grounds that they cause offense, promote piracy, terrorism, abusive/criminal activities, or simply because the state considers the content to be inappropriate.
All internet traffic in the country is filtered through the former state-owned (now privatized) ISP Türk Telekom. According to the international censorship watchdog, Reporters Without Borders, Turkey is ranked 149th out of 180 countries in the 2015 Press Freedom Index.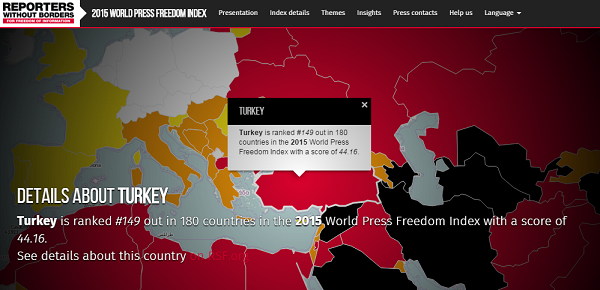 The first major case of online censorship came about in March 2007 when access to YouTube was restricted by Türk Telekom following a court ruling against the posting of a video insulting Mustafa Kemal Atatürk, the acclaimed "Father of the Turks" and first president of Turkey.
At the time, Turkish media reports referred to the video as part of a 'virtual war' of insults between Greek, Armenian, and Turkish YouTube users. The initial ban was lifted just three days later after YouTube confirmed that the video had been removed, though several staggered bans came into effect throughout 2008, and several more in 2010, after videos of an alleged similarly offensive nature were posted.
During the periods of restricted access, many YouTube users resorted to DNS and VPN services to circumvent bans, and according to Alexa Internet, a US based web traffic data compiler, YouTube was still the eighth most visited website in Turkey while the initial ban in 2007 was in place.
Censorship came into the spotlight again during 2013's widespread protests, which began initially in opposition to an urban development in Istanbul's large Taksim Gezi Park, and which later spread across the country in opposition to accusations of state censorship, heavy-handed police tactics and authoritarianism. In the wake of the protests, the Turkish prime minister, Recep Tayyip Erdoğan, called social media 'the worst menace to society.'
In March 2014, audio recordings posted anonymously on Twitter implicated Erdoğan in shady business dealings and alleged that he had interfered with court cases and media coverage, accusations which Erdoğan staunchly denies, arguing that they were contrived by his political rivals to tarnish his reputation in the run up to the national election. The recordings led to him banning the social media platform and threatening to ban YouTube and Facebook.
A few days after the ban, Erdoğan also blocked Google DNS and other DNS services, which were being used by Twitter users to overcome the ban, as well as blocking YouTube yet again. Many users worked around these restrictions using VPNs and Tor, though the ban was lifted several days later after an Ankara court ruled in favour of 'freedom of information and communication'.
Game enthusiasts in Turkey faced restricted access to the game Minecraft in March 2015 after the Family and Social Policies Ministry threatened to ban it on the grounds that it was too violent. In the following month, the government blocked YouTube, Facebook, and Twitter in response to a graphic photograph taken at a hostage siege, while Reddit was banned briefly in November for reasons still unclear.

Benefits of VPN
Despite strict data retention laws and active censorship of social platforms and other online content, those living in Turkey can overcome restrictions to privacy and online freedoms by using a VPN. Virtual Private Networks encrypt all of your online activities as well as allowing you to unblock geographically-restricted content. Along with other proxy tools, they have become increasingly popular in Turkey in recent years.
There are now many VPN providers from which to choose, including many with fast speeds and strong encryption. Healthy competition between providers means that there are many inexpensive monthly packages on offer, as well as an increasing number with servers in Turkey.

Best VPN providers
Below we've listed six of what we consider to be the best providers for use by those living in Turkey and for obtaining a Turkish IP address from outside of the country.
---
1. HideMyAss!
London-based Hide My Ass! (HMA) offer fast connection speeds, unique in-app features and a huge server range with 900 nodes in 210 countries. HMA does not store traffic logs, but does keep basic connection logs for a period of 2-3 months.
HMA's VPN service uses OpenVPN TCP encryption as standard though subscribers can also choose from OpenVPN UDP, PPTP and L2TP/IPSec protocols. At the time of writing there are eight server locations within Turkey.
HMA's desktop VPN app has pretty useful features, including a server speed guide, easy toggling for switching between servers and protocols and a load balancing tool, which recommends servers with low traffic. Apps are also available for iPhone/iPad and Android devices.
Anonymous payment methods include Bitcoin and WebMoney.
Pros:
Known for fast speeds and strong encryption
One of the largest server networks around
30 day money-back guarantee
Cons:
1 month subscription pricier than average
---
2. PureVPN
PureVPN is well-known, largely thanks to its fast speeds, strong encryption and a vast server network, covering more than 140 countries. The provider has its headquarters in Hong Kong, which is known for its lax data retention laws. It does not record any traffic logs, but does keep connection logs for 30 days.
The VPN uses AES or 256 SSL encryption with the following VPN protocols: OpenVPN, PPTP, SSTP, L2TP/IPsec and IKEv2. Currently, PureVPN has servers in Istanbul and Ankara, the two largest cities in Turkey.
One of the main advantages of PureVPN is that subscribers can connect on up to 5 devices at any one time. What's more, subscribers can convert any desktop or laptop running Windows to a 'virtual router', which enables 10 simultaneous connections.
Another benefit of using this provider is the provision of Smart DNS, which can be added to existing VPN plans.
PureVPN has dedicated apps for Windows, Mac, iOS and Android.
Payment plans last one month, six months, or a year, with the latter including Smart DNS for free. WebMoney and Bitcoin payment options are available.
Pros:
5 simultaneous log-ins as standard and 10 for Windows users
Huge server network
Smart DNS available
Hong Kong-based (lax data retention laws)
Cons:
Smart DNS not available without a VPN subscription
---
3. ExpressVPN

ExpressVPN is another of the large providers with nodes in 100 locations across 78 countries (including Turkey). The provider consistently ranks highly for the speed of its connections and is attractive to many because it runs operations out of the British Virgin Islands, which has lenient data retention laws.
VPN subscribers benefit from 256-bit SSL-secured encryption and can choose from the following protocols: OpenVPN (TCP, UDP), L2TP-IPsec, SSTP, and PPTP. The provider does not collect user traffic data or connection logs.
ExpressVPN applications are available for Windows, Mac, iOS and Android. The clients are fairly simple in terms of options, but do include a built-in ping-based server speed test.
Pros:
Fast speeds
Large server network
30-day money-back guarantee
Cons:
More expensive than average
---
4. ibVPN
Romania-based ibVPN boasts 100 servers in just under 40 countries. As well as its VPN service, the provider also offers Smart DNS (ibDNS), which unlocks over 280 geo-restricted TV and radio channels.
ibVPN's VPN service uses 256-bit encryption and supports the following protocols: Open VPN, PPTP, L2TP and SSTP. Traffic logs re not collected, but connection logs are retained for 7 days.
ibVPN applications have some useful features, including server toggling and easy access to ibVPN's support staff.
Anonymous payment options include Bitcoin, OKPay and LiteCoin.
Pros:
Wide server range
Inexpensive monthly subscriptions
Based in Romania (no data retention)
Free trial available
15-day money-back guarantee
Cons:
Only one connection allowed per account
---
5. VPNArea
VPNArea runs servers in 51 countries and despite being considerably less established than some providers, guarantees not to oversell its servers, which allows for a server to subscriber ratio of 3:1 (some of the larger providers have 15:1). Essentially this means faster speeds for subscribers.
VPNArea is based in Bulgaria, which allows for a full no logging policy, while servers and emails are hosted in Switzerland.
The VPN service uses up to 256-bit AES encryption and supports the following protocols: OpenVPN (UDP/TCP), L2TP and PPTP. At the time of writing there are two servers in Turkey.
VPNArea apps for Windows, Mac, Android and iOS include a speed test feature to help you find the fastest server for your location, and auto-update for easy configuration. The desktop version includes bonus features such as an internet killswitch, DNS leak and WebRTC IP leak protection.
Pros:
Large server range
Up to 3 simultaneous connections allowed
Among the cheaper providers
Based in Bulgaria (allows no logging)
7-day money-back guarantee
Cons:
Website has conflicting information on allowed active connections
---
6. VyprVPN
VyprVPN is operated by Texas-based Golden Frog, a company with proven expertise in data protection.
VyprVPN runs over 700 servers in more than 50 locations across the globe. 256-bit AES encryption is supported by the following protocols: OpenVPN, L2TP, PPTP and its own modified, OpenVPN-based protocol called Chameleon.
VyprVPN's has dedicated apps for Windows, Mac, iOS and Android. Its desktop clients feature options such as internet killswitch, assignment of untrusted Wi-Fi networks, built-in DNS re-rerouting and a good filtering system for its various server locations.
Traffic logs are not retained though connection logs are kept for up to 30 days.
Before signing up, users can access VyprVPN's free trial, which includes a 500Mb allowance.
Pros:
Large server network
Apps for all common platforms
Has anti-DPI protocol (Chameleon)
Free trial with a 500Mb monthly allowance
Cons:
Bitcoin not accepted
Only PPTP protocol available for the free trial
Connection logs kept for 1 month
---