Microsoft Windows operating systems dominate an impressive 90% of the desktop/laptop OS market share around the world. It is no wonder that many VPN users are looking for a Windows-compatible service.
We have reviewed many VPNs and created a short-list of the best VPN providers for Windows (including versions 7, 8 and Vista) and tossed in some tips on choosing a fast and reliable service. We even threw in a tutorial on manually configuring a VPN connection on Windows, and provided links to our detailed tutorials. If you are a Windows user looking for a VPN provider, read on.
---
Quick Links
---
Windows VPN protocols

There are quite a few VPN protocols available, each with its strengths and weaknesses. When it comes to Microsoft Windows, all products that have not reached their end of life, i.e. Vista, Win7, and Win8, have the following protocols built-in: PPTP, L2TP/IPsec, and SSTP. With Microsoft's dominance of the desktop and laptop market, almost all VPN protocols are supported via 3rd party applications. PPTP and SSTP were designed, at least in part, by Microsoft. However, PPTP is no longer considered secure and should not be used.
SSTP was designed by Microsoft as a replacement to PPTP and for the Windows user desiring a built-in protocol it is a good choice. However, SSTP is not as widely supported by VPN providers as other protocols are. So, you will need to find a provider with SSTP support.
L2TP/IPsec is a widely supported open protocol. However, one of the Snowden revelations is that the NSA deliberately compromised IPsec. This has not been proven, and IPsec is still generally considered secure, nevertheless it is still a concern. A further issue with L2TP/IPsec is that it is easy to block by restrictive corporations and governments.
OpenVPN is a widely supported open source protocol with open source and private application support on Windows. It is a flexible, secure, and efficient protocol. Although, as it is not built-in to Windows, it can be a little more difficult to install and set up. However, most providers offer their own Windows application to ease Windows setup for the use of their services. These custom applications often have other value-add features as well. Many of them are easier to install and set up than the built-in Windows protocols.
IKEv2 VPN protocol is built-in to Windows 7 and above. It is still a relatively new protocol and is not widely supported by providers. Yet, there is good reason to believe this may be the up and coming protocol. If you are a Windows user desiring a built-in protocol it could be worth your time finding a VPN provider that supports it.

VPN providers
Two critical factors in evaluating a VPN service are security and privacy. Which means looking at the company's privacy and logging policy as well as their technical prowess. In our list of top Windows providers we have done the homework for you. Some governments require companies to retain logs on their customers. We note the corporate hosting Nation State and any threats to your security and privacy in our lists. We have eliminated any providers that we ourselves would not be comfortable using.
Another deciding factor is unlimited bandwidth and all of the below providers offer just that, letting you stay connected to the VPN at all times. For this guide in particular, we've selected providers with easy-to-install, custom-built VPN clients that have a proven track record for being reliable as well as for having core and bonus features that will help the user enhance their privacy and browsing experience.
Lastly, we picked companies that have a wide selection of servers, meaning you can connect via any of the numerous countries or locations offered by your provider. Of course there are many other important service features to take into account prior to buying, such as available VPN protocols, torrent rules and pricing – all of which is covered in the providers summaries below.
---
VPN.AC
VPN.AC is based in Romania and is operated by Netsec Interactive Solutions, an IT security company founded in 2009. They do not log any users' web traffic.
They support Elliptic Curve Cyptography (ECC) utilizing the secp256k1 elliptic curve (the same as Bitcoin). P2P/torrents are allowed on approved VPN nodes. They offer a custom Windows client that easily allows the user to switch protocols, nodes, and ports, making it easier to bypass restrictive firewalls. Pricing is a modest $4.80 per month with an annual term.
Pros:
Strong encryption
Fast performance
Flexible in-app OpenVPN settings
No-log policy (based in Romania)
Torrents allowed on approved nodes
Designed and implemented by a real world IT security company
Cons:
2 TBs (2,000 GBs) bandwidth transfer per month. More available upon request, but this is so much data it is unlikely you will ever exceed it. That VPN.AC lists this in their TOS is a pro in my opinion, because most providers probably limit you, but they don't tell you unless you exceed their internal limit.
---
PureVPN
PureVPN is a Hong Kong-based provider founded in 2007. They do not log user activity. P2P/torrents are allowed only on approved nodes and specifically blocked in countries where it is deemed illegal. Their Windows client has many add-on features such as finding a server based on purpose, and a special client for bypassing the Great Firewall. Pricing is a modest $4.16 per month with an annual term.
Pros:
SSTP, IKEv2 protocol support
Large global network
Adapt at bypassing the Great Firewall
Excellent Windows client with many add-on features
5 simultaneous logins
No-log policy
Strong encryption
Cons:
Based in Hong Kong
Many add-ons are an additional cost
Not as fast as some other providers
---
ExpressVPN
ExpressVPN was founded in 2009 and is currently based in the British Virgin Islands. They have a no-logging policy. Their Windows client is lightweight and simple while providing enough options for flexibility. ExpressVPN is a popular and reliable provider. Pricing is $8.32 per month with an annual term.
Pros:
Fast servers
Many VPN server locations around the world
No-log policy
P2P/torrents allowed
SSTP supported
Simple, lightweight Windows client
Cons:
Not the cheapest available option
Limited in-app options
---
IPVanish
IPVanish is a US based company. They have a no-logging policy. Their Windows client is simple, but effective. They have a large and fast network, and a fairly advanced server selection system. Pricing is $6.49 per month with an annual term. Available protocols on the client include OpenVPN (with either UDP or TCP), L2TP/IPSec and PPTP. The Settings section allows users to choose between ports 443 and 1194. Another handy feature is the option to periodically shuffle the IP address while connected to the VPN. Users can set the desired interval (in minutes) with a minimum time interval being 45 minutes.
Pros:
Fast
Easy to use
Large global network
Torrents allowed on all servers (copyright infringement technically prohibited)
Large choice of payment methods
Strong encryption
Cons:
Based in US
Application options limited
Limited simultaneous connections, at most 2 from different source IPs
---
Hide My Ass!
Hide My Ass! is a United Kingdom-based company that was recently purchased by Czech based AVG Technologies. They are subject to UK data retention laws but state they will only share your information if legally compelled to. Their Windows client has some nice features such as; automatic load balancing, speed guide, and quick IP change. Pricing is a competitive $4.99 per month with annual term.
Pros:
Arguably the largest worldwide VPN server network
Easy-to-use applications for Win, Mac, iOS and Android
Owned and run by UK company
Windows client has nice features like speed guide, automatic IP change, load balancing, per application kill switch, and more
Cons:
Subject to UK data retention laws
No OpenVPN AES cipher support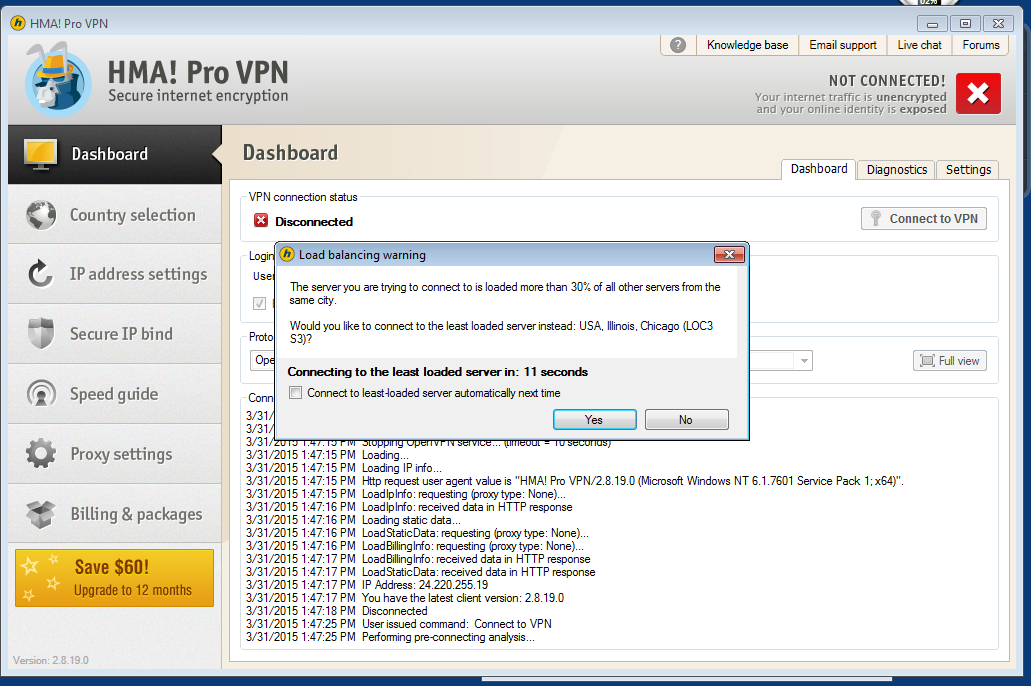 ---
Private Internet Access
Private Internet Access is a well-established US-based VPN service. They offer good support and a no-frills modestly priced service. Their Windows client is simple but has some nice features. Port forwarding is a rather unique one. Pricing is a very affordable $3.33 per month with an annual term. Additionally, there are options including choice between UDP and TCP (for OpenVPN connections), and toggles for the internet killswitch, DNS leak protecton and IPv6 leak protection.
Pros:
No-logging policy
Fast, large network
Torrents allowed on all servers
Good value for money
Port forwarding available
5 simultaneous connections
Cons:
---
All of these providers should suit your Windows needs well, plus, they all support other desktop platforms, including Mac OS X, for which many of them also have analogous clients; and Linux. It is all about what features vs. price that you need. Most of these providers offer a money back guarantees spanning from 3 to 30 days. Whether you are looking to torrent, protect your privacy, geo-unblock services, travel, or protect yourself from dangerous and oppressive organizations, there is a provider here that will meet your requirements.
We would love to hear about your experiences with any of these providers. Please comment and let us know!