---
Unblock-Us is a well-known Smart DNS provider for unblocking geo-restricted content for smart TVs, subscription-based video-on-demand (VOD) and numerous online channels, including sports, music and radio streaming services. Its European headquarters are in Cyprus while its worldwide operations are run out of Barbados.
In this review, we will look at the features offered by Unblock-US, including channels that are accessible through the service, its privacy policy, how to set it up, as well as its pricing options.
---
Quick links
---
Unblock-Us channels
200+ channels can be unblocked with Unblock-Us Smart DNS, including major and less well-known sporting events around the world, numerous subscription sports passes, VOD services, online TV, kids programming and a plethora of music and radio channels. 200+ channels can be unblocked with Unblock-Us Smart DNS, including major and less well-known sporting events around the world, numerous subscription sports passes, VOD services, online TV, kids programming and a plethora of music and radio channels.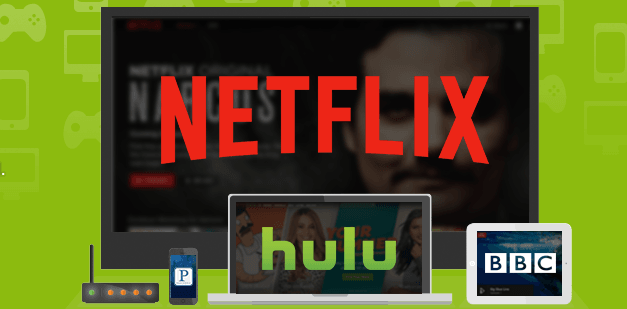 VOD/streaming services include Netflix, Hulu and Hulu Plus, Amazon Instant Video, HBO GO, Now TV, CinemaNow, Blinkbox, Funimation and numerous others.
Online TV channels include BBC iPlayer, Channel Four's 4OD, SkyGo, ABC, FOX, Showtime, Bravo, Comedy Central, CNN Go, Canal Play and many other channels from around the world. Kids TV channels on offer include the Disney Channel, Marvel.com, Sesame Go and more.
Major music and radio services include those offered by Spotify, Pandora, BBC iPlayer Radio, Slacker, Rhapsody, MTV, Radio.com and several others.
Sporting events include the National Rugby League, Major League Baseball and Major League Soccer. Sports pass access includes the following major channels: NHL GamesCenter Live, NFL Gamepass, NBA, BBC Sport, ESPN, Sky Sports (through SkyGo), BT Sport, UFC TV and many more.
A comprehensive and categorized list of available channels can be found on the channel section of the Unblock-Us website. What's more, each channel subsection includes a wealth of additional information, including supported devices with handy icons, available regions, subscription details, payment methods and website links. There is also a useful 'On Now' status for events currently being broadcast, as well as a 'New' status for recently added channels.

Privacy Policy
According to its privacy policy, Unblock-Us does not 'maintain direct logs of any customer's Internet activities' and subscriber activity is not actively monitored. That said, the provider reserves the right to investigate illegal activity or a breach in the terms of agreement.
As the policy states, the provider will not disclose 'any private electronic communication or personal customer information unless required to do so by law enforcement or by operation of law.'
Unblock-Us is overseen by the I.T specialist Netprotect Inc., so don't be alarmed if you see this name on bills or correspondence. As with most standard Smart DNS and VPN subscriptions, users must agree to the legally binding 'Terms of Use', which clarifies, among other things, that users may not use the service to pursue hacking, spamming, fraud or any other illegal activities.
---
---
How to set up Unblock-Us
Unblock-Us can be configured on many operating systems, including Windows XP, Vista, 7, 8 and 10 and Mac OS X; consoles such as PS4, PS3, PSVita, Xbox One, Xbox360, Wii and Wii U; the following Smart TVs and set top boxes: Sony TV, Panasonic VIERA, Samsung TV, LG Smart TV, Apple TV, Roku, Google TV, Boxee Box and WD TV Live Devices, as well as handheld devices including iPhone, iPod, iPad, Android and Amazon Kindle.
Windows 7 setup tutorial
Setting up Unblock-Us Smart DNS on Windows 7 is straightforward, requiring a simple alteration in the network settings.
1. Once you've signed up for the service, or if you're just testing Unblock-Us out using the free trial, open your Control Panel and click on Network and Internet.
Then click on Network and Sharing Center and then on Change Adapter Settings.
2. Now you'll see your current internet connection, either Ethernet (LAN) of Wi-Fi. Left click on your connection and then right click to bring up the menu, then click on properties. You will see a list of checked items.
Uncheck the box that says Internet Protocol Version 6. Then left click on Internet Protocol Version 4 and open Properties.
3. In the General tab. Be sure not to change any of the top half of this window (where your IP address details are stored), we're only changing the DNS settings in the lower half.
Click on Use the following DNS server addresses. Now enter the enter 208.122.23.22 in the Preferred DNS server field and 208.122.23.23 in the alternate DNS server.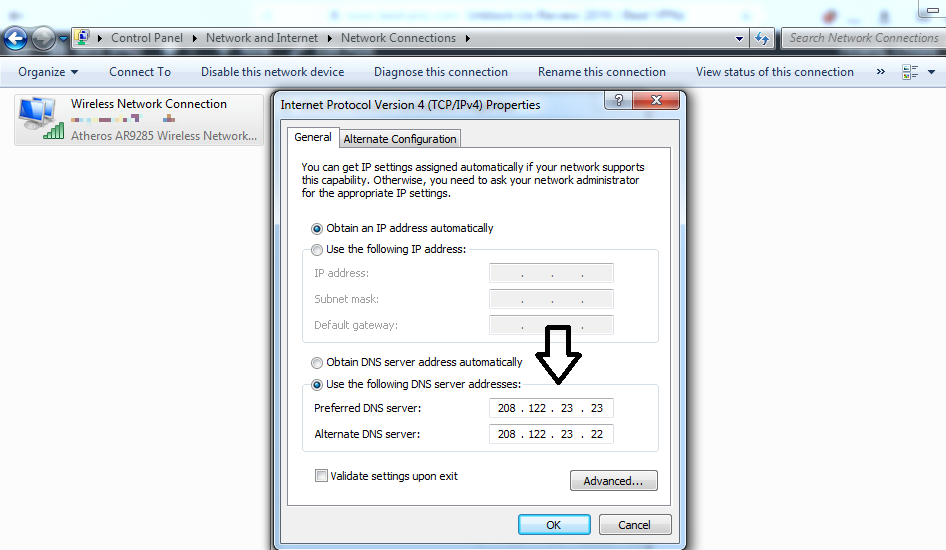 4. Restart your computer. Once loaded up, open the Unblock-Us homepage.
You should see 3 green bars towards the top of the page confirming that each of the three steps has been completed, which means you're ready to go.
You can use the 'Netflix Region Picker' underneath the third green bar to update your region.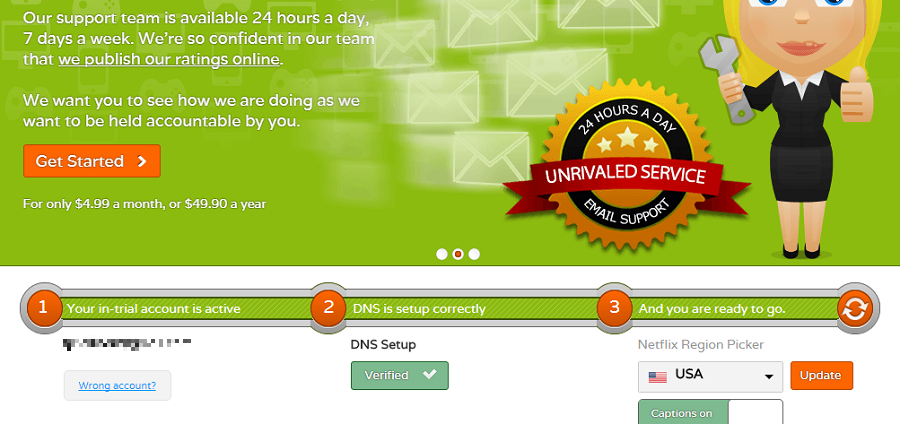 Remember to jot down your current server addresses/settings before changing your DNS settings just in case you need to revert to your default settings.
For more details see our guides for Smart DNS set up for Windows and for Mac.

Additional features
On the Unblock-Us website there is a 'VPN' section though there isn't a VPN service as such (as far as we can tell). At the time of writing, there isn't any actual traffic re-routing via a VPN server and users who are looking for high-level encryption should consider a dedicated VPN service. Unblock-Us is still, however, a solid option for Smart DNS geo-unblocking.
Unblock-Us also has a comprehensive support section on its website with clear and detailed sections, service updates, FAQs, set up guides as well as a blog and a public forum on which you can post questions and add comments.
There is also a useful 'How to Setup' section on the website that offers specific guides with video tutorials and screen shots for a wide range of operating systems, consoles, smart TVs and handheld devices. The device on which you access the site is automatically detected.
Email support is also available and operates 24 hours a day 7 days a week. When we tested the email service, the provider responded within 15-30 minutes with detailed support.
Users can send an email through the integrated messaging system on the support section of the website. Aside from the message itself, users can indicate the device and internet connection in question and can also attach files if necessary.
Currently there isn't a contact telephone number or a live chat option, which would be nice to see.

Pricing
Subscribers can pay for Smart DNS at the monthly price of $4.99 or a one-off annual sum of $49.90, which effectively gives you two months for free.
If you're not sure about Smart DNS with Unblock-Us, since there are a lot of Smart DNS providers on the market, Unblock-Us offers a 7-day free trial that does not require users to enter credit card information and there is no obligation to sign up after the trial has ended.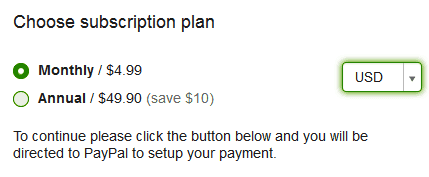 At present, the only accepted payment methods are Visa, Mastercard, debit cards and PayPal. Anonymous payment methods such as Bitcoin and Litecoin are not available and after probing the support section it seems there are no plans as of yet for their inclusion.
For the monthly subscription plan, subscribers are not entitled to a refund for any unused portion of subscription though cancellation is allowed at any time. If you're thinking about cancelling, it makes sense to do so before the start of the next month's billing cycle, so you're not charged for a month you haven't used. According to the provider, refunds will only be given in exceptional circumstances and at the 'exclusive discretion' of Unblock-Us. For annual subscription, you are entitled to a full refund, providing you voluntarily cancel your subscription within 30 days of purchase.
Again, exceptional circumstances may result in a refund but only at the discretion of the provider.
The Unblock-Us website is generally straightforward though a little sparse when it comes to details about payment methods. Despite this, most questions relating to payment, billing and service can be answered using the search function on the Support tab.
---
---