It's not easy to find a VPN that still works with Netflix. Why? Because the popular streaming service today actively bans VPNs, making it unusable through most geo-hop connections. We've tested and hand-picked the best VPNs for Netflix that still work, without issues.
In a hurry?

We recommend NordVPN 🥇 as the best VPN to watch Netflix.
There's still a good number of VPNs that work perfectly well with Netflix and allow you to stream your favourite content regardless of your location.
Here's a quick summary of the top five VPNs we recommend for unblocking your desired Netflix library.
1. NordVPN – The fastest VPN we've tested, perfect for streaming HD content.
2. CyberGhost VPN — Optimised for use with streaming services.
3. Surfshark — ideal for big households.
4. ProtonVPN — Very secure and has user-friendly apps.
5. ExpressVPN — Offers fast and very reliable connections.
Best Netflix VPNs in detail
Take a look at our top five picks to see how these VPNs compare against each other. It will become immediately clearer to you why selecting the right VPN for your needs is key.
Our score
User rating
Our score
User rating
Price $4.19
Pros
Strong security features
Zero logs & IP leaks
Exceptional speeds
Best for Netflix & other streaming services
Allows torrenting
Includes Smart DNS
Works in China
Cons
No split-tunnelling on desktop
NordVPN is our top VPN recommendation for Netfix.
It's one of the biggest and most trusted VPN providers in the world. It has a massive server network that features over 5,500 servers located in around 60 countries. It works reliably with Netflix — as our own tests showed — and even with other streaming services. In part, this is due to its speeds but especially because of Nord's ability to evade the notorious Netflix blacklist.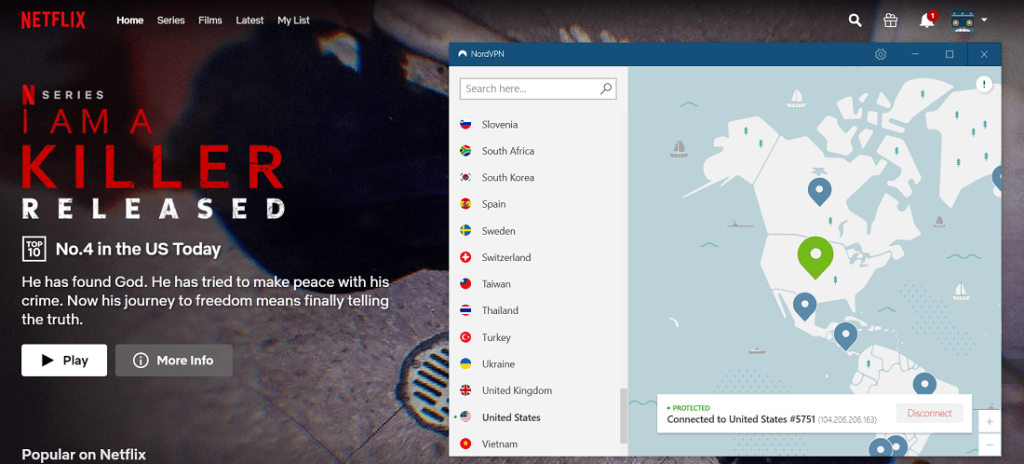 NordVPN is located in privacy-friendly Panama, which allows it to offer anonymity and a strict no-logs policy to its users.
It also supports most device types and operating systems, allowing you to use Nord for Netflix on your TV, computer or laptop as well as mobile devices. And, you can use Nord on up to ten devices simultaneously.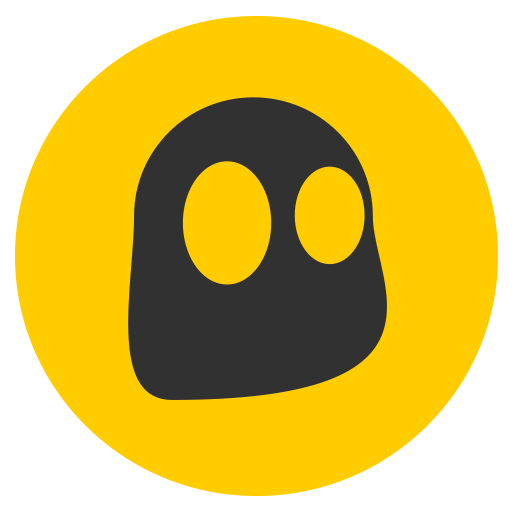 Our score
User rating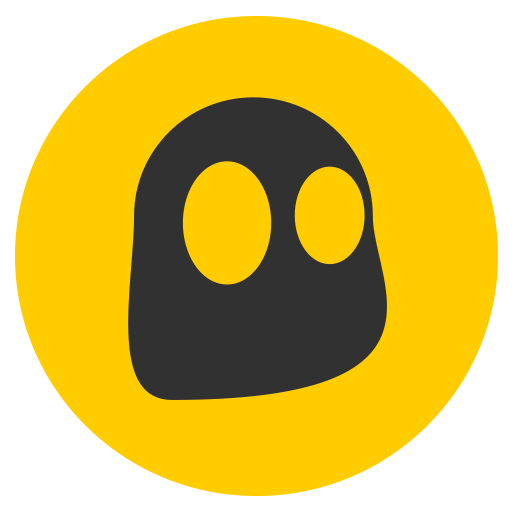 Our score
User rating
Price $2.19 p/mo.
Pros
Based in Romania (no data retention)
Fully-fledged security suite
Strong encryption & no leaks
Fast & supports WireGuard
Works with Netflix & Amazon Prime Video
Torrenting is allowed
Multi-language support
Cons
Parent company has murky past
Doesn't work in China
CyberGhost is a Romania-based VPN service and is considered to be one of the best options for Netflix.
It has over 6,600 servers in 90 countries around the world, which means you can access pretty much any library the on-demand video service has to offer.
On top of that, CyberGhost offers great speeds, perfect for streaming Netflix. In fact, it even designates servers optimised for specific regional Netflix libraries and for other streaming services like Hulu, Amazon and numerous others.
This means less time wasted on finding a working server, more time spent on watching your favourite content.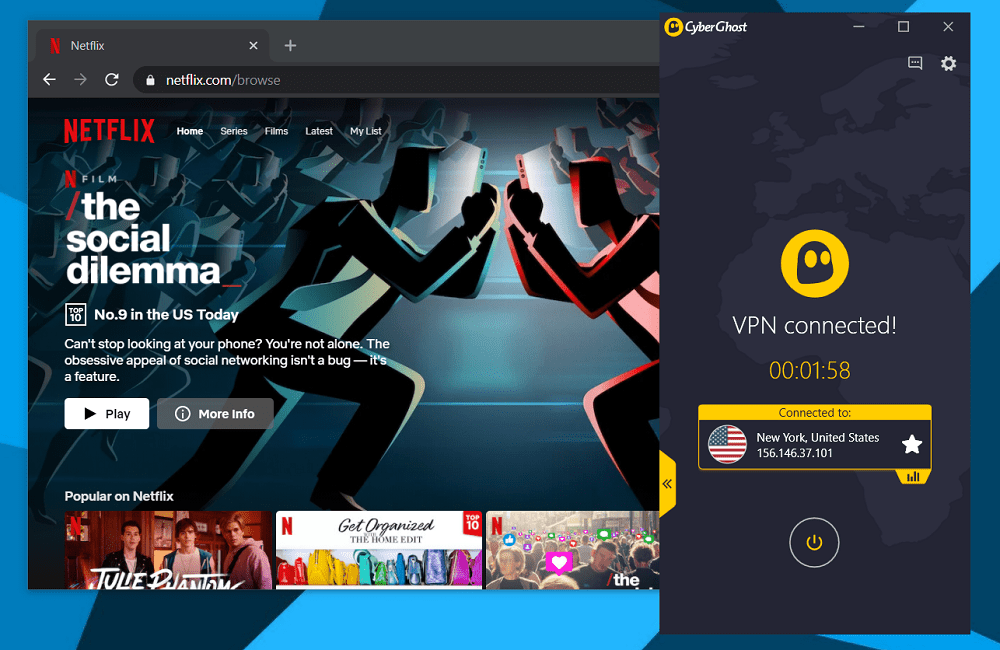 And best of all is the fact that it manages to keep its IP addresses refreshed and therefore out of banned VPNs blacklist.
CyberGhost is great for a multi-device household, giving you flexibility to run its VPN on up to 10 devices at any given moment. This means that your entire family can stream Netflix on their own devices at the same time, providing your internet connection can handle the load.
Lastly, CyberGhost has one of the longest money-back guarantees among VPNs at 45 days.
Our score
User rating
Our score
User rating
Price $2.49
Pros
No logs & based in BVI
Excellent speeds (supports WireGuard)
Large server network
Works with Netflix
Allows torrenting
Works in China
Unlimited connections
Chrome & Firefox extensions
Helpful, 24/7 support
Cons
Strictly nitpicking: no Tor over VPN
Next up, we recommend Surfshark — a powerful VPN service that quickly became one of the best in the industry in recent years.
Like our previous entry, it is capable of unblocking Netflix even today, when many other VPNs will remain blacklisted for good.
Not to mention its blazing fast speeds which are bound to let you watch any video, shows, movies, anime, documentaries, or otherwise, without encountering buffering or similar loading issues.
Surfshark has a massive server network that spans 65 countries, offering access to more than 3,000 VPN endpoints.
Most importantly, Surfshark works with Netflix, and even has a detailed guide in the Help section of its website on how to access Netflix when using the service.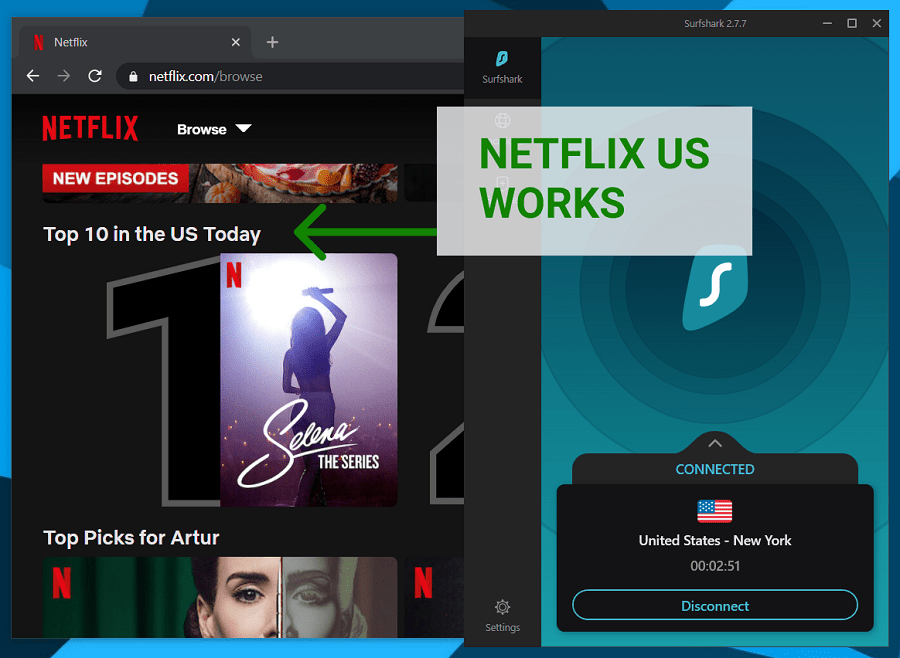 Beyond just streaming, this VPN is an excellent choice for bypassing censorship, geo-restrictions, or just browsing the web safely.
If you decide that it Surfshark doesn't work well for you, you can get a refund as long as you request it from the chat support within the first 30 days from the moment you subscribed; this is a standard guarantee among VPNs providers.
Surfshark allows concurrent VPN connections on unlimited devices. And while there's likely a fair usage policy attached, you will have ample flexibility to connect all of your devices. This is why we recommend this particular VPN for the larger households with Netflix streaming needs.
Our score
User rating
Our score
User rating
Price $3.29
Pros
Has free & paid plans
Top security features
Transparent, open source & audited company
Allows torrenting
User-friendly apps
Up to 10 connections
Accepts cash payments
Great customer support
Cons
Not the fastest
Doesn't work in China
ProtonVPN is a Swiss VPN service, and that means that it is in full compliance with strict user privacy laws.
It is one of the most secure and trustworthy VPN providers on the market today.
ProtonVPN works with Netflix and other streaming services like Disney+ and Amazon Prime. Though, to get access to streaming-optimised servers, you'll need to be on the Plus plan.
Proton has over 1,200 servers in more than 50 countries, so it has fairly decent coverage as well as excellent capabilities to unblock the world's most popular streaming service.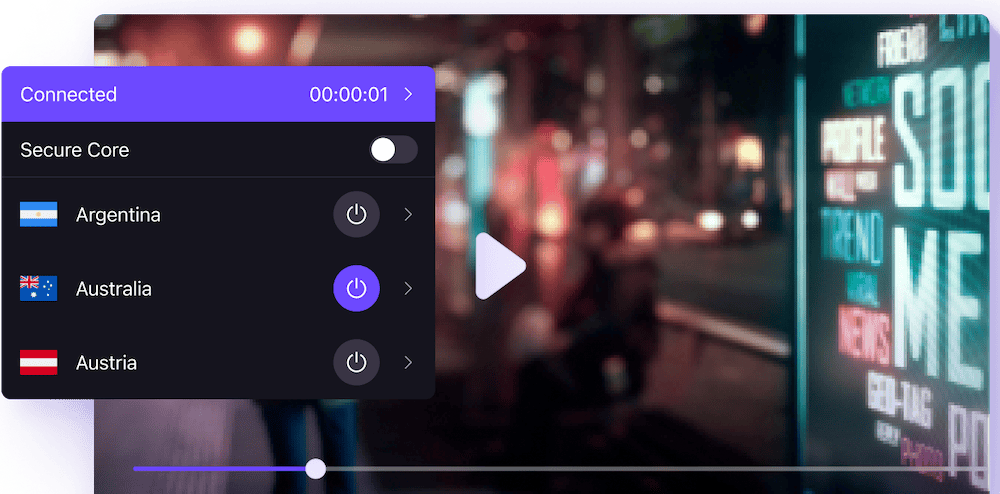 As this is a guide about the best VPNs for Netflix, you should know that Proton's free plan — the one you don't have to pay for and is very limited in features — will not be suitable for streaming Netflix with a VPN.
ProtonVPN should work with Netflix as soon as you connect to your new virtual location. But in case your new VPN IP gets blacklisted, it's recommended you reach out to Proton's support chat to get guidance on the next best VPN endpoint.
Our score
User rating
Our score
User rating
Price $6.67 p/mo
Pros
Audited 'no-log' VPN with a good privacy track record
Based in the British Virgin Islands (no data retention)
Reliable network speeds & performance
Simple, easy-to-use apps
Strong encryption & security features
Works with Netflix & other streaming services
Torrents allowed on all servers
Good customer support
ExpressVPN is our final recommendation for working VPNs with Netflix.
With this globally recognisable VPN service, you'll be able to easily bypass any Netflix blocks and stream to your heart's content. Likewise, you'll be able to unblock and stream other services including HBO Max and Amazon Prime Video from anywhere.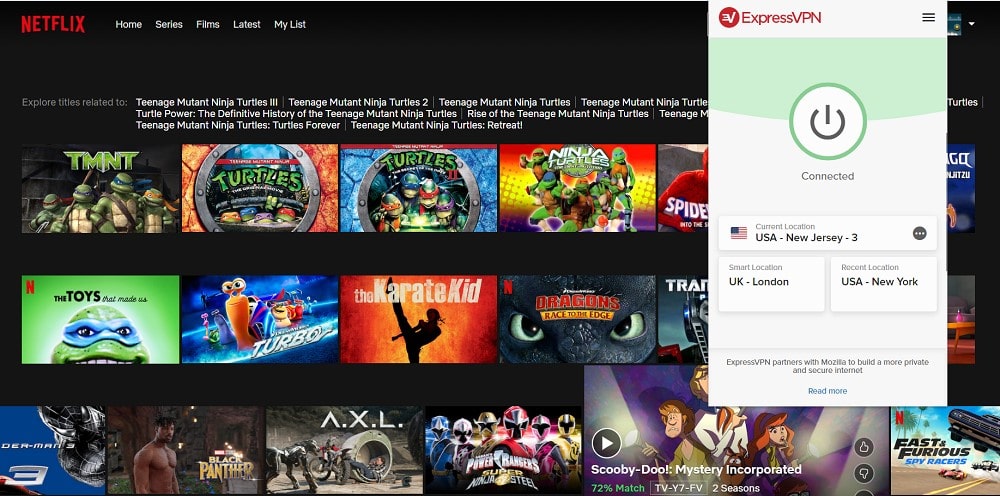 ExpressVPN offers excellent and consistent speeds, phenomenal security and fast-working VPN apps that make running a VPN on your device a breeze.
Another great aspect about ExpressVPN is its customer support, which is very responsive and helpful — as we found out for ourselves while testing this VPN out.
What is the cheapest VPN for Netflix
The VPN service that will save you the most money on a one-month subscription and is compatible with Netflix is VPN.ac — our very top-rated VPN.
One month with VPN.ac costs $9.
That said, the biggest savings are almost always found in subscriptions with longer commitment times.
Among the many VPN offers we've seen, Ivacy VPN works out to be the cheapest at just $1 per month for a 5-year subscription.
Best VPNs for Netflix Reddit user suggestions
Simply due to its sheer popularity, the vast majority of Reddit users tend to suggest NordVPN.
Given how popular Reddit is, it's no surprise so many web surfers use the website to get Netflix VPN recommendations. In fact, you'll quickly fine there are entire, large subreddits dedicated to the topic of how to watch Netflix with a VPN.
Flicking through the more recent threads at the time of writing this guide, there are a myriad of recommendations as well as a fair dose of shameless shilling.
But amidst the noise, there are some valid recommendations.
For example, in a thread from the subreddit "/vpnrecommendations", one Reddit user recommended either PureVPN or Private Internet Access. Both of which, in fact, worked with Netflix in our own VPN testing.

Another user from the same thread suggests four VPNs, three of which made it into our own best Netflix VPN picks: NordVPN, CyberGhost and ExpressVPN.

One thing this user does get wrong, however, is the fact that only one of these services actually offers a free trial, and that's CyberGhost. The other three VPNs in the list don't have a free trial. Though all of them offer a money-back guarantee.
Does Netflix allow VPN use to change regions?
Netflix allows VPN use with its service on all tiers except on the Basic with ads plan.
However, with an active VPN connection, you'll be able to watch only the content where Netflix owns global licensing rights.
Your VPN country also needs to match your own country, otherwise you'll more than likely encounter the dreaded "unblocker or proxy" error.
If you see this error, it means Netflix has detected you trying to change your content location.
Why does Netflix block VPN? 🚫
Netflix blocking VPNs and having differing libraries depending on your location stems from regional content licensing agreements.
For example, a certain show or a movie, for which Netflix has a copyright license to offer in a given country, might be licensed by a completely different content distributor. Meaning, a Netflix user from a country where the streaming service doesn't have copyright to that content won't be able to access it.
To avoid legal liability, Netflix has implemented a ban on VPN use for circumventing its geographical content restrictions.
And to enforce this, Netflix actively blocks most VPN IP addresses, so that users attempting to bypass its geo-blocks would in most cases encounter the earlier-mentioned error page.
Is it illegal to use a VPN for Netflix?
It is not illegal to watch Netflix with an active VPN. In fact, Netflix allows VPN use with its service, as long as its not used to bypass geo-blocks.
But even in this case, you would only be breaking its terms of service, which state:
Except as explicitly authorized by us, you agree not to:

(ii) circumvent, remove, alter, deactivate, degrade, block, obscure or thwart any of the content protections or other elements of the Netflix service, including the graphical user interface, any advertising or advertising features, copyright notices, and trademarks.
How to bypass Netflix VPN block?
The most effective way to get around the Netflix VPN block is to find a high-quality VPN provider.
One that still has working IP addresses.
Today, the list of working VPNs is quite limited, but all services listed in this Netflix VPN guide have been tested to successfully work with the streaming service.
How to use a VPN for Netflix?
To use a VPN on Netflix, you'll need to follow just a few simple steps.
Subscribe to Netflix; if you already have an active subscription, jump to the next step.
Sign up to a VPN that works with Netflix.
Install your provider's VPN app on the device that you watch Netflix on, e.g. on your Windows laptop.
In the VPN app, choose the desired Netflix location, e.g. USA.
Once the VPN connection is running, open and log in to your Netflix account from the same device.
You should now see and be able to stream the unblocked Netflix content.
Which country has the best Netflix?
The Netflix US catalogue has long been the most sought after among subscribers. This is due to the wide mix of popular American TV shows, movies that would be first made available on the US version of the service.
But after a rapid international expansion, Netflix nowadays also offers an excellent variety of local content in other countries.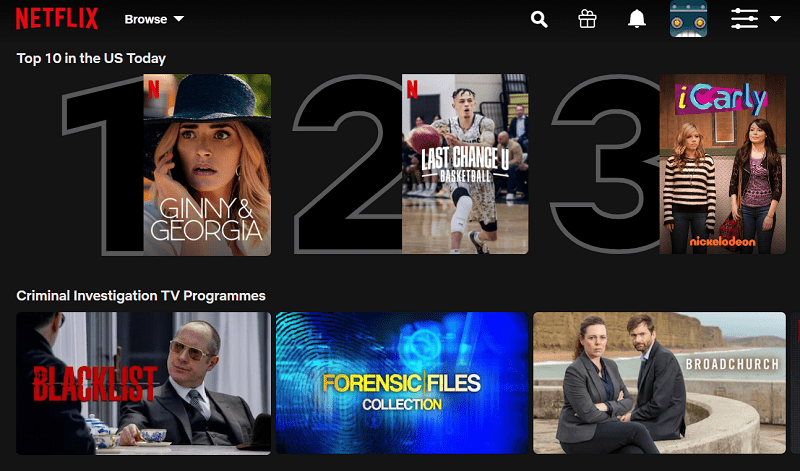 Fans of international shows, movies, genres now look to access their favourite content available only in countries like Canada, UK, Japan, South Korea and many others.
In terms of outright numbers, the Czech Netflix library has the most total videos (close to 9,000).

In Iceland, Lithuania and Spain users have access to the most movie titles at just under 5,000.

And in Singapore and Malaysia, you would find the biggest choice of series — over 2,600 shows to pick from.

Source: unogs.com.
How to watch Netflix in another country? 📍
Watching Netflix from another country can be achieved with the help of a VPN. You can use a VPN to change your real IP address to a virtual one.
In turn, this would let you watch Netflix shows from other countries.
And this is, of course, assuming that you already have a Netflix account.
How to get international Netflix? 🗺️
To change country on Netflix — in other words, to get around the Netflix VPN blocker — you'll definitely need to be connected to a VPN that's not already blacklisted.
Once you've decided on which VPN to use with Netlix, you'll need to install your chosen provider's app for your device. If your VPN client is ready to be connected, you simply need to connect to VPN server of the Netflix country you wish to gain access to.
Next are some examples of popular international Netflix libraries and how to unblock them.
American Netflix 🌎
Most often, Netflix users look for VPNs to watch US Netflix from other parts of the world, where they either live or have temporarily travelled to.
To get on US Netflix, you'll need to connect to a US VPN server.
And all of the VPNs we've recommended in this guide have lots of USA locations — from coast to coast — to choose from.
Aside from the United States, though, you can also use the VPN to unblock regional Netflix libraries of Canada, Mexico, Brazil, Argentina and Colombia.
Canada Netflix 🇨🇦
Canadian Netflix content can be accessed from abroad — for example, if you're in the US or UK — by connecting to one of the Canada VPN servers.
UK Netflix 🇬🇧
Most VPNs offer access through UK servers, meaning you can watch British Netflix shows and movies, or content otherwise availably only in the United Kingdom, by connecting to a UK-based endpoint.
Korean Netflix 🇰🇷
With Korean TV series and movies having gained worldwide, mainstream popularity, connecting to a South Korea VPN server is an easy way to watch all the local content that hasn't been licensed elsewhere.
All of the VPNs we've tested offer access to servers in South Korea.
Netflix Japan 🇯🇵
By connecting to a Japan-based VPN server, you can watch anime and movies that haven't yet been exported and are only available to local Netflix users.
Which VPN is best for Netflix? (Recap)
You've read this far? Awesome!
We have no doubt that you're now more than raring to go and start streaming your favourite Netflix videos from any location.
So here's one final recap of our top five, tested VPNs to use with Netflix today.
Netflix With VPN FAQ
Is using a VPN to watch Netflix illegal?
No, using a VPN for Netflix is not illegal, nor is Netflix against its use. That is, if the use of the VPN is not intended to bypass its geo-restrictions, as this goes against its T&Cs.
Can Netflix detect a VPN?
Netflix runs a security system that detects VPN or proxies being used with its service. As mentioned, though, this is completely fine if your VPN server country matches that of your account, and becomes a problem only in case of a mismatch.
How does Netflix detect VPN?
Netflix has a security system that monitors traffic over its servers.
The measures it has in place include detecting mismatched IP and DNS server locations, encrypted traffic as well as when more than one account logs in and tries to stream content through the same IP.
Does Netflix ban VPN users?
As per its Terms of Use, Netflix has the right to restrict or even terminate an account if it finds that a user has abused its service. But, actual bans for VPN use — at least these days — is unheard of.
Instead, Netflix runs an ever-expanding blacklist of IP addresses. If you try to stream content through one such dud IP, you'll just see an error page until you turn that proxy or VPN off. Or change to one that still works!
How to change Netflix country on iPhone?
Changing the Netflix country on an iPhone is simple. Same as with any other connected device, you'll need to purchase a VPN for iPhone, and it has to be one that is proven to work with Netflix.
Once you've installed your provider's VPN app from the App Store, connect to the VPN sever in the country you want to change Netflix to.
When the VPN connection is up and running, open the Netflix app and you will find that the locale has now changed.
What free VPNs work with Netflix?
Free VPNs are unlikely to work with Netflix for reasons such as: their IPs have long been blacklisted, they don't offer enough free bandwidth or if it is a freemium service that does not accommodate access to international Netflix.
What can I watch with a VPN?
By changing your VPN location, you will be able to watch Netflix content exclusively available in other countries.
How to unblock Netflix without a VPN?
Although a VPN tends to be the more reliable and — due to its encryption tunnel — the safer option, changing Netflix regions without one could also be achieved with a reliable Smart DNS or a proxy server.
Why is my VPN not working on Netflix
Netflix constantly expands its VPN (proxy) IP blacklist, meaning, if your VPN provider doesn't keep up, you may at some point encounter that dreaded error.
But don't worry. As long as your provider actively supports Netflix streaming — because many don't — it should provide you with alternative servers to connect to in order to get your VPN to work with Netflix again.