It's estimated there are well over one billion Windows 10 users around the world. Because of this unparalleled adoption for a desktop operating system, it's no surprise that there are lots of great Windows VPNs to choose from..
But among the sea of paid or free Windows VPNs, there's plenty of dross which should be avoided at all costs. So, after testing numerous VPNs, we've put together a very simple and clear guide to help you decide on which VPN you're better off picking for your laptop or desktop PC.
In a hurry?

We think the top VPN pick for PC is VPN.ac. 🥇
We've looked at pricing, security, server accommodation, and other compatibility & convenience features to help you make the best choice.
Of course, the main reasons for getting a VPN are web accessibility and security of your data. Based on this criteria, you can easily choose which of the following five Windows VPNs for PC match your requirements the best.
In this guide 🔎
Best Windows VPNs for PC
Combining convenience with efficiency is our personal 'perfect balance' when it comes to determining what VPN is the best. Our VPN reviews require intense VPN check methods to see if products live up to expectation.
Over the years, there have been a number of great names that have pushed their products forward as the best VPN PC users can consider.
After much testing, here is our list of the best VPNs and our feedback that shows which VPN is best for PC users using Windows.
Our score
User rating
Our score
User rating
Price $3.75 p/mo
Pros
Based in Romania (no data retention)
Great speeds with WireGuard support
Advanced encryption
Private DNS resolvers
Allows torrent traffic
Works in China
Reliable VPN apps
Fast support
Romania-based VPN.ac has earned its reputation on merit. Founded in 2012, it has become one of the most trusted VPNs for Windows and other operating systems due to its dedication to strong security as well as performance.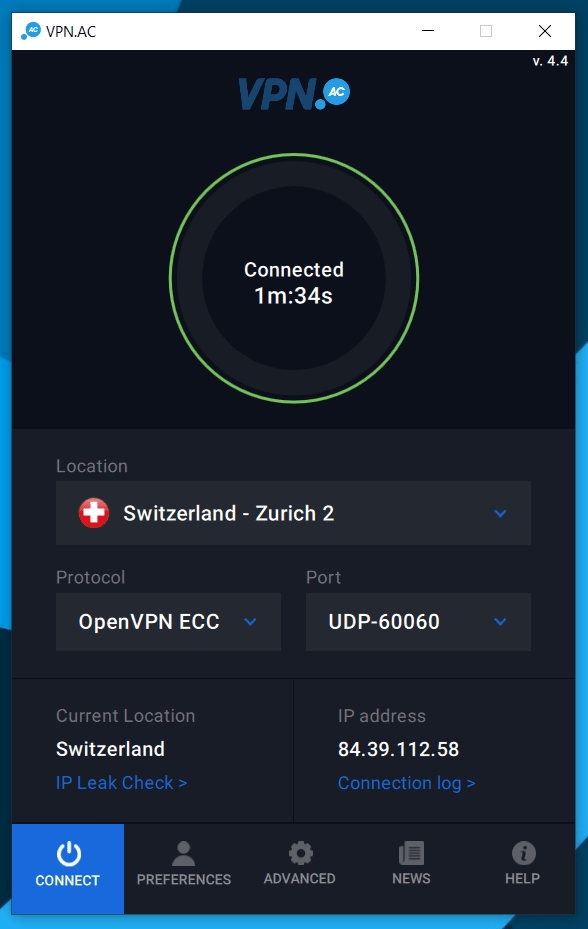 Servers
Although VPN.ac has significantly fewer servers across the globe, they still offer excellent connectivity through WireGuard. This connectivity is of course compatible with various devices and their operating systems.
This means that PC users should consider VPN.ac as one of their best VPN for computer products for this year – and beyond – as it is compatible with Windows, as well as Linux and Mac.
The majority of their VPN servers are connected to 1000 Mb/s (gigabit) channels, making it one of the fastest VPNs available.
Logs
Being based in Romania, users can rest assured that their data is safe from log keeping.
Romania ruled data logging and monitoring unconstitutional and isn't a surveillance alliance country.
Security
VPN.ac boasts AES-GCM 256-bit encryption with Elliptic Curve and/or 4096-bit RSA authentication.
Pricing
You might expect to pay a lot for a VPN as credible as VPN.ac, but it is actually one of the cheaper VPNs around. With four payment options to choose from, here's the price list:
For a month-to-month subscription, you will pay $9 per month, by far one of the cheapest monthly subscriptions we've seen.
You can also opt for a 3 month subscription, which will decrease your monthly subscription to $8 per month.
If you want a further discounted price, choose the 1 year subscription of $58, equating to a $4.80 monthly cost.
Their best deal offers you a 62% discounted price of $90 for 2 years, which brings your monthly subscription fee to $3.75.
Compatibility & Features
VPN.ac supports double-hop connections. This significantly increases the security and speed of your interfacing on a Windows PC, but note that when you use this feature, it's bound to slow down your connection speeds as your traffic effectively hops through two servers.
Another great benefit we noticed is that its website doesn't allow 3rd party tracking, which adds an extra line of trust for those who are uncomfortable with Google & Facebook tracking beacons.
With VPN.ac, DNS queries are also encrypted, rendering any potential monitoring of DNS queries completely impossible.
Our score
User rating
Our score
User rating
Price $4.19
Pros
Advanced privacy features
Zero logs & no leaks
Exceptionally fast speeds
Based in Panama (good for privacy)
Works in China
Allows torrents on designated servers
Includes Smart DNS proxy
Compatible with most devices & platforms
Cons
In-app search system is slightly clunky
A trusted name and one of the best Windows VPN brands this year, NordVPN stands out as a preferred option among both newbie as well as veteral VPN users. Check out these comparative features.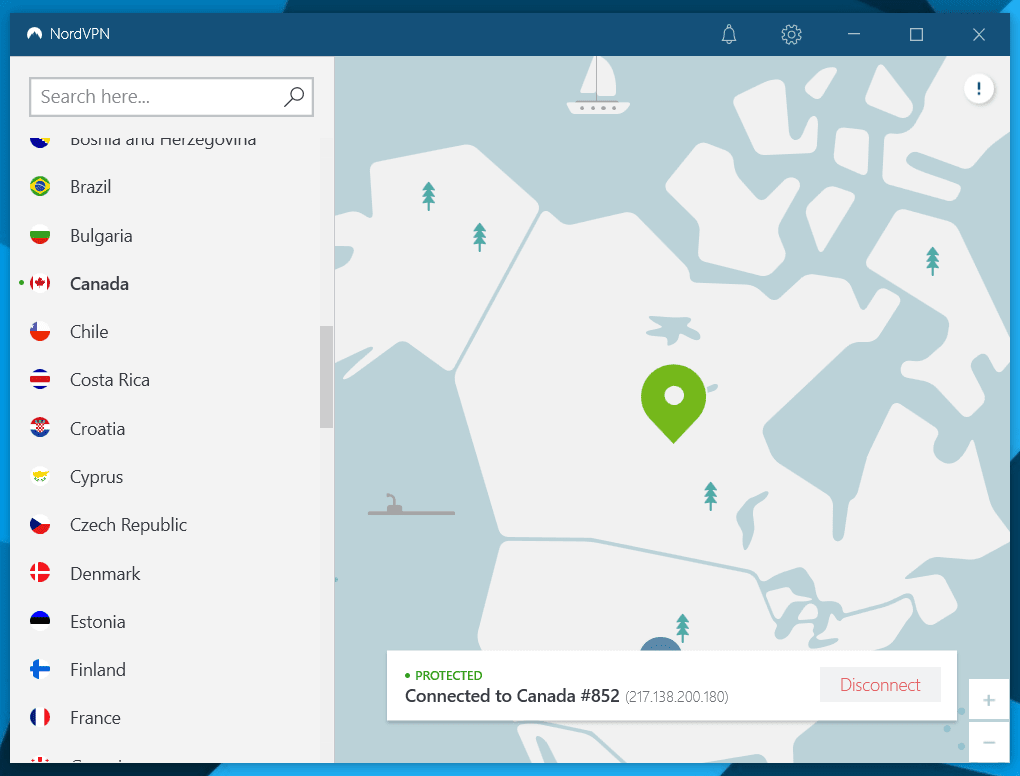 Servers
One of the reasons NordVPN for Windows is so popular is due to its boast of over 50,000 servers across the world, making it a fast and reliable VPN regardless of your location.
Another great benefit is the RAM-only server implementation used by NordVPN. This allows protection of data in the sense that no information can be removed off the servers, and deletion is easy and permanent.
Security
Comparatively, NordVPN is not based in a country that belongs to the Five Eyes surveillance alliance. Based in Panama, users are set at ease regarding their privacy.
In terms of the technicalities of their security furnishings, VPN boffs will be impressed with NordVPN's top of the range AES-256-GCM encryption, accompanied by a SHA2-512, TLS1.2 and 4096-bit DH key.
Logs
After undergoing multiple audits, NordVPN has proven time and time again that it does not keep any logs. This makes it one of the best VPNs for PC users who hold their privacy in high regard.
Pricing
Slightly on the pricier side of Windows VPNs, NordVPN still maintains decent costs for its service:
Their month-to-month renewable monthly subscription is $11.95, which is similar or identical to most other popular VPNs this year.
Choosing a 1 year plan with NordVPN will set you back $59.04, working out to a discounted monthly cost of $4.95 per month.
Choosing their 2 year plan brings on an even bigger discount, bringing the user's monthly cost to $3.71, with a total of $44.52 per year or $89.04 for both years.
Compatibility & Features
For those who are new to VPNs, NordVPN offers an extremely easy user interface for Android users that mimics basic touch device navigation. With this ease-of-use comes comprehensive security, including:
Phishing safeguards
Anti-tapjacking
Split tunneling
It's one of the best Windows 10 VPN products that has been designed to accommodate most of the popular apps and OSs that are commonly used. Device compatibility is also a big plus for those who prefer using their PCs as opposed to their mobile devices.
NordVPN is also our best Netflix VPN, meaning this provider's great to use for streaming on your PC.
Our score
User rating
Our score
User rating
Price $2.69
Pros
Speeds 300+ Mb/s plus WireGuard support
Zero logs (verified)
Strong encryption & security features
Allows torrents
Slick VPN apps & browser extensions
Up to 10 device connections
Live chat support & user forum
Cheap, relative to other VPNs
Cons
Not guaranteed to work in China
Based in US
One of the easiest VPNs to use, Private Internet Access is an established name in the Windows VPN arena. Let's take a close look at its VPN services and features.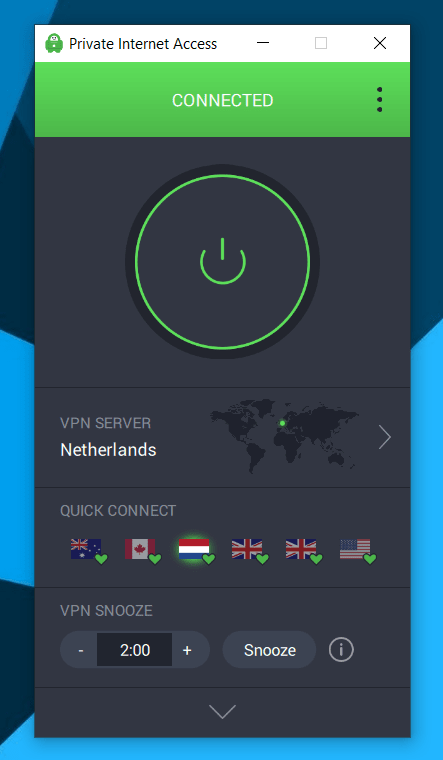 Security
Private Internet Access emphasizes its priority on privacy as they have done historically. This VPN will allow you to keep your identity private, and also provide you with secure protection on any public Wi-Fi network.
Devices
You will be able to connect up to 10 devices with this VPN, making it a keen favorite for small offices and home based networks.
Logs
To back their privacy claims, Private Internet Access has also proven that it does not keep logs on any of their users, making it one of the most trusted VPNs available today.
Compatibility and Features
Not only does Private Internet Access run at great speeds, but it also comes with easy-to-use VPN apps that accommodate the fussiest of users. With servers in over 30 different countries, Private Internet Access covers all key regions for users worldwide.
This VPN also has DNS leak protection, so users can rest assured that their DNS requests remain private and protected.
Pricing
There are three pricing options available to users who wish to use (or try out) Private Internet Access.
The first and most common is the $2.69 per month option based on a 2 year subscription. Private Internet Access is currently running a special on this option, giving users who choose it 2 extra months free VPN services.
The regular monthly option which runs from month to month is a price of $11.95. This is a great option for those who want to test the waters with this VPN, as it is easy to cancel at the end of each month.
The yearly subscription is offered at $39.95 per year, which works out to $3.33 per month. Not as good as the 2 year option, but a great deal all the same.
Our score
User rating
Our score
User rating
Price $2.49
Pros
No logs & based in BVI
Excellent speeds (supports WireGuard)
Large server network
Works with Netflix
Allows torrenting
Works in China
Unlimited connections
Helpful 24/7 support
Known for its rich feature set, Surfshark is quickly gaining a lot of popularity in the VPN market. Surfshark has only been around for a few years, but its reputation has been soaring. Here's a quick overview of all that it offers.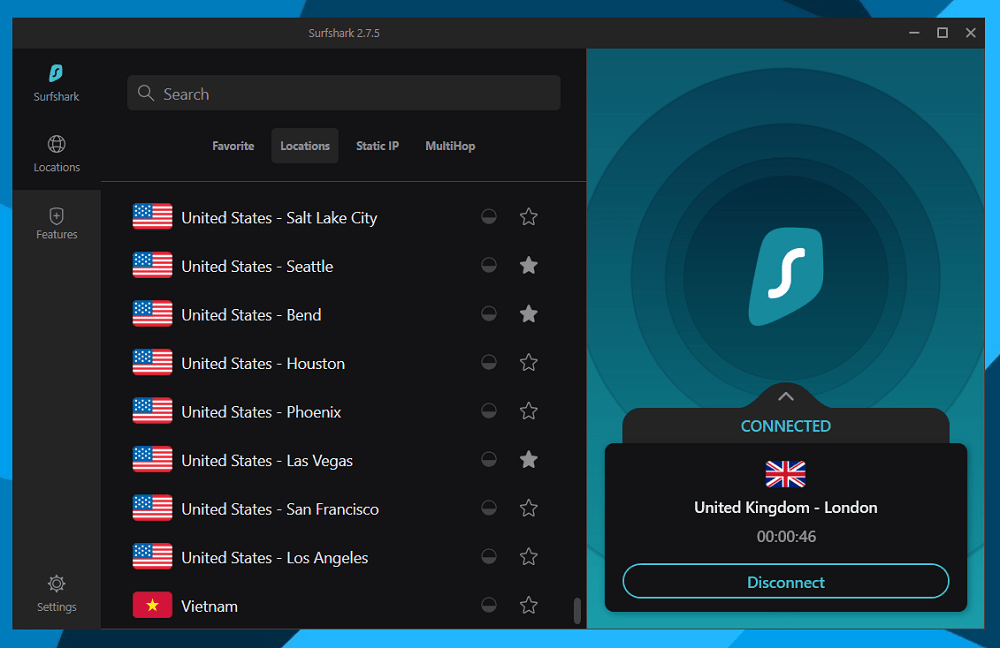 Security
Surfshark supports WireGuard connections. Using state-of-the-art cryptography features, Surfshark is able to offer embedded user interfaces and a generally fast and efficient user experience.
The exchange of SSH keys allows for safe roaming between devices without the need to manage connections. Surfshark uses an AES-256-GCM encryption, making it one of the best VPN on PC options.
Servers
To date, Surfshark boasts over 32,000 servers across more than 60 countries, with the likelihood of procuring more.
Logs
Like all of the best VPNs for Windows, Surfshark claims that no logs are kept. They are based in the British Virgin Islands, which is a no-data-retention region.
Having recently undergone an independent audit, Surfshark has now proven this to be the case. So, VPN users who were previously apprehensive to trust Surfshark, can now rest assured that their data is safe.
Pricing
Their three price options encourage users to choose their yearly rather than their monthly subscription:
Higher than their competitors, Surfshark charges a $12.95 monthly subscription, which can be cancelled at any time.
But for their 2 year plan, you will end up paying a mere $2.49 per month, with a total of $59.76 for 24 months.
Surfshark also offer a 6 month option, based on a payment of $38.95 which works out to $6.49 per month.
Compatibility & Features
As mentioned, Surfshark is feature-rich. While it caters to the general needs of VPN users with encrypted interfacing and hidden IP, there's more that it also offers.
One such feature is compatibility with all common operating systems, including iOS, Windows, Linux and even Fire TV Stick apps.
Surfshark also accommodates Chrome and Firefox browsers. With their intuitive ad blocker tool, you'll have a much more streamline user experience with this VPN.
Our score
User rating
Our score
User rating
Price $6.67 p/mo
Pros
Audited 'no-log' VPN with a good privacy track record
Based in the British Virgin Islands (no data retention)
Reliable network speeds & performance
Simple, easy-to-use apps
Strong encryption & security features
Works with Netflix & other streaming services
Torrents allowed on all servers
Good customer support
On the more expensive side of the scale, ExpressVPN has a lot to offer PC users who want to secure their online usage.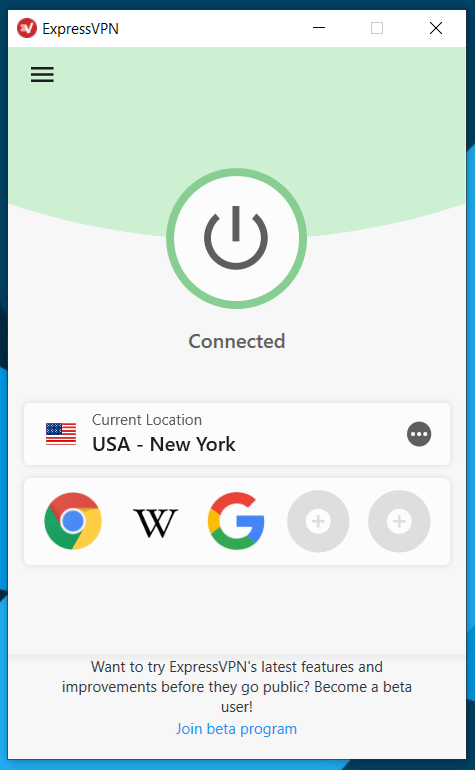 Considered to be one of the best VPN products for desktop, it's based in the British Virgin Islands, giving users complete peace of mind when it comes to privacy. Let's see what else this VPN service provider has to offer.
Pricing
You can get ExpressVPN for $12.95 per month if you're looking to try it out on a month-to-month basis. This is one the pricier side for popular VPNs, but it is a trusted service provider as you will see further down.
If you're looking to save on your monthly VPN costs, choose the 6 month option of $59.95, which lowers your monthly subscription to $9.99.
A 15 month option is also available at $99.95. This equates to a monthly subscription of $6.67.
So why is ExpressVPN slightly more expensive than other VPN offerings? Let's see what they offer.
Servers
ExpressVPN claims to be the #1 leader in VPNs. This is due in part to its largest server offering which stretches over more than 90 countries.
Users of ExpressVPN enjoy one of the fastest connections. Particularly for Windows users, this VPN offers better connectivity when using Lightway.
Security
Running exclusively on RAM servers, ExpressVPN guarantees one of the best encryption and data security offerings available on the market (AES-256-CBC encryption with RSA-4096 keys and SHA-512 for authentication). Also, your data will never be stored, and no logs are kept on their servers.
Compatibility & Features
Although you can only connect 5 devices with ExpressVPN, it has proven itself to be one of the most comprehensive VPNs we've tested.
The feature list of this VPN is full of compatibility, especially for those using PCs with Windows. Features include:
Netflix, Disney+, Hulu and more
Torrent access is safe and reliable
ExpressVPN is available in over 90 countries, a higher number than most of its competitors
Some of the fastest connectivity speeds available
What is the best free VPN for PC?
The good news is that if you're new to VPNs and want to try one out first, you can get a quality product at no charge. ProtonVPN offers a limited service for free. You can upgrade to one of its paid plans later on if you find that you need more features.
We view ProtonVPN as one of the top VPNs for PC thanks to its fast speeds and strong encryption, so you don't have to fear any leaks.
How to Get a VPN on PC
VPN service providers make it easy for their customers to acquire their tools. So, in most cases, getting a VPN for your PC should be effortless by simply following the prompts. The process will be similar to the following:
Pick the ideal VPN based on VPN reviews and your preferences
Open the provider's website
Register an account
Make your first payment online
Download the software and install it on your PC; the VPN provider will provide instructions
Open the software and use the settings to customize it for your use
Best Windows VPN FAQs
What are VPN services?
VPN services are tools for online privacy and helping you stay anonymous when online. A service will create a private network which will hide information such as your physical location and your IP address. This prevents third parties from knowing what you do online.
How to use a VPN on Windows 10
Any time you want anonymity for browsing online, you need to make sure you are connected to your VPN. You can customize settings so your VPN automatically connects when you switch on your PC, or you can activate it manually when you need it.
The best PC VPNs have multiple servers and you can pick which one you want to connect to. For example, to access a restricted website from a different country, you can pick a server in that area.
What is VPN in Windows 10?
If you have Windows 10 you have access to a built in VPN client service. This feature uses a PPTP (point-to-point tunneling protocol). This VPN can be more difficult to set up than some other VPNs mentioned above. You need to perform tasks like creating a server, configuring your router and creating your VPN profile.
It's helpful that this tool comes free of charge but make sure you have enough knowledge to set it up correctly.
What is the best PC VPN?
As a PC user who prefers Windows, based on the above information, you should be able to confidently choose the VPN that suits your home or company best.
Citations