NordVPN is the result of what happens when four friends come together with a dream to build a free internet for everyone. With a simple goal and Nordic inspirations, they wish to see Tim Berners-Lee's vision of an open internet a reality.
All of this is touching and inspirational, but does this backstory result in a quality product?
So – what is NordVPN and how does it work? Is it safe? And is it affordable?
Find out in this NordVPN review.
In this guide 🔎
---
NordVPN facts
| | |
| --- | --- |
| 📍 Based in | Panama |
| 🏷 Price | $4.19 p/mo. |
| ⚡ Speed | 373 Mb/s |
| 📃 Logs | No (audited) |
| 📱 Apps | Android, iOS, Windows, Mac, Linux |
| ⚙️ Features | IPv6 leak protection, custom DNS, Onion over VPN, dedicated IP, split-tunneling |
| ✅ Works with | Netflix, Android TV, most routers |
| ⬇️ Torrents | Allowed |
| 💻 Connections | 6 devices |
| ↩ Refund | 30-day money-back guarantee |
| 🆘 Customer support | Self-service FAQ, 24/7 chat, chatbot, email |
| 🌐 Website | NordVPN.com |
What is NordVPN?
NordVPN is a popular VPN service used for enhancing your internet security and freedom.
It is arguably one of the best and fastest VPNs available on the market today, and works with all VPN-compatible devices, platforms and operating systems.
NordVPN is indeed regarded as a user-friendly product, and doesn't require technical knowledge to be able to download and use it.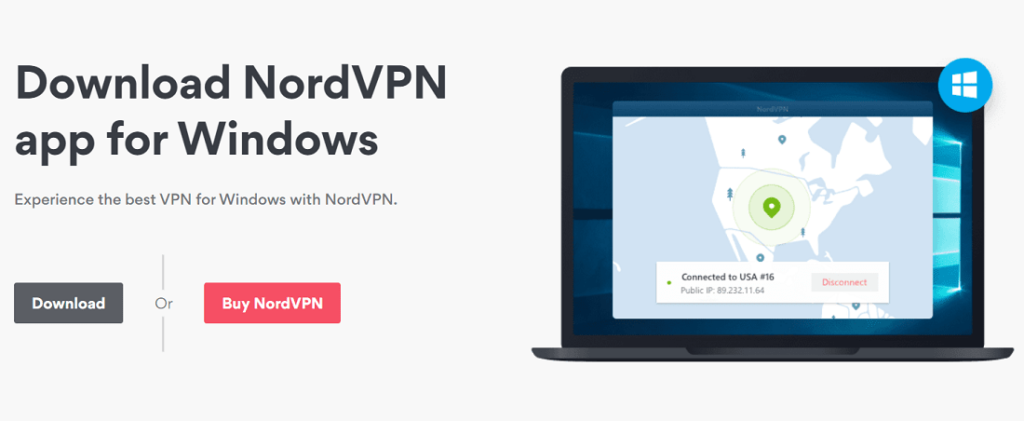 But, before I can recommend it, there are tons of questions that first need answering.
In my NordVPN review, I put this globally recognizable VPN service through real, impartial tests (and scrutiny).
Specifically, I checked to see if its product is really up to scratch, and whether it's truly a secure VPN that's worth your money.
NordVPN price: how much does it cost?
NordVPN offers three subscription plans. Depending on how long you want to sign up for, you can choose between 1, 12 or 24 months.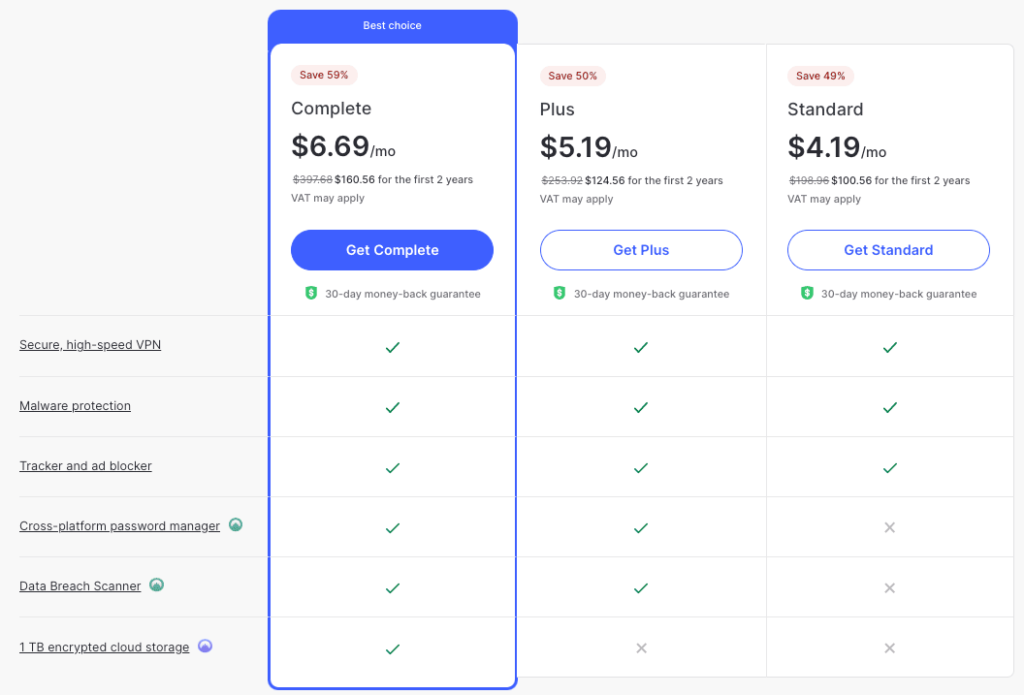 | | | | | |
| --- | --- | --- | --- | --- |
| | 2 years (p/mo) | 1 year (p/mo) | 1 month | |
| Complete | $6.69 (-59%) | $7.49 (-54%) | $14.49 | Claim offer |
| Plus | $5.19 (-50%) | $5.99 (-43%) | $12.99 | Claim offer |
| Standard | $4.19 (-49%) | $4.99 (-39%) | $11.99 | Claim offer |
NordVPN offers three plans — Complete, Plus and Standard — and you're able to choose also from three subscription terms: 1, 12 or 24 months (i.e. two years).
The cheapest Standard plan includes access to the VPN, malware protection and the tracker & ad blocker.
Nord's mid-tier plan Plus plan includes everything you'll get on Standard plus access to Nord's password manager — NordPass — and the data breach scanner (scans for breached password and email addresses).
Finally, the top Complete tier has everything you'll get on the Plus plan as well as access to NordLocker secure storage with 1TB available to use.
NordVPN deals (save 59% with BestVPNz.com)
The best way to save money when buying NordVPN is with the two-year Complete plan, which is discounted by 59%, costing $6.69 per month (billed upfront).
The discount is applied at checkout automatically, so won't have to enter any coupon code to claim this offer..
Are there any coupons for NordVPN?
There are no known NordVPN coupons available, and, like with many VPNs, the best way to save (big) is by subscribing to a lengthier plan.
You can check out other VPN deals to find out how this NordVPN offer compares to other services.
Does NordVPN have a free trial?
NordVPN does not have a free trial.
It does, however, have a 30-day money-back guarantee. This means subscribing to the service is risk-free, and so long as your account is in 'good standing', you can get your money back if you decide the service isn't what you were looking for.
What is NordVPN's refund policy?
NordVPN has a 30-day money-back guarantee if your account is in 'good standing'.
Though, you should note – it is unable to issue refunds directly if the purchase was made through Apple's App Store.
What payment methods does NordVPN support?
NordVPN supports multiple payment methods:
| | |
| --- | --- |
| Credit card (Visa, MasterCard, Amex, Discover) | ✅ |
| Google Pay | ✅ |
| Amazon Pay | ✅ |
| UnionPay | ✅ |
| Direct debit / ACH transfer | ✅ |
| Cryptocurrency (via CoinPayments) | ✅ |
Below is what you can expect to see on the checkout screen: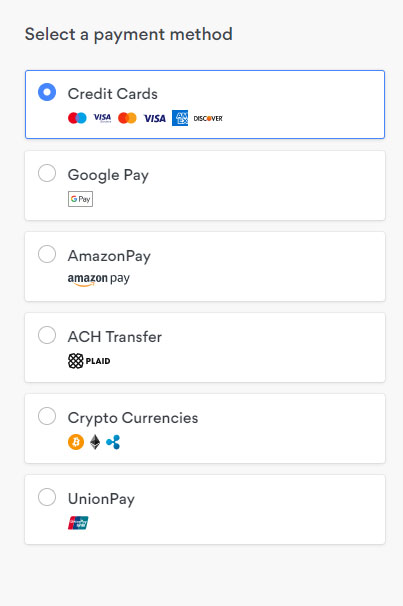 Some of the alternative billing options in the list will differ slightly depending on which country you are in.
NordVPN speed – how fast & reliable is it?
NordVPN is exceptionally fast, with download speeds reaching a comfortable peak of 373 Mb/s over the lightning fast NordLynx protocol. My OpenVPN speeds peaked at 185 Mb/s with an average of 220 Mb/s across six international locations.
I ran multiple NordVPN speed tests to see how fast this VPN really is. Additionally, I wanted to find out if its connections are reliable enough over extensive periods.
Because many other sites with VPN reviews claim NordVPN to be the fastest VPN service, the tests are critical for finding out if the claims are actually true.
Speed test highlights
Here are the highlights of my NordVPN speed test results: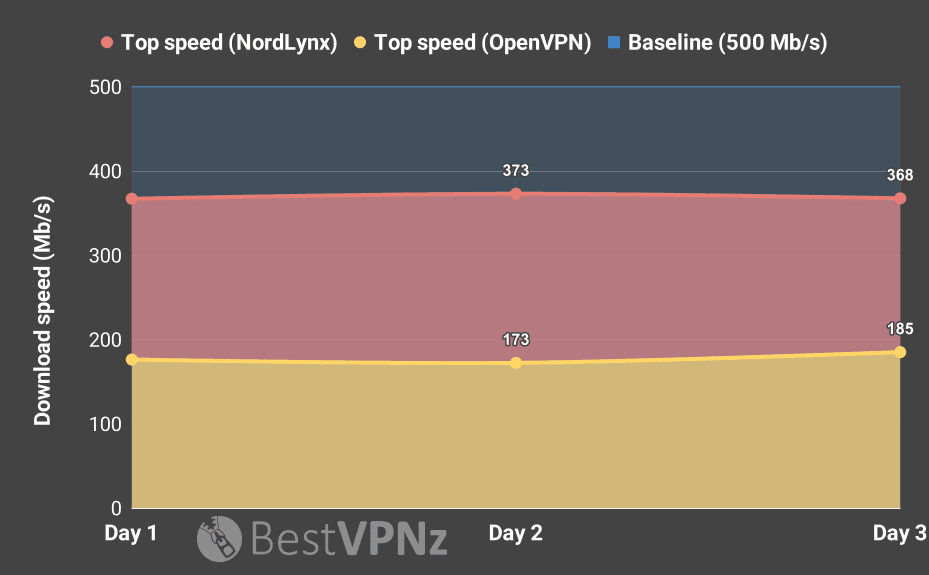 I tested six international server locations – UK, Sweden, US (New York), Canada (Montreal), Singapore and Australia (Perth)
The top download speeds peaked at 373 Mb/s using the fast, built-in NordLynx protocol
In contrast, the top speed using an OpenVPN connection was 185 Mb/s
The average speed for all locations combined using NordLynx was 297 Mb/s, and with OpenVPN – 143 Mb/s
I tested speeds every day, for seven days, using a 500 Mb/s baseline broadband connection
NordVPN WireGuard (NordLynx) support
NordLynx is NordVPN's version of WireGuard, which is widely considered as the next generation VPN protocol.
The difference between NordLynx and OpenVPN is that the former is a considerably leaner and more efficient VPN protocol, and thus allows for significantly faster VPN connections.
WireGuard is still, however, a protocol under development. But even though it's in its early days, more and more VPNs are beginning to roll it out on their services.
I expect it to become an industry standard at some point in the near future.
NordLynx connection speeds
In detail, here's the breakdown of top as well as average speed test results over NordLynx:
| | | |
| --- | --- | --- |
| Server location | Top speed | Average speed |
| United Kingdom | 373.2 Mb/s | 369.4 Mb/s |
| Sweden | 277 Mb/s | 240.3 Mb/s |
| United States (New York) | 364.3 Mb/s | 308.7 Mb/s |
| Canada (Montreal) | 321.2 Mb/s | 307.3 Mb/s |
| Singapore | 345.9 Mb/s | 310.7 Mb/s |
| Australia (Perth) | 277.2 Mb/s | 247.1 Mb/s |
OpenVPN connection speeds
I tested the same locations in parallel using a standard OpenVPN (UDP) connection. Here are the results:
| | | |
| --- | --- | --- |
| Server location | Top speed | Average speed |
| United Kingdom | 185.3 Mb/s | 177.7 Mb/s |
| Sweden | 172.5 Mb/s | 165.2 Mb/s |
| United States (New York) | 159.2 Mb/s | 153.7 Mb/s |
| Canada (Montreal) | 132.6 Mb/s | 124.2 Mb/s |
| Singapore | 145.7 Mb/s | 134.8 Mb/s |
| Australia (Perth) | 109.7 Mb/s | 105.3 Mb/s |
Is NordVPN safe to use – is it good for privacy?
My research shows that NordVPN is a safe VPN to use, and is a strong option for securing your internet privacy. It is an audited 'zero-log' VPN service registered in privacy-friendly Panama.

It offers solid security features including AES-256-GCM encryption, 'stealth' mode as well as Tor/Onion over VPN. I also found no IP leaks while testing the service for this NordVPN review.
Privacy summary
Here is a simple breakdown of what I think makes NordVPN a genuinely good choice for your privacy:
| | |
| --- | --- |
| No logs & audited | ✅ |
| Safe jurisdiction | ✅ |
| Clean track record | ✅ |
| No IP leaks (DNS / IPv6 / WebRTC) | ✅ |
| Strong AES-256-GCM encryption | ✅ |
| RAM servers | ✅ |
| Custom DNS | ✅ |
| Obfuscation ('stealth' mode) | ✅ |
In addition to the above, NordVPN offers a dual VPN feature that provides you with an extra layer of privacy.
However, the provider does have some past security issues, which I'll talk about shortly.
Does NordVPN keep logs?
NordVPN is a strict 'no-log' VPN service. Therefore, it will not keep a record of your traffic or connection data.
Traffic logs are the history of what you do on the web. In other words, it's your browsing history from all the websites and applications that you access on the internet.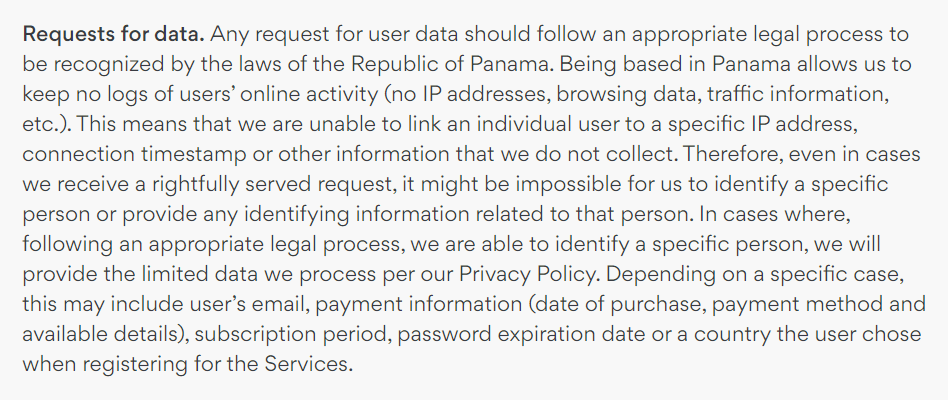 Internet service providers typically track this data, and have full visibility of what you do online.
Connection logs, on the other hand, include your IP and timestamp of the VPN connection. These are often stored by VPN providers, albeit briefly.
I should add, not all VPNs with connection logs are poor at privacy. In fact, some of the best VPN providers keep basic logs – securely – mainly for service maintenance.
But when a VPN claims to be a 'zero-log' provider, it's definitely a big plus. If it's true.
It's generally even better if its privacy/logging policy has been audited by an independent third party. And NordVPN was in fact one of the first providers to have been audited – more details on this below.
Privacy policy
Below is a quote from NordVPN's privacy policy regarding connection logs.
…we are unable to link an individual user to a specific IP address, connection timestamp or other information that we do not collect. Therefore, even in cases we receive a rightfully served request, it might be impossible for us to identify a specific person or provide any identifying information related to that person.

NordVPN privacy policy
The information it does collect is the user's email, username, and payment details.
Has NordVPN been audited by a third-party?
NordVPN was indeed one of the first VPN providers to hire an external third party to audit its privacy policy and verify its 'zero-logs' claims.
Also, it's one of the first VPNs to have had two privacy audits, with the first one run in 2018 and one in 2020.
Both audits were conducted by PwC Switzerland, which inspected NordVPN's server network configurations, ran interviews with staff, and monitored technical logs.
The 2020 audit also covered the specialized Double VPN, Obfuscated LAN, and P2P servers.
To summarize, it definitely seems like PwC's auditing approach was broad, resulting in confirmation of the absence of any privacy violations on the part of NordVPN.
External audits are increasingly common with VPNs. Nonetheless, the company's willingness to confirm their privacy claims is very assuring.
It certainly bodes well for their security efforts.
Where is NordVPN based?
NordVPN is based in Panama, which is widely regarded as a privacy-friendly jurisdiction.
Panama has no mandatory data retention laws and is not part of the '5 / 9 / 14 Eyes' surveillance alliance, hence why it's a decent HQ choice for a VPN service.
Does NordVPN have leaks?
I found no DNS or IPv6 leaks while running NordVPN.
To clarify, the presence of either leak could expose my online identity and would seriously undermine the VPN's security.
Fortunately, my test on ipleak.net shows that NordVPN successfully masked my original IP (IPv4) and DNS addresses with its own.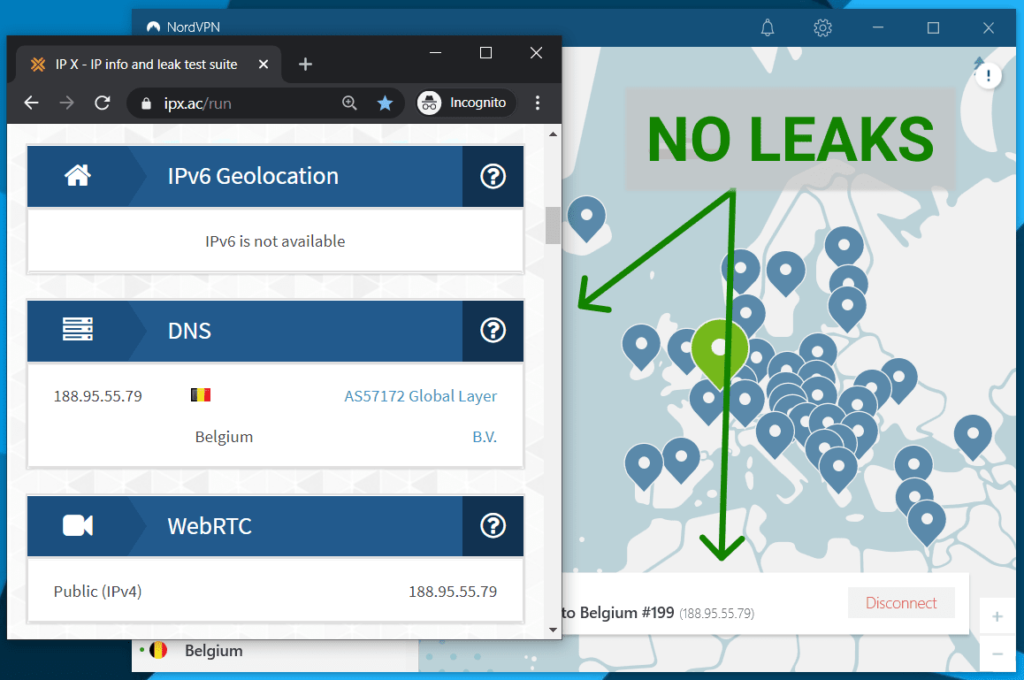 Also, note that there's an option to use NordVPN's own, custom DNS servers.
Likewise, the test did not detect any IPv6 leaks.
VPN protocols
Below is the list of VPN protocols supported by NordVPN:
WireGuard (NordLynx)
OpenVPN UDP
OpenVPN TCP
The OpenVPN protocol has been in development for longer, hence why you have to select it to use specialized servers like Dedicated IP, Double VPN, and Onion Over VPN.
As development on WireGuard continues, I will keep a close eye on things to see if their support expands to NordLynx. You may see this review update as a result.
How does NordVPN encrypt your data?
As NordVPN supports two VPN protocols – NordLynx and OpenVPN, it therefore applies different encryption methods for each of them.
OpenVPN connections are encrypted with AES-256-GCM with SHA2-512, TLS1.2, and 4096-bit DH key. AES is a level of encryption typically used by the US government.
The combination of these is known as Perfect Forward Secrecy using 3072-big Diffie Hellmann keys.
If you want to be extra secure, NordVPN does have double encryption through its Double VPN feature. This setting is particularly handy for those who live in suppressive or censorship-heavy countries.
For NordLynx connections, it uses ChaCha20 for encryption, Poly1305 for authentication, and Curve25519 for the Elliptic-curve Diffie-Hellman key agreement protocol.
In contrast, ChaCha20 is a more advanced version of AES and is typically used in cryptographic applications.
It's safe to say that NordVPN pulls out all of the stops when it comes to security.
Deep packet inspection test (passed ✅)
To check if NordVPN really does encrypt my data, I ran a deep packet inspection test on its VPN connection.
In simpler terms, I switched on NordVPN, browsed a few websites, and used a software called WireShark to check my traffic data while connected to the VPN.
If I found addresses of the websites I visited in these data packets, this would spell bad news for the VPN, as it would mean it is not fully encrypting my traffic.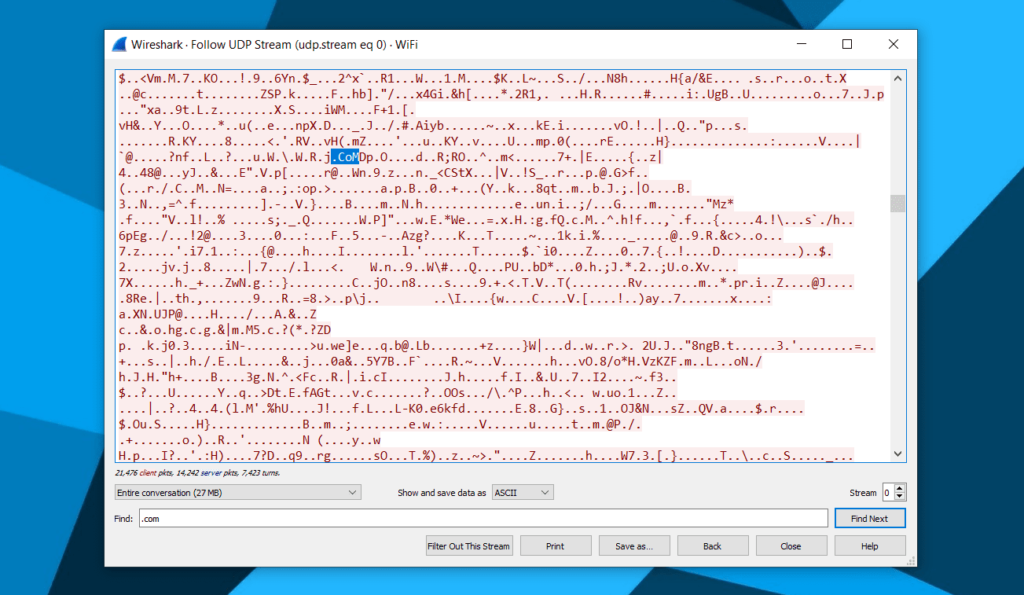 I checked several data packets generated by NordVPN for obvious signs of web addresses.
Above is an example of the gibberish from the VPN's output.
I found none of the website addresses I had visited among the nonsense, meaning NordVPN's ChaCha20 encryption over the WireGuard protocol was working as it should be.
Who owns NordVPN?
---
Update (November 2020): As part of a restructuring, NordVPN registered a new Panama-based parent company "nordvpn s.a.".
---
NordVPN has been continuously under Tefincom & Co., S.A., since its release in February, 2012.
In August, 2020, an Australian web security expert named Troy Hunt announced he was partnering with Tefincom.
All in all, it's becoming rarer to see a large VPN company maintain ownership for such an extended period. When comparing it to IPVanish, for instance, which has switched hands on several occasions through takeovers.
In February 2023, Nord Security — the platform behind NordVPN and Nord's other products — announced a merger with Surfshark.
The two VPNs will continue to operate autonomously, as two separate services and brands.
Considering Surfshark as well?

We strongly recommend to check out our detailed Surfshark vs NordVPN comparison guide.
NordVPN hack – was the 2018 data breach serious?
In October of 2019, NordVPN confirmed that a Finland-based data center was subject to a hacking incident. The data center operated NordVPN servers, and it was found that hackers had access to them for two months.
Security researchers first flagged the breach on Twitter, prompting NordVPN to make a public announcement.
Tom Okman, representing NordVPN as an advisory board member, stated that hackers had access to an exit node which protects IP addresses.
NordVPN affirmed that no user credentials were actually released during the breach.
Mr. Okman placed the blame squarely on the data center, saying they had "bad security practices." As a result, the VPN provider has discontinued working with the company.
An earlier security audit might have helped prevent this from happening.
Move to RAM-only servers & other security measures
Since the 2018 data breach, NordVPN has taken various, important steps to secure its infrastructure as well as to instil trust in its users. These are:
Migrated to 100% RAM-only servers
Conducted a second privacy audit (mentioned earlier)
Conducted a security audit
Partnered with third-party vendor VerSprite to evaluate data center risks
Launched a bug bounty program
In the past, I've seen several reputable VPNs ignore similar security issues, which did them no favors in the long run.
For this reason, it's great to see that NordVPN takes proactive measures to improve its security credentials, and clearly not just for the sake of cleaning up its public image in the short term.
Virus scan (passed ✅)
Lastly, I scanned the NordVPN app for Windows for viruses and malware using the online scanner – VirusTotal.com.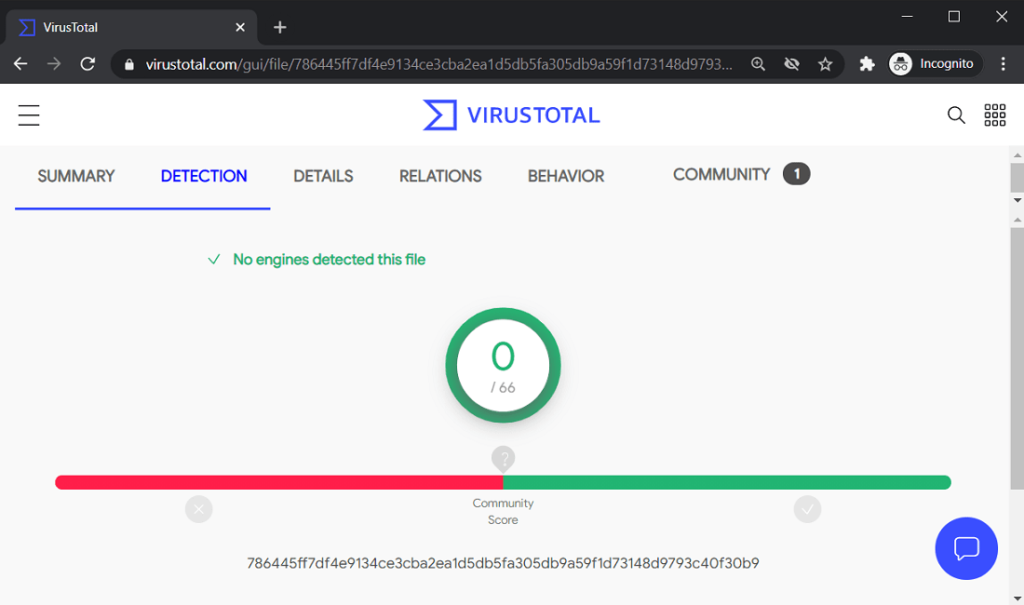 As a result of the scan, I'm pleased to say the scan found no known issues that would render the VPN client a security risk.
In other words, NordVPN's software is safe to install on your computer.
How does NordVPN work? (apps & features)
NordVPN has a variety of apps and features that emphasize security and performance. With 5,000+ servers in nearly 60 countries, it can be considered as a truly global VPN. Its apps are undoubtedly easy to use and the service is compatible with most platforms supporting VPN connections.

It is a simple yet high performance VPN solution that's great for both privacy and internet freedom.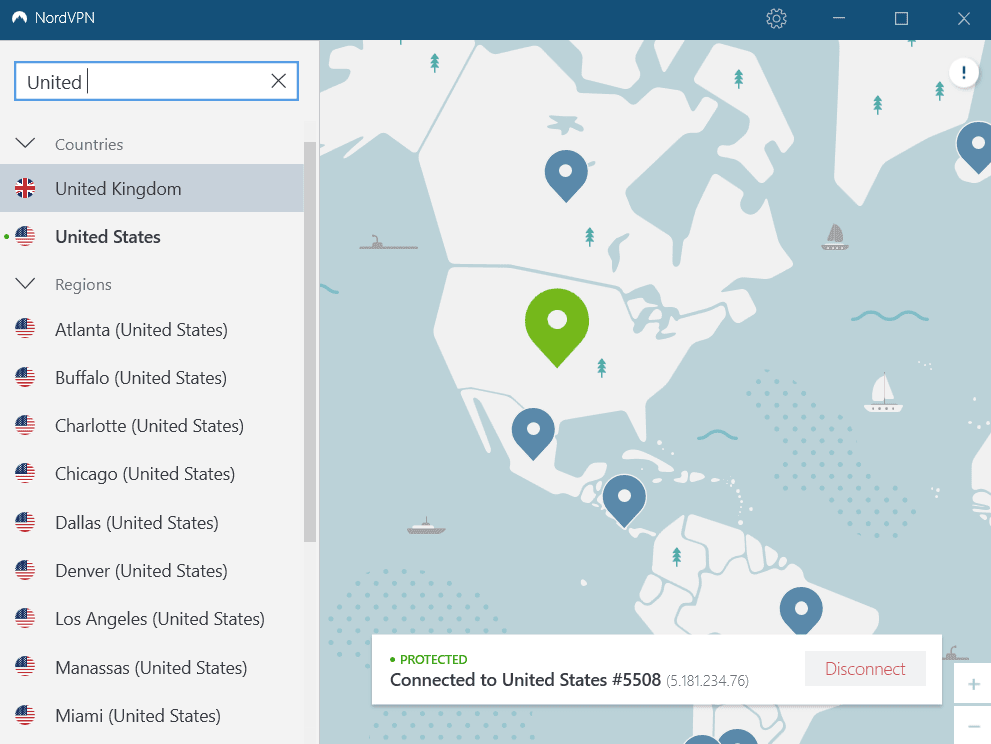 Supported operating systems, platforms, and devices
NordVPN works on most VPN-compatible operating systems and platforms.
In many cases, you can download NordVPN's easy-to-use apps for your device.
| | |
| --- | --- |
| Windows PC | ✅ |
| Apple MacOS | ✅ |
| Android | ✅ |
| iOS | ✅ |
| Linux | ✅ |
| Amazon Fire TV stick | ✅ |
| Android TV | ✅ |
| Gaming (PS4 / Xbox) | ✅ |
| Browsers (Chrome, Firefox) | ✅ |
| Routers | ✅ |
You can find many handy guides on how to set up a router with VPN on their website.
Next, I will be digging into some of their features.
Where are NordVPN's servers?
NordVPN has a variety of server locations, including in North America, South America, Europe, Asia, South Africa and the Pacific.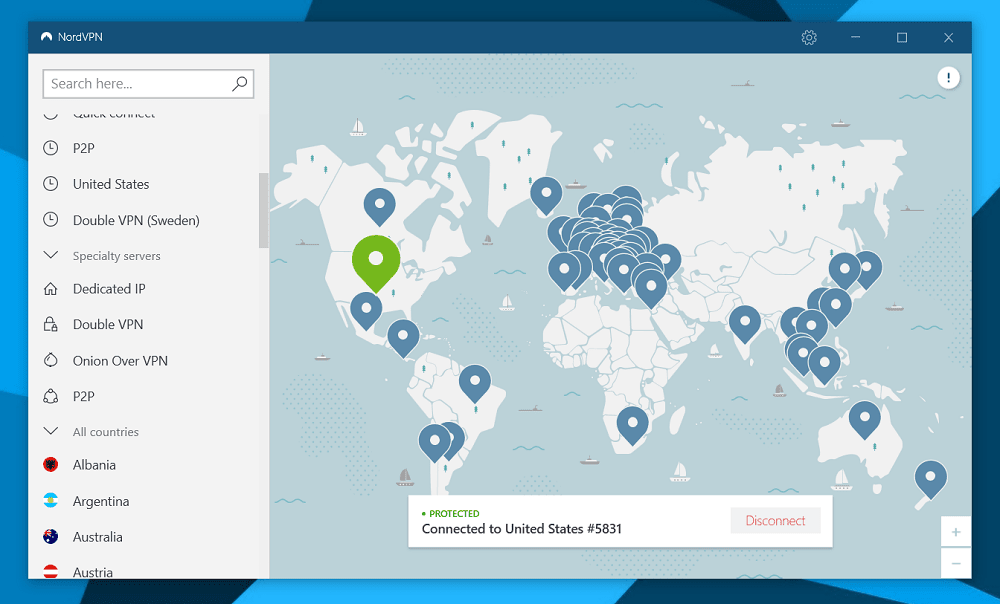 Larger countries with multiple server clusters like US, Australia, and Canada conveniently have specific cities that you can connect to.
Otherwise, most countries appear to have one, large cluster in a single location, meaning there's no option to pick from multiple cities.
How to choose the best server?
NordVPN's system automatically saves previously connected to locations. But picking a specific city is a bit more painful and not apparent.
In countries where multiple cities are available, you will first need to open the dropdown menu by clicking on the three dots next to each country.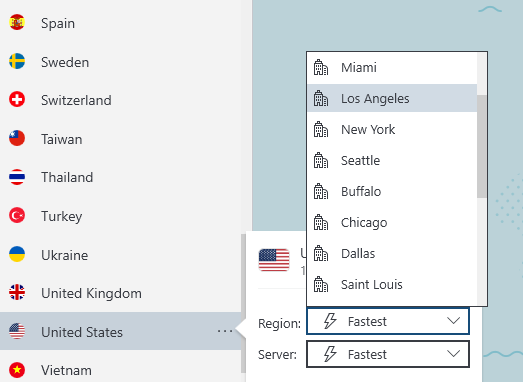 While this declutters the interface, it makes this process less than user friendly. Because of this, handling this VPN client will initially take a little bit of getting used to.
A slightly more annoying drawback is automatic server selection, which sometimes picks a much farther, and ultimately slower, location in a given country.
For example, when you connect to the US from Europe, the client might pick the California cluster instead of a more logical and faster option on the US East Coast.
What is double VPN?
Double VPN (multi-hop) is a highly useful security feature by NordVPN. It works much like the multi-hop function available with some other VPNs like VPN.ac.
With Double VPN, your traffic data essentially gets encrypted twice – through two NordVPN servers as opposed to just one.
This feature is especially useful in places with strong surveillance, or if you work with sensitive data.
It optimises your security by:
adding an extra encryption layer by chaining two servers together for your connection,
mixing the connection between UDP and TCP procotols,
leaving no trace of your original IP by the time your data arrives at the second server.
If you do choose to use this added security, you can expect your speed to reduce.
Also, at the time of writing this NordVPN review, Double VPN only works with the OpenVPN protocol.
Is NordVPN easy to use?
NordVPN is incredibly simple for anyone trying out their first VPN.
The user interface (UI) allows you to quickly select your preferred country using an interactive map.
Special servers like P2P, dedicated IP and Onion over VPN can be easily found in the navigational sidebar on the left.
Connections will only require one click unless you decide to search for specific locations.
But while it is a simple interface, it may have gone a tad too far for pickier users who prefer a more comprehensive server selection.
NordVPN also takes up almost 200MB of memory to run, which is a good chunk of RAM. It might drain the battery quicker, but this is the case with most VPN clients.
NordVPN settings
You'll find NordVPN's settings in the upper right-hand corner of the (desktop) client, where you'll see a variety of options to customize your connection.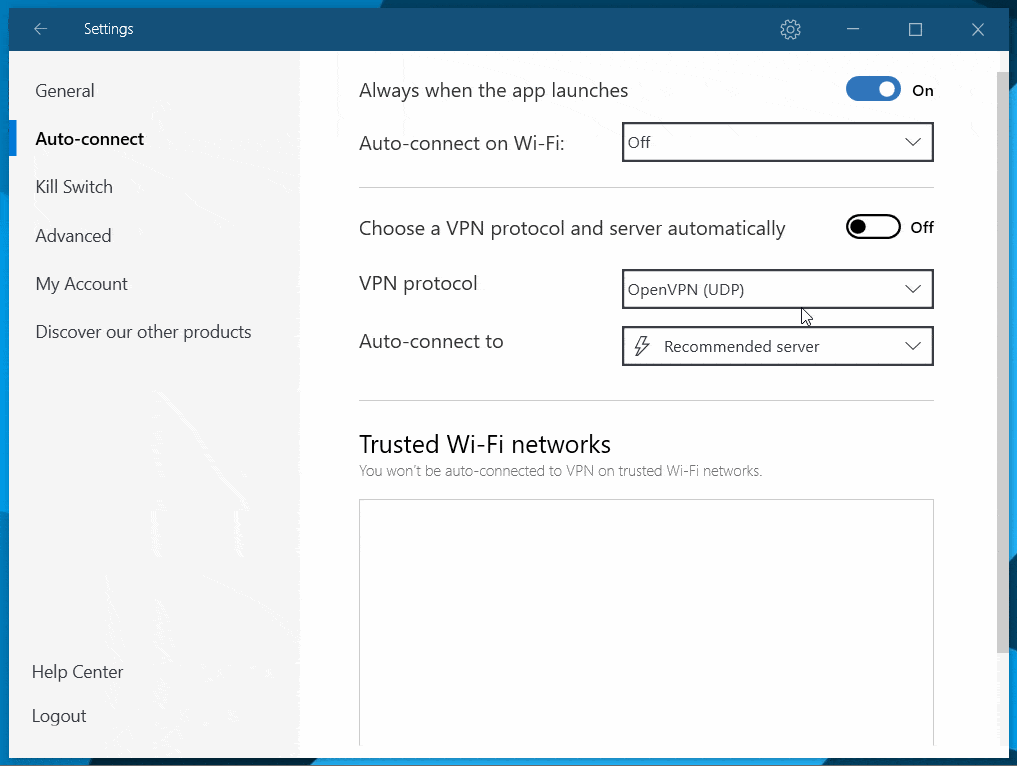 These are some of the settings you can control:
CyberSec – blocks malicious websites
Auto-connect over WiFi
VPN protocols: OpenVPN (UDP / TCP) or the recommended NordLynx
Kill switch: full internet connection or by individual apps
Custom DNS
Obfuscation (Stealth mode)
LAN invisibility
On the mobile app, you also get dual tunneling, which allows you to run your NordVPN connection through specific apps on your device.
Onion over VPN – combining NordVPN & Tor
NordVPN's service includes a feature called Onion over VPN.
Onion over VPN is a special type of connection available in the NordVPN client. It combines the VPN with the exceptionally strong privacy features of the Tor network.
It works by first encrypting your traffic through a VPN server and then sending it through the Tor network where it's then routed through three more nodes.
By default, each of the three Tor network nodes have no data about the source IP. And furthermore, each node applies an extra layer of encryption before your traffic reaches its web destination.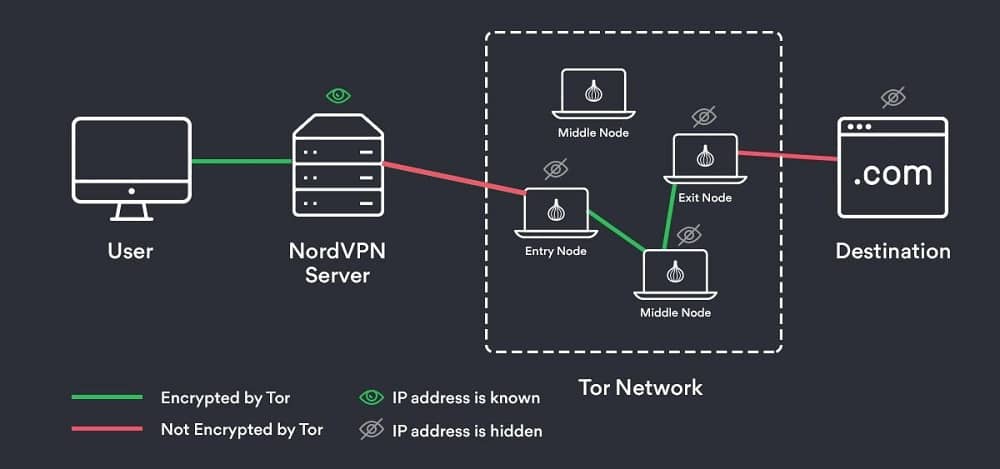 What is Onion over VPN in NordVPN?
On top of this, Onion over VPN routes your DNS traffic over Tor. As a result, this makes it possible for you to visit Onion (.onion) websites with a standard web browser.
But in terms of security and reliability, I still highly recommend using the Tor browser.
Onion over VPN is an extremely secure connection type, as it makes it especially difficult for a third party to spy on your internet traffic.
However, the unavoidable trade-off for the extra security is performance.
The added layers of encryption will most definitely diminish your speeds, so bear that in mind if you're planning on using it regularly.
Onion over VPN is not yet available to use with the NordLynx protocol. You'll need to use OpenVPN for this connection.
Two locations are currently supported – the Netherlands and Switzerland.
NordVPN on Android and iOS
NordVPN has applications for both iOS and Android platforms, and can be downloaded from Google Play or the App Store.
Both mobile apps work a lot like the desktop clients, but with added features like split-tunnelling, CyberSec (malware & fishing protection) and anti-tapjacking.
How does NordVPN work on mobile devices?
In comparison, NordVPN's interface on mobile devices is pretty similar to the desktop client.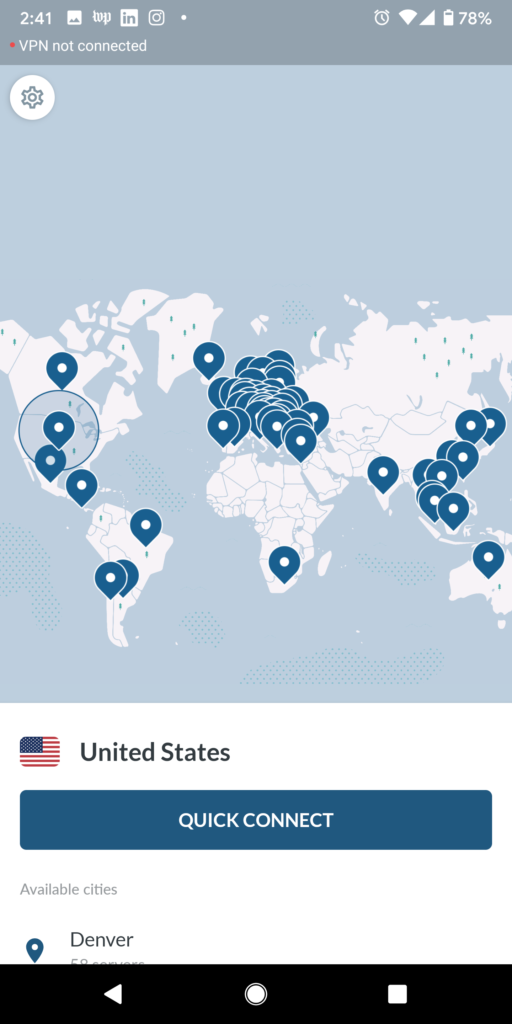 Because of the way it's formatted, it is actually a bit easier to find specific cities to connect to.
Everything is available on one page, which is a staple of good mobile design. Any option you might need can be reached by scrolling.
Does NordVPN allow torrenting? (Yes)
NordVPN allows torrenting, and has designated servers for P2P activity.
In fact, there's a pretty huge list of locations and servers to choose from. Some of the P2P locations include the US, UK, Sweden, the Netherlands, Canada, Switzerland, Japan, Singapore, to name a few.
NordVPN's client will also show you if any of its nodes are at full capacity. In this case, those will be greyed out.
Is NordVPN a safe choice for torrenting?
Of course, the big question is whether NordVPN is actually safe for torrenting.
To answer this, I ran a quick but very important test to see if my BitTorrent client (qBittorrent) was leaking my source IP address.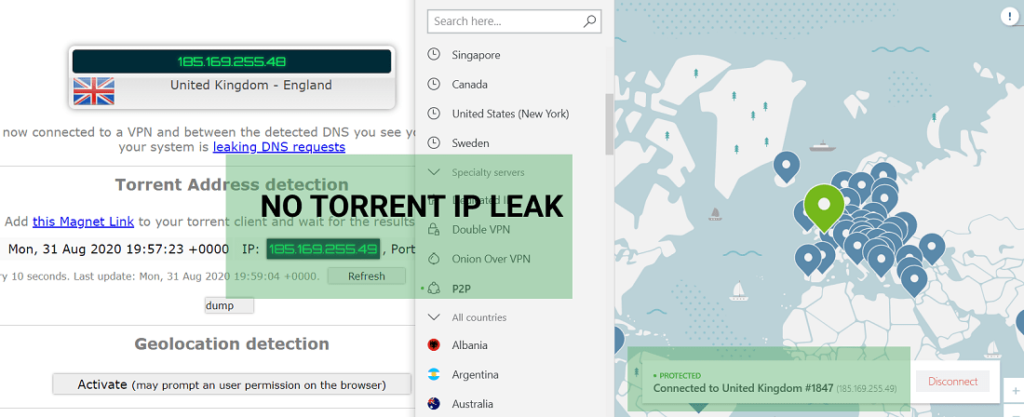 As you can see, the test showed that my IP was not being leaked when torrenting over NordVPN.
I did some additional digging around, and did actually find a couple of Reddit user reports about receiving DMCA / copyright infringement notices while torrenting over NordVPN.
This would certainly not be a good sign. But in today's world of shilling, it's really difficult to say how credible these claims are.
Likewise, if any of these claims are actually true, plenty of other factors that led to the notice could have been at play.
Therefore, I always recommend to run a simple torrent IP leak check for yourself.
Additionally, always use the kill switch. Or at least run the BitTorrent client through the apps kill switch.
Disclaimer: BestVPNz.com does not condone copyright infringement or any other illegal activities when using a VPN.
Does NordVPN work with Netflix & other streaming services?
NordVPN works with Netflix, Amazon Price or Hulu. In fact, it's we've chosen it as the best VPN for Netflix.
You can use either its VPN or the Smart DNS proxy –SmartPlay – to access geo-restricted libraries.
I tested if I was able to quickly access Netflix US from Europe using NordVPN. Sure enough, it worked perfectly.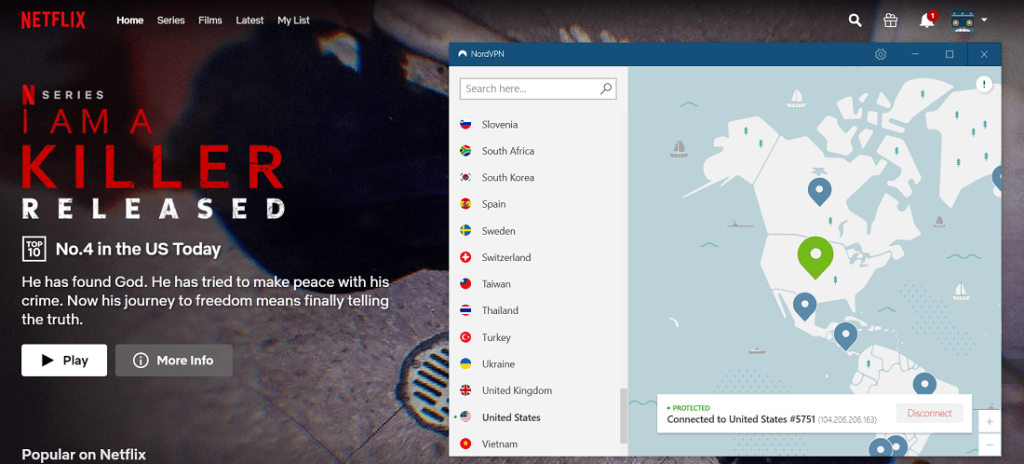 However, NordVPN does caution its users against bypassing copyright regulations. They have released the following statement on that.
The NordVPN service should never be used to bypass copyright regulations. NordVPN does not promote, condone or endorse the use of the service for such purposes…

From NordVPN's website.
Netflix actively blacklists VPN and proxy IPs, so don't be surprised if your doesn't load or suddenly stops working.
But if you encounter this issue, I recommend trying out a few other servers in your country of choice, if they're available.
NordVPN also has an application for Android TVs, which you can download directly from the Google Play store on your television.
Does NordVPN work With Amazon Fire Stick?
NordVPN works with the Amazon TV Firestick.
To use both, you'll need to download the NordVPN application from the Amazon Appstore.
But note that first-generation Fire sticks are not supported.
NordVPN on routers
Before I begin, check to see if your router supports OpenVPN.
NordVPN lists supported routers, but if you're unsure, check with your ISP if you can run a VPN through their default router. You may have to buy something from a third-party vendor.
Your router also has to support your VPN service as a 'client'.
Considerations for routers with custom firmware:
NetDUMA
DD-WRT
Tomato
Sabai
ASUS WRT or Merlin
Mikrotik
Padavan
Portal
pfSense
What is NordVPN Teams?
In addition to its personal solution, NordVPN also offers a Business VPN – NordVPN Teams – that's aimed at small and medium enterprises.
Teams has some unique features but I won't go into its full scope in this NordVPN review.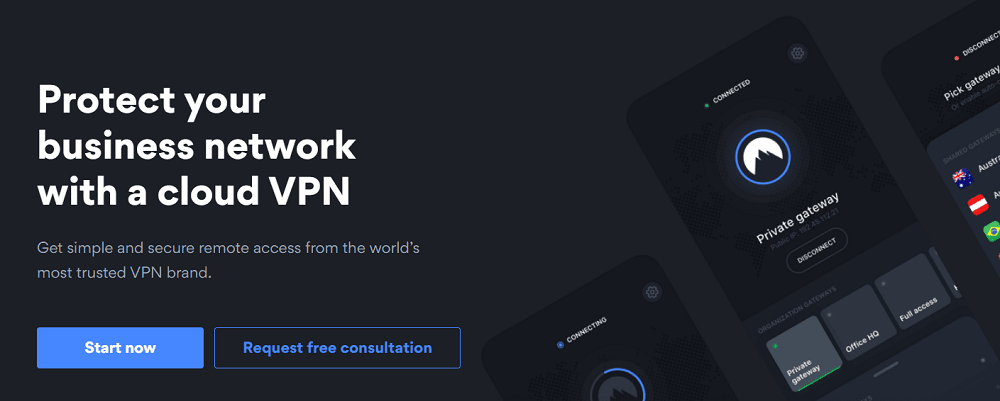 Below, you can check out the list of features that comes with this business-based VPN service.
NordVPN Teams has a team-based control panel that allows you to manage all user accounts
At the time of this NordVPN review, it has 3,000+ servers in 30+ countries
It offers centralized billing for your entire team.
NordVPN Teams supports third-party authentication features (e.g. SSO)
It also has an included kill switch, just like the personal version.
While there is no direct price, you can request a consultation.
What is NordPass?
NordPass is a password manager offered by the same company as NordVPN.
You can include NordPass as an add-on to your NordVPN subscription.
NordPass has modern password management features including password and username generators as well as password sharing.
It uses the faster XChaCha20 algorithm for encryption.
NordVPNs costs $2.50 per month, but you can make use of the free version which supports one device only.
The free version also lacks password sharing.
What is NordLocker?
NordLocker is a cloud storage service offered by the company behind NordVPN.
The service is a more secure alternative to the likes of Google Drive and Dropbox that allows you to store any digital files including photos, passwords, medical records, and so on.
NordLocker lets you access your lockers locally on your device or through the cloud. A cloud locker is an encrypted folder that can only be accessed by someone with the right credentials.
NordLocker encryption
Argon2
AES256
EEC
XChaCha20
EdDSA
Poly1305
You can get 3 GB of storage for free, but it jumps up to 500 GB if you are willing to pay $4 per month.
Similarly to NordPass, the premium version of NordLocker can be included as an add-on to your NordVPN subscription.
NordVPN Reddit reviews – what the users are saying
As expected, NordVPN is a highly discussed VPN service on Reddit forums.
I checked out a few relevant subreddits to see what real users have been saying about their experiences with the service.
I found some incredibly positive reviews complimenting NordVPN's speed. Which is a big deal for any VPN. Of course, my speed test confirmed this.
The detailed security features also have high praise, as this service could feasibly be useful in more oppressive countries.
On the negative side, there was a lot of controversy following the 2018 data breach.
Reddit users were among the key groups to scrutinize NordVPN.
User comments on Reddit
I'm happy with Nord as it's the best when comparing total value. Sure it has disconnect issues, but if you set an internet kill switch, you won't accidentally expose yourself. It definitely has few competitors when taking protections against government spying into consideration. It's rock solid for me on torrents.

Source

This app really needs a dark mode. It burns my eyes

Source
As you can see, it's also a place where users submit their feature requests.
Because of its popularity and size, NordVPN has its own, dedicated subreddit where users post topics about the service.
Does NordVPN offer customer support?
NordVPN has a 24/7 customer service center that supports the following:
24/7 chat services,
Email,
Online self-service (FAQ)
Unfortunately, they do not have a phone line that you can call.
This is the case regardless of you choosing the standard NordVPN or the NordVPN Teams edition.
When using NordVPN Teams, the provider claims to have an email support ticket response time of less than three hours.
NordVPN review results – I gave it 9.5 /10
After careful consideration, I can confidently conclude that NordVPN is an excellent product that scores a 9.5 out of 10. It's an ideal privacy tool for people who are looking for their first VPN. Likewise, I think it's worth considering even for the more experienced users searching for their next VPN that has strong security and excellent performance.
Below, I'll summarize what I like about NordVPN, and also highlight areas of improvements that I think would make it even better.
What makes NordVPN great 👍
Strong encryption & security features like Obfuscation, dedicated IP, and Onion over VPN
Passed multiple audits including on its privacy policy and security implementation
Registered in Panama – a privacy-friendly jurisdiction where there are no data retention laws
No IP or DNS leaks found while writing this NordVPN review
Exceptionally fast VPN with peak speeds of 373 Mb/s
Works well with Netflix as well as Amazon Prime and other streaming services – either through VPN or its Smart DNS proxy
Extensive server network which includes designated P2P nodes
24/7 chat support is available
Business VPN solution available for SMBs
What could be improved 👎
Adding split-tunnelling on desktop
Summary
NordVPN is undeniably a giant on the VPN market, and it grew this fast for a reason.
Most importantly, the Panama-based VPN provider is clearly committed to offering a secure product.
This is critical for all VPN services, but sadly, not all of them can boast to have the security credentials of NordVPN.
Also, It's one of the fastest VPNs I've come across. It's really fast, even when compared to other top VPNs we've reviewed.
NordVPN has an extensive server network across many countries, which means you can easily hide your internet identity in most locations, without compromising on speed.
Above all, if you're looking for a premium combination of speed and security, NordVPN is an easy recommendation.
NordVPN alternatives – are there any better VPNs?
NordVPN outperformed pretty much across the board for me. Hence why I scored it so highly.
Nevertheless, if you think there's an aspect of its service that lacks something that for you is a must-have from your VPN, I can recommend taking a look at these tried & tested NordVPN alternatives.
NordVPN vs ExpressVPN
When it comes to comparing NordVPN vs ExpressVPN, we're talking about a battle between two of the biggest VPNs on the market today.
We've reviewed and tested both services, and found the margin between the two is thin.
Here's how these industry heavyweights stack up against each other when comparing them for essential criteria like price, security, speed, features and support.
| | | |
| --- | --- | --- |
| | NordVPN | ExpressVPN |
| Price | $4.19 p/mo. | $6.67 p/mo. |
| Privacy | No logs (audited) | No logs (audited) |
| Encryption | AES-256-CGM | AES-256-CBC |
| Top speed (WireGuard) | 373 Mb/s | 336 Mb/s |
| Servers | 5,000+ servers / 60 countries | 3,000+ servers / 90+ countries |
| Browser extension | ✅ | ✅ |
| No IP /DNS leaks | ✅ | ✅ |
| Obfuscation | ✅ | ❌ |
| Works with Netflix | ✅ | ✅ |
| Works in China | ✅ | ✅ |
| Torrents | ✅ | ✅ |
| Smart DNS | ✅ | ✅ |
| Connections | 6 | 5 |
| Support | 24/7 live chat | 24/7 live chat |
| Website | NordVPN.com | ExpressVPN.com |
As you can see, NordVPN edges it on several features as well as the lowest price point.
It has a larger server network, it's faster (and supports WireGuard) and uses the more efficient AES-256-CGM cipher.
But, at the same time, these differences may well be negligible to the average user.
NordVPN vs IPVanish
Another popular service that NordVPN often gets compared with is IPVanish.
IPVanish is a recognized, US-based VPN. I'd say it's actually quite similar to ExpressVPN in terms of its feature set.
To compare the two, here's how NordVPN and IPVanish stack up side by side:
| | | |
| --- | --- | --- |
| | NordVPN | IPVanish |
| Price | $4.19 /mo. | $3.33 /mo. |
| Privacy | No logs (audited) | No logs (proven) |
| Encryption | AES-256-CGM | AES-256-CBC |
| Top speed | 373 Mb/s | 149 Mb/s |
| Servers | 5,000+ servers / 50+ countries | 1,600+ servers / 70+ countries |
| Browser extension | ✅ | ❌ |
| No IP / DNS leaks | ✅ | ✅ |
| Obfuscation | ✅ | ✅ |
| Works with Netflix | ✅ | ✅ |
| Works in China | ✅ | ❌ |
| Torrents | ✅ | ✅ |
| Smart DNS | ✅ | ✅ |
| Connections | 6 | Unlimited |
| Support | 24/7 live chat | 24/7 live chat, phone support |
| Website | NordVPN.com | IPVanish.com |
NordVPN clearly beats IPVanish for encryption, speed and server network size.
However, IPVanish is nonetheless considered a great choice for streaming content.
In addition, the service is slightly cheaper, offers unlimited device connections and even has phone support, albeit in limited countries.
NordVPN FAQs
Does NordVPN work in China?
Although no VPN is guaranteed to always work in mainland China, NordVPN is one of the few services that should offer some consistency. Thanks to its Obfuscation feature — also often referred to as 'stealth' mode, NordVPN can make your VPN-encrypted traffic appear as ordinary web traffic, thus helping itself in evading detection by the Great Firewall.
How good is NordVPN?
NordVPN is very highly rated, primarily for fast speeds, but also for its solid privacy policies and security features. The Panama-based service scored well in all of our VPN tests, hence why we're also recommending it.
Does NordVPN collect logs?
NordVPN has a 'no-log' policy, meaning it doesn't keep any logs that could identify its user — for instance, through their original IP address. Its privacy policy has also been independently audited on multiple occasions.
Does NordVPN have Smart DNS?
As part of the NordVPN subscription, you will also be able to use its Smart DNS, to be able to stream content on devices such as your Smart TV. You'll find details on how to access the feature in your NordVPN account dashboard.
Is there a free version of NordVPN?
NordVPN is a paid VPN and therefore does not offer a free service. What you can take advantage of, however, is the risk-free 30-day trial by signing up to its service. And if you're not happy with the product, you'll be able to request your money back within this period.
---
Are you a NordVPN user or were a customer in the past? We want to hear from you! Leave your feedback and rating in the comments below 👇