VPN Reviews
Here you'll find links to in-depth VPN reviews and tests. If you're looking for a specific provider review, you can also use the search to find it.
| | | | |
| --- | --- | --- | --- |
| Provider | Our score | User rating | Review |
| VPN.AC | 9.6 | | |
| NordVPN | 9.5 | | |
| Surfshark | 9.3 | | |
| VyprVPN | 9.2 | | |
| Private Internet Access | 9.2 | | |
| ExpressVPN | 9.2 | | |
| CyberGhost VPN | 9 | | |
| TorGuard | 9 | | |
| Windscribe | 8.8 | | |
| HideIPVPN | 8.6 | | |
| IPVanish | 8.3 | | |
| ProtonVPN | 8 | | |
| TunnelBear | 7.8 | | |
| ibVPN | 7.8 | | |
| StrongVPN | 7.5 | | |
| HideMyAss (HMA) VPN | 7.4 | | |
| BTGuard | 7 | | |
| PureVPN | 5.4 | | |
What are the best VPNs?
If you've already had a look through some the VPN reviews on our website, you'll now have a pretty good idea of which VPNs are rated highly and which ones are not really worth paying for.
But given there are quite a few decent providers out there, including those we've tested, it might not be so easy to make a final decision on which VPN to actually buy. So help you with deciding on which service to subscribe to, here's a rundown of the five top rated VPN services available on the market today.
How much are VPNs?
The average price for a standard one month VPN subscription is in the region of $10.
It is possible to find services with a rolling monthly subscription that cost less than $9, though these packages are typically limited in their features.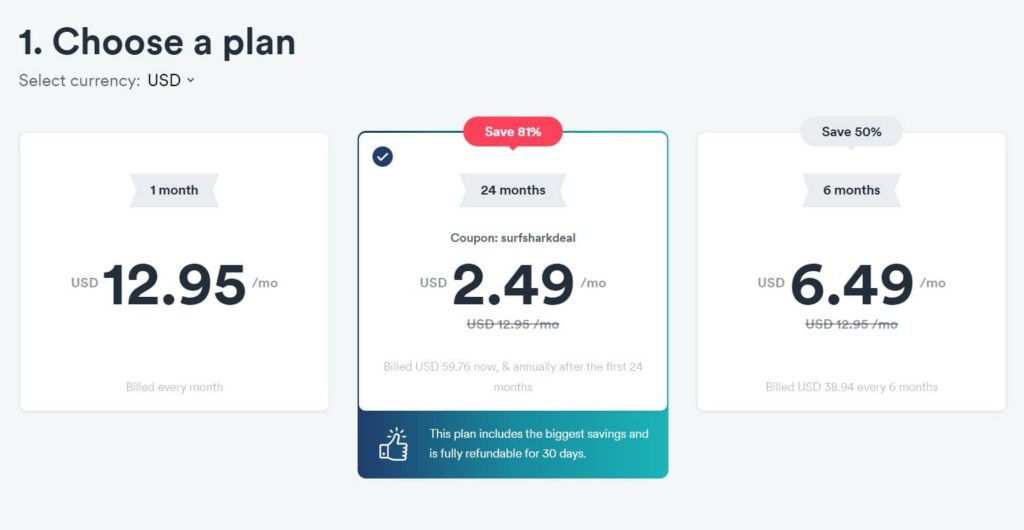 However, the most cost-effective way of buying a VPN for the long term is to sign up to a longer plan.
These are usually offered as 6, 12, 24, or 34 month plans, and sometimes even longer billing cycles. The big upside of subscribing for a lengthier period is that you'll normally get a considerable discount from the original monthly price.
Sometimes, as a bonus, VPN companies throw in extra months of service as part of the offer.
Keep in mind that while the advertised price is normally listed as monthly, the longer plans, in most cases, actually involve an upfront payment.
VPN reviews comparison table
An easy way to check what each of the top-ranked VPNs excel at — whether it's more features, faster speeds or lower price — is to compare them all side by side in a table.
We've also highlighted the standout features so you can quickly spot which option fits your needs the most.
| | VPN.ac | NordVPN | Surfshark | PIA VPN | ExpressVPN |
| --- | --- | --- | --- | --- | --- |
| Based in | Romania | Panama | BVI | USA | BVI |
| Price /mo. | $3.75 | $3.71 | $2.49 | $2.69 | $8.32 |
| Top speed | 350 Mb/s | 373 Mb/s | 359 Mb/s | 345 Mb/s | 336 Mb/s |
| Reliability | ⭐⭐⭐⭐⭐ | ⭐⭐⭐⭐⭐ | ⭐⭐⭐⭐ | ⭐⭐⭐⭐ | ⭐⭐⭐⭐⭐ |
| Logs | Connection (1 day) | No (audited) | No | No (verified) | No (verified) |
| Countries | 20+ | 60+ | 60+ | 70+ | 90+ |
| Netflix | ✅ | ✅ | ✅ | ✅ | ✅ |
| Torrents | ✅ | ✅ | ✅ | ✅ | ✅ |
| China | ✅ | ✅ | ✅ | ❌ | ✅ |
| Max. connections | 6 | 6 | Unlimited | 10 | 5 |
| Browser add-ons | ✅ | ✅ | ✅ | ✅ | ✅ |
| Refunds | 7 days | 30 days | 30 days | 30 days | 30 days |
How we review VPNs
Before passing any judgement in our VPN reviews, we'll spend several days and many hours researching each company and their product.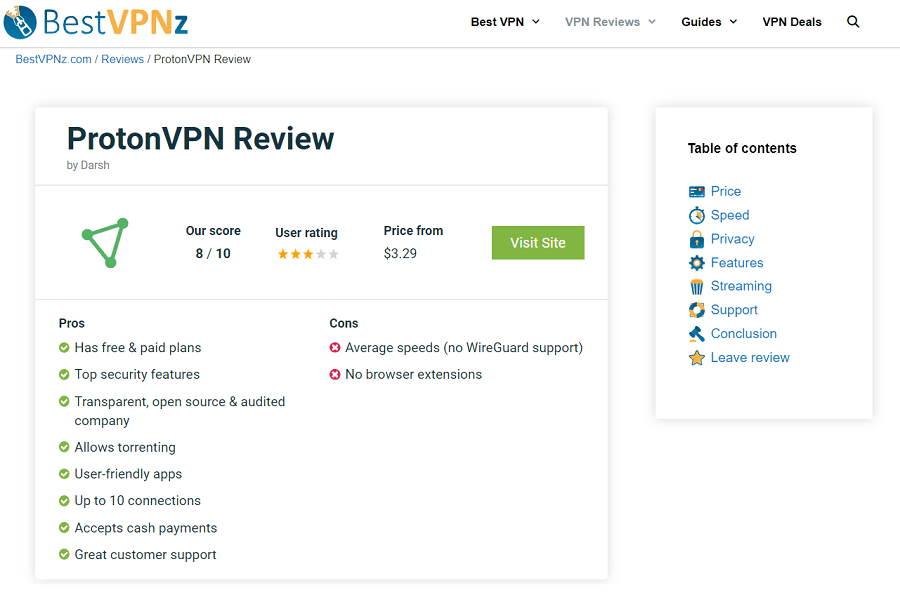 As a rule, we'll run a series of important VPN tests which will give us enough data to be able to say if the service is actually any good.
To keep things simple and also to make sure nothing slips through the cracks, we split our review process into several parts:
Psst…. Did you know you can get your own VPN reviews published on BestVPNz.com? If you have something to say about a service you've used in the past or are using today, we'd love to hear about it.
Price check, aisle two
To know if the company is offering a good VPN deal or not, we'll check its advertised pricing and compare it with other providers' offers.
In addition, we also find out if there are any coupons available or if the service has a reasonable, clear refunds policy.
Speed
Poor VPN connection speeds can make for a very frustrating browsing experience.
Worse still is if you're stuck with an unbearably slow service for a purpose like streaming or gaming, where high bandwidth shouldn't be compromised.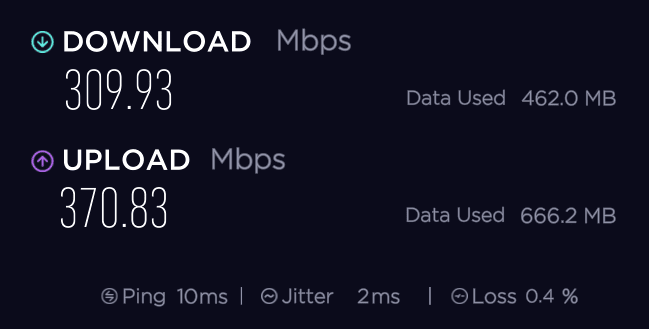 As all VPN connections slow down internet speeds to varying degrees, testing a provider's speed is a must.
For all of our VPN reviews, we'll run speed checks using a 500 Mb/s fibre broadband connection, testing the network across (at least) six different locations around the world.
To run the tests, we normally use the Speedtest desktop app by Ookla.
Privacy
If a VPN fails at keeping your data private, intentionally or not, we're inclined to say: you had one job.
But how can you know if a VPN is any good at privacy?
For this part of our VPN reviews, we:
check up on the company's background & history;
read through the fine print in the privacy policy and T&Cs;
test for leaks (IP, DNS, WebRTC, etc);
scan the apps for viruses and malware;
and check to make sure its encryption is working.
If all those boxes are checked, we can conclude the VPN should be safe to use.
Apps & features
Something we spend a lot of time on is testing different VPN apps.
Normally, we'll use a provider's software for a week. But occasionally, the testing can extend up to a month, or longer.
While testing the clients, we:
check if the product is easy enough to use, as we know that not everyone is an advanced techie;
see which features are included and whether all of them work as intended (e.g. the kill switch);
find out if the VPN works with popular streaming services, like Netflix;
test to see if it's safe for torrenting (if the provider allows P2P traffic in the first place).
Customer support
At the end of the day, no technology is perfect and all software is prone to bugs and unexpected fails.
In these instances, as a VPN user, you'll want to know that you're in safe hands.
You'll need responsive and helpful customer service.
So when we review VPNs, we'll always try to reach out to their support teams with technical, product related queries.
A provider will get good marks if they are reasonably quick to reply, not rude or dismissive and, most importantly, are able to help with resolving our query.
---
VPN Review FAQs
Which VPN providers take anonymity seriously?
Unfortunately, not all VPN services are fully committed to keeping your data as anonymous as possible. But you can find out if a provider is more or less trustworthy through a few, typical telltale signs, like a clear and transparent privacy policy, no leaks and a privacy-friendly jurisdiction.
Should I buy a VPN service?
If you're keen on levelling up your online privacy habits or getting the most from of your streaming service, then a good VPN should be near the top of your shopping list.
Remember, most providers have a money-back guarantee, meaning you should be able to claim for a refund within a certain period if you're not happy with the service.
Is there a free VPN service?
It is possible to find a VPN that offers some sort of a free plan or extended free trial, although you should expect the service to be very limited compared to what you'd get on a paid subscription.
Our Free VPNs guide covers and compares the top, costless services that don't require your payment details but are still safe to use.
How do you use a VPN service?
Using a VPN is very easy. Most modern providers come with user-friendly apps already pre-configured with the optimal settings for your device and location. So once you have access to the app, connecting to a server will be as easy as clicking (or tapping) on one button.
Where can I purchase a VPN?
You can find or get help with choosing a VPN on any credible and trustworthy VPN review site (wink-wink). Once you know which service you'd like to try out, simply go to that provider's website, where you can learn even more about their product, and subscribe to the service if you're convinced it is what you're looking for.