If you've been having trouble accessing content on YouTube, then this guide is for you. we'll explain ways to unblock YouTube videos (or the website itself) from anywhere — whether it's a country, your workplace or even at school.
In this guide 🔎
---
What is YouTube?
YouTube has long been the main platform for publishing and watching all sorts of video content. And it's available to most people around the world.
Its dominance on the internet has been mostly unchallenged for a decade and a half, now.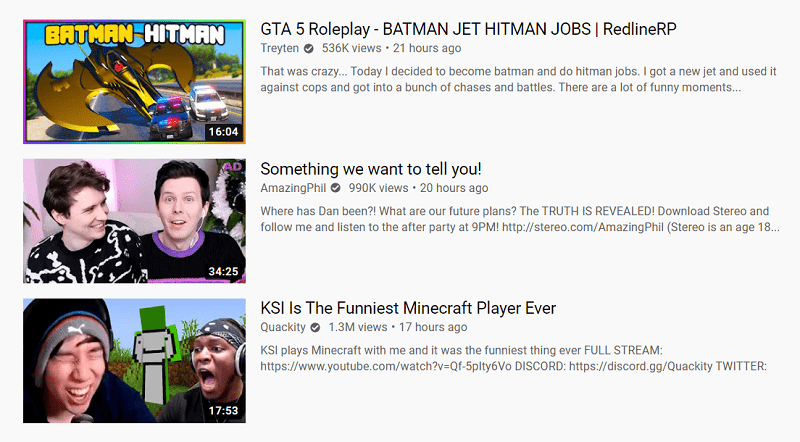 In fact, at the of writing this guide, YouTube is officially the 2nd most popular website in the world, according to Alexa Internet's Top sites.
The platform is regularly frequented by over a billion users, and every day, billions of hours of video content is being watched.
Why is YouTube blocked?
YouTube.com or specific content hosted on the platform can be blocked in your location for a number of reasons.
Typically, the platform gets temporarily or even permanently censored to prevent criticism of religion, countries, and governments.
Sometimes, it is also due to regional content restrictions, such as intellectual property and copyright protection laws. Censorship
It is also possible for YouTube to be blocked due to violations of hate speech, morality-based laws, or ethics laws. Sometimes, the reason is simpler, such as blocking YouTube due to content that is considered inappropriate for children.
Regional content restrictions
Likewise, content from specific channels — for example, sports-related — might be published with geo-restrictions, as set by the channel owner. Meaning those videos are not available to watch in your country or region.
Not to mention that there are still countries in which YouTube operates, but doesn't yet offer YouTube Premium or YouTube Red.
Blocked at school or on work network
YouTube also often gets blocked on school, college/university and workplace WiFi networks.
This is mostly done to prevent it from being a "distraction".
However, blanket blocks can actually be detrimental should you ever need access to useful content to help with your work or studies.
Fortunately, there is an easy way to bypass these restrictions and censorship, and all that you need for that is access to a good, capable VPN.
How to unblock YouTube from any country, work, or school? 🔓
YouTube typically gets blocked in schools, universities, offices, and even in entire countries, as mentioned.
When this happens, the easiest way to unblock it is for users to subscribe to a VPN service.
These are easy-to-use app/software solutions that allow users to connect to distant servers, located in other countries around the world.
By connecting to a VPN server in a different location, users can effectively mask their IP address and replace it with one tied to the server they're connected to.
Basically, they get to change their location, and "move" to a place where YouTube is not blocked, thus getting unrestricted access to the platform.
What is the best VPN for YouTube? 🏆
There are countless VPN services out there, and many of them are decent enough. However, users need to be careful, as there are also many providers that are flawed and sometimes even a security risk. The top 3 recommended VPN services for unblocking YouTube are:
VPN.ac — Cheap, fast and exceptionally secure VPN & proxy. Ranked #1 by BestVPNz.com.
NordVPN — Arguably the most popular VPN with top speeds, great apps and a huge server network.
Surfshark — BVI-based VPN service with slick browser extensions as well as ad blocking features.
Poor quality VPNs are likely not going to do the trick for those who wish to stream YouTube and other similar services. To avoid experiencing speed, connection or worse — privacy issues, we recommend using one of these fully tested and verified VPNs.
VPN.ac: VPN & proxy for YouTube
Our score
User rating
Our score
User rating
Price $3.75 p/mo
Pros
Has combo of VPN & proxy services
Fast connection speeds
Top security features
Simple & intuitive applications
Secure browser extensions for Chrome, Firefox & Opera
Fast support response times
Premium service is cheap
Cons
Not a huge number of locations
The first on our list is VPN.ac, which is a VPN service as well as a proxy that you can use for accessing YouTube.
VPN.ac does not have a large server network other (bigger) providers might boast, which typically offer thousands of servers in dozens of countries.
However, it does still offer access to over 20 countries, which were carefully selected to provide virtual gateways to as many typically censored services as possible.
On top of that, VPN.ac is significantly more affordable than most other top services.
It offers up to 6 simultaneous connections, as well as apps for Windows, Mac, iOS, and Android.
As mentioned, it includes full access to its SecureProxy browser add-on for Chrome, Firefox and Opera, which allows you to change your location and access YouTube from one of many world regions.
And, since it doesn't keep activity logs, only you know what you do online when you're using it.
NordVPN: YouTube VPN & proxy
Our score
User rating
Our score
User rating
Price $4.19
Pros
Great for privacy (zero logs & no IP leaks)
Exceptionally fast VPN speeds
Easy-to-use VPN apps
Has extensions for Chrome & Firefox
Includes ad & malware blocker
Works in China
Compatible with most devices & platforms
Cons
No extension for Opera browsers
Next, we have NordVPN, which is one of the most popular and top-rated VPNs in the world.
It offers a massive server network that consists of 5,000+ servers in approximately 60 different countries.
In other words, this VPN will let you access pretty much any blocked online resource out there.
Thanks to its excellent speeds — and it's officially the fastest VPN we've tested — you can browse YouTube without experiencing any inconveniences with buffering.
It's available on a variety of platforms, including Windows, Mac, iOS, Android, Linux, Smart TVs, and more.
It even has a proxy service in the form of a browser add-on (for Chrome and Firefox), so you don't have to fire up the entire VPN just to access YouTube.
NordVPN can also block out all those annoying ads and it has built-in tracking & malware protection, as an extra layer of security.
The prices are a bit more expensive (than VPN.ac), but not by too much, especially as you'd get great discounts if you go for long-term plans.
If you're not happy with the service after having signed up, it offers a 30-day money-back guarantee, so you can get a full refund if you request it within 30 days.
Surfshark VPN & proxy in one
Our score
User rating
Our score
User rating
Price $2.49
Pros
No logs & based in BVI
Excellent speeds (supports WireGuard)
Large server network
Works in China
Unlimited device connections
Chrome & Firefox extensions
Includes ad blocker & malware protection
Cons
No extensions for Opera browsers
Lastly, we have Surfshark — a VPN based in the British Virgin Islands that is relatively new compared to other top VPNs. But nonetheless just as capable.
Surfshark is fast, it has over 3,200 servers in 60+ countries, with private DNS protection for all connections.
It operates with a 'no-log' policy, and it comes with a number of additional privacy and security features, on top of everything mentioned already.
Surfshark is cheap if you for a longer-term plan, and also has a 30-day money-back guarantee.
Unlike the other providers mentioned above, Surfshark lets you use its service on an unlimited number of devices at once. It is a perfect choice if you wish to give your entire household access to YouTube and other websites that may be blocked in your location.
Lastly, like the other VPNs, it is available on a variety of devices, and has browser add-ons for quick and easy access to YouTube.
If you want to compare these three VPNs to some other providers, we have plenty of other VPN reviews that you can check out.
What is the best proxy for Youtube?
If you wish to use a VPN to unblock YouTube, the mentioned services are the best ones to do it. However, using an entire VPN, with all of its privacy and security features just for YouTube is a bit of an overkill.
If you do not have an interest in things like foreign countries' Netflix and similar services, and you only want YouTube, you can just as easily access it with competent proxies.
Here are our top picks when it comes to this approach. Although, we should mention that, while we cover these services as proxies — they also have premium versions that include VPNs.
That way, if you ever decide that you wish to do more with your internet access, you can simply purchase one of the premium plans and keep using the same provider.
HideMyAss proxy (free)
For a free proxy service, you can look to HideMyAss (HMA), which also functions as a fully-fledged VPN, if you go for its premium version.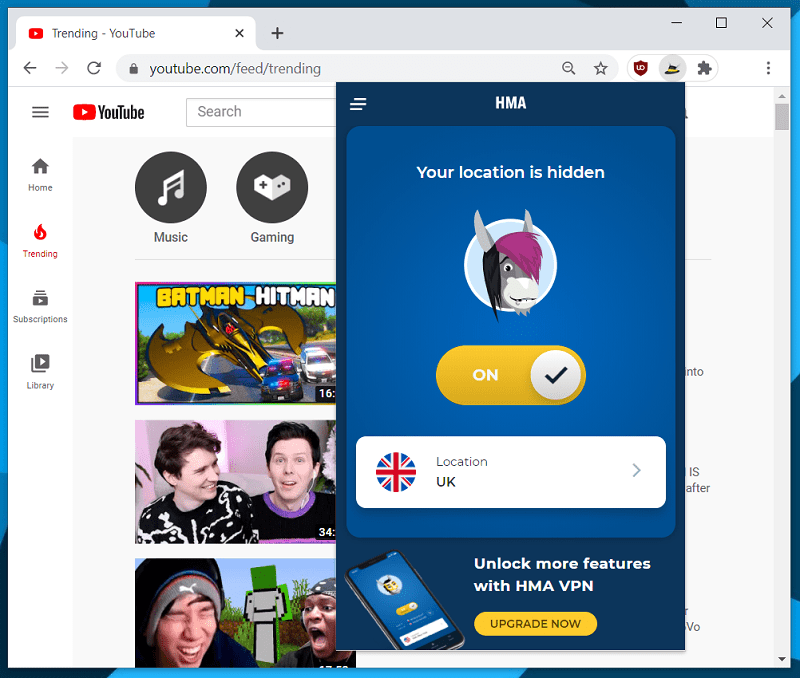 When it comes to bypassing censorship, HMA proxy is just as good as any other provider that we've already covered.
Plus, it's free. And you can install it as an add-on for your Chrome or Firefox browser.
HMA lets you choose between proxy servers in six different locations. It is not a huge amount, but for YouTube, it doesn't really matter that much.
You can connect to the USA (New York, Seattle), Germany (Frankfurt), Netherlands (Amsterdam), the UK (London), or Czech Republic (Prague), and access virtually any site.
Note: HMA also has a web-based proxy where you can enter the URL of a website to access it through HMA's own domain. However, we didn't manage to unblock YouTube with this tool. So it's recommended to use its browser plugins instead.
CyberGhost Chrome & Firefox extension
Another proxy we can recommend is CyberGhost.
Now, CyberGhost definitely ranks among the top VPNs if you choose its paid service. But it also has a free proxy in the form of browser extensions.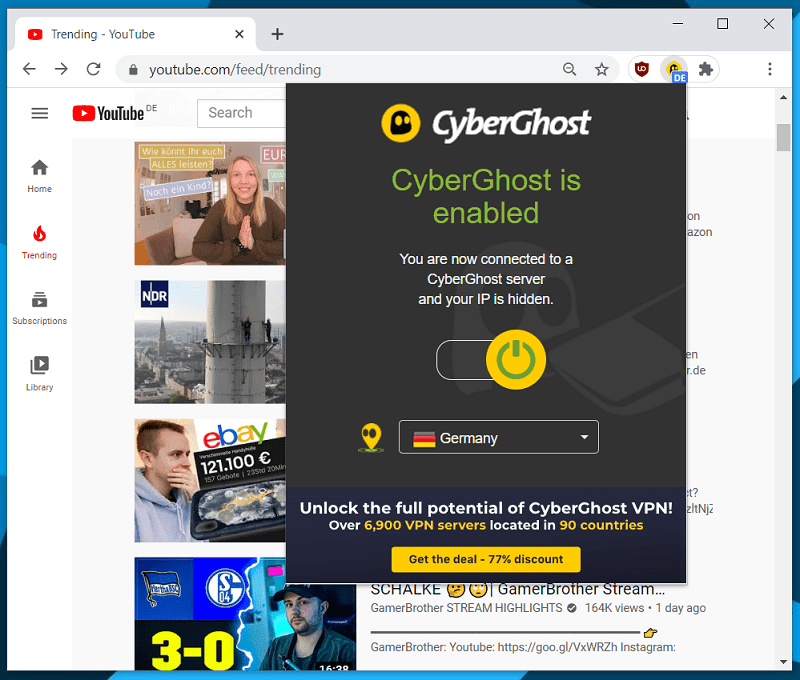 It is easy to install, and quick to use.
All you need to do is select one of the few available servers, and turn the proxy on when you wish to use it, or off when you are done with it.
This proxy offers access to four countries — the US, Germany, Netherlands, and CyberGhost's native Romania.
How to unblock YouTube without a proxy or VPN?
Tl;dr: We tested a few old-school, "quick & dirty" methods for unblocking YouTube, and sadly, none of them worked. Which means a decent VPN or proxy would still be the best solution for accessing YouTube or its restricted content.
Those classic workarounds typically involved tweaking a YouTube video's URL to a slightly modified version.
In the past, this might have worked, but YouTube's continuous product updates have since made most of these methods obsolete.
613 Tube (doesn't work❌)
613 Tube is a perfect example of this, which in search results claims to allow you to 'watch any YouTube video'.
However, our test (see below) shows that it wasn't capable of unblocking geo-restricted videos.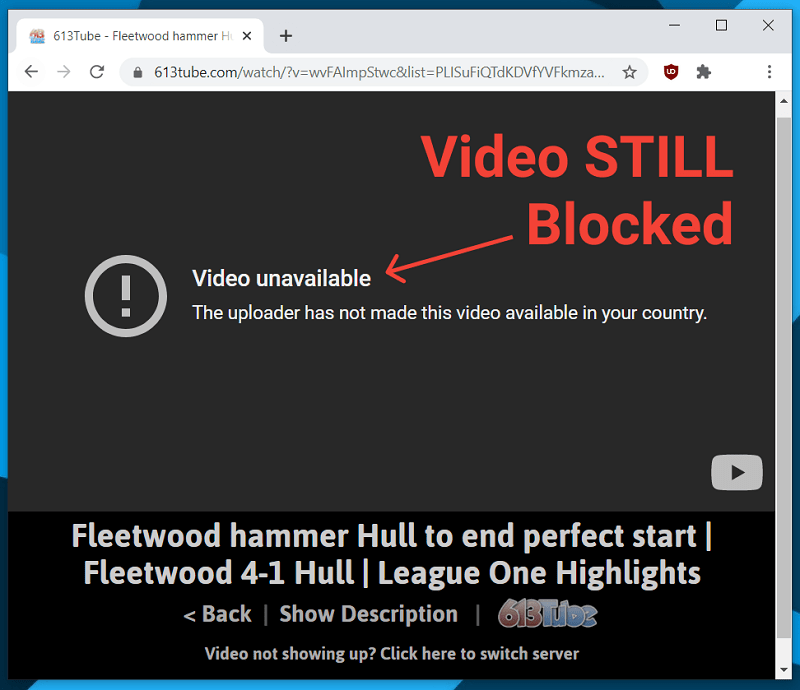 Sadly, the option to switch servers 'if the video wasn't showing up' also didn't yield any success.
It seems that 613 Tube is in fact geared towards community-contributed search filtering: removing ads and displaying a less cluttered results page.
Manually editing the URL (doesn't work ❌)
Other hacks for watching restricted YouTube videos used to involve a bit of URL tampering.
Unfortunately, this method now also doesn't work.
At least not for all videos, namely the ones we had tested with.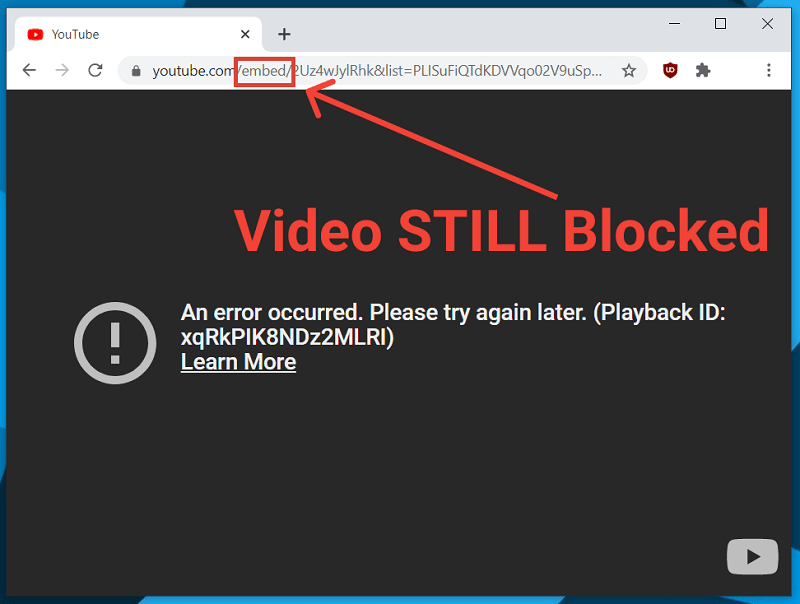 The first option was to remove the part of the video's URL that says "watch?v=" and replace it with "embed/".
The video would have played in your browser, in full-width and unrestricted. But, as you can see in the screenshot above, it didn't work.
While the second trick would have been to type "nsfw" at the start of the URL (just before "…youtube.com"). The new URL would be "nsfwyoutube.com/…"
This approach actually redirects you to a proxy site in order to play the video. But this also failed to work.
Which leads us to conclude that the most reliable way for unblocking YouTube is with a solid VPN.
YouTube censorship — countries where it's banned
YouTube isn't accessible in a number of countries.
It has also been previously blocked in certain regions but those restrictions have since been lifted. Most of these blocks had been only temporary as countries either censored it for a specific period, or they removed the blocks once the platform was compliant with content-related requests.
However, there are still a few countries that have it blocked to this day, including:
China
Iran
Sudan
Eritrea
North Korea
Syria
South Sudan
Turkmenistan
Tajikistan
Why is YouTube blocked in China?
YouTube was originally blocked in China on October 16th, 2007, with the restrictions being lifted in March 2008.

Only a year later, on March 24th, 2009, the government blocked it once again. This time permanently.
The decision was made due to politically sensitive footage on YouTube. By that point, China's government seemingly came to the conclusion that the platform has too much potential for spreading unwanted news. Plus, it was quickly replaced with local competition, such as Youku.
And so, the website was blocked altogether. Along with most other Google services.
How to check if a YouTube video is blocked in my region?
If you wish to see where certain videos are restricted, there is an easy way of checking this.
You can use several online tools that let you see where any YouTube video is available or blocked.
The most popular tools for this include: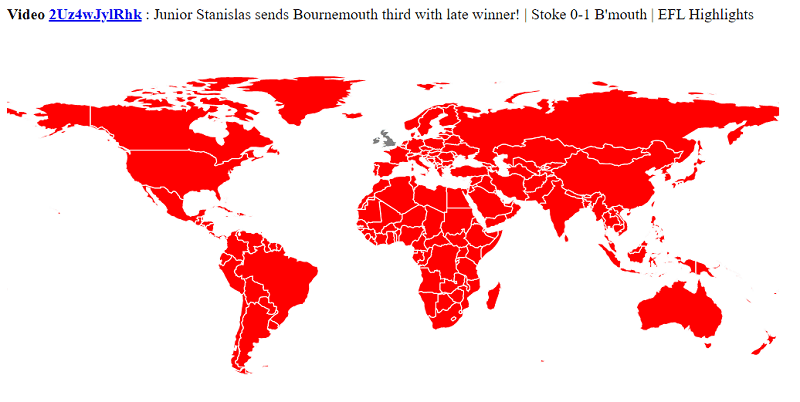 This check can be useful if you use a proxy or a VPN, so that you will know to which countries you need to connect to be able to access the desired content.
How to watch restricted YouTube videos? (Recap)
YouTube has been the biggest video streaming platform for the last 15 years. It has come a long way, but that still doesn't make it universally accepted. While unfortunate, that is the reality of the situation.
In addition, regional content restrictions make the platform almost unusable in some cases.
On the bright side, there is an entire list of different solutions that you can use to unblock YouTube, as we've demonstrated above.
All you need to do is pick one, and enjoy all the videos you can handle.
Whether you choose a VPN or a proxy, YouTube is only a few clicks away.
---
Which VPNs can unblock YouTube?
To recap, here are our recommended VPN picks for unblocking YouTube:
| | | |
| --- | --- | --- |
| VPN service | Best offer | Website |
| 1. VPN.ac | $3.75 /mo. – save 62% | VPN.ac |
| 2. NordVPN | $3.71 /mo. – save 68% | NordVPN.com |
| 3. Surfshark | $2.49 /mo. – Save 81% | Surfshark.com |