CyberGhost is a VPN service based out of Romania, and boasts to have 30+ million users.
Its recognizable 'ghostie' mascot and privacy-first initiatives have helped it grow into a serious contender on the VPN market.
But does the good marketing and feel-good message really result in a quality product?
To honestly say if I can recommend CyberGhost VPN or not, I tested it to find out if it's safe, reliable and affordable.
CyberGhost VPN overview
| | |
| --- | --- |
| 📍Based in | Romania |
| 🏷 Price | $2.19 per month |
| ⚡ Speed | 350 Mb/s |
| 📃 Logs | No (audited) |
| 📱Apps | Android, iOS, Windows, Mac, Linux, Chrome, Firefox |
| ⚙️ Features | Full security & anti-virus suite, kill switch, DNS & IP leak protection, ad blocker, data compression, port randomizer |
| ✅ Works with | Netflix, Amazon Firestick, Android TV, PS4, Xbox, routers |
| ⬇️ Torrents | Allowed |
| 💻 Connections | 7 devices |
| ↩ Refund | 45-day guarantee |
| 🆘 Customer support | 24/7 live chat, email |
| 🌐 Website | CyberGhostVPN.com |
What is CyberGhost VPN?
CyberGhost is a popular VPN service and security suite with years of experience in the industry.
It works on a huge variety of platforms and devices.
It has decent, feature-rich VPN apps Android, iOS and Linux, and it's also compatible with Netflix, Amazon Fire TV and gaming consoles.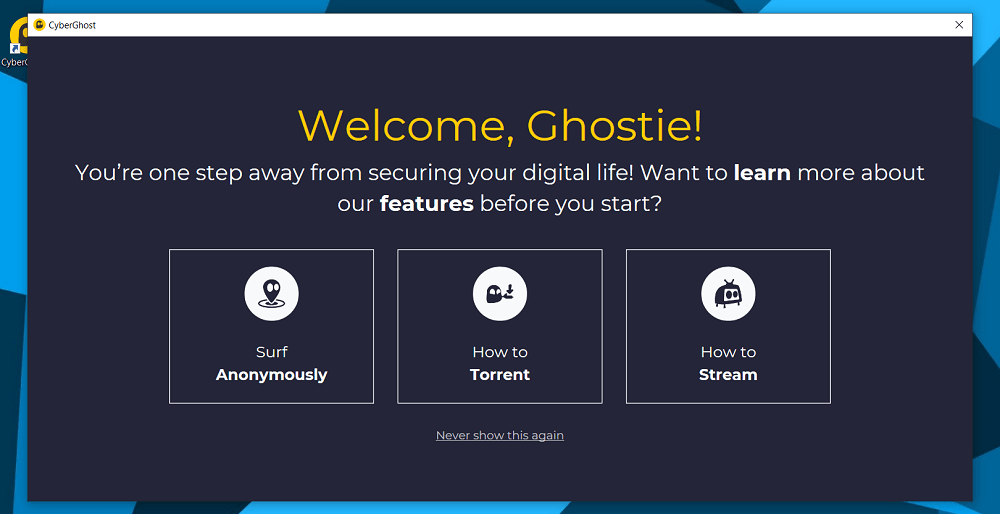 In fact, to say CyberGhost is optimized for streaming would be an understatement, as the provider offers a mix of streaming-optimized features, including dedicated VPN servers, browser extension as well its Smart DNS proxy.
CyberGhost clocks excellent connection speeds thanks to its built-in support for the WireGuard protocol.
In case you were wondering, it allows torrenting on its network.
Overall, it's an easy VPN to use, and you do not need much technical knowledge of VPNs to be able to grasp it. But likewise, it has a ton of advanced security features that somewhat make it more than just a VPN service.
The provider offers 24/7 support through live chat or email.
CyberGhost price – how much does it cost?
You can choose between three different subscription plans when signing up to CyberGhost.

Looking above, you can see that CyberGhost recommends its 26-month plan. If you select this plan, it saves you 83%. Note you will need to make an upfront payment of $56.94.
If you purchase six months at once, your up-front payment will be $42. This option costs $7 per month.
If you choose the CyberGhost basic one-month plan, the subscription costs $12.99 per month.
You can also add a dedicated IP option for just under $5 a month.
CyberGhost deals (save 83% with BestVPNz.com)
Your best deal will be purchasing the 24-month plan at 83% off the price. Plus, you'll get 2 months of subscription thrown in for free.
Clearly, this option will save you the most money.
However, you do not need to enter any coupon code to get this offer.
Does CyberGhost have any coupons?
CyberGhost offers great value with the 83% off deal, but does not offer any VPN coupons.
It does have a money-back guarantee though.
What is the CyberGhost refund policy?
CyberGhost's refund policy offers a 45-day money-back guarantee if you choose the 6- or 18-month package.
However, if you select the monthly option, you get a shorter 14-day refund period.
Does CyberGhost have a free trial?
CyberGhost offers a one-day free trial for people who want to try its service.
And you do not have to submit your credit card details when signing up.
In my opinion, a day isn't really enough to test the VPN.
You will need to pay to go beyond this free trial, where you still have a money-back guarantee for up to 45 days in case you end up changing your mind.
The refund option makes up for the limited trial if you choose to subscribe to CyberGhost's paid option.
What payment methods does CyberGhost support?
CyberGhost supports several payment methods:
| | |
| --- | --- |
| Credit card (Visa, MasterCard, Amex) | ✅ |
| PayPal | ✅ |
| Cryptocurrencies (Bitpay) | ✅ |
| Direct debit / ACH transfer | ❌ |
At checkout, you can also add the dedicated IP option if you really need it.
Does CyberGhost have a free version?
On November 22, 2018, CyberGhost chose to end the free version of its service. You are still able to download CyberGhost's free proxy extensions on Chrome and Firefox.
Here is a quote from its website regarding the decision:
We believe that #PrivacyMatters and that it's worth paying for, now more than ever.

Quote from the announcement
I'm inclined to agree with CyberGhost on this sentiment.
Free VPN services are typically either very limited in their features or, in some cases, are outright bad for your privacy.
Regardless, CyberGhost is still one of the more inexpensive options among paid VPNs.
Is CyberGhost VPN fast & reliable? (350 Mb/s ⚡)
CyberGhost's connection speeds did not disappoint at all. Maximum download speeds over a three-day testing period clocked at an very impressive 350 Mb/s.
Thanks to CyberGhost's early support for the WireGuard protocol – which comes built-in to its software – the provider can handle some of the highest speeds when compared to other top VPNs.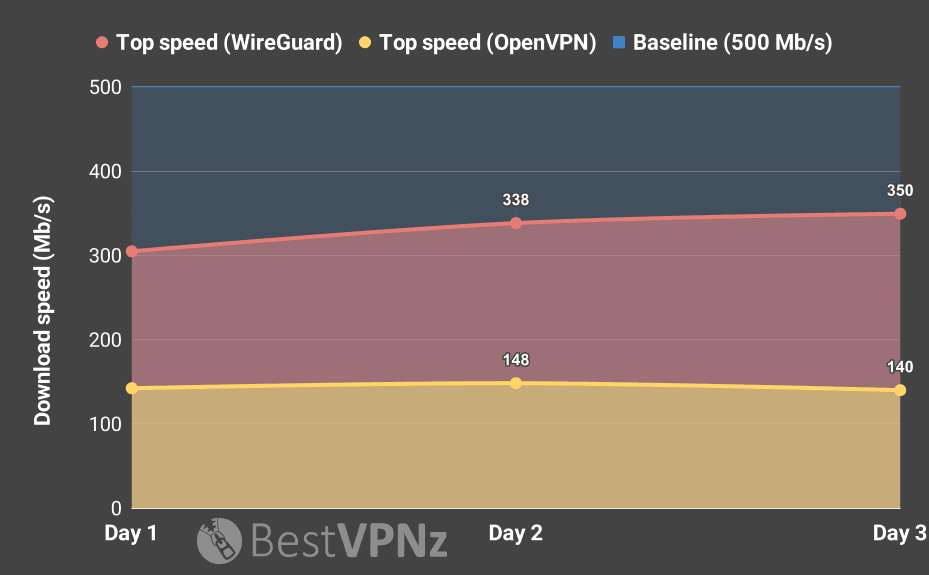 It's also not so bad with OpenVPN connections.
After testing local servers, my results showed CyberGhost's maximum burst is 149 Mb/s. While the average speed between several international locations is 69 Mb/s.
I'd say CyberGhost's network is very consistent and its speeds are perfect for streaming.
WireGuard speeds by location
| | | |
| --- | --- | --- |
| Server location | Top speed | Average speed |
| United Kingdom | 349.5 Mb/s | 330.9 Mb/s |
| Netherlands | 303.6 Mb/s | 282.2 Mb/s |
| United States – New York | 47.7 Mb/s | 36.1 Mb/s |
| Canada – Quebec | 211.3 Mb/s | 193.3 Mb/s |
| Qatar (virtual) | 255.8 Mb/s | 219 Mb/s |
| Australia – Melbourne | 37.1 Mb/s | 23.9 Mb/s |
OpenVPN speeds by location
| | | |
| --- | --- | --- |
| Server location | Top speed | Average speed |
| United Kingdom | 148.4 Mb/s | 143.6 Mb/s |
| Netherlands | 116.5 Mb/s | 112 Mb/s |
| United States – New York | 22.2 Mb/s | 20 Mb/s |
| Canada – Quebec | 59 Mb/s | 34 Mb/s |
| Qatar (virtual) | 107.2 Mb/s | 89.4 Mb/s |
| Australia – Melbourne | 14.0 Mb/s | 11.7 Mb/s |
Speed test summary
I tested six international server locations – UK, Ntherlands, US (New York), Canada (Quebec), Qatar, and Australia (Melbourne)
Max. burst through local nodes: WireGuard (350 Mb/s), OpenVPN (148 Mb/s)
Average speeds between all tested locations: WireGuard (181 Mb/s), OpenVPN (69 Mb/s)
Most locations were fast, with the exception of US (NY)
I ran the tests every day, for three days with a 500 Mb/s broadband connection
Testing connections speeds and performance is incredibly important when it comes to VPN reviews.
Pretty much every VPN provider claims to be the fastest, so only real tests will show whether these types of claims are true.
In other words, data doesn't lie.
Is CyberGhost safe & good for privacy?
CyberGhost is a safe VPN service that operates out of Romania — a privacy haven. Its privacy policy states it is a strict 'no-log' VPN, which has been externally verified. My test shows CyberGhost has no IP or DNS leaks. It doesn't currently offer certain advanced VPN features like obfuscation, but does scramble your data using strong AES-256 encryption.
However, its parent company seems to have a murky history. I will be getting into that further in this CyberGhost review..
| | |
| --- | --- |
| No logs | ✅ |
| Safe jurisdiction | ✅ |
| No leaks | ✅ |
| Strong encryption | ✅ |
| RAM-disk servers | ✅ |
| Clean track record | ✅ |
| Obfuscation ('stealth' mode) | ❌ |
| Privacy policy audited | ✅ |
| Virus & malware free | ✅ |
Does CyberGhost keep logs?
CyberGhost has a strict no-logs policy. This includes both traffic logs and connection logs.
Traffic logs include the history of what you do on the web. In other words, it's your browsing history from visited websites and used applications.
While connection logs are your IP and timestamp of VPN connection, i.e. data you can be identified with. CyberGhost claims it does not log these.
Below is an excerpt from its privacy policy on logs.
Through our strict no-logs-policy, we ensure that we do NOT track user traffic performed inside the CyberGhost VPN tunnel such as: browsing history, traffic destination, search preferences, data content, IP addresses or DNS queries.

From CyberGhost privacy policy
Some VPN providers do keep some basic connection logs for service maintenance.
These days, however, more and more VPNs are rolling out 'zero-log' policies. Though these can usually only be verified with independent, third party audits or actual court cases when a VPN company is unable to fulfil a user data order.
Has CyberGhost been audited by a third-party?
CyberGhost's 'no log' claim has been fully verified by an external auditor — Deloitte. This means its privacy policy has been scrutinised by an independent third party.
In terms of security: in March 2012, CyberGhost passed a security audit conducted by QSCert. This audit was done on their Information Safety Management System (ISMS) and follows ISO27001 and ISO9001 standards.
CyberGhost states that it renews these standards yearly, which is a good sign.
It also underwent a limited audit by AV-Test in 2019 alongside several other VPN companies.
Where is CyberGhost based?
CyberGhost is located in Romania, which is regarded as a jurisdiction with pro-privacy laws, despite being an EU member.
Romania is outside of the 5/9/14 Eyes surveillance alliances.
Take this statement from CyberGhost's annual transparency report:
Data Protection Law, E-Privacy Law, and E-Commerce Law are all strictly regulated in Romania to ensure privacy. We also have a public authority, the National Authority for the Supervision of Personal Data Processing, which regularly verifies all companies operating in Romania, to make sure they are GDPR-compliant.

In this judicial climate, we are never under any obligation to keep logs on our users' activity.

CyberGhost 2019 transparency report
Does CyberGhost have any DNS or IPv6 leaks?
I found there were no IP or DNS leaks when running CyberGhost VPN.
I ran a test on ipleak.net to confirm this.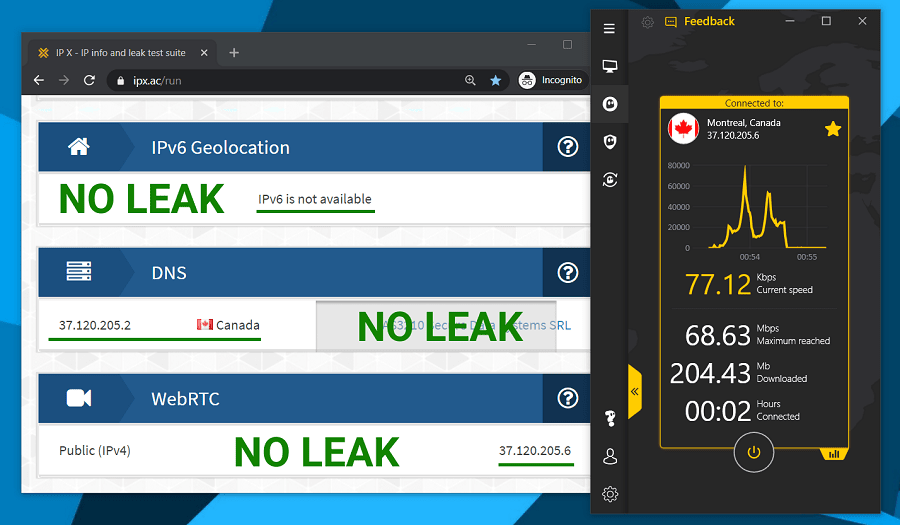 As you can see, everything with my CyberGhost connection was in order.
The screenshot above confirms that my IPv4, IPv6 and DNS addresses are kept hidden. Likewise, there was no WebRTC leak.
The system successfully spoofed my virtual location to that of the VPN server.
If it were to show my actual location or my real DNS address, that would be a major privacy concern.
So, as a result, CyberGhost passed the DNS and IP leak test.
For an additional cost you are also able to pay for a dedicated IP address. Though I personally prefer to use the default dynamic IPs as then my traffic gets mixed with that of other VPN users.
VPN protocols
CyberGhost supports the following VPN protocols:
OpenVPN (built-in)
IKEv2 (built-in)
WireGuard (built-in)
L2TP/IPSec (requires manual configuration)
PPTP ( requires manual configuration)
With OpenVPN, you can choose between UDP and TCP connections, depending on what you need to prioritise – speed (UDP) or reliability of your connection (TCP).
The CyberGhost app for macOS is limited to IKEv2.
On Linux systems, you have the options of WireGuard or OpenVPN, while on Windows you can connect with any of the five protocols.
How secure is CyberGhost?
For data security, CyberGhost applies AES 256-bit encryption with the OpenVPN protocol.
With this exceptionally strong, industry standard cipher, it combines SHA256 for authentication and 4096-bit keys for the RSA handshake.
The AES 256-bit encryption method is used by governments to secure digital assets. However, SHA256 is a bit less secure than SHA512.
There are other VPNs that use SHA512.
As a result, there is some room for improvement.
Encryption test (✅ passed)
After performing a deep packet inspection, I found CyberGhost's claim of having 'strong encryption' was accurate.
The gibberish you see below is a snippet of my encrypted traffic data.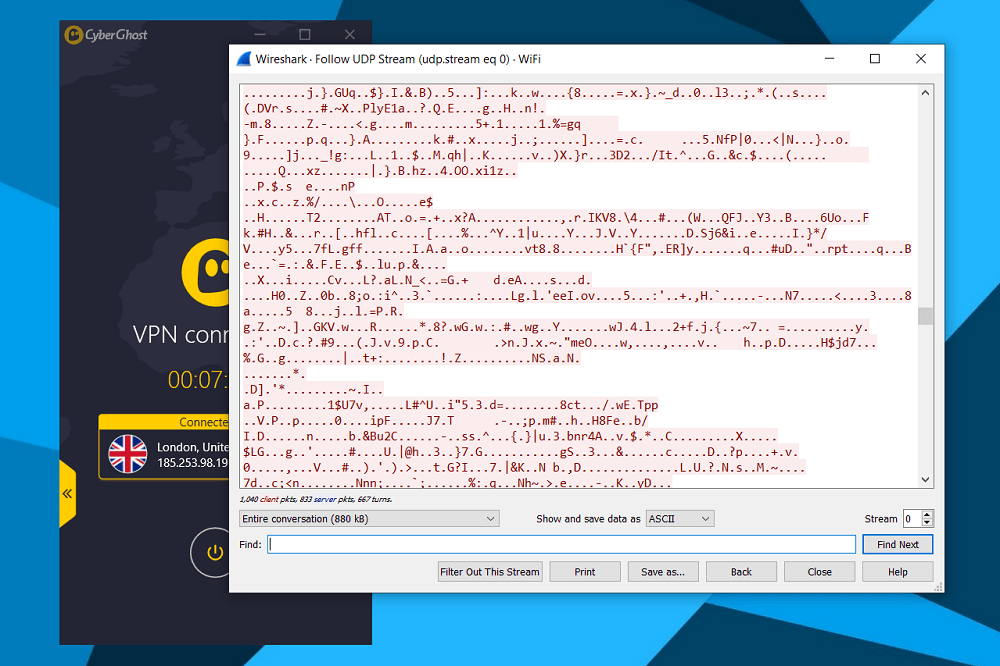 Nothing in the inspection revealed any specific web activity or location details. Therefore, CyberGhost's encryption can be deemed secure.
However, if it wasn't working as intended, you would actually see signs of real web addresses that I had visited.
Who owns CyberGhost VPN?
CyberGhost is owned by Kape Technologies. Kape is a public company that also owns VPN services Private Internet Access (PIA) and ZenMate.
Originally founded in 2011 by Robert Knapp – CyberGhost's CEO, the VPN grew from a small team of just seven people spread between Romania and Germany into the globally recognized product it is today.
Knapp claims he had turned down offers to sell the business until a company called Crossrider came along.
Crossrider & Kape Technologies takeover
"Crossrider" is the former name of Kape Technologies, and the company was already listed on the London Stock Exchange by the time it acquired CyberGhost for a reported 9.5 million euros in 2017.
Kape is owned by controversial billionaire businessman Teddy Sagi.
This is important because Sagi was known for bribery and fraudulent activities in the 1990s.
Furthermore, before switching its focus to cybersecurity, Crossrider was in the advertising business, and was ironically linked with adware and malware distribution through various software programmes.
CyberGhost may not have been around when Crossrider operated under a more sinister adtech business model. However, it's still a potential cause for concern in terms of user privacy going forward.
To add, Kape's later takeover of the hugely popular PIA VPN caused turmoil among PIA's die-hard fan base, causing many of its users to end their subscriptions.
Is CyberGhost virus-free?
To try and address some of the aforementioned privacy concerns, I scanned the CyberGhost PC client for known threats.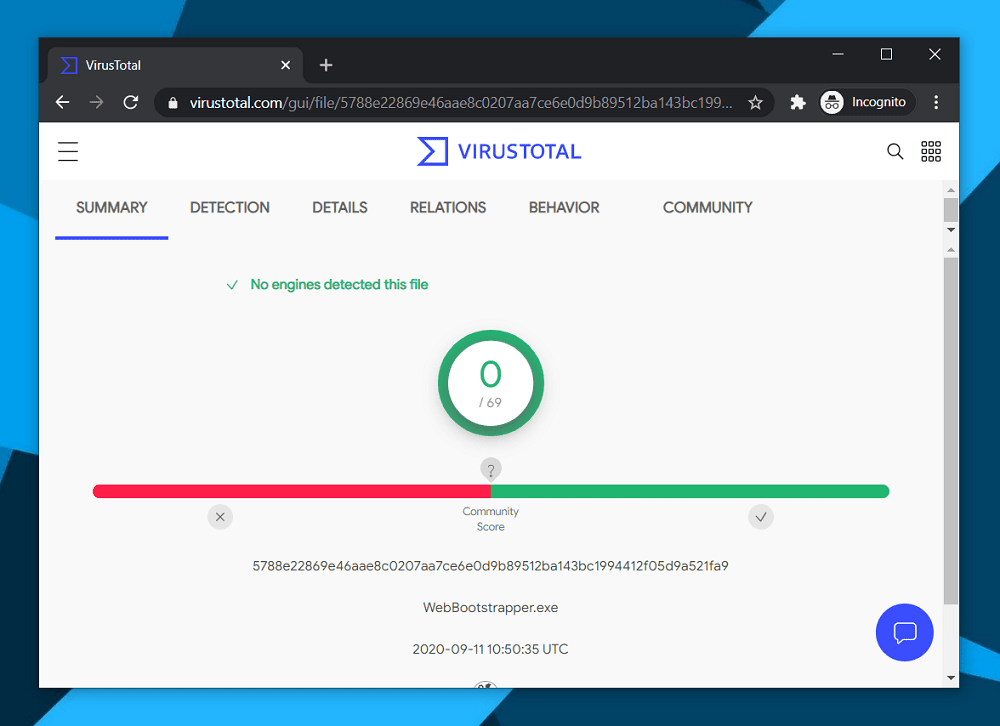 Thankfully, CyberGhost does not come with have any common viruses or security threats on it.
You can safely install and run it on your device.
How does CyberGhost work?
CyberGhost VPN is compatible with many devices and platforms, including on desktop and mobile. It has 6,000+ servers in over 90 countries. Some of these nodes are specially designated for torrenting and streaming. What's more, CyberGhost's software comes with a fully fledged security and anti-virus suite.
| | |
| --- | --- |
| Servers | 6,000+ in 90+ countries |
| Apps (PC, Mac, Android, iOS, Linux) | ✅ |
| Works with Netflix | ✅ |
| Works in China | ✅ |
| Allows torrenting | ✅ |
| Max connections | 7 |
| Smart DNS | ✅ |
| SOCKS5 | ❌ |
| Browser extension (proxy) | ✅ |
| Security & anti-virus suite | ✅ |
It definitely strives to be an all-round security solution, there's no doubt about that.
While some anti-virus programmes like Norton eventually rolled out their VPNs add-ons, CyberGhost actually did it the other way round.
Having originally started out as a VPN service, its software has matured into an entire bundle of security and privacy features.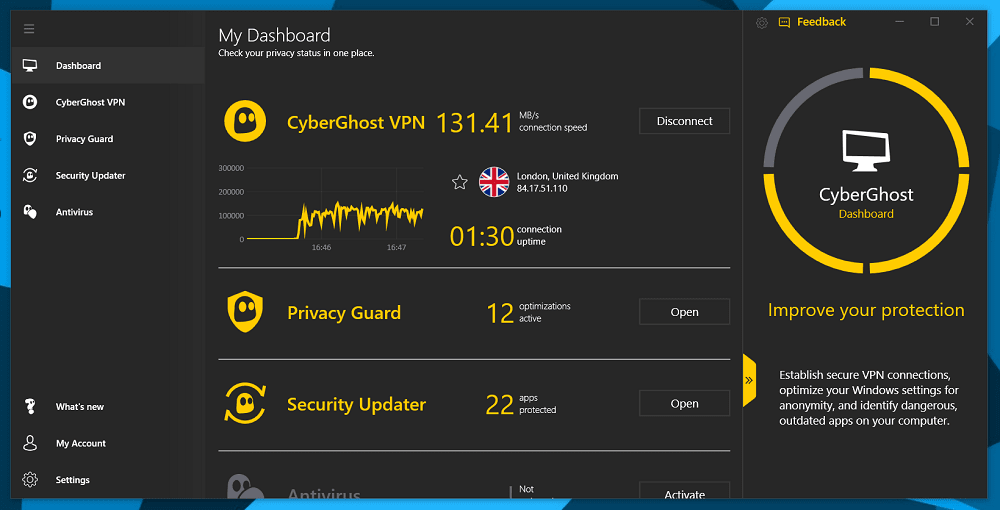 Supported operating systems, apps, and extensions
CyberGhost VPN works on most operating systems, and has apps that allow for quick connections to its VPN.
I found the applications incredibly easy to use. Though there are a few advanced options which not all VPN newbies will understand right away. I'll run through these further on in the review.
| | |
| --- | --- |
| Windows / PC | ✅ |
| macoS | ✅ |
| Android | ✅ |
| iOS (iPhone) | ✅ |
| Linux | ✅ |
| Amazon Fire TV stick | ✅ |
| Android TV | ✅ |
| Gaming (PS4 & Xbox) | ✅ |
| Chrome | ✅ |
| Firefox | ✅ |
| Routers | ✅ |
To secure your entire home connection rather than by individual devices, you'll need a specially flashed router that supports OpenVPN connections.
CyberGhost Android app (mobile client)
The CyberGhost mobile app for Android has plenty of features for customizing your VPN connection.
Of course, it's a much 'slimmer' VPN client than the desktop version as it doesn't come with the anti-virus and anti-tracking features.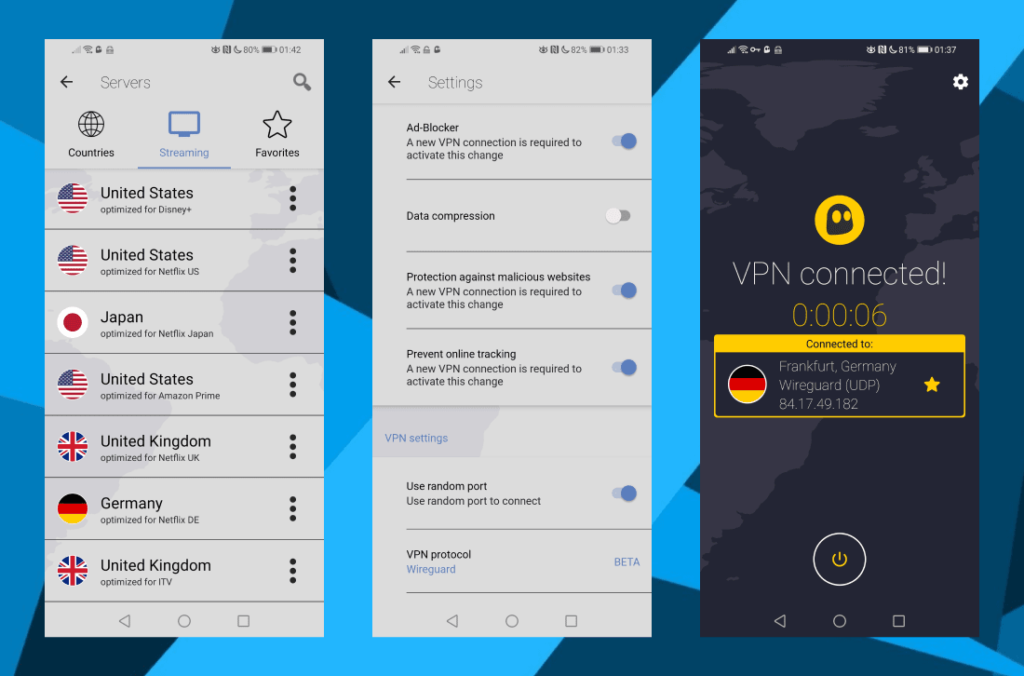 At your disposal, you still have settings like:
Split-tunnelling
Dedicated IP
Ad-blocker
Data compression
Protection against malicious sites
Multiple connection protocols – OpenVPN or WireGuard
CyberGhost servers
CyberGhost has many servers to pick from on its VPN network.
At the time of writing this CyberGhost review, there are 6,000+ servers in 90+ countries available. Very impressive by any standards.
Major server clusters are in locations like the US, UK, Germany, Canada, Australia and many others.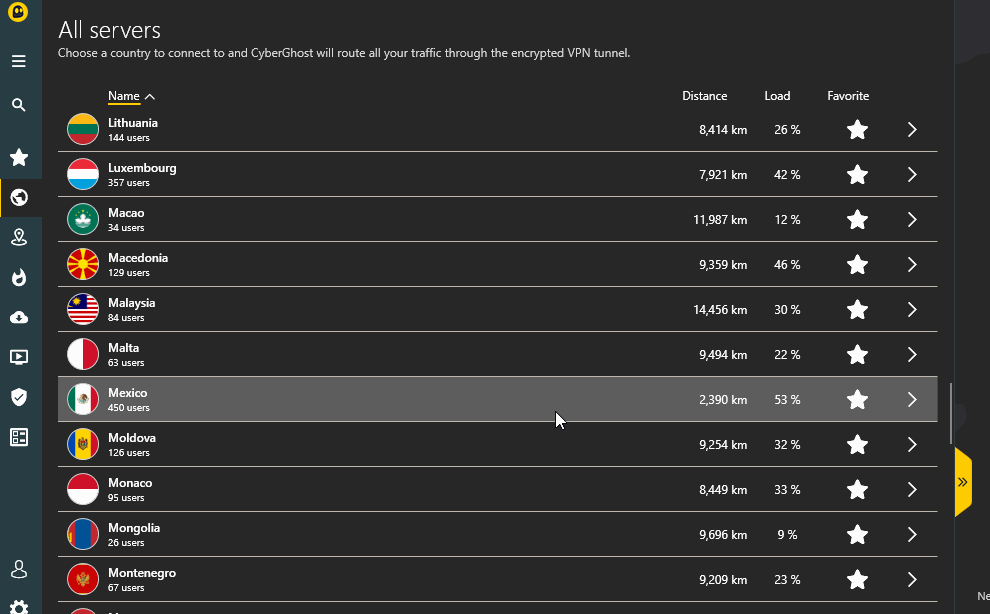 Some VPNs enhance their user interface (UI) with interactive maps.
Instead, Cyberghost allows you to choose your preferred location with a simple country list. Alongside each location, you'll see how far the server is from you (in km) and the node's capacity level based on how many users are connected to it.
The search function filters by countries only. But you can bring up the full list of servers in a given country by hitting that little arrow icon located on the right side of each row.
This is useful if you want to select from precise locations, especially in a large country like the US where distance is a factor for performance.
You can bookmark any server for regular use. These will show up under the easily locatable Favourites category.
CyberGhost NoSpy servers
CyberGhost has a list of special nodes known as NoSpy servers.
These are physically located at CyberGhost's office in Romania and are managed end-to-end by the provider itself.
According to its support team, the NoSpy servers do not come with enhanced security features per se.
But, as they're fully operated by CyberGhost, they do come with the promise of better privacy.
For this reason, a large number of its torrenting servers are hosted in this in-house data center.
Security & connection features
CyberGhost is loaded with features for customizing your VPN connection.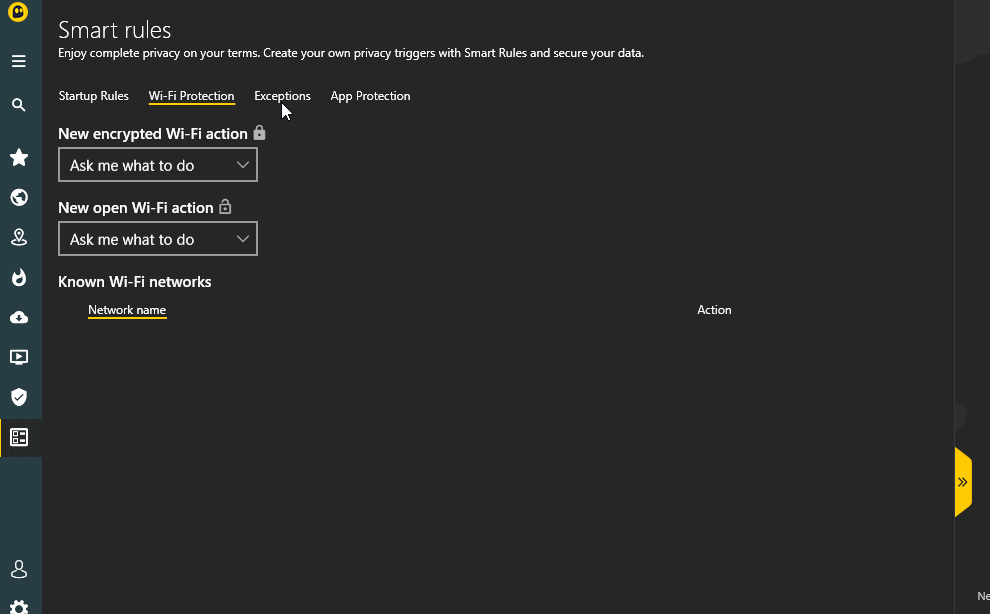 Here are some of the main options you'll find in the client:
Kill switch – blocks all internet traffic if the VPN connection drops
DNS & IPv6 leak protection
Ad & online tracking blockers
Automated HTTPS redirect – optimises security when accessing websites
Data compression – reduces data usage
Auto-connect rules – such as 'connect on system launch'
Wi-Fi protection – set rules for networks
Website exceptions – when you don't want to use the VPN to access certain sites
Special app rules – auto-connect when certain apps are launched
VPN protocol selection – including UDP/TCP toggle
Port randomiser – picks the best port based on your network
These settings are all pretty easy to find in the app.
Privacy Guard
CyberGhost has been actively rolling out new product modules in its client to compliment its flagship VPN.
One of these modules is called Privacy Guard.
In short, it's a host of features built to stop Microsoft from tracking your PC usage data.
This includes blocking various data collection points as well as geo-location tracking.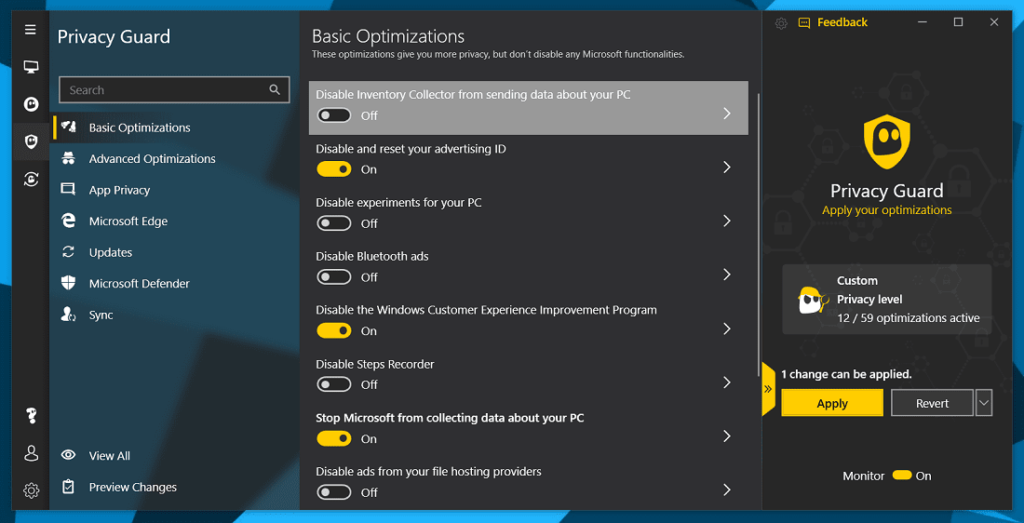 For instance, you can disable things like the the Inventory Collector, your handwriting, biometric tracking as well as stop apps from having access to your Windows account information.
There's also a bunch of other handy features such as privacy enhancement for the Edge browser – if you even use it – and blocking of data sample sends by the built-in Windows Defender.
Overall, these features are quite useful if you're not sure how to make these optimizations manually or perhaps prefer these options to be available in one convenient place.
Security Updater
Alongside the VPN and Privacy Guard is the Security Updater module.
This feature scans programmes on your computer, and will show you a warning if any installed apps need updating.
Making sure all your apps are up to date is undoubtedly important for security, though, at first, the feature feels a bit intrusive.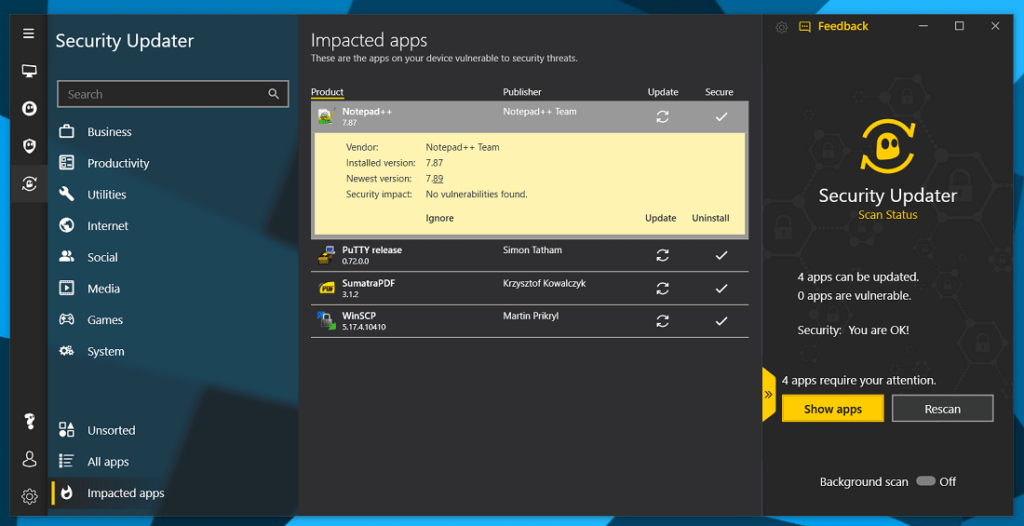 I also found it annoying when a warning popped up to update the Chrome browser, which updates itself automatically anyway.
It is, however, possible to set CyberGhost to ignore certain apps so you're not relentlessly bombarded with one security warning after another.
Anti-virus by Intego
The most recent addition to CyberGhost's software bundle is the built-in anti-virus.
I should add that this is an integration with the veteran anti-virus software by Intego, which has also been bought out by CyberGhost's parent company – Kape.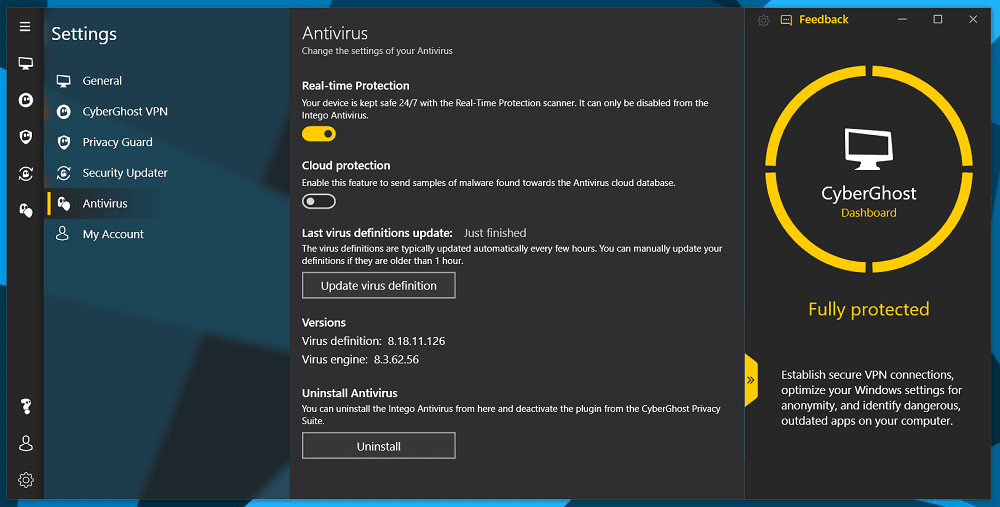 To run the anti-virus, you need to install Intego on your system, but this can be done seamlessly without having to open any additional applications on your computer. It sort of runs in the background while the anti-virus features are actually controlled in CyberGhost.
When enabled, the anti-virus scans your system for potential threats in real time.
Personally, this isn't a feature I'd need to run on my machine. But it may be useful for you if you're looking for a cost-effective anti-virus solution conveniently packaged alongside your VPN.
Is CyberGhost easy to use?
CyberGhost brings a combo of user-friendly apps equipped with advanced security features.
For newbies, it comes pretty much out-of-the-box, so you can get the VPN up and running right away.
The CyberGhost app automatically picks the best location for you, remembering which server you connected to last.
You can also bookmark favourite locations so you won't need to repeatedly search for your preferred server.
Special servers dedicated for streaming make it easy to find them in the location menu.
There's also the handy 'dark mode'. This makes it far easier on the eyes, and is great for people who spend a lot of time on the computer.
When you're ready, you can head to settings to explore ways to customize your VPN connection.
How many devices can CyberGhost be used on?
CyberGhost permits up to 7 device connections at the same time.
You can easily check how many devices are currently using your account in your Account Dashboard.
PassCamp – CyberGhost's Password Manager
Update: From 12th December 2022, CyberGhost has discontinued its password manager, meaning it won't release any more updates for this tool.
While I won't be going into too much detail, it's worth mentioning CyberGhost's password manager: PassCamp.
This is a paid add-on, and it comes with the following features:
End-to-end encryption: AES-256 and RSA-4096
Secure password generator
Two-factor authentication
Unlimited password storage
Mobile app (separate to the CyberGhost VPN app)
Above all, the high level encryption used for this tool is its best feature.
Also, $10 per year is a decent price for a premium password manager.
Is CyberGhost safe for torrenting?
CyberGhost allows torrenting on its network, and has dedicated servers for P2P activity.
However, torrenting comes with a great deal of risk. Because of this, I ran a torrent IP leak test to determine whether my identity could be exposed even when using the VPN.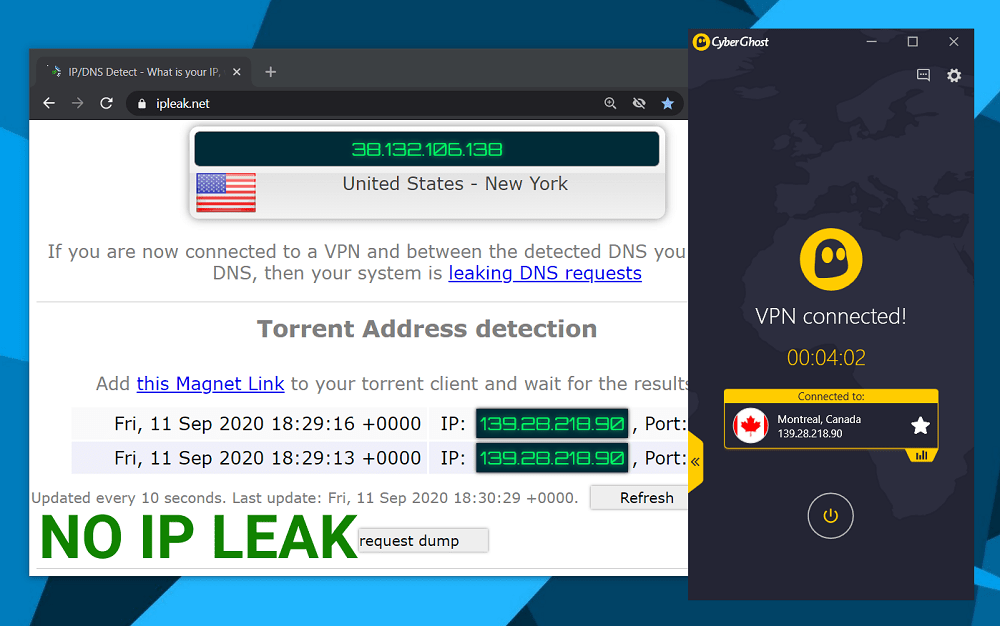 As you can see, the results reveal there was no IP leak from my BitTorrent client.
This means my real location when running P2P traffic through CyberGhost VPN is secure.
Does CyberGhost work with Netflix? (Yes ✅)
I checked to see if CyberGhost works with Netflix, and it was a success at first attempt.
Netflix actively bans VPN and proxy IPs being used to access its libraries, which is why you shouldn't buy just any VPN to unblock the popular streaming service.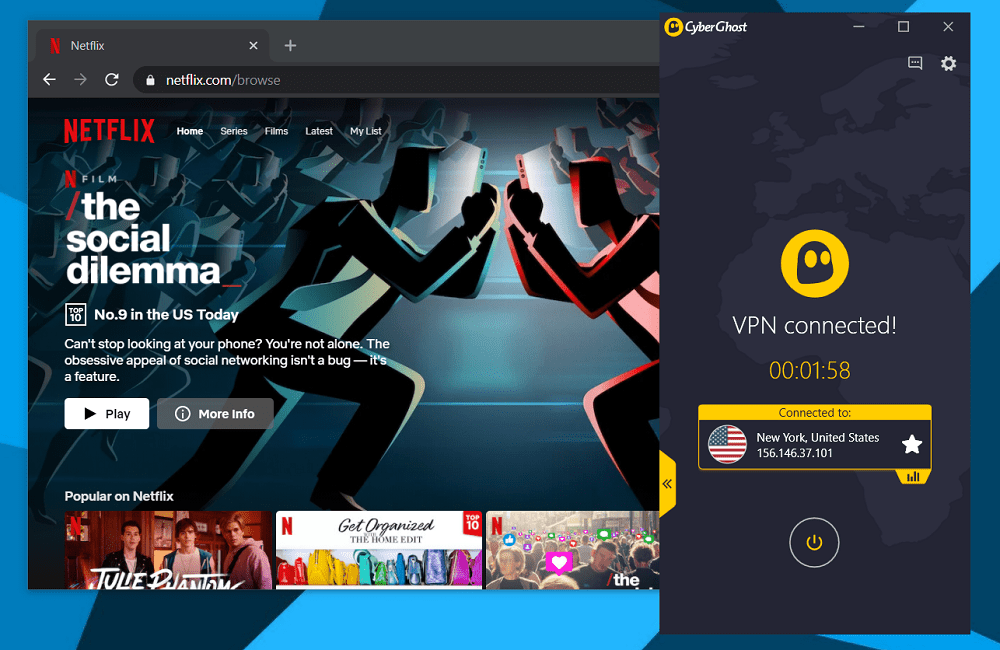 I ran a quick test with CyberGhost by connecting to a designated Netflix VPN server in the US from outside of the United States.
After connecting, I logged in to Netflix, and could now see US content.
Other streaming services
CyberGhost is well-optimized for a variety of international streaming services.
Aside from regional Netflix locales, it has dedicated nodes for accessing services like Disney+, BBC iPlayer (UK), Amazon Prime, Hulu, YouTube, HBO Now, ZDF (Germany), Globo (Brazil), ESPN (US) and other content.
Alternatively to the VPN, you can also use the CyberGhost browser or Smart DNS proxies for streaming.
Does CyberGhost work with Amazon Firestick? (Yes)
Cyberghost works with Amazon Fire OS 4.6 or greater.
For that, you'll need to install the app directly on your Firestick.
However, you will need to either use Amazon Prime streaming on your computer if you have an older Firestick.
You can also use your router if it's configured to run your VPN through it.
Does CyberGhost work on routers? (Yes)
CyberGhost supports OpenVPN-compatible routers, including:
DD-WRT routers
Tomato routers
TomatoUSB Merlin Build
Raspberry Pi
Synology NAS
Enigma2
VU+ Solo
The provider also sells routers with CyberGhost VPN pre-configured on them
Does CyberGhost work in China?
Due to a heavy crackdown on VPN services, CyberGhost does not work in China.
Expectedly, it's website is blocked in the mainland regions.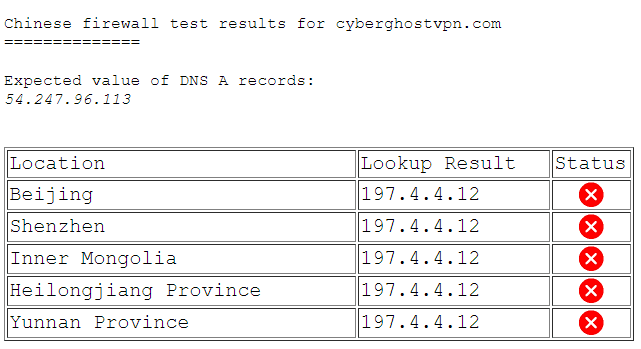 Also, CyberGhost doesn't provide any China mirrors to bypass the firewall so it's best to look at other options.
CyberGhost customer service (troubleshooting)
With CyberGhost, there are several ways contact their support or find troubleshooting information.
| | |
| --- | --- |
| Live chat | ✅ |
| Email | ✅ |
| Online knowledge base | ✅ |
| Phone support | ❌ |
| User community | ❌ |
Like most VPNs, CyberGhost has a 24/7 customer support line.
You can contact the provider either via live chat or by submitting a support request ticket (email) on their website.
Normally, I evaluate a VPN's customer service by response times and helpfulness.
In this case, my wait time to speak to a real agent using the live chat function was almost instant.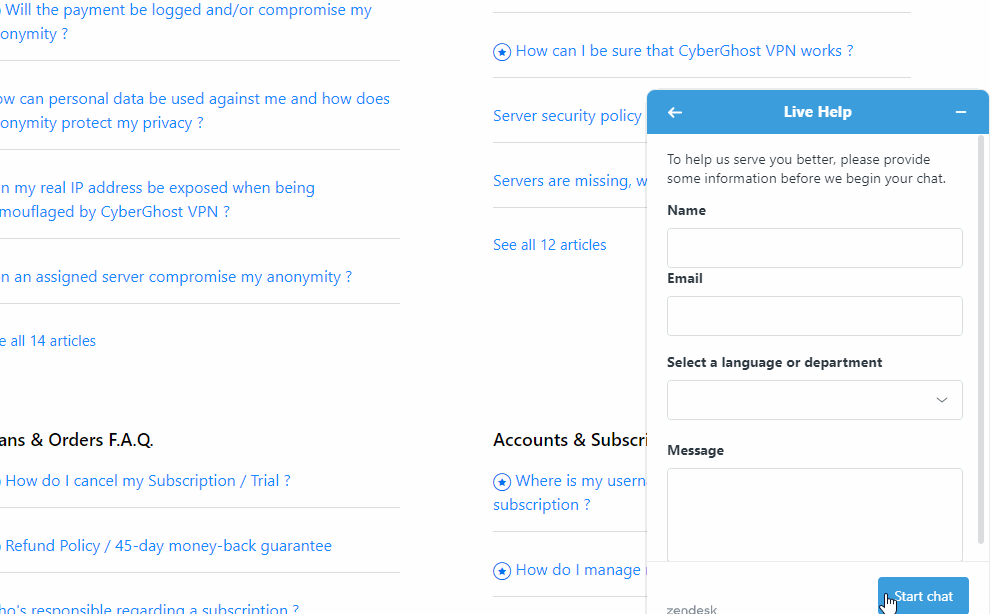 Additionally, you have the option of exploring CyberGhost's extensive FAQ and troubleshooting guides.
You'll see articles on a range of technical topics, and will most likely find answers to common queries.
Does CyberGhost have a phone number?
CyberGhost VPN does not offer a telephone customer service line.
But its live chat feature will get you connected to a real support agent quickly if you encounter any problems with the service.
CyberGhost vs NordVPN
CyberGhost is often compared with VPN heavyweight NordVPN.
But how exactly do the two providers stack up on key features?
| | | |
| --- | --- | --- |
| | CyberGhost VPN | NordVPN |
| Price | $2.19 p/mo. | $4.19 p/mo. |
| Logs | No logs (audited) | No logs (audited) |
| Jurisdiction | Romania | Panama |
| Top speed | 350 Mb/s | 373 Mb/s |
| Works with Netflix | ✅ | ✅ |
| Works in China | ❌ | ✅ |
| Torrents | ✅ | ✅ |
| No IP / DNS leaks | ✅ | ✅ |
| Smart DNS / proxy | ✅ | ✅ |
| Max. connections | 7 | 6 |
| Support | Live chat, email | Live chat, email |
| Website | CyberGhostVPN.com | NordVPN.com |
Both CyberGhost and NordVPN implement similar levels of encryption and security.
And both companies are based in retention-free territories, with each of their 'no-log' policies having been externally verified.
CyberGhost's immense security suite does go beyond the basics of a VPN and, admittedly, can give NordVPN a run for its money. But, unlike NordVPN, it can't boast having key VPN-specific perks like obfuscation, multi-hop and capability to be used in China.
NordVPN is slightly faster than CyberGhost. Its top (download) speeds over WireGuard peak at an epic 373 Mb/s. Whereas maximum speeds with CyberGhost in our tests reached 350 Mb/s.
🏆 Winner: NordVPN
Overall, I would recommend NordVPN over CyberGhost if it's better privacy you're after.
On the other hand, CyberGhost has proven to be a great tool for torrents and streaming.
CyberGhost vs ExpressVPN
When comparing CyberGhost and ExpressVPN side by side, it might not be so obvious as to which VPN is better than the other. Here's a closer look:
| | | |
| --- | --- | --- |
| | CyberGhost VPN | ExpressVPN |
| Price | $2.19 p/mo. | $6.67 /mo. |
| Logs | No logs (audited) | No logs (audited) |
| Jurisdiction | Romania | British Virgin Islands |
| Top speed | 350 Mb/s | 336 Mb/s |
| Works with Netflix | ✅ | ✅ |
| Works in China | ❌ | ✅ |
| Torrents | ✅ | ✅ |
| No IP / DNS leaks | ✅ | ✅ |
| Smart DNS / proxy | ✅ | ✅ |
| Max. connections | 7 | 5 |
| Support | Live chat, email | Live chat, email |
| Website | CyberGhostVPN.com | ExpessVPN.com |
In terms of security, they are remarkably similar. Both utilize strong encryption and both operate out of jurisdictions that are outside of known surveillance networks.
ExpressVPN has had its privacy policy audited, meaning its 'no-log' claim has been verified.
CyberGhost is fractionally faster than ExpressVPN over OpenVPN, but you really won't notice the difference.
But the Romania-based VPN does support WireGuard, meaning it can handle higher throughput (up to 350 Mb/s in my test).
Both have nice, easy-to-use apps. Though, ExpressVPN's client is all about the VPN and is generally a simpler product by design.
However, ExpressVPN is one of the few VPNs that works in China. Unfortunately, CyberGhost does not. Not many VPNs are able to overcome China's stringent firewalls rules.
In summary, I would recommend ExpressVPN for privacy purposes, while CyberGhost is likely the better option for streaming and torrenting.
If I really had to pick one, I would go for ExpressVPN. Just.
🏆 Winner: A draw
For privacy: ExpressVPN
For speed: CyberGhost
Learn more about what makes ExpressVPN a good choice for privacy in our ExpressVPN review.
CyberGhost Reddit reviews
I found mixed reviews when checking Reddit for people's experiences with CyberGhost.
This VPN has been around for ages, so I expected to find complaints as well as praise.
Here are a couple of examples showing what Reddit users really think about CyberGhost VPN.
This alleged user claims to have had the 'worst experience':

They will charge your card, but not give you ANY access, even just to your account. You will be locked out of your account, no matter how many times you send a password reset; there is NO customer service.

Source: Reddit
Based on my own experience while writing this CyberGhost review, I found its customer service was pretty solid.
In this case, it's hard to say whether or not that user's post can be trusted. Or maybe they just had a bad experience.
Some users claim to have chosen CyberGhost for streaming and were able to run it through their router without issues:

I can watch Hulu overseas and even hooked up my router to their OpenVPN.

Source: Reddit
Although Redditors' feedback on CyberGhost generally leans towards negative, I still recommend to take some of the reviews on the platforms with a degree of scepticism.
The forum is without a doubt a minefield for shill posts, and I'm almost certain that some posts and comments on VPN-related subreddits are written by spammers.
CyberGhost VPN review – my verdict (⭐ 9 / 10)
After a thorough review of its product, CyberGhost for me scores an 9 out of 10.
So why did I give this VPN a high, but not perfect score?
Is CyberGhost VPN Good? 👍
Feature-rich security suite – you get more than just VPN
Registered in Romania

– a privacy-friendly jurisdiction

No IP or DNS leaks found in my VPN test
No logs – including user traffic or connection data
Fast speeds with WireGuard support
Good for streaming – works with Netflix & other streaming services

Huge server network

– many locations to choose from
24/7, multi-language support
Very affordable at $2.75 per month
Money-back guarantee for up to 45 days
Why you should consider other VPNs 👎
Doesn't work in China
UX could be a bit simpler
In summary
CyberGhost has tons of great features on paper.
Some of them I'd use regularly – the kill switch, streaming servers, WireGuard connections, etc.
Other features I know I personally wouldn't really need.
The Privacy Guard and Anti-virus modules are decent for blocking unnecessary tracking of your PC and running protection in real-time. But I'm not too sure – just yet – about allowing CyberGhost to scan my system inside out.
That said, it is convenient if you actually want these security options all in one place, but they do make the VPN client feel a little bloated.
Nevertheless, it's still a fast and secure VPN, as shown in my thorough tests.
The UX (user experience) could be a tad simpler, but overall CyberGhost is a solid choice.
CyberGhost alternatives if you're not convinced
If CyberGhost VPN isn't 'the one', I suggest checking out two alternatives in NordVPN and ExpressVPN.
Neither need introductions, and I showed how CyberGhost compares with these VPNs earlier in the review. If you need a VPN with better privacy reassurances or maybe one that works with less problems in China, these are probably your better options.
CyberGhost VPN FAQ
What does CyberGhost VPN do?
CyberGhost initially started out as a VPN service, but has since expanded into an all-round privacy & security suite. On top of being able to encrypt your web traffic and change your IP address, CyberGhost is now also capable of blocking ads, protecting your desktop computer from viruses as well as notifying you when applications on your machine need to be updated.
Is CyberGhost trustworthy?
Given CyberGhost keeps no logs, is free of leaks, implements strong encryption and operates from the privacy-friendly jurisdiction of Romania, it should be safe to assume that this veteran VPN service can be trusted.
In addition, its network runs on volatile (RAM-only) memory, meaning no data actually gets stored on the physical servers.
Is CyberGhost reliable?
While testing CyberGhost, we found that, over three days, its top speeds were actually getting marginally faster. But, most importantly, we didn't observe any concerning connection drop-offs that would otherwise render the VPN unusable.
CyberGhost is undoubtedly built for decent performance, and it showed in our tests.
Is CyberGhost illegal?
CyberGhost is a 100% legal business entity, registered CyberGhost S.R.L. in Romania — a member state of the European Union.
In most regions, VPNs are legal to use with the exception of certain countries, such as China and Iran.
Does CyberGhost work with Tor?
Although it doesn't have a "Onion over VPN" feature built in, CyberGhost is still compatible to use with the Tor browser to be able to access content on the Tor network.
How to use CyberGhost on iPhone?
CyberGhost customers can download its iOS VPN app directly from the App Store. Keep in mind, however, that you'll still need to have a subscription to be able to access the service.
---
Leave your CyberGhost review
Are you a CyberGhost VPN subscriber or have used them before?
We want to hear about your experience. Share your feedback and CyberGhost rating with us in the comments section. 👇