ProtonVPN is a VPN service created by Proton Technologies AG. If either sound familiar, then you may well have heard about ProtonMail – a massively popular, privacy-focused email service made by the same parent company.
As you might expect, Proton's vision for its VPN doesn't much differ from the email product, with the goal of 'making online privacy a reality' for users.
But does Proton's VPN service live up to the solid reputation of its email cousin product? You'd expect that it should, right?
Well, it's time to put my testing kit to use once again so we can find out if ProtonVPN is really the "Matterhorn" of VPNs. My in-depth ProtonVPN review explains what this provider is all about, how it works, if it's safe to use, how fast it is and much more.
All aboard!
This guide will be making stops at: 🚉
ProtonVPN overview
| | |
| --- | --- |
| Based in | Switzerland |
| Price | Free or from $3.29 /mo. |
| Speed | 170 Mb/s |
| Logs | Timestamps only |
| Apps | Windows, Mac, Android, iOS, Linux, Chrome OS |
| Features | Kill switch, leak protection, split tunneling, multi-hop, Tor over VPN, AES-256-GCM encryption, forward secrecy, ad blocker, malware & tracking protection |
| Works with | Netflix, Amazon Prime Video, Disney+, HBO, Hulu, BBC iPlayer, routers |
| Works in China | Yes |
| Max. connections | Up to 10 |
| Customer support | Email, Reddit |
| Free trial | Yes |
| Refunds | 30 days |
| Website | ProtonVPN.com |
What is ProtonVPN?
ProtonVPN is a Swiss-based VPN and a cousin of the widely popular secure email service ProtonMail.
It offers VPN apps for popular operating systems like Windows, macOS, Android, iOS and Linux, and likewise has multi-platform support, making it a pretty solid choice for privacy purposes, bypassing internet restrictions as well as streaming.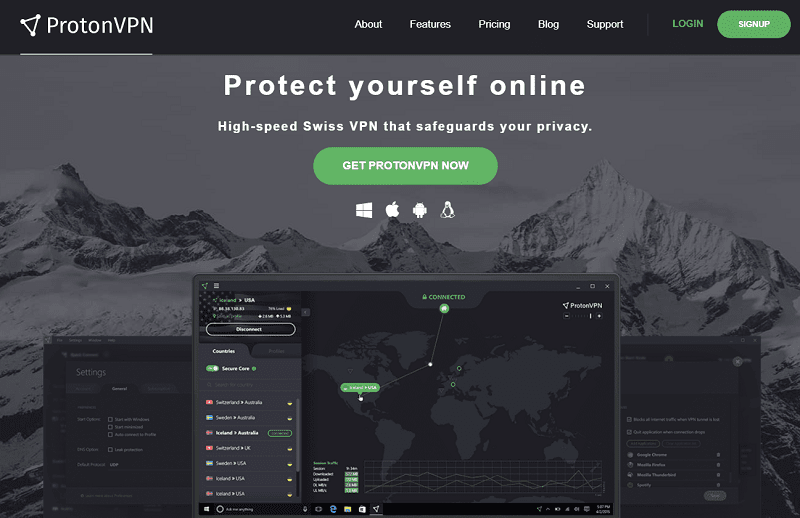 In addition to routing your internet traffic through its secure, 256-bit encrypted VPN tunnels, ProtonVPN also comes with a vast range of privacy enhancing features.
I'll highlight these throughout my ProtonVPN review, but some of the standouts no doubt include perfect forward secrecy, DNS and IP leak protection plus multi-hop connections through an in-house data centre (dubbed "Secure Core").
ProtonVPN pricing & free plan details
ProtonVPN offers three pricing packages – Basic, Plus and Visionary. These are tiered, meaning the more you're willing to pay, the more features are bundled in and the fewer limitations to be concerned about.
Whichever of the three tiers you opt for, you'll also need to choose the length of your plan. And Proton's billing cycles are: one month, one year or two years.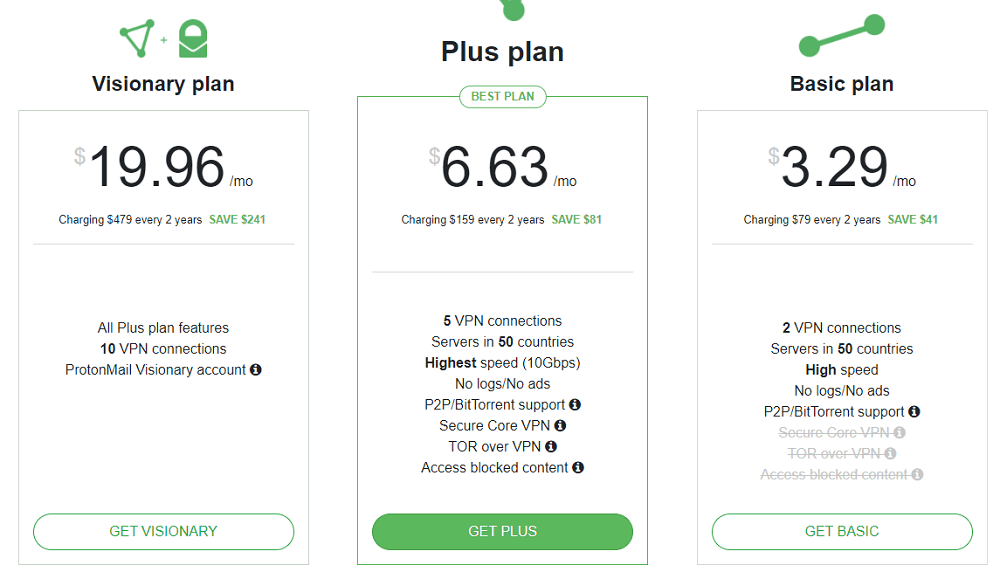 ProtonVPN plans & price breakdown
| | | |
| --- | --- | --- |
| Basic: 1 month | $5 /mo. | |
| Basic: 1 year | $4 /mo. – Save 20% | Get started |
| Basic: 2 years | $3.29 /mo. – Save 33% | |
| | | |
| Plus: 1 month | $10 /mo. | |
| Plus: 1 year | $8 /mo. – Save 20% | Get started |
| Plus: 2 years | $6.63 /mo. – Save 33% | |
| | | |
| Visionary: 1 month | $30 /mo. | |
| Visionary: 1 year | $24 /mo. – Save 20% | Get started |
| Visionary: 2 years | $9.96 /mo. – Save 33% | |
| | | |
| Limited free service | Free | Get started |
As you can see, Proton's paid package options are aplenty.
Basic plan
Beginning with the cheapest Basic plan – from $5 per month – you'll get access to 50+ server locations, decent speeds, P2P support and up to two device connections. If you opt for the two-year subscription, the price – less 33% – would work out to just $3.29 per month.
Note: the Basic plan does not support unblocking geo-resticted content.
Plus plan
The next tier up is the Proton-recommend Plus plan.
It costs $10 per month, which is the average price for a decent paid VPN. But, as with the rest of the plans, you can bring the price down by either 20% or 30%, depending on the length of your subscription. If you go for two years, you'll essentially pay $6.63 per month.
With the Plus plan, you'll get all ProtonVPN features bundles in, including P2P support, Tor over VPN and Secure Core (i.e. multi-hop). You'll also get better speeds, be able to access blocked content and have the option to run the VPN on up to five separate devices at the same time.
Visionary plan
Lastly, you have the Visionary plan. This is the most expensive tier offered by ProtonVPN, and would set you back $30 per month on a rolling contract, or a discounted $9.96 per month if you go for the two-year deal.
There aren't that many differences between the Visionary and Plus plans, other than a higher connection limit (up to 10 devices on Visionary) along with premium ProtonMail access.
ProtonVPN free VPN plan
What I really like about ProtonVPN's sign-up options is that it offers a fully fledged free VPN service.
One with no bandwidth restrictions or enforced speed limits.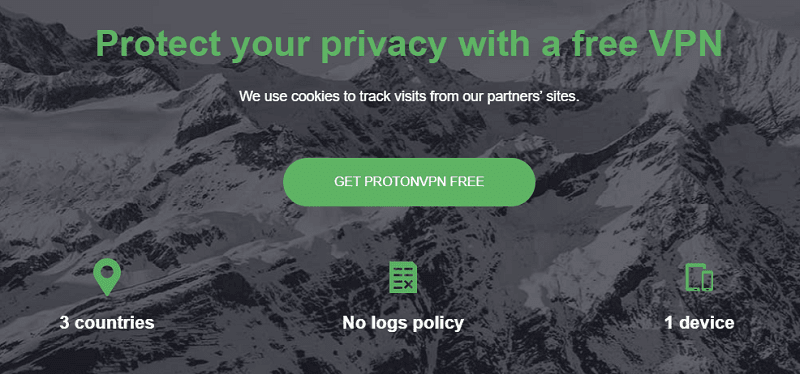 Of course, the service you get with the free version is very limited, with only three location gateways available. These are Japan, the Netherlands and the US.
Note: that the free plan is restricted to 'medium' range speeds and doesn't support torrenting.
But, if you just want to try ProtonVPN out, or you actually don't need any advanced VPN features like multi-hop or Tor over VPN, the free plan may just be enough for you.
If you're working with an empty budget, ProtonVPN is regarded as one of the safest free VPNs available as the level of security with the free service is the same as you'd get on a paid plan.
ProtonVPN coupon & discount
ProtonVPN offers sizable VPN deals – up to 33% off – when you sign up to the service on longer billing cycles. And you don't need an actual coupon to claim the discounts.
With a one-year subscription – regardless of whether you choose between Basic, Plus or Visionary packages – you'll save 20%.
On the two-year plans, the savings are even bigger at 30%. This means you could sign up to ProtonVPN for as low as $3.29 per month (on the Basic plan, for instance).
Payment methods
ProtonVPN has a fairly short list of accepted payment options. The main choices available are credit card, PayPal, Bitcoin.
| | |
| --- | --- |
| PayPal | ✅ |
| Card | ✅ |
| Bitcoin | ✅ |
| Cash | ✅ |
| Google Pay | ❌ |
| Apple Pay | ❌ |
| Amazon Pay | ❌ |
| Alipay | ❌ |
| Boleto | ❌ |
Interestingly, cash is also an option, albeit a bit unconventional.
I actually double checked with Proton on how cash payments would work. Essentially, you can post the outstanding amount in cash by mail directly to the address of the company's office.
Apart from the money, you'd also need to include your username.
Accepted currencies are:
Seemingly, this is not a bad option at all if you want to reduce the 'paper trail', so to speak, and keep the details of your transaction anonymous.
ProtonVPN will add your credits to your account upon receipt of payment.
ProtonVPN free trial – is it really free?
Instead of a temporary free trial, ProtonVPN actually offers a genuine free plan.
This option is extremely useful if you just want to get familiar with the service before paying for a premium package.
Likewise, it's a welcome option to what you'd usually get with most other providers in having to first provide your payment details, then claiming your money back within ~30 days if you're not satisfied with the service.
Does ProtonVPN offer refunds?
While I recommend making use of Proton's free VPN plan to initially try it out, you can still claim a refund after having paid for the premium service.
The refund period is 30 days from payment, and you can claim it by opening a support ticket.
Note, however, that you'll only be reimbursed for the remaining period of your plan, and I'd say this is a fair deal as the free plan is there to be used should you want to give the service a test run first.
ProtonVPN speed: is it fast? (108 Mb/s)
ProtonVPN has consistent speeds and reliable VPN connections. This makes up for the service not being quite as fast as some of the other VPNs I've used in the past, with download speeds reaching a maximum of 170 Mb/s using the OpenVPN protocol.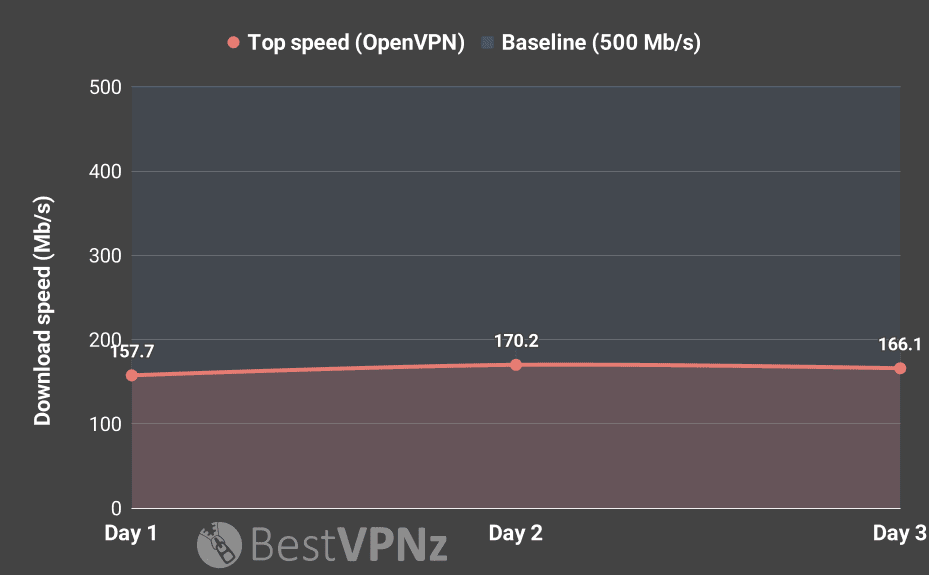 VPN speeds by country (OpenVPN test)
| | | |
| --- | --- | --- |
| Server location | Top speed | Average speed |
| Netherlands | 170.2 Mb/s | 164.7 Mb/s |
| Germany | 107.4 Mb/s | 101 Mb/s |
| US – New York | 59.9 Mb/s | 55.1 Mb/s |
| Canada – Toronto | 108 Mb/s | 104.6 Mb/s |
| United Arab Emirates | 59.3 Mb/s | 50.8 Mb/s |
| China – Hong Kong | 84.3 Mb/s | 80.5 Mb/s |
At first glance, the results in the table show okay speeds.
For example, with a relatively close-by location like the Netherlands, my maximum throughput for downloads was 170 Mb/s.
These results are definitely slower than I had expected from Proton.
In fact, when comparing the fastest logged download speed versus my connection baseline (500 Mb/s), the drop-off rate works out to -67%.
In other words, there's definitely room for improvement.
That said, I did get decent peak bursts while connected to Canada (108 Mb/s) as well as through Hong Kong (84 Mb/s). Both of these locations are far from my own, and these results – including the average speeds you see in the table – I'd typically deem as not bad for OpenVPN.
Does ProtonVPN support WireGuard?
At the time of writing this ProtonVPN review, the service doesn't yet support the leaner and faster WireGuard protocol.
On the upside, however, the provider had previously announced it's working on incorporating the protocol in the near future.
Hopefully, WireGuard will help deliver better performance, and I'm certainly looking forward to running back the speed tests for this VPN.
Is ProtonVPN safe to use? 🛡️
With security at the core of its mission, ProtonVPN has a great privacy track record to boot. The provider keeps no logs that would identify a user, has no VPN leaks and its software is virus/malware free. Moreover, it offers strong encryption, its code is open source plus it comes with a ton of useful security features with which you can optimise your VPN connection.

All of these attributes point to the fact that ProtonVPN is a safe VPN to use.
Of course, there are always security aspects which can be improved. And if anything lacks in Proton's case, it's the implementation of volatile (RAM) memory on its server network.
| | |
| --- | --- |
| No logs | ✅ |
| Privacy audit | ❌ |
| Open source | ✅ |
| Safe jurisdiction | ✅ |
| Good track record | ✅ |
| No leaks | ✅ |
| RAM-disk servers | ❌ |
| Virus & malware-free | ✅ |
| Advanced security features | ✅ |
Does ProtonVPN keep logs?
Historically, ProtonVPN is a very privacy-centric company. So it's no surprise it claims to enforce a strict 'no-log policy' with its VPN service.
Data it DOESN'T store
Your traffic or communications content
Your IP address and real location
Amount of bandwidth used
Data it DOES store
Timestamp of most recent login
On its website, the provider states:
ProtonVPN respects its users' privacy and enforces a no-logs policy. This means your VPN connections remain private and we do not store information about your connections or the websites you visit.

For the purpose of securing your account and making sure it's you who is signing in, we store a single timestamp of your account's most recent login. Again, we do not store any information about where you signed in from or how long you were logged in

Source: ProtonVPN.com
You should take note that when it comes to connection logs, ProtonVPN keeps timestamps of your last successful login attempt containing the time and date of the login. But the timestamp doesn't include your IP address or location.
These timestamps are overwritten each time you log in to the app, and – according to ProtonVPN – the main reason it keeps these basic logs is to prevent potential password brute force attacks.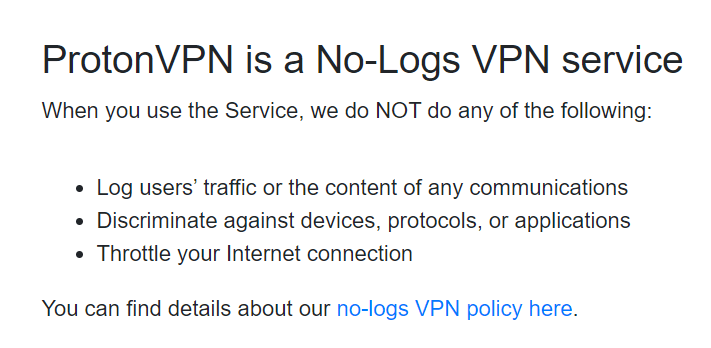 Has ProtonVPN been audited?
ProtonVPN underwent an independent security audit of its VPN applications. You can find links to each client audit – conducted by cybersecurity company SEC Consult – in an announcement from January 2020.
I couldn't find confirmation about any privacy audits to verify the company's 'no-log' claim. However, it's probably one of the safer bets you'd make given Proton's solid track record and evident knack for transparency.
ProtonVPN also runs a bug bounty programme.
Who owns ProtonVPN?
ProtonVPN is owned and run by Proton Technologies AG.
The folks behind the company originally launched the popular encrypted email service ProtonMail in 2014.
One of them is Proton's co-founder Andrew Yen. He obtained a Ph.D. in Physics from Harvard and has previously worked as a researcher at CERN.
If you haven't heard of him, I recommend checking out his TED Talk from 2014 on the topic of email privacy.
Where is ProtonVPN based?
ProtonVPN and its parent company – Proton Technologies – operate out of the Swiss city of Geneva.
Switzerland is generally regarded as a safe jurisdiction for a VPN largely due to its independent legal system and a vocal data privacy lobby.
Although it does have mandatory data retention laws, they're known to apply specifically to ISPs and telecom companies, not VPNs.
Switzerland data privacy laws
In fact, mandatory data retention for ISPs in Switzerland has been in effect since 2002 as part of the Federal Act on the Surveillance of Post and Telecommunications (also known as BÜPF) and the Regulation of 31 October 2001 on the monitoring of Posts and Telecommunications (known as VÜPF).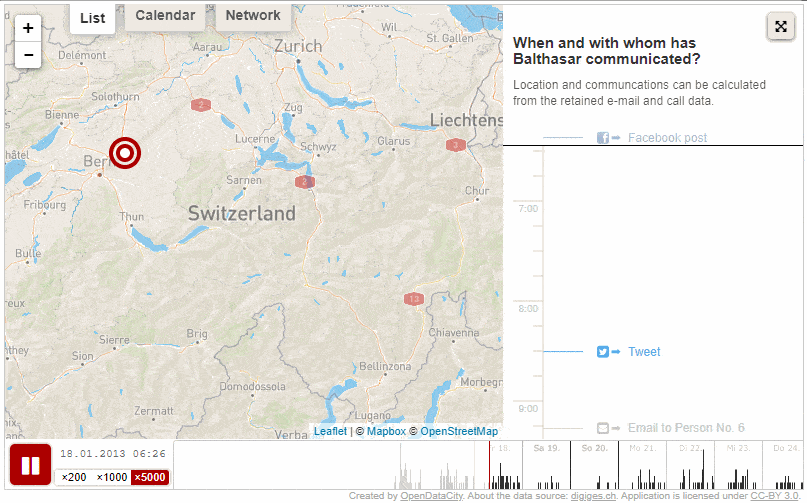 Balthasar Glättli, a member of the National Council for The Green Party in Switzerland, in partnership with Digital Society Switzerland, once published a stark visualisation of his own communications data – as it would be visible and accessible to authorities.
In 2016, the Swiss government further strengthened its surveillance powers with a sweeping, new legislation – the Intelligence service law (abbreviated as "NDG" from German). It essentially allows the country's Federal Intelligence Service to spy on 'high-risk terror suspects' using intrusive methods like phone tapping, internet traffic monitoring and even by installing malware on personal devices.
Interestingly, this legislation was voted in by the public with a 65% majority but has been the subject of much controversy both in Switzerland and by European privacy advocates.
But what does this mean for VPNs in Switzerland?
That said, it's not all doom and gloom. And there are still very good reasons as to why several well-known VPNs choose to domicile in Switzerland.
Historically, Switzerland is still very much a 'private' and independent state.
In practise, this means if a foreign party from outside the country requests personal user information from a Swiss company, they must put the request through the Swiss government. As a result, this adds another layer of protection for Swiss companies' data.
Transparency report
On its blog, ProtonVPN publishes a transparency report & warrant canary requests.
However, at the time of writing this ProtonVPN review, there's only the one data request shown on the page. The 2019 request is from a foreign authority and had been approved by a Swiss court:
January 2019 – A data request from a foreign country was approved by the Swiss court system. However, as we do not have any customer IP information, we could not provide the requested information and this was explained to the requesting party.
Additionally, I really recommend scanning the Q&A in the comments of the page, as many users raise important questions about Proton's privacy, many of which the company has addressed.
Virus & malware scan (passed ✅)
Before installing ProtonVPN on my machine (a PC), I used the online scanner VirusTotal.com to check the app for potential viruses and malware.
ProtonVPN passed the test with flying colors as the scan didn't find any known risks in the installation files.
In other words, it's safe to install.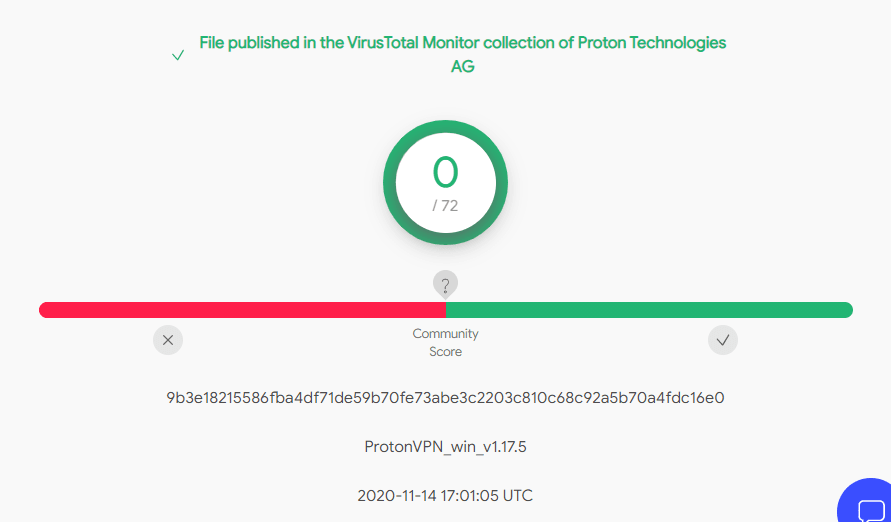 VPN leak test (passed ✅)
A crucial step in any VPN test I do – checking for possible leaks.
While connected to a ProtonVPN US server, I ran an IP and DNS lookup on ipleak.net.
The test detected no leaks, showing new, VPN-assigned IP and DNS addresses. Also, the results showed no IPv6 or WebRTC leaks.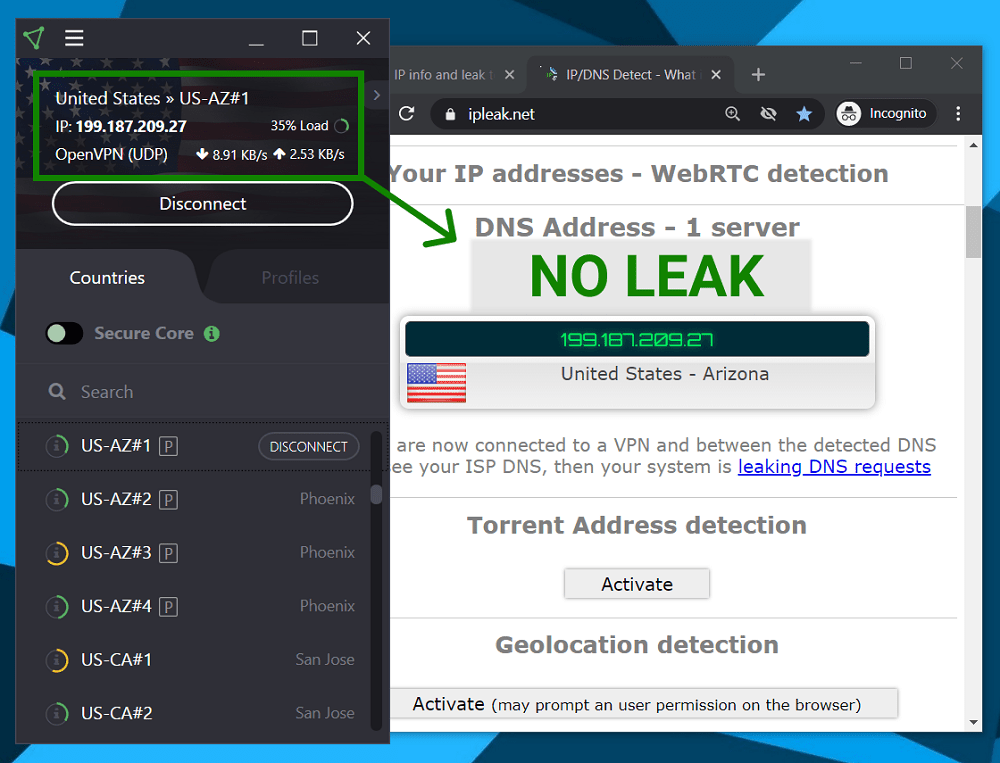 Deep packet inspection (passed ✅)
I ran a quick packet inspection of my own traffic data while connected to ProtonVPN. This was to make sure its encryption was working properly and the details of my online activities – i.e. the website I was visiting – were not being leaked in the data packets.
Below is an example of what I could see while inspecting a typicalpacket. Essentially, the data was undiscernible, which means ProtonVPN passed the packet inspection.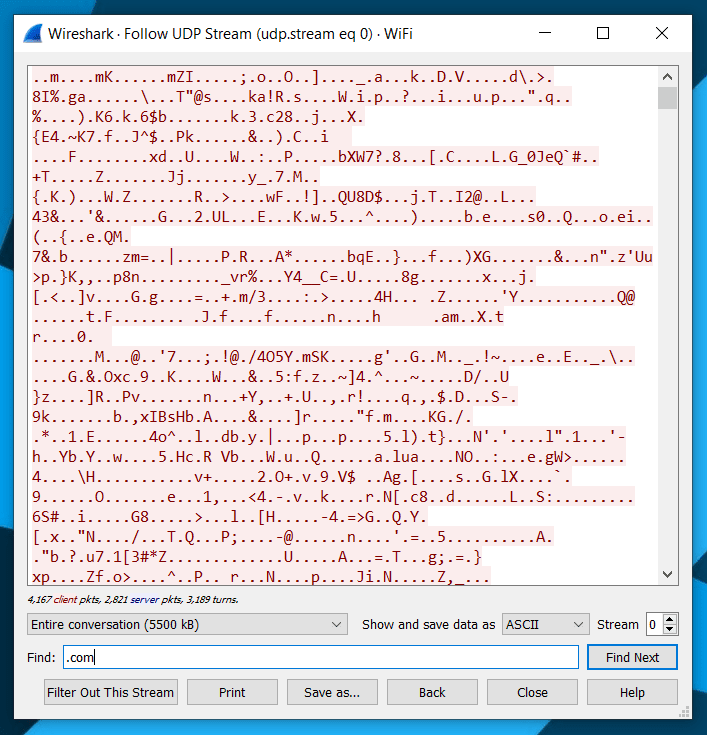 If you ever want to try deep packet inspection with a VPN yourself, I recommend a network analyzer programme called Wireshark.
How to use ProtonVPN apps & features?
ProtonVPN is rich in security features and is very easy to use, even for VPN beginners. It has apps for all popular operating systems – Windows, macOS, Android, iOS, and is compatible with Linux and flashed routers. We've confirmed the service works with Netflix and is safe for torrenting.
With a Proton subscription, you'll be able to connect to more than 50 country gateways (consisting of over 1,000 VPN servers).
There's also a ton of essential as well as nice-to-have security features like the good old kill switch, anti-leak, custom DNS, split-tunelling, multi-hop and layered connections through the exceptionally secure Tor network.
| | |
| --- | --- |
| Servers / countries | 1,000+ / 50+ gateways |
| Apps (PC, Mac, iOS, Android, Linux, Chrome OS) | ✅ |
| Works with Netflix | ✅ |
| Torrenting | ✅ |
| Works in China | ✅ |
| Works on routers | ✅ |
| Max. connections | 10 |
| Browser extension | ❌ |
How does ProtonVPN work?
Like many VPNs today, ProtonVPN works right out of the box.
As soon as you've created your ProtonVPN account, you can download its user-friendly VPN clients for desktop and mobile devices right from your account dashboard.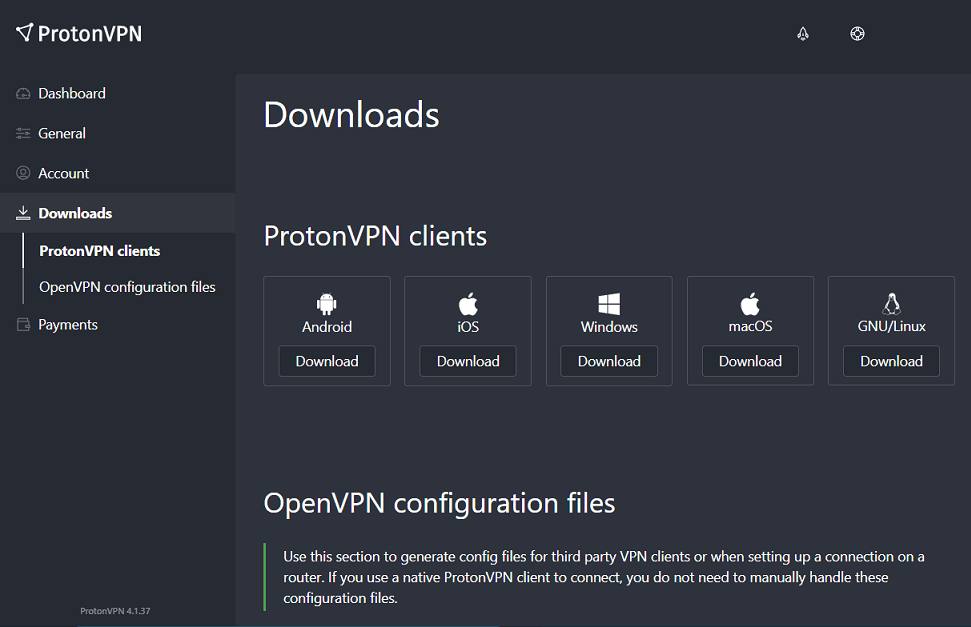 Then, in the app, you can simply use the Quick Connect option to connect to the most suitable server based on your plan, location and settings.
Once you're more familiar with the client, it's worth exploring all of the different options and features the product has to offer.
ProtonVPN PC (Windows) / Mac desktop client
ProtonVPN's desktop client for Windows PC and Mac systems is both compact and expandable to full screen. With either view, you can use the handy interactive server map to find available VPN gateways.
While on the left-hand side (or in compact view), you have the search bar where you can type the country name or the specific server codename, if you know it.
If you're on the free plan, premium servers will be greyed out until you've upgraded to a paid package.
You'll notice some of the servers have little labels, indicating if the node can be used for torrenting or if it routes traffic through the Tor network.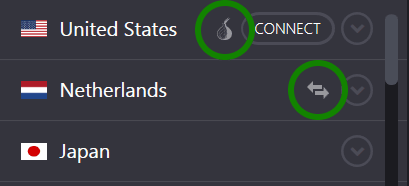 If you see a spanner icon next to a node, it means it's down for maintenance.
What I also really like is that you can see the current load for each server. This is shown with red, yellow, green colour coding, plus it has a percentage indicator for how much out the server's total capacity is in use.
Note: Most of the servers on Proton's free plan have a high load of 80% or more, hence why you should expect slower speeds when connected through them compared to premium nodes.
Custom connection profiles
The ProtonVPN client has a neat feature called Profiles. With Profiles you can customise and save preferences for different connection types, depending on what you want to use the VPN for.
For example, I created a custom profile for using the VPN on my home PC, with the connection routed through Proton's Secure Core network and then exiting through Canada.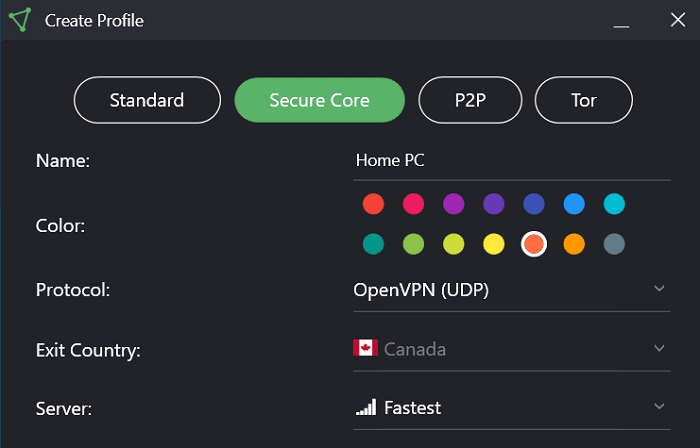 You can also set up the most optimal profiles for torrenting or for connections through the Tor network.
As the client doesn't let you bookmark servers, creating profiles is the best way to save your connection preferences for future use.
ProtonVPN Android / iOS app for mobile devices
Android and iOS (iPhone / iPad) device users can download ProtonVPN's mobile clients from their respective app stores.
Expectedly, the mobile apps look and work a lot like the desktop versions.
You'll find the server selection is split between the familiar list and map views. The protocol menu is almost the same (IKEv2 or OpenVPN), and – like on desktop – you can choose between UDP and TCP.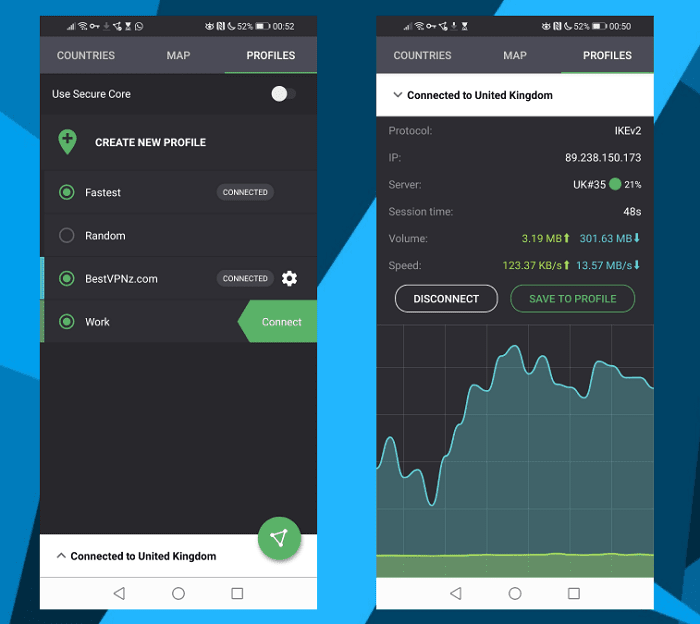 You also have advanced settings like the option to adjust the transmission unit (MTU) size as well as split-tunneling. The latter allows you to exclude specific apps or IP addresses from the VPN traffic.
Note: In order to turn on the internet kill switch on your mobile device, you'll need to go to your device's VPN settings, and enable the Always-On option for the ProtonVPN application.
ProtonVPN Linux support
To set up ProtonVPN on Linux systems, it's recommended to use its official command-line tool.
Supported distributions include:
Ubuntu
Debian
Linux Mint
Fedora
CentOS
RHEL
SUSE
Archlinux
Manjaro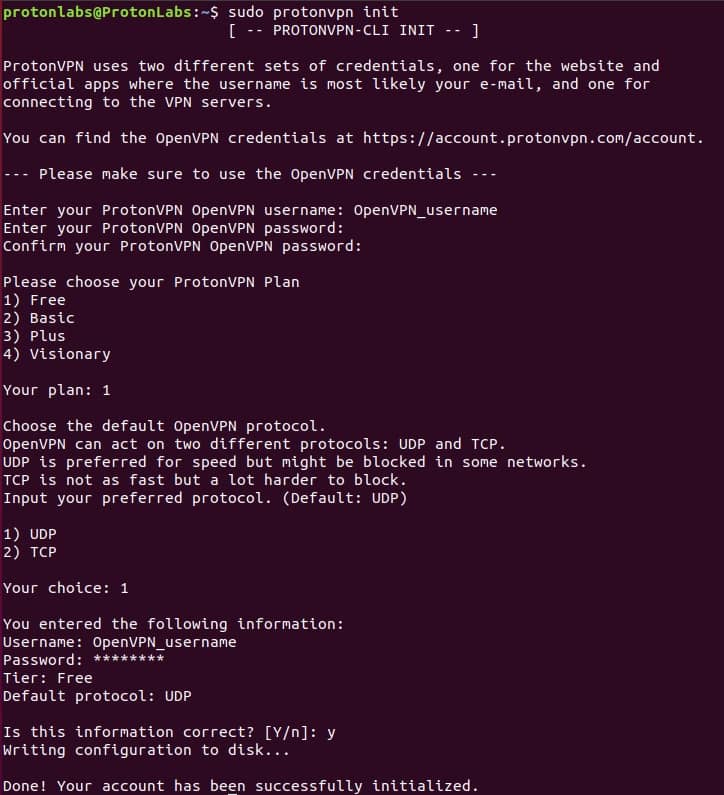 You can find setup tutorials for installing ProtonVPN packages on various Linux distributions here, while the OpenVPN configuration files and logins can be found in your account dashboard.
ProtonVPN servers and country gateways
At the time of writing this VPN review, ProtonVPN has 1,000+ servers spanning 50+ countries.
You'll be able connect to countries including USA, Canada, UK, Hong Kong, United Arab Emirates, Netherlands, Portugal, Singapore, Denmark, Malaysia, Australia and New Zealand; the list really does go on.
ProtonVPN also runs special servers dubbed "Secure Core". These are located in secure, underground data centres in Switzerland, Sweden and Iceland, and are fully owned and operated by the company.
Which countries are available on ProtonVPN free plan?
If you're only planning on using the ProtonVPN free plan, keep in mind that the network size will be heavily limited. You'll have access to servers in just three countries – US, Netherlands and Japan.
Security features
| | |
| --- | --- |
| Encryption | AES-256-GCM |
| Protocols | UDP (OpenVPN), TCP (OpenVPN), IKEv2 |
| RAM-based servers | ❌ |
| Kill switch | ✅ |
| Leak protection | ✅ |
| Custom DNS | ✅ |
| Obfuscation | ❌ |
| Multi-hop | ✅ |
| Tor over VPN | ✅ |
| Ad blocking / malware protection | ✅ |
As already mentioned, ProtonVPN's chief focus in evidently on privacy. So it isn't a surprise to see most of its key features geared at optimising just that.
For instance, you'll have access to the expected – though nonetheless important – kill switch and leak protection features.
You'll be able to run multi-hop connections through the specially run Secure Core servers, which are owned and operated by the company.
And if you need an even stronger level of privacy, there are designated nodes that will route your traffic through the highly secure Tor network.
Lastly, Proton's VPN desktop apps have a built-in ad blocker as well as malware and tracking protection. This feature is called NetShield, and can be found just above the server menu.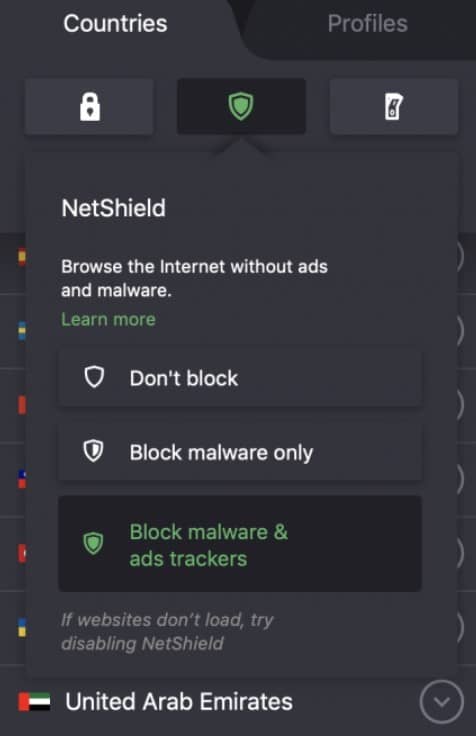 ProtonVPN Secure Core servers
Secure Core is a feature you'll see mentioned a lot in the ProtonVPN apps and on the provider's website.
In a nutshell, these are VPN servers located in secure, underground data centres in Switzerland, Sweden and Iceland, and they're owned and operated entirely by ProtonVPN.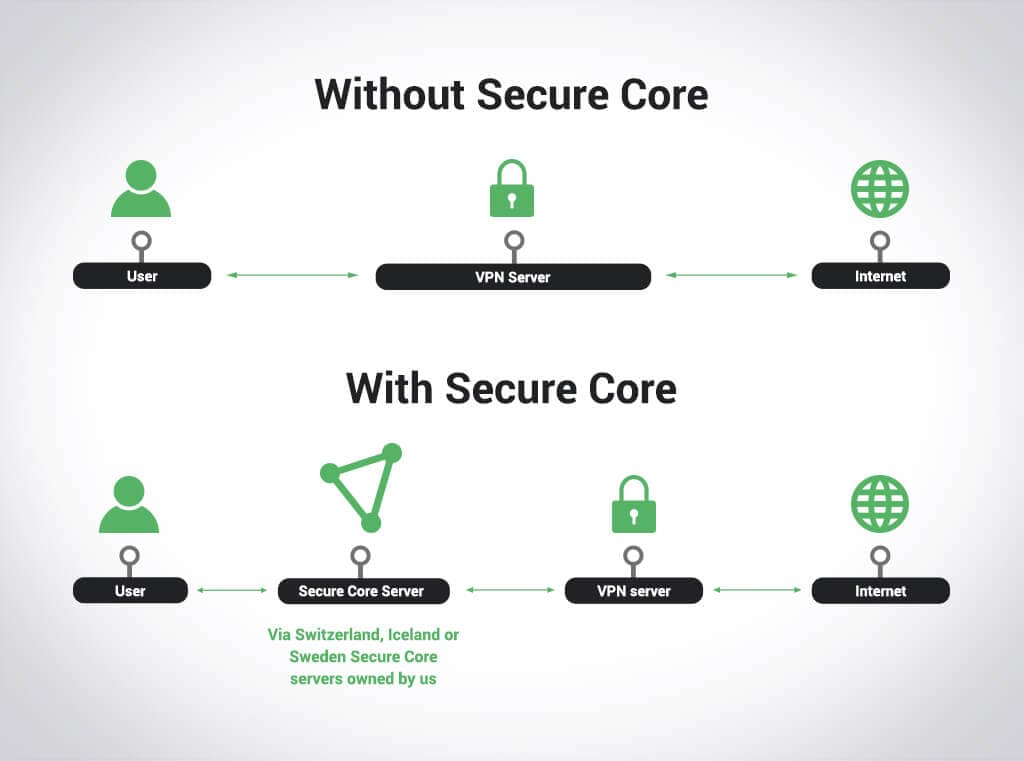 When you enable the Secure Core feature, your internet traffic will be routed through one of the data centres, before being encrypted again through the exit node (i.e. your chosen location).
In essence, Secure Core is Proton's very own multi-hop feature, but with the key distinction in that the middle servers are proprietary.
First, servers are located in countries selected specifically for their strong privacy laws (Iceland, Switzerland, and Sweden). We also placed our Secure Core servers in high-security data centers to ensure strong physical security. ProtonVPN infrastructure in Switzerland and Sweden is housed in underground data centers, while our Iceland servers are on a former military base. Furthermore, Secure Core servers are wholly owned and provisioned by us (shipped on-site directly from our offices). Finally, Secure Core servers are connected to the Internet using our own dedicated network with IP addresses that are owned and operated by our own Local Internet Registry (LIR).

Source: ProtonVPN.com
What encryption does ProtonVPN use?
ProtonVPN implements the golden standard AES-256-GCM for data encryption across all of its VPN apps.
Additionally, it employs 4096-bit RSA key exchange, HMAC SHA384 authentication as well as Perfect Forward Secrecy – meaning you'll get a new encryption key each time you connect.
Does ProtonVPN work with Netflix?
In our test, ProtonVPN worked effectively with Netflix plus other streaming service. I noticed no lag or buffering while trying to play back geo-restricted content.
ProtonVPN also made it into our Best Netflix VPNs selection.
ProtonVPN torrenting rules & tips
If you need a VPN for downloading (P2P), ProtonVPN is a very good pick, as it allows torrenting on most of its servers, except those on the free plan. Though you'll get much better speeds when using designated P2P nodes located in Switzerland, Sweden, Iceland, Singapore and the Netherlands.
Is ProtonVPN safe for torrenting?
To find out whether ProtonVPN is really safe for torrenting, I ran a torrent IP leak test on ipleak.net.
The results showed my torrent IP did not leak while using the VPN.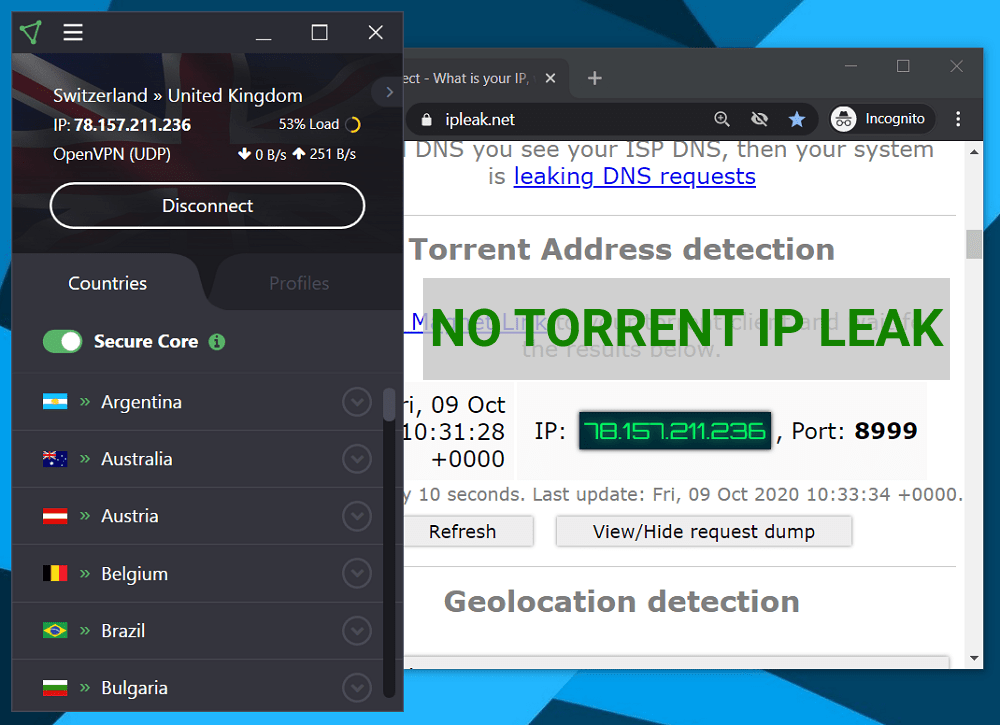 As always, though, make sure you have the internet kill switch enabled in case your VPN drops out unexpectedly.
Can I torrent with Secure Core servers?
Technically, you can run P2P traffic with Secure Core enabled, however, it's not recommended for performance reasons as your traffic will be routed through two VPN servers instead of one.
Your best bet is to connect to one VPN server in one of the designated gateways mentioned above. Some of those locations – like Switzerland, Sweden and Iceland – are most likely already part of the Secure Core network.
Does ProtonVPN work in China?
Although ProtonVPN, doesn't come with the obfuscation feature, often used with VPN connections to bypass tough firewall restrictions, it does have in place something called 'alternative routing'.
This process actually runs in the background, meaning there wouldn't be any need to enable a specific features or setting in the app. So to use ProtonVPN in China, you'll simply need to connect to any available server.
Note: As no VPN is guaranteed to work in China consistently, you may need to reach out to ProtonVPN to get suggestions on the best server to connect to.
ProtonVPN reviews on Reddit
You'll see plenty of discussions about ProtonVPN on Reddit as it boasts a dedicated user base.
What I also really appreciate is that the provider actively addresses and answers questions asked by users.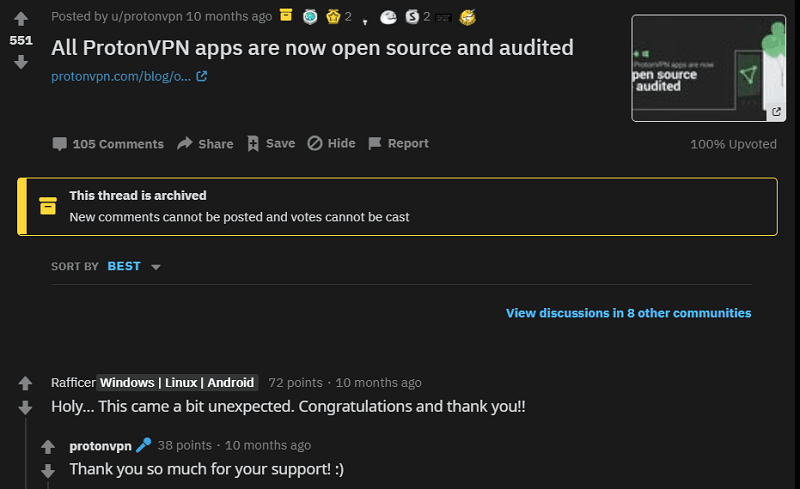 But, as always, you'll find both positive and negative feedback from users about the service while browsing the forums, including ProtonVPN's official subreddit.
Some long-time users have voiced their concerns about ongoing, unresolved technical blips:
I really would like to stay with Proton but sometimes it feels like I'm grasping at anything to justify continuing to stay.

tldr: I love and trust Proton but continuing technical issues are making me feel like I'm grasping at anything to stay with them. wondering if anyone is having a similar experience.

Source: Reddit.com
This is cool – one user created their own, unofficial ProtonVPN GUI for Linux: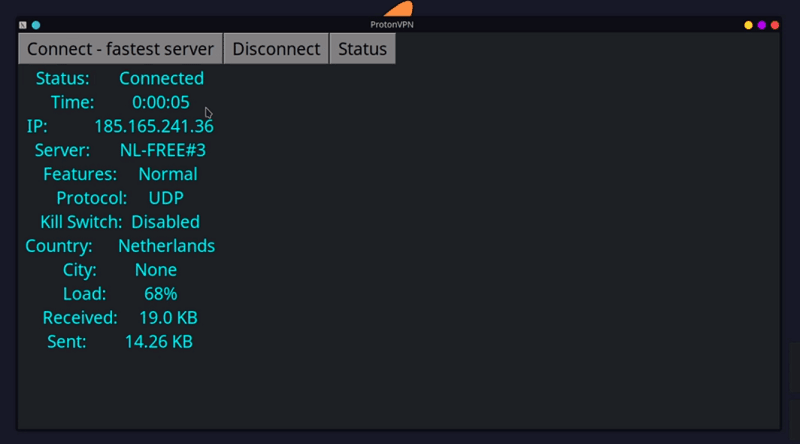 Yet another example of a happy ProtonVPN user on Reddit:
I bought Proton VPN and Mail to support you guys and I have been delight with the service. Keeps the work going! The beta mail and calendar is working well for me. I just need proton drive and I will pretty much set.

Source: Reddit.com
ProtonVPN vs NordVPN
When comparing ProtonVPN with arguably one of the biggest VPNs on the planet in NordVPN, it's important to stack their key benefits side by side.
Here's how that looks:
| | | |
| --- | --- | --- |
| | ProtonVPN | NordVPN |
| Lowest price | Free or from $3.29 /mo. | $3.71 /mo. |
| Top speed | 170 Mb/s | 373 Mb/s |
| Logs | Timestamps | No logs (audited) |
| Jurisdiction | Switzerland | Panama |
| Servers | 1,000+ / 50+ countries | 5,000+ / 50+ countries |
| Works with Netflix | ✅ | ✅ |
| Works in China | ✅ | ✅ |
| Torrents | ✅ | ✅ |
| Max. connections | 10 | 6 |
| Browser extension | ❌ | ✅ |
| Support | Email | Live chat, email |
| Website | ProtonVPN.com | NordVPN.com |
Why choose ProtonVPN?
Has a legit free VPN plan
Multi-hop through proprietary servers
More max. connections (though on the premium package)
Very helpful and responsive support, despite no live chat
Why choose NordVPN?
Access to more features for a low price
Much faster speeds plus WireGuard support
Audited no-log VPN
Includes ad blocker and malware protection
Includes browser (proxy) add-ons
🏆 Winner: NordVPN
NordVPN wins it for me due to its exceptional speeds, the fact that it works in a highly restrictive environment like China and because its privacy policy has been audited on multiple occasions.
Learn more about NordVPN and its features in my in-depth NordVPN review.
ProtonVPN vs ExpressVPN
ProtonVPN frequently gets compared with VPN giant ExpressVPN. And although both are widely regarded as very secure VPNs, it's worth knowing which features make either service stand out and ultimately make it the better option for you.
| | | |
| --- | --- | --- |
| | ProtonVPN | ExpressVPN |
| Lowest price | Free or from $3.29 /mo. | $8.32 /mo. |
| Top speed | 170 Mb/s | 336 Mb/s |
| Logs | Timestamps | No logs (audited) |
| Jurisdiction | Switzerland | British Virgin Islands |
| Servers | 1,000+ / 50+ countries | 3,000+ / 90+ countries |
| Works with Netflix | ✅ | ✅ |
| Works in China | ✅ | ✅ |
| Torrents | ✅ | ✅ |
| Max. connections | 10 | 5 |
| Browser extension | ❌ | ✅ |
| Support | Email | Live chat, email |
| Website | ProtonVPN.com | ExpressVPN.com |
Why choose ProtonVPN?
Has a free plan
Much cheaper paid service
Multi-hop through proprietary servers
More max. connections (though on the premium package)
Helpful and responsive customer support
Why choose ExpressVPN?
Slightly faster of the two
Verified no-log VPN
Bigger server network with more locations
Includes browser add-ons
🏆 Winner: ExpressVPN (just)
ExpressVPN edges it slightly for me, mainly because of its blunt 'no-log' policy which has been verified both in court and through independent audits.
The BVI-based VPN also offers marginally better speeds, which might make the difference for you when using the VPN for streaming or gaming.
That said, the lead is really marginal.
ProtonVPN is no doubt an extremely secure VPN in its own right, so I wouldn't overlook if 'better privacy' is the main problem you're trying to solve.
Learn more about ExpressVPN and its features in my detailed ExpressVPN review.
ProtonVPN support – is it helpful?
The easiest and quickest way to get help with your ProtonVPN service is through:
The main support centre (includes tutorials & guides)
Submitting a support request form
Posting your question/issue to ProtonVPN's subreddit (r/protonvpn)
Although the service doesn't have a live chat function on its website and support cases are handled via email, I wouldn't deem this at all a minus. In fact, on the contrary, you tend to get better support by email.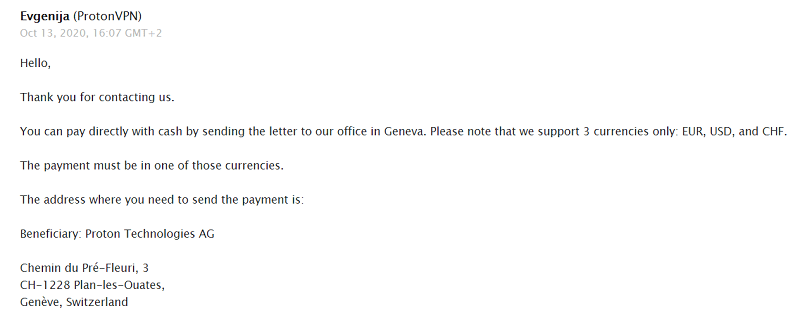 This is because Proton support agents are quick to respond – usually within the hour – and will try to diagnose and resolve your issue step by step themselves, as opposed to generic, pasted replies you're likely to receive via a live chat support line (speaking from experience).
ProtonVPN review verdict: an 8 / 10 score ⭐
From its founder's awesome resume to the company's reputable beginnings with a secure email product – privacy is evidently the priority for ProtonVPN. After rounding up my test results and findings, I scored this provider an strong 8 out of 10.
Really, the only thing letting the product down is speed. If this gets improved, ProtonVPN will comfortably join ranks among our top-rated VPN services.
But I loved a lot about this Swiss-based VPN and its privacy features.
Here are some of my highlights as well as aspects of the service which I think should be improved:
Is ProtonVPN good?
Based on my research, here's everything that I think makes ProtonVPN a good VPN to buy:
Offers both free and paid services

Exceptional

security features like Secure Core, Tor over VPN & forward secrecy
No IP or DNS leaks
Transparent company with a good privacy track record
Works with Netflix
Dedicated P2P servers

Audited, open source apps

Easy to use VPN apps

Up to 10 connections per account

Accepts cash payments
Helpful customer support
What needs to be improved 👎
Average connection

speeds (no WireGuard support yet)
Doesn't offer proxies or browser extensions
ProtonVPN alternatives worth considering
When choosing a VPN, it's the details that count. And if my ProtonVPN review revealed something about this service that wasn't really ideal or it's missing a must-have feature for you, there are two alternatives I can recommend Romania's own VPN.ac or CyberGhost.
Our score
User rating
Our score
User rating
Price $3.75 p/mo
Pros
Safe jurisdiction (Romania)
Fast speeds with WireGuard support
Top encryption & security features
Innovative encryption techniques
Allows P2P & torrent traffic
Simple & intuitive applications
Secure browser proxy extension
Fast support response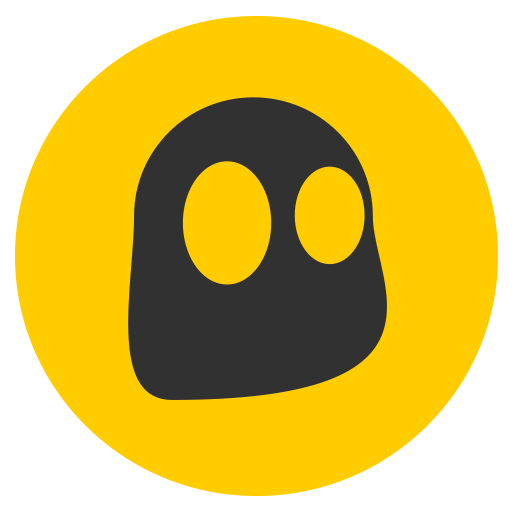 Our score
User rating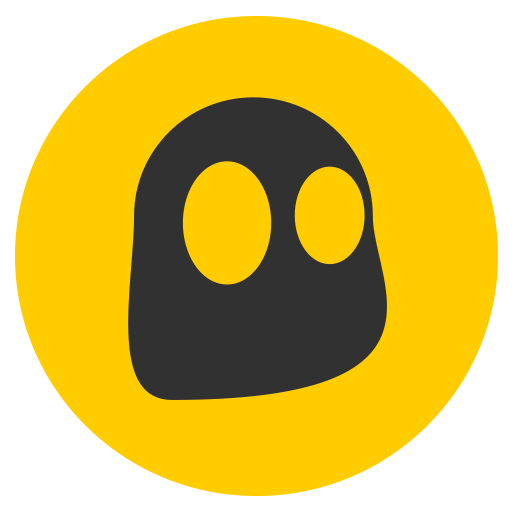 Our score
User rating
Price $2.19 p/mo.
Pros
Based in Romania (no data retention)
Fully-fledged security suite
Strong encryption & no leaks
Fast speeds & supports WireGuard
Works with Netflix & Amazon Prime Video
Torrenting is allowed
Apps available in multiple languages
Cons
Doesn't work in China
Privacy policy not audited
ProtonVPN FAQ
Is ProtonVPN free?
ProtonVPN has a completely safe-to-use free VPN plan. Although it's a much more limited service than the paid version, there are no caps on data usage. The free service gives you access to servers in three countries — US, Netherlands, Japan.
Is ProtonVPN secure?
ProtonVPN implements the strongest levels of VPN encryption (AES-256), and on top of that, it offers advanced security features for your connection, such as multi-hop through its self-hosted SecureCore data centre. Moreover, Proton is also a security-first company.
Is ProtonVPN trustworthy?
Given ProtonVPN operates out of Switzerland, it doesn't keep any identifiable logs and its apps are open-source, it's definitely safe to assume that this VPN provider can be trusted.
Does ProtonVPN work on Firestick?
As ProtonVPN does not have an app on the Amazon Appstore, the easiest way to use it with Firesticks is to run the entire VPN connection through a router.
Does ProtonVPN have a kill switch?
ProtonVPN's apps include the essential kill switch feature, which will automatically block all internet traffic in case the VPN connection suddenly drops.
---
Leave your ProtonVPN review 👇
Are you a ProtonVPN customer or have used the service in the past? We want to hear about it!
Leave your ProtonVPN review in the comments below