If you're a shopping for a VPN for the first or are simply looking for a better service than your last one, it's definitely worth comparing Surfshark vs NordVPN. These two VPNs are arguably among the most popular services you can buy.
To help you decide, we've done the testing and detailed comparisons ourselves. So, with this guide, you'll be able to pick smartly between Surfshark or NordVPN.
In a hurry?


NordVPN is the overall winner in this comparison. It's faster and offers more features.
Surfshark vs NordVPN comparison
When compared side by side, NordVPN edges it for us over Surfshark, thanks to its slightly faster connection speeds and wider selection of privacy features.
But Nord finishes ahead only just. As you can see in the comparison table, with Surfshark, you'll still get the advantage of a better overall deal plus the fact it offers 'unlimited' connections.
| | | |
| --- | --- | --- |
| | NordVPN | Surfshark |
| 📍 Based in | Panama | British Virgin Islands |
| 🏷 Price | $4.19 p/mo | $2.30 /mo + 2 months Free |
| ⚡ Top speed | 373 Mb/s | 359 Mb/s |
| 📃 Logs | No (verified) | No (verified) |
| 🌎 Servers | 5,000+ (60 countries) | 3200+ / 100 countries |
| 📱 Apps | Android, Windows, Mac, iOS, Linux, Chrome, Firefox | Windows, Android, Mac, iOS, Linux, Chrome, Firefox |
| ✅ Works with | Smart TVs, Android TV, Apple TV, Amazon Fire TV Stick, gaming consoles, most routers | Smart TVs, Android TV, Apple TV, Amazon Fire TV Stick, gaming consoles, most routers |
| ⚙️ Advanced features | Kill-switch, split-tunnelling, private DNS, Tor over VPN, multi-hop, dedicated IP, obfuscation, LAN invisibility, Smart DNS, dark web monitor, Meshnet | Kill-switch, camouflage mode, multi-hop, ad blocker, anti-tracking & malware protection |
| 🍿 Works with Netflix | Yes | Yes |
| ⬇️ Torrents | Yes | Yes |
| 🇨🇳 Works in China | Yes | Yes |
| 💻 Connections | 6 | Unlimited |
| ↩️ Money-back guarantee | 30 days | 30 days |
| 🆘 Customer support | Live chat, email | Live chat, email |
| 🌐 Website | NordVPN.com | Surfshark.com |
What is Surfshark VPN?
Surfshark is a VPN service that originally launched in 2018. Since then, it has become a hit with users thanks to its wide array of privacy features and its ability to easily keep up — if not set the standard — in the highly competitive VPN market.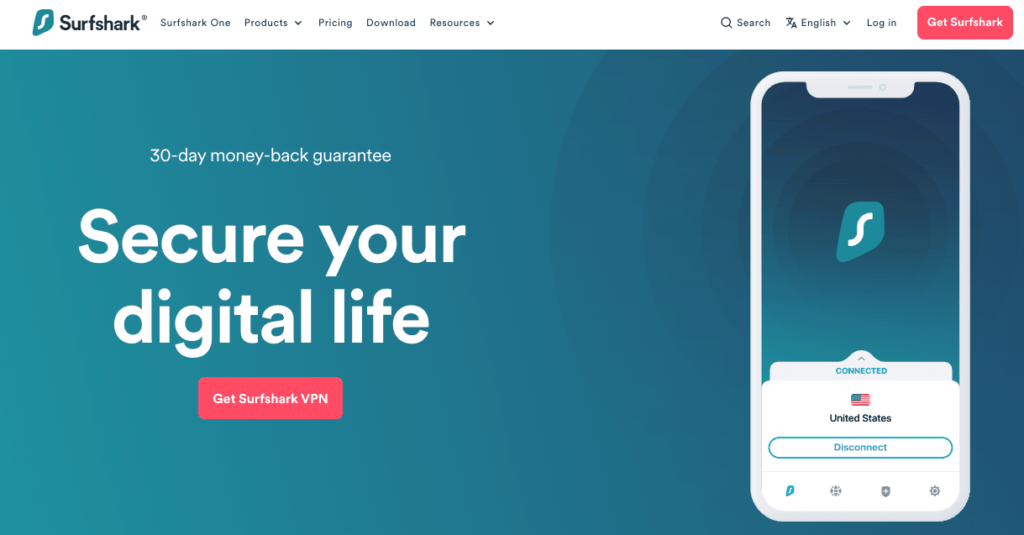 Surfshark's VPN server list covers more than 3,200 endpoints in over 60 countries. Its VPN apps support downloading, streaming and bypassing geo-restrictions, all while keeping your online identity private.
Its third-party-verified 'no-log' privacy policy means your web traffic is well and truly encrypted.
In addition to its VPN, Surfshark offers numerous other very useful features for your web browsing experience, such as its ad blocker and malware protection.
Want to know everything about Surfshark? Learn more about its apps and features in our Surfshark review.
What is NordVPN?
NordVPN is arguably the most widely known and recognisable VPN provider.
It first entered the VPN market in 2012. Since then, it has dominated the privacy tools landscape with a 'build fast' strategy and a lot of marketing spend to get its name out there.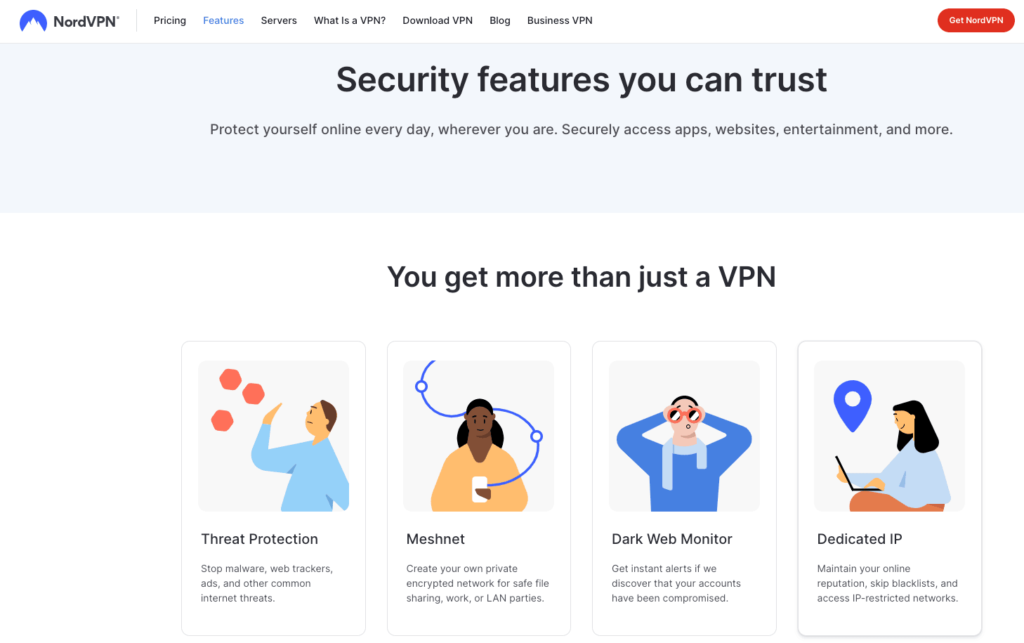 Today, Nord offers more privacy & security solutions than just its hugely popular VPN. Its products range also includes a VPN for businesses, a password manager and encrypted file storage.
Its VPN, which we'll mainly focus on today, offers access through more than 5,000 servers globally over speedy, non-logged encryption tunnels.
Want to know everything about NordVPN? Learn more about its apps and features in our NordVPN review.
SurfsharkVPN vs NordVPN speed comparison 🏎️
Our speed tests for NordVPN and Surfshark showed that NordVPN is the faster VPN between the two providers. Though not by much. Nord's top speeds peaked at 373 Mb/s — over a 500 Mb/s internet connection — which was slightly higher than Surfshark's peak at 359 Mb/s.
Whether you watch videos, play online games or download torrents, having a speedy VPN is hugely important to a comfortable online experience. Which is why for any of our VPN reviews, we give lots of attention to testing out connection speeds.
For both NordVPN and Surfshark, we ran VPN speed tests over three days in order to get the most accurate and balanced results.
As shown in the above chart, the top-recorded speeds for each provider were as follows:
On day 1: NordVPN's 367 Mb/s versus Surfshark's 333 Mb/s.
Then on day 2: NordVPN's 373 Mb/s versus Surfshark's 359 Mb/s.
And finally on day 3: NordVPN 368 Mb/s versus Surfshark 359 Mb/s.
NordVPN was consistently the faster of the two VPNs. And on the second day, we recorded NordVPN's fastest speeds at 373 Mb/s, testing with a 500 Mb/s fibre broadband connection.
For the tests, we used the leanest VPN protocol to run our connection with.

For Surfshark, we connected over WireGuard, while for NordVPN — NordLynx protocol, which is essentially a modified version of WireGuard.
Maximum speeds by location
Here are the maximum speeds we clocked per each of the six different global locations that we tested with:
| | | |
| --- | --- | --- |
| | NordVPN | Surfshark |
| UK | 373.2 Mb/s | 358.7 Mb/s |
| EU | 277 Mb/s | 359.3 Mb/s |
| US (New York) | 364.3 Mb/s | 286.3 Mb/s |
| Canada (East) | 321.2 Mb/s | 293.0 Mb/s |
| South East Asia | 345.9 Mb/s | 234.6 Mb/s |
| Australia (Perth) | 277.2 Mb/s | 262.9 Mb/s |
For 5 out of 6 locations, NordVPN produced the best throughput. Surfshark was noticeably faster through the EU-located server.
What's also worth noting is that — with either provider — we didn't really observe any significant drop-off. Meaning, even with far-away server locations, we got great speeds.
Average speeds by location
And here the average speeds per locations from the three days of testing:
| | | |
| --- | --- | --- |
| | NordVPN | Surfshark |
| UK | 369.4 Mb/s | 323.1 Mb/s |
| EU | 240.3 Mb/s | 327.5 Mb/s |
| US (New York) | 308.7 Mb/s | 276.3 Mb/s |
| Canada (East) | 307.3 Mb/s | 237.3 Mb/s |
| South East Asia | 310.7 Mb/s | 222.4 Mb/s |
| Australia (Perth) | 247.1 Mb/s | 249.8 Mb/s |
You can see a similar picture: NordVPN on average was faster for most of the locations, other than for EU and western Australia.
In practise, it's very unlikely that you will notice any significant differences in speeds between the two providers.
This means, both Surfshark and NordVPN will work well for bandwidth-hungry activity such as video streaming, gaming or torreting.
Surfshark vs NordVPN: which is safer? 🔒
NordVPN and Surfshark offer near-identical levels of data security and privacy. Both provide strong, industry-standard encryption, have DNS leak protection and both can boast having a clean track record.
Both companies are officially registered in privacy-friendly jurisdictions and both have passed independent privacy policy audits, verifying their 'no logs' claims.
The below comparison table shows that Surfshark and NordVPN both excel at privacy and security — the most critical aspects to any VPN.
| | | |
| --- | --- | --- |
| | NordVPN | Surfshark |
| No logs (verified) | ✅ | ✅ |
| Safe jurisdiction | ✅ | ✅ |
| Clean track record | ✅ | ✅ |
| No leaks | ✅ | ✅ |
| Strong encryption | ✅ | ✅ |
| RAM-only servers | ✅ | ✅ |
| Private DNS | ✅ | ✅ |
| Tracking & malware protection | ✅ | ✅ |
| Virus-free | ✅ | ✅ |
Do either keep logs? (No)
No, neither Surfshark nor NordVPN keep any user-identifiable logs.
This has been verified in both cases by third party audits, with NordVPN passing successfully on several occasions.
Are either prone to leaks?
Our NordVPN and Surfshark VPN tests confirmed that neither service leaks your data or exposes your online identity.
Both providers are free of DNS, IP, or WebRTC leaks, so a pass for each.
Which has the strongest encryption?
Both NordVPN and Surfshark implement the exceptionally strong, industry-standard VPN encryption.
For OpenVPN connections, your data is encrypted with the AES-256-GCM algorithm with a 4096-bit DH key.
And for the WireGuard connections, your VPN tunnel uses the ChaCha20 cipher with Poly1305 for authentication. In Nord's case, for its modified WireGuard protocol (NordLynx), the provider implements a double NAT (Network Address Translation) system for additional security.
Both Surfshark and NordVPN are phenomenal in terms of security.
Are both VPNs based in spy-free jurisdictions? (Yes)
NordVPN is officially registered in Panama, while Surfshark's jurisdiction is in the British Virgin Islands. Both of these locations are regarded as 'privacy-friendly' territories, where tech companies are not subject to data retention laws.
Both Panama and the British Virgin Islands are outside of the Five/Nine/Fourteen Eyes surveillance networks
That said, like any VPN provider running servers worldwide, both Surfshark and NordVPN are undoubtedly subject to frequent data request from various authorities. And these instances are precisely why 'no-log' policies are a must with VPNs.
The good thing is — as already mentioned — Surfshark and NordVPN have both passed privacy audits, meaning they do not keep identifiable logs.
Has either VPN ever been hacked?
Between Surfshark and NordVPN, only the latter has encountered a breach-related incident.
In 2018, security researchers discovered that hackers had access to Nord's Finland exit nodes — which protected users' IP addresses — for a period of two months.
Immediately following the discovery, the servers were shut down and Nord discontinued its partnership with the data centre.
Despite the incident, the provider stated that the hackers didn't get access to actual user credentials.
Soon after the incident, NordVPN switched to running on RAM-only servers, on which no data is physically stored.
It's worth noting that Surfshark also runs its service on RAM-only (volatile memory) servers.
Surfshark vs NordVPN features compared ⚙️
NordVPN offers a noticeably wider array of privacy features compared to Surfshark. And that's just with its VPN and not included additional products and bolt-ons you can buy, such as its password manager and the secure storage.
But, in strictly VPN terms, Surfshark isn't a great distance behind the Panama-based service.
Below is a side-by-side summary comparison of their features.
| | | |
| --- | --- | --- |
| | NordVPN | Surfshark |
| Servers | 5,000+ servers in 60 countries | 3,200+ servers in 100 countries |
| Apps (PC, Mac, Android, iOS, Linux, Fire TV) | ✅ | ✅ |
| Features | Kill Switch, split-tunneling, private DNS, Tor over VPN, multi-hop, dedicated IP, obfuscation, LAN invisibility, Smart DNS, dark web monitor, Meshnet, 24/7 customer support | Kill Switch, camouflage mode, multi-hop, ad blocker, anti-tracking & malware protection, 24/7 customer support. |
| Works with Netflix | ✅ | ✅ |
| Works in China | ✅ | ✅ |
| Allows torrenting | Designated servers | Any server |
| Max. connections | 6 | Unlimited |
| Browser plugins | ✅ | ✅ |
| Tracking & malware protection | ✅ | ✅ |
Which has the most servers
NordVPN has a much much larger server range than Surfshark with more than 5,000 endpoints, located in 60 countries.
On the other hand, although Surfshark has less servers, it actually offers VPN access in more countries — over 100 — quite a few of which aren't accessible through Nord.
In most use cases, however, the countries available through Nord — spanning Europe, Asia Pacific, Africa, the Middle East and the Americas — will suffice for global use as the most important locations are covered.
Surfshark covers even more countries in the same regions, and you might find there's a location that you really need which Nord doesn't provide. Perhaps Greenland?
Which VPN is the easiest to use?
Both NordVPN and Surfshark's apps are very much user friendly.
Server selection on either app is straightforward as both let you scroll through a list or search by typing the needed location. You might find that the search can at times be a little bit clunky with NordVPN, but it does make it up for this rather small hitch by letting you find VPN locations on a map.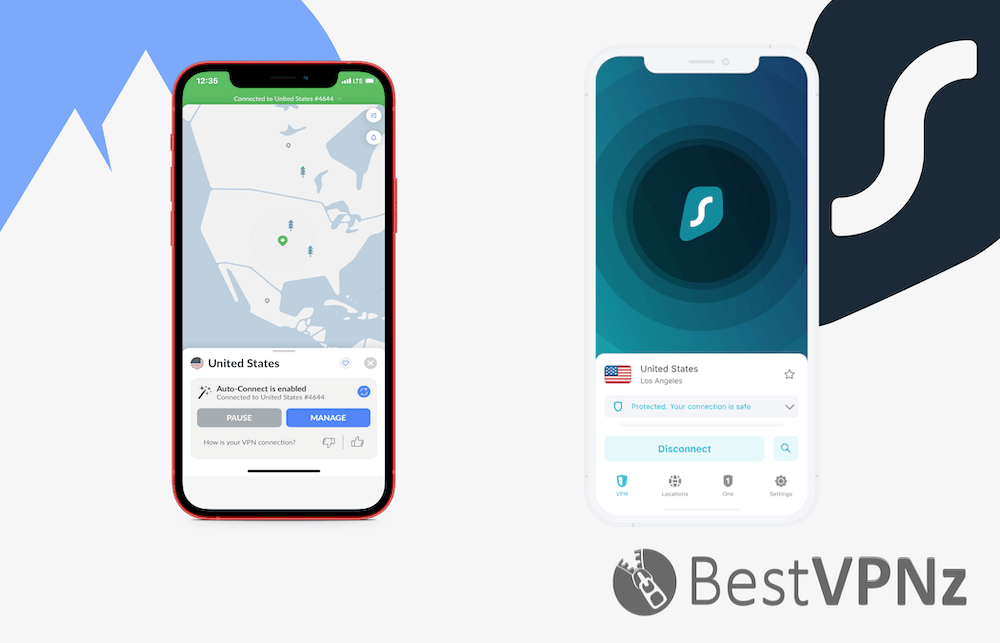 Both providers have apps for desktop and mobile operating systems, so you can connect to your VPN on Windows, or through your VPN app for Android. Plus, they both have apps for other operating systems and devices, including Linux, Android TV as well as browser proxy extensions for Chrome and Firefox.
Which VPN still works in China?
Few VPNs still work in mainland China, but in the case of NordVPN and Surfshark, both are able to bypass the notorious firewall.
With both VPNs, users living or travelling in China can switch on the obfuscation feature, which works by making your encrypted VPN traffic appear to the ISP like ordinary web traffic.
Note that this method isn't always guaranteed to work and you also may experience slower-than-desired connection speeds.
To be able to access NordVPN or Surfshark apps in China, we recommend downloading them before entering the country.

But, if you are already in China and the first option is a no-go, you'll need to find working mirror links to their websites.
Has NordVPN Camouflage mode like Surfshark?
Yes, NordVPN has obfuscated servers that work much the same way as Surfshark's Camouflage mode.
This feature works by making your VPN traffic blend in with regular web traffic so that your ISP is unable to detect and therefore block your VPN use.
As already mentioned, this is the exact feature you'll need to be using in places like China and also other countries where non-approved VPN services are actively blocked.
Surfshark VPN vs NordVPN: which is the safest for torrenting?
Surfshark and NordVPN are both regarded as safe for torrenting.
Aside from strong traffic encryption and their audited 'zero log' policies, both VPNs allow P2P traffic over their servers.
The only difference between the two is that NordVPN has designated P2P-safe servers, meaning you will need to connect to one of these to be able to safely download torrents. Its torrent-friendly endpoints are located in several countries including in North America, Europe and Asia.
Surfshark actually lets you run P2P traffic through any of its servers, which means with Nord, you'll probably spend just a few seconds more looking for a suitable node.
SOCKS5 proxy support
NordVPN offers access to SOCKS5 proxy servers, while Surfshark does not.
SOCKS5 proxy can be useful if you only need some basic privacy — i.e. a cloaked IP location — without encrypting your traffic. It can be faster than using a VPN, but definitely not as secure.
Browser Extensions
Both NordVPN and Surfshark have browser extensions for Chrome and Firefox.
These extensions are essentially browser proxies, which can spoof your browser IP address to match that of another location.
They can be very useful for quickly unblocking sites while you're browsing the web, without the need to change the location of your VPN.
Surfshark vs. NordVPN for streaming: which is better?
Both NordVPN and Surfshark support streaming with popular services and on pretty much the same variety of streaming devices.
This category is a definite tie as both VPNs work very well with the likes of Hulu, HBO, BBC iPlayer, Netflix, CBC Gem, NPO, Amazon Prime Videos, etc.
You can install either VPN with Firestick (Fire TV), Apple TV, Android TV, Kodi, Roku, Xbox and PlayStation.
We've already covered speeds: although NordVPN is technically the faster of the two, both VPNs, including Surfshark, provide excellent speeds for HD streaming purposes.
Which VPN still works with Netflix?
Surfshark vs NordVPN Netflix support is very much identical. Both are great for streaming on Netflix.
Netflix implements geo-restrictions limiting certain content you can access from a given location. However, with both NordVPN and Surfshark, you can bypass the Netflix blocks without either VPN being detected and blocked.
Also, both NordVPN and Surfshark made it into our Best Netflix VPNs picks — a guide we highly recommend you check out if this is what you mainly need from your next VPN.
Nord vs Surfshark: which VPN is cheaper? 💸
Surfshark is overall cheaper than NordVPN if you buy the longer subscription, claiming the savings that come with. Its best offer is for the two-year plan, which works out as $2.30 per month. With this offer, you'll also get two months for free.
NordVPN's best offer is $4.19 per month — also for a two-year subscription, though it is slightly cheaper for the one-month plan at $12 versus Surfshark's $13.
| | | |
| --- | --- | --- |
| | NordVPN | Surfshark |
| 2 years | $4.19 /mo. – Save 49% | $2.30 p/mo. – Save 82%* |
| 1 year | $4.99 /mo. – Save 39% | $3.99 /mo. – Save 69%* |
| 1 month | $11.99 | $12.95 |
| Refunds | 30 days | 30 days |
*After the initial one or two years of subscription, Surfshark increases prices for renewals. Learn more.
If you are indeed looking for more than just a VPN, then Nord also offers bundled plans — with even bigger savings — that include its password manager and secure storage.
Both providers offer a risk-free 30-day money-back guarantee.
Which VPN has the best deal?
Surfshark has the most attractive (initial) two-year deal, as with this VPN deal, you'll save 82%.
With Nord, you can save up to 59%, if subscribing to the two-year plan, which includes access its other products — NordPass and NordLocker.
Surfshark vs NordVPN: which VPN has the best customer support? 🛟
Surfshark and NordVPN have closely comparable and equally responsive, round-the-clock support. Both offer support via live chat and by email.
For self-serve support — i.e. if you prefer to figure things out for yourself — both Nord and Surfshark have plenty of helpful content in the form of guides and video tutorials on their websites.
| | | |
| --- | --- | --- |
| | NordVPN | Surfshark |
| Live chat | ✅ | ✅ |
| Email | ✅ | ✅ |
| Phone | ❌ | ❌ |
| Self-help knowledge base | ✅ | ✅ |
| Video tutorials | ✅ | ✅ |
Niether service offers phone support, but this in any case is a rarity among VPN companies.
We tested out both providers' support chats ourselves, finding in both cases that support agents were helpful, friendly and quick to guide us on our technical queries, to which we couldn't find answers online.
Surfshark vs NordVPN Reddit users' choice
Reddit's can be a very useful resource for VPN recommendations. When it comes to Surfshark vs NordVPN — and given that both providers are widely used — the recommendations are quite mixed and there isn't a clear-cut winner between the two.
Let's take a look at some examples of how Reddit users compare these two VPNs.
Example 1.
This user, in the subreddit "/r/PiratedGames" suggested NordVPN for gaming, but said that there's no difference between VPNs for any other purpose.

We'd argue that there definitely is a difference, as VPN services can't, don't offer equal levels of privacy, security, ease-of-use or value for money!
Example 2.
Another Reddit user, in the subreddit "/r/VPNReviews" has actually used both services, having switched from Nord to Surfshark due to them finding a better deal with the latter service.
However, in their post, the user went on to describe how they're having doubts about Surfshark and is considering switching back to NordVPN.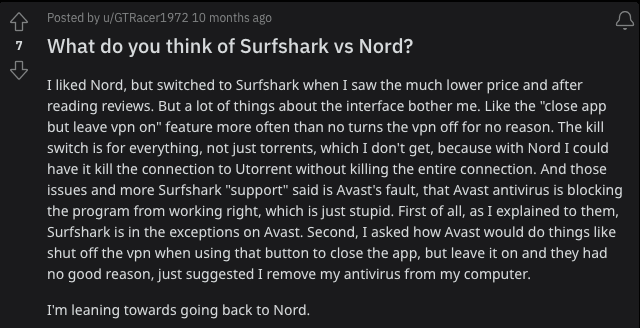 For some reason, their Surfshark VPN connection wouldn't run in the background when the app was closed.
However, we didn't encounter this issue at all when testing Surfshark ourselves.
Example 3.
One user in the subreddit "/r/NetflixviaVPN" claimed having no issues with streaming (Netflix) using Surfshark. They did mention that they 'rarely' see the error message, but are able to bypass it by switching servers.

By the way, if you're searching for recommendations on Reddit.com, you might spot that some users occasionally misspell Surfshark as "Sharksurf VPN".
If you see this, know that the person is writing about the same VPN — Surfshark.

Should I use NordVPN or Surfshark VPN?
Based on our in-depth comparison of these two VPNs, we recommend NordVPN in most cases.
🏆 The winner: NordVPN
Although the two companies have undergone a merger, they still claim to operate autonomously. For the most part.
That said, for us, NordVPN pips Surfshark in this contest of two hugely popular VPN services that a lot of folks around the world already know of.
You should know: we've selected both NordVPN and Surfshark as two of the best VPNs you can get today.
Which is better, NordVPN or Surfshark?
So, is Surfshark better than NordVPN?
Here's a quick summary of why we NordVPN is better than Surfshark as well as why we think Surfshark will be the better choice for some of you.
Why NordVPN is better
Why Surfshark is better

Faster speeds in most locations


More features: multi-hop, Tor, Smart DNS, password manage


More servers (5,000+)

More countries (100)


Cheaper than Nord


Unlimited connections
Best NordVPN deal: Save 59% with NordVPN 👉 GET OFFER
Surfshark vs NordVPN FAQs
Below are answers to some of the most common frequently asked questions about Surfshark and NordVPN.
Are VPNs like NordVPN and Surfshark really anonymous (safe)?
Although there's no VPN that can guarantee permanent privacy, both Surfshark and NordVPN do a very good job of it today. Both services have independently verified 'no logs' privacy policies and likewise both operate with secure infrastructure, which — following their merger — to some extent will be shared.
Does TikTok work with NordVPN and Surfshark?
Yes, you'll have no issues with accessing TikTok from any location using either NordVPN or Surfshark, and, as both VPNs are IP, DNS leak-free, your mind can be at ease about your internet service provider not having any visibility into your web traffic.
What would make you choose Surfshark over NordVPN for your VPN service?
Surfshark is the more cost-effective option for the initial subscription period, meaning you can save more money than you will with NordVPN's best offer. It also enables access to more country locations than Nord — 100 versus 60) — and allows 'unlimited' connections per account.
How can I buy Surfshark or NordVPN using cryptocurrency?
Both Surfshark and NordVPN accept payments in cryptocurrency, such as Bitcoin. Nord accepts crypto payments for its service via CoinGate, while Surfshark has two options in CoinGate and CoinPayments.
Why is ExpressVPN regularly rated higher than NordVPN and Surfshark?
ExpressVPN is well known for its consistently fast speeds and simple, no frills apps, which work as advertised. However, in our NordVPN vs ExpressVPN comparison, we rated Nord higher due to its even faster connections, a bigger selection of privacy features and cheaper pricing, which Surfshark can likewise boast.