Surfshark is a relative newcomer on the VPN scene, but its product has quickly grown into one of the most popular and well-rounded privacy kits you can get today. But to find out whether this VPN is truly worth spending your money on, I put the service through a series of rigorous tests.
My Surfshark VPN review covers a lot of ground. And if you're really considering buying this service, I do recommend you dive into it as much as you can.
But, in case you're in a hurry, just jump straight to the part that interests you the most:
Otherwise let's start from the top.
Surfshark overview
| | |
| --- | --- |
| 📍 Based in | British Virgin Islands |
| 🏷 Price from | $2.49 /mo. |
| ⚡ Speed | 360 Mb/s |
| 📃 Logs | No |
| 🌏 Servers | 3,200+ in 60+ countries |
| 📱 Apps | Windows, iOS, Mac, Android, Linux, Android TV, Fire TV, Chrome, Firefox |
| ⚙️ Features | Kill switch, multi-hop, split-tunneling, ad/tracker/malware blocking, WireGuard, Shadowsocks, stealth mode, breach alerts |
| ✅ Works with | Netflix, Hulu, Disney+, ESPN, BBC iPlayer, Prime Video, HBO Go, Spotify, CBS |
| 💻 Connections | Unlimited |
| 🆘 Customer support | Live chat, email |
| 🆓 Free trial | No |
| ↩ Refunds | 30 days |
| 🌐 Website | Surfshark.com |
What is Surfshark VPN?
Surfshark is, first and foremost, a virtual private network service. However, you'll find it's constantly adding new features – both free and paid – that are ultimately evolving the product into more than just a VPN.
Nowadays, Surfshark is a pretty well-rounded privacy kit.
With the subscription, you'll get access to all of Surfshark's VPN, browser and Smart TV apps as well as full access to its expansive server network covering over 60 countries.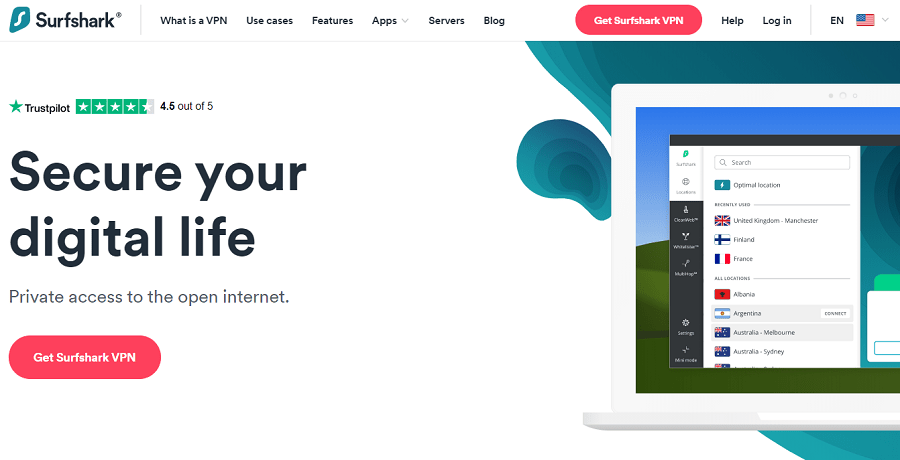 Surfshark works with all operating systems and VPN-compatible platforms including PC, Mac, Android, iOS, Linux, Android TV and Fire TV sticks. Likewise, it has extensions for Chrome and Firefox browsers.
As my tests throughout this Surfshark review reveal, this service is great for both enhancing your internet privacy and for unblocking the web, either to bypass tough censorship or to get access to your favourite content.
Surfshark pricing: from $2.49 p/mo.
Surfshark offers three different subscription options: monthly, yearly or biennial (two years). You'll get the cheapest deal on the 24-month plan, saving yourself 81% and paying an equivalent to $2.49 per month.

Special offer: with the 24-month plan, you'll not only save 82% but also get 2 months extra free.

Claim this deal.
You can also save big with the 12-month plan, discounted by 62% from the original monthly price. This works out at $4.98 per month.
If you opt for the rolling monthly contract, you'll pay some of the highest rates in the industry at $12.95 per month. So if you're looking for a long term solution, I'd definitely recommend taking advantage of the Surfshark VPN deals on the longer subscriptions.
Keep in mind, the discounted plans require an upfront payment.
Paid add-ons
Surfshark VPN offers some bolt-ons to your main VPN plan.
Surfshark Alert, Antivirus and Search (for $1.49 per month). You'll get notified if your personal information or passwords appear in leaked databases, be able to scan your devices for viruses, malware plus access to Surfshark's private search engine.
Incogni ($3.99 per month): you'll be able to delete your data from broker databases and clean up your digital footprint.
Both are bolt-ons to your main subscription and you can add them at any time.
Does Surfshark have a free trial?
Although Surfshark doesn't offer a standard free VPN trial, it does give users a risk-free option to try its service out using the 30-day money back guarantee.
Though this does require you to enter your payment details, Surfshark clearly states on its website it will give a '100% refund' if you claim within the 30 days.
Surfshark coupon – does it exist?
Because Surfshark already offers up to 81% off on its lengthier VPN plans, you're unlikely to find a separate coupon to knock more cost off the already discounted price of $2.49 per month.
In fact, if you head to Surfshark.com, you'll see the coupon code "surfsharkdeal" automatically applied.
This is a kind of faux coupon, meaning the discount is already in place and you don't need to manually enter any codes.
Simply proceed to checkout, pick your preferred payment method and you'll see the discount applied to the final cost.
Refer friends to get free VPN service
Surfshark offers a friends referral programme with which you can invite people you know to sign up for the service. In return, you'll get rewarded with free VPN time for every successful referral.
The rewards systems is tiered and works as follows:
Bronze: 1 referral = 1 month of free VPN
Silver: 3 referrals = 6 months of free VPN
Gold: 5 referrals = 12 months of free VPN
So in total, you can get up to 19 months of free VPN service, while each of your referred friends gets 30 days extra themselves.
Payment methods
Surfshark accepts multiple payment methods including card, PayPal, Google Pay, Apple Pay, Amazon Pay and cryptocurrency.
| | |
| --- | --- |
| Credit Card (Visa, Mastercard, AMEX, Discover) | ✅ |
| PayPal | ✅ |
| Google Pay | ✅ |
| Apple Pay | ✅ |
| Amazon Pay | ✅ |
| Alipay | ❌ |
| Cryptocurrency (CoinGate, CoinPayments) | ✅ |
Does Surfshak offer refunds?
Yes, Surfshark offers a 100% refund if you claim within 30 days of signing up to the service.
This refund is part of its '30-day money back guarantee' promise and is also the easiest to try the VPN out.
Surfshark speed: 360 Mb/s with WireGuard ⚡
My speed tests show Surfshark is undoubtedly one of the fastest VPNs I've reviewed to date. While connected to the VPN with the WireGuard protocol, I clocked epic download speeds of 360 Mb/s (out of 500 Mb/s) with a drop-off of just -28% from my original speed.
For some reason, however, I didn't have the same level of success when testing over a UDP (OpenVPN) connection.
The top speed I was able to reach through the same nearby server was just 94 Mb/s. So, if you're going to use Surfshark, it's clear you'll get better performance with WireGuard as opposed to OpenVPN.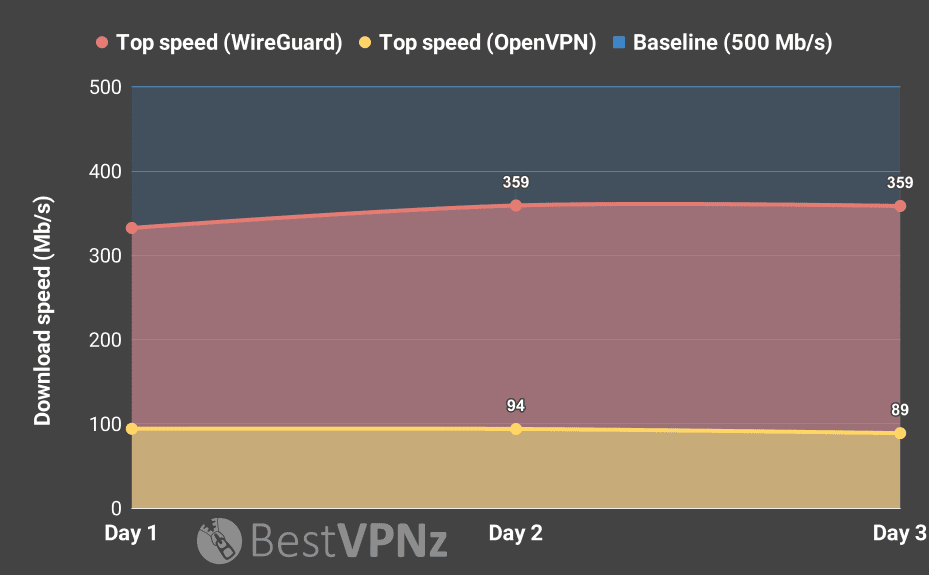 I ran the speed tests using a 500 Mb/s broadband connection.
WireGuard download speeds by location
| | | | |
| --- | --- | --- | --- |
| Server location | Latency | Top speed | 3-day average |
| United Kingdom (nearby) | 2ms | 358.7 Mb/s | 323.1 Mb/s |
| Netherlands (nearby) | 20ms | 359.3 Mb/s | 327.5 Mb/s |
| US – New York | 70ms | 286.3 Mb/s | 276.3 Mb/s |
| Canada – Toronto | 80ms | 293 Mb/s | 237.3 Mb/s |
| Hong Kong | 185ms | 234.6 Mb/s | 222.4 Mb/s |
| Australia – Perth | 200ms | 262.9 Mb/s | 249.8 Mb/s |
It goes without saying: for a VPN, these are phenomenal speeds across the board.
Expectedly, the very top throughput can be observed with nearby locations to me: UK and the Netherlands.
But look at how ridiculously good the connection is even with servers on the other side of the plane.
Despite experiencing latency between 180 and 200ms with Hong Kong and Australia respectively, I still saw average speeds – over a three-day testing period – reach in excess of 200 Mb/s.
Same goes for both North America locations where the latency was ~80ms, yet speeds weren't far off 300 Mb/s.
Yep – Surfshark VPN is fast.
OpenVPN download speeds by location
| | | | |
| --- | --- | --- | --- |
| Server location | Latency | Top speed | 3-day average |
| United Kingdom (nearby) | 2ms | 90.1 Mb/s | 89.5 Mb/s |
| Netherlands | 20ms | 94.3 Mb/s | 92.5 Mb/s |
| US – New York | 70ms | 76.3 Mb/s | 72.1 Mb/s |
| Canada – Toronto | 80ms | 88.3 Mb/s | 77.4 Mb/s |
| Hong Kong | 180ms | 70.3 Mb/s | 63 Mb/s |
| Australia – Perth | 200ms | 72.6 Mb/s | 58 Mb/s |
Surfshark is ridiculously fast over WireGuard. But, despite using the exact same testing criteria, I found connections were significantly slower with OpenVPN.
Although WireGuard is known to be the more efficient protocol of the two, I didn't expect quite this much drop-off with OpenVPN.
Moreover, I've seen much faster OpenVPN speeds with other VPN providers.
Take TunnelBear, for instance, with which I clocked 184 Mb/s.
Is Surfshark safe? (Yes)
Surfshark checks most boxes when it comes to privacy credentials, meaning this VPN is safe to use. The BVI-based provider runs its network on volatile (RAM) memory, states it doesn't keep any user logs and to date the company hasn't been involved in any concerning past incidents. Furthermore, my tests found Surfshark VPN is leak, virus and malware-free.
The service has undergone a partial security audit covering its proxy extensions for Chrome and Firefox but not its VPN. Its no-log policy has been audited by Deloitte.
| | |
| --- | --- |
| No identifiable logs | ✅ |
| Audit | ✅ |
| Open source code | ❌ |
| Safe jurisdiction | ✅ |
| Clean track record | ✅ |
| No leaks | ✅ |
| RAM-only servers | ✅ |
| Virus & malware-free | ✅ |
| Advanced security features | ✅ |
Does Surfshark log your data?
Surfshark VPN markets itself as a 'strictly no-logs' VPN. The company's formal privacy policy backs this claim up:
We do not collect IP addresses, browsing history, session information, used bandwidth, connection time stamps, network traffic and other similar data.

Source: Surfshark.com
This is really good news as it ultimately means you, as a user, cannot be identified if ever Surfshark is forced to hand over data to authorities.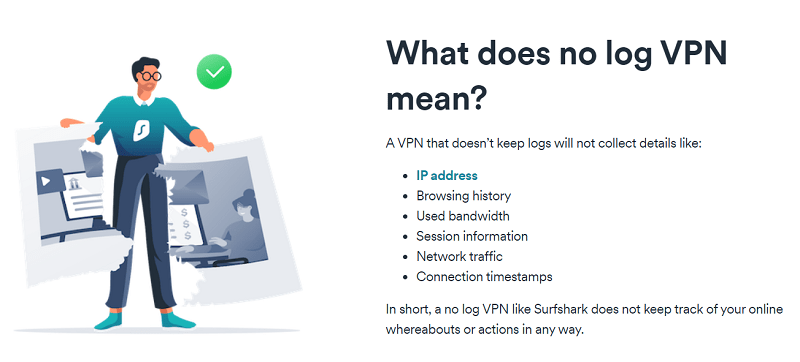 Also, this means Surfshark joins a small but elite group of VPNs operating with zero-log policies.
To add, the provider's entire VPN network runs on RAM-only servers (i.e. volatile memory), meaning no data is physically stored on the nodes and is wiped whenever a server is shut down.
This is a huge plus in terms of backend security.
Has Surfshark been audited?
You'll see plenty of mentions of a successful 'audit' on Surfshark's website. In fact, these refer to the 2018 security audit by penetration testing firm Cure53.
The assessment found only 'low severity' risks and Surfshark states these have since been resolved.
Moreover, the aforementioned security audit by Cure53 was only a partial assessment, the scope of which covered Surfshark's Chrome and Firefox proxy extensions only.
Surfshark's privacy policy has been audited by Deloitte in 2023. And this means its 'no-log' policy has been verified by a third party.
Where is Surfshark based?
Surfshark VPN's parent company – Surfshark Ltd. – is registered in the British Virgin Islands (BVI) where digital service providers are not subject to mandatory data retention laws.
As an "offshore" jurisdiction, the BVI is generally regarded as a privacy haven.
In fact, BVI is also home to ExpressVPN – arguably the biggest and most recognisable VPN provider on the market today.
VPN leak test (passed ✅)
I found no leaks while connected to Surfshark.
My VPN test below shows Surfshark correctly assigned me with a new IP address and DNS resolver.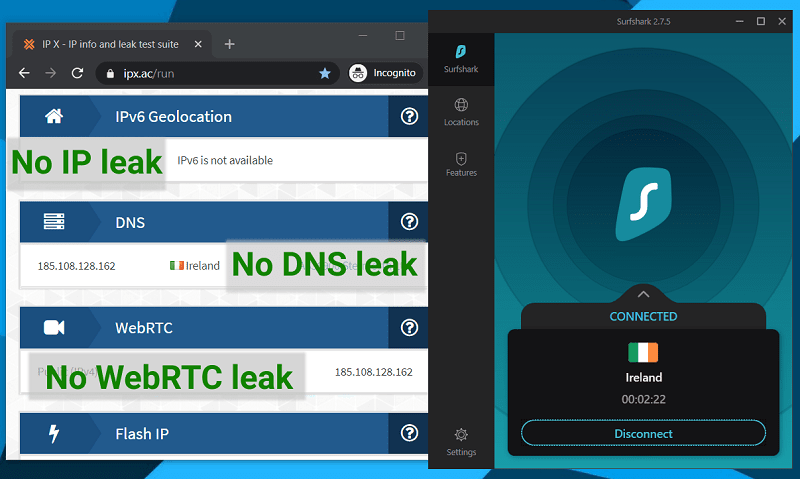 Likewise, there were no IPv6 or WebRTC leaks to report.
If I had found a leak, the results from the lookup would have shown my real IP and/or DNS addresses.
Virus scan (passed ✅)
I ran the installation files for Surfshark's Windows and macOS clients through a virus & malware scanner, and the results came back mostly clean.
The only caveats were the evident false positives returned by two engines from the PC client scan.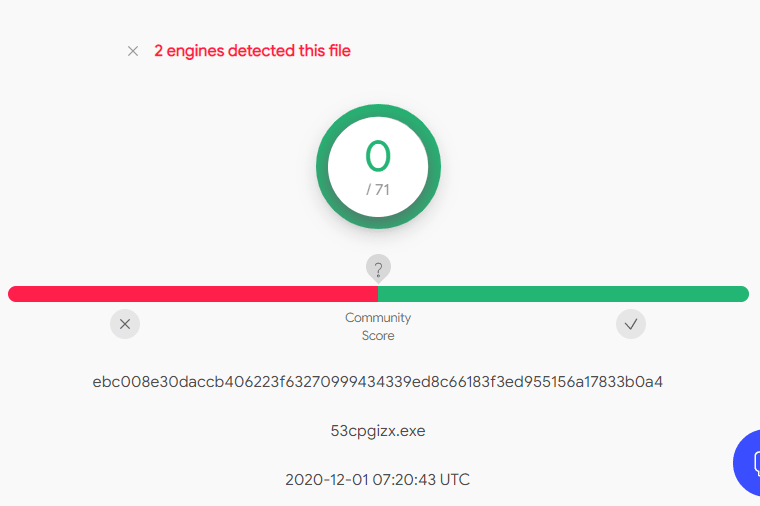 It's common to get these warnings even with credible applications.
This normally happens when the software rolls out a new version but the updates haven't been verified with every anti-virus engine.
And, for your sanity, here are the clean results of the Apple Mac client scan: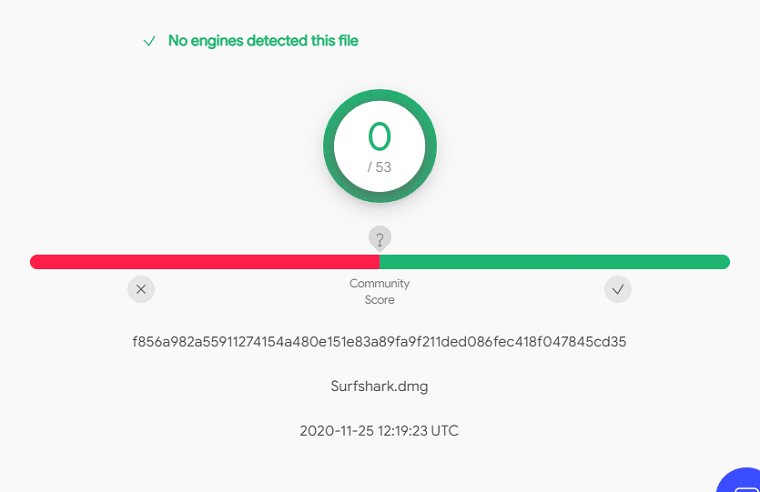 Given the size of this company and its security-centric business model, it would be very unlikely for Surfshark to push malicious code onto users' devices. Especially in such an obvious way.
Surfshark is safe to install.
Encryption test (passed ✅)
I tested Surfshark's encryption by inspecting my own internet traffic while connected to the VPN.
Below is an example of a typical data packet generated while I browsed the web.
Had I not been using a VPN, the packet would reveal exactly which websites I'd been visiting and when. Along with all sorts of identifiable information about me, my device and network.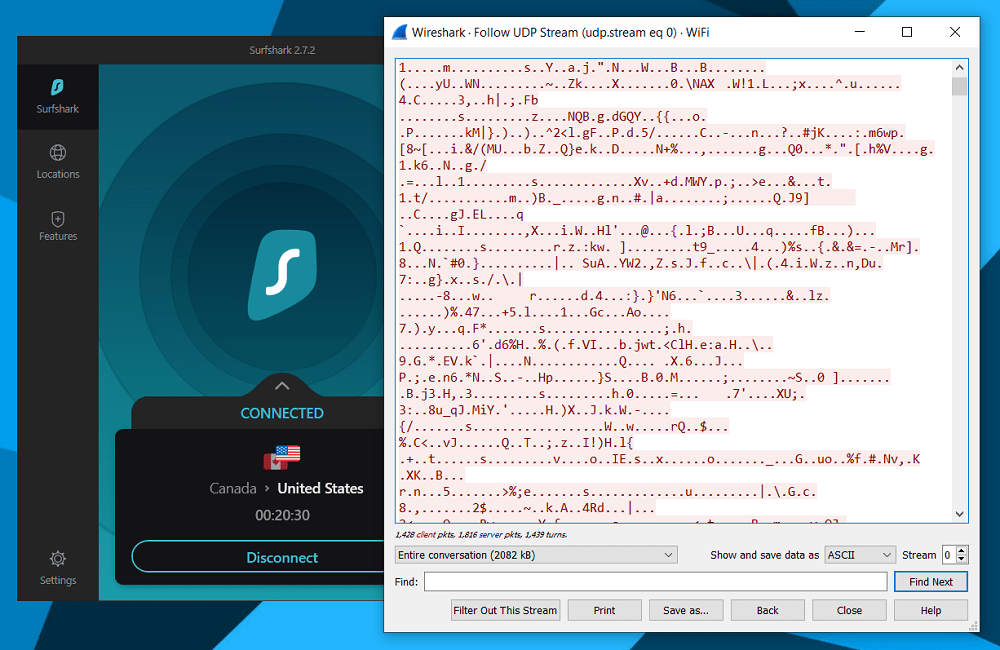 But, as you can see, this example data packet looks like nonsense. Which demonstrates that Surfshark's VPN encryption works.
Just on a side note: for this packet inspection, I used a multi-hop connection, meaning my traffic was routed through two VPN servers instead of the usual one.
How does Surfshark VPN work?
Surfshark is compatible with very much every platform that supports VPN or proxy connections. It has VPN clients for Windows, macOS, Android, iOS/iPhone and Linux operating systems. It also has apps for Android and Fire TV, making it a great choice for streaming. Surfshark's VPN network is large with gateways in over 60 countries and more than 3,200 actual servers.
There's not much I can fault, if I'm honest.
Just like in the privacy department, Surfshark checks most boxes when it comes to its huge range of VPN features.
| | |
| --- | --- |
| Server network | 3,200+ in 65 countries |
| Apps (Windows, Android, iOS, macOS, Linux) | ✅ |
| Works with Netflix | ✅ |
| Smart TV support | ✅ |
| Works in China | ✅ |
| Allows torrenting | ✅ |
| Max. connections | Unlimited |
| Browser extension | ✅ |
| Ad & tracking blocker | ✅ |
| Smart DNS proxy | ✅ |
Surfshark app for desktops (PC/Mac)
Surfshark's desktop apps for PC or macOS are very user-friendly.
There isn't a lot to figure out other than the basic navigation plus the items you can tweak in Settings to optimise your connection.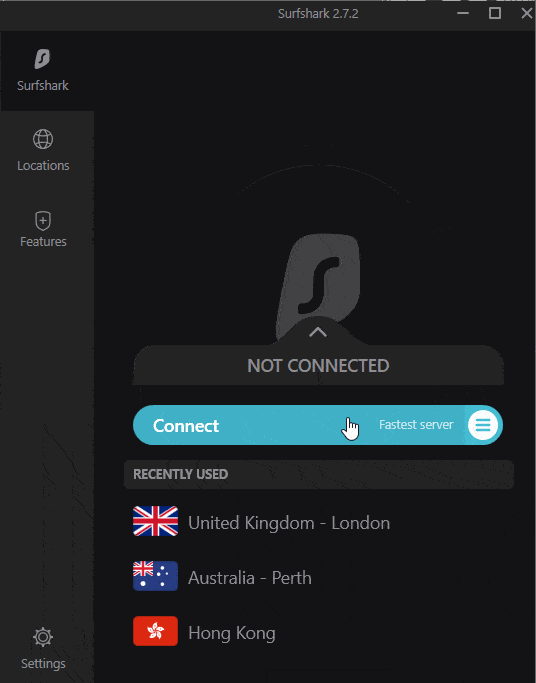 There are four views in the app: home screen, locations, features and settings.
As soon as you log in, you'll see the option to quick-connect on the home page, either to the fastest server or the nearest country to your location.
The connection takes just a few seconds to establish, though you'll notice the client connects the fastest with the WireGuard protocol.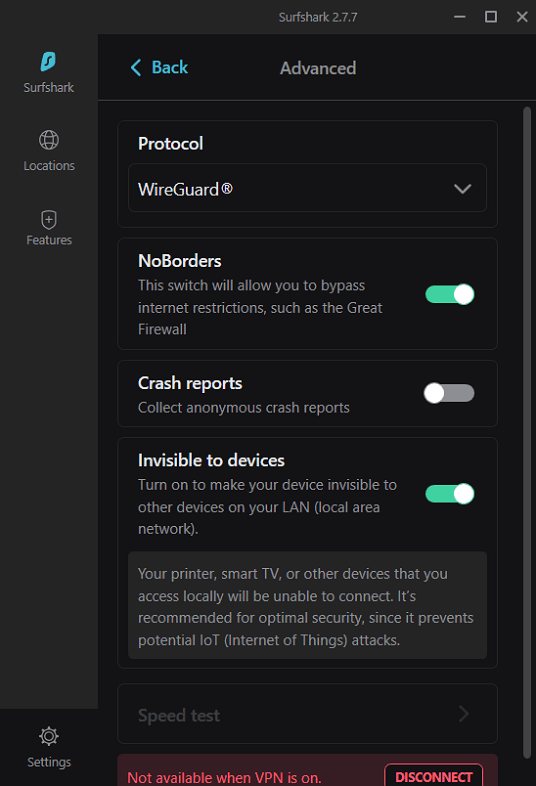 In the app, you can adjust your connectivity settings, which are:
launch on system start;
auto-connect when the app is launched;
kill switch – which also sits on the home screen;
VPN status notifications.
And under the Advanced options, you'll see the:
VPN protocol menu;
NoBorders switch (i.e. stealth mode toggle for restrictive networks;
hide device on the local network;
Built-in speed test with which you can test multiple Surfshark servers at once.
The client also has a dark mode in case your eyes need some rest.
Where are Surfshark servers?
At the time of writing this Surfshark VPN review, the provider offers access to 60+ country gateways.
You can spoof your location through countries like the US, Canada, Australia, UK, France, Germany, China (Hong Kong), India, Japan, Russia, United Arab Emirates and tons more.
In total, it operates more than 3,200 servers.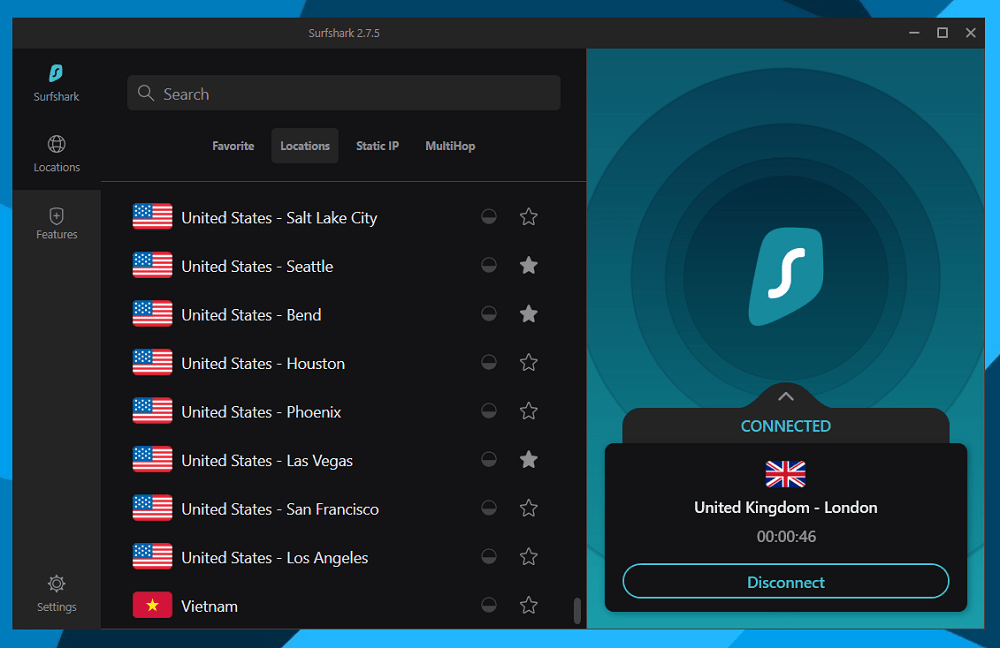 The client doesn't list out every single node. Instead it groups servers by country/region and routes your connection to the most suitable server depending on factors like your location, network settings, VPN configuration as well as server load on Surfshark's side.
You can save favourite locations you plan on connecting to frequently simply by clicking on the star icon on the right-hand side.
All bookmarked servers can later be found in the Favourite tab.
Virtual locations
Surfshark is transparent about which servers on its network are virtual and labels them with a "V" badge, like the one you can see in the screenshot below.
But you'll notice there are less than a handful of virtual locations as most of its servers are indeed physical, meaning they're physically located in their respective, labelled countries.
Multi-hop servers
One of Surfshark's top selling features for me are the multi-hop locations.
This connection type routes your traffic through two VPN servers instead of one, essentially encrypting your data twice.
There are plenty of server combos to choose from, like, for example, France via UK, Hong Kong via Singapore or US through Canada.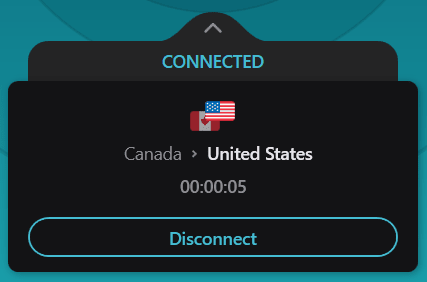 Multi-hop is a great way to add another layer of privacy to your VPN connection.
But keep in mind that stronger security means you'll be trading off on speed.
Does Surfshark offer static IPs?
Surfshark is one of the few VPNs to offer static IP connections at no additional cost.
There are currently five static IP locations to choose from: Germany, Japan, USA, UK and Singapore.
Some VPNs, such as PureVPN, Windscribe and NordVPN, offer static IPs as a paid add-on. But, in those cases, the IPs are dedicated. Or, in other words, designated just for you.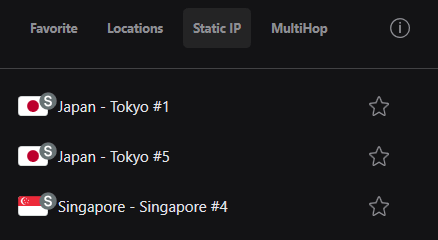 While Surfshark's static IPs mean you'll get the same IP assigned each time you connect, those IPs are still shared with other users.
Which in fact is a good thing for privacy, as your traffic will continue to be mixed with that of other Surfshark users, while at the same time, you'll still get the benefits of using a static IP.
For example, you'll encounter less anti-bot captchas, which is a common problem with overly popular VPNs with "dirty IPs".
Security features
| | |
| --- | --- |
| Encryption | AES-256-GCM, ChaCha |
| Protocols | WireGuard, OpenVPN (UDP), OpenVPN (TCP), IKEv2, Shadowsocks |
| RAM-only servers | ✅ |
| Kill switch | ✅ |
| Leak protection | ✅ |
| Custom DNS | ✅ |
| Obfuscation | ✅ |
| Multi-hop | ✅ |
| Tor over VPN | ❌ |
| Ad blocking / malware protection | ✅ |
What protocols does Surfshark support?
You can connect to Surfshark with one of four VPN protocols:
WireGuard. Rolled out in October 2020, this protocol is the fastest and leanest for VPN connections.
OpenVPN (UDP or TCP). Open source and industry standard protocol usually offering the perfect balance between security and performance.
IKEv2. Often used for mobile VPN connections but also available on desktop; supports good speeds.
Shadowsocks. Technically a SOCKS5 proxy and is best used for bypassing restrictive networks.
Expectedly, the much less secure PPTP and L2TP protocols aren't supported.
What encryption does Surfshark VPN use?
As with most high-end VPNs, Surfshark uses the exceptionally strong AES-256-GCM encryption. For handshakes, it uses a 2048-bit Diffie Helman key on OpenVPN and 3072-bit Diffie Helman key for IKEv2.
The WireGuard protocol uses ChaCha20 for symmetric encryption and Poly1305 for authentication.
Does Surfshark have split-tunneling?
You may not want to run all your traffic via Surfshark because it can slow down speeds or prevent you from accessing certain services. For example, your banking app.
Surfshark solves this challenge with its split-tunneling feature – Whitelister.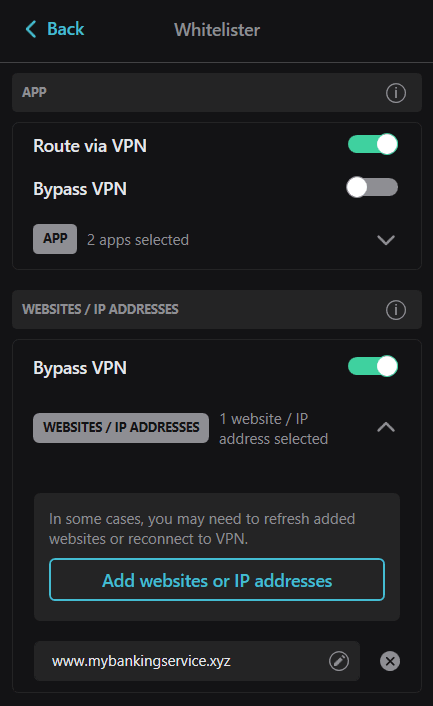 You can go two ways about configuring Whitelister: either bypass or run the VPN through certain applications on your device.
Likewise, Surfshark gives you the option to bypass the VPN for specific website URLs and IP addresses.
Does Surfshark offer stealth mode obfuscation?
In the app's advanced settings, you'll find a switch called "NoBorders".
This is Surfshark's stealth (obfuscation) mode – a good option for working around highly restrictive network firewalls that actively sniff out VPN connections.
If you're in China, you'll almost certainly need to use this feature.
GPS Spoofing
On your Android device, you can use GPS spoofing, so it displays a different physical location than where you really are.
This is a useful added privacy feature that not too many VPNs offer.
To set up GPS spoofing, you'll first need to tweak your Android device settings in Developer options.
Don't worry, Surfshark's app guides you through this process.
CleanWeb – ad, tracker & malware blocker
If you're not already using an ad blocker or anti-malware tool, I highly recommend enabling Surfshark's CleanWeb feature.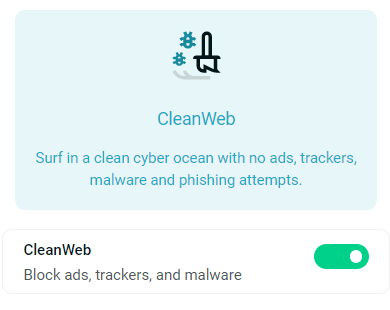 CleanWeb is a built-in ad, tracker and malware blocker, and you can find it both in the VPN client as well as in Surfshark's browser extension – which I'll talk about in more detail next.
Surfshark Chrome & Firefox browser extensions
When you get an account with Surfshark VPN, you'll gain access to its browser extensions for Chrome and Firefox.
The extension works as a proxy and ad blocker in one, allowing you to change your browser location as well as run Surfshark's CleanWeb feature directly from within the add-on.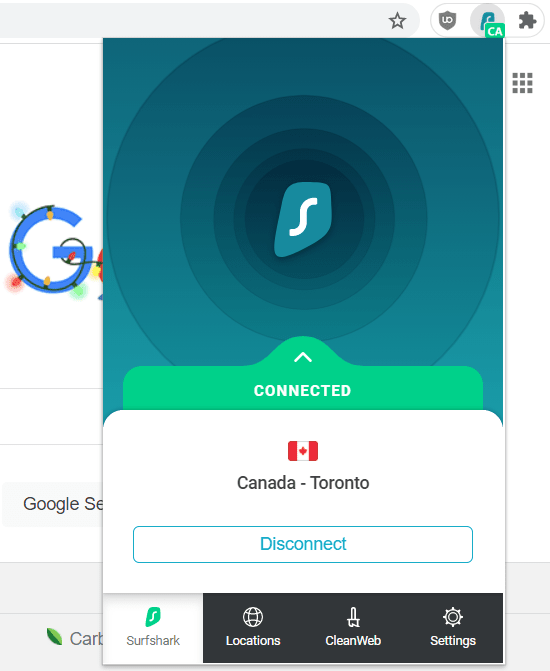 It's very easy to use. You simply need to log in and pick your new virtual location.
For clarity, the extension doesn't work like a VPN. In other words, it doesn't offer the encryption you'd get with a VPN tunnel.
So I recommend using it either for non-sensitive browsing or actually together with the VPN.
Does Surfshark offer Smart DNS?
Yet another proxy tool made available by Surfshark is Smart DNS.
This feature uses Surfshark private DNS servers to change your virtual location on compatible devices that perhaps don't directly support VPN connections.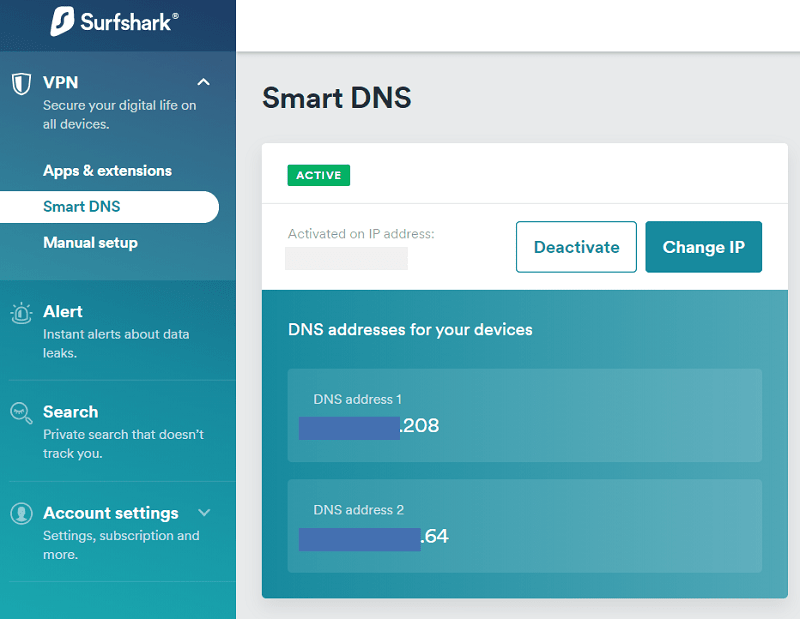 For instance, you can configure the Smart DNS on your gaming console, smart TV or an Apple TV box.
You can activate the Smart DNS directly from your Surfshark account dashboard.
There, you'll be able to grab the new DNS addresses as well as find tutorials for the above mentioned devices.
How many devices can I connect with Surfshark VPN?
Here's another winning aspect of Surfshark: no matter which plan you pick, you can connect an unlimited number of devices.
Needless to say, of course, this works based on a fair usage policy, as is outlined in Surfshark's Terms of Service.
Our Fair Usage Policy manages inappropriate use of our Services and guarantees that the Services can be used fairly by everyone. Under the Fair Usage Policy, we reserve the right to enable limits of an immoderate number of simultaneously connected devices in our network maintenance system in order to make sure that none of our users are affected by potentially deteriorated quality of the Services.

Source: Surfshark's Terms of service
Surfshark doesn't specify the exact fair usage limit. But rest assured, you should be able to use the service on all of your personal devices without issue.
Does Surfshark VPN Work with Netflix? (Yes ✅)
If you're looking for a VPN for streaming purposes, you will like this provider as Surfshark works with Netflix.
Plus there are numerous ways to connect – from the VPN to the browser proxy.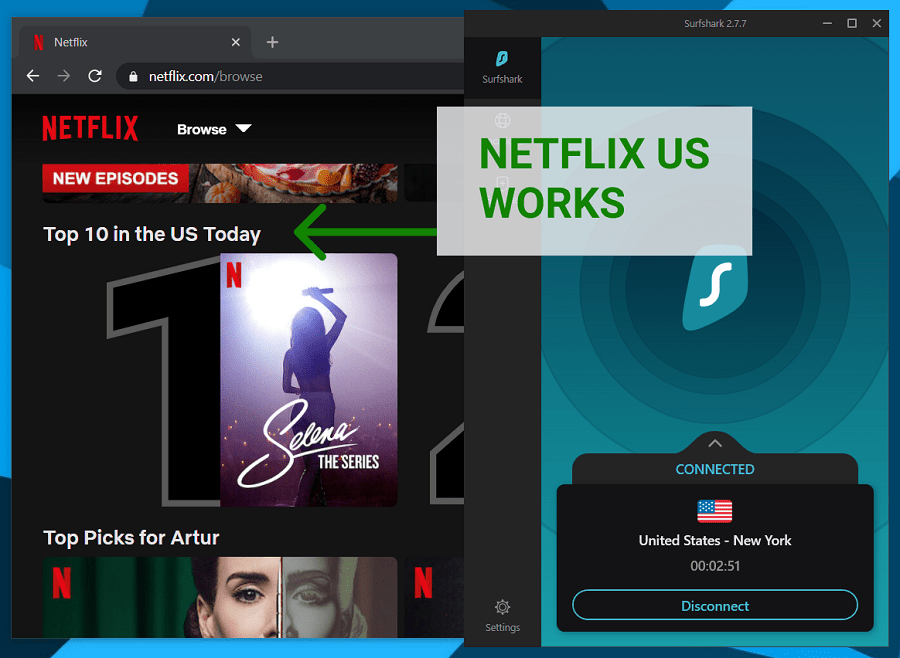 As you can see in my example, I was able to access Netflix US by connecting to one of the US servers.
I tried streaming one of the shows and didn't encounter any connectivity issues.
Does Surfshark work with Firestick?
Surfshark comes with full support for Amazon Fire TV sticks.
The easiest way to make them work together is by installing the Surfshark app by searching for it from your Fire TV homepage.
Note that your firestick needs to be 2nd gen or higher.
After installing the app, all you'll need to do next is log in with your Surfshark credentials and pick the location you want to connect to.
Now, you'll be able to stream your favourite content.
Is Surfshark good for torrenting?
Surfshark clearly states on its website that all of its servers are 'P2P-friendly'.
In other words, torrenting is allowed on any node.
My torrent IP test showed there was no IP address leak from my BitTorrent client, meaning Surfshark VPN is safe to torrent with.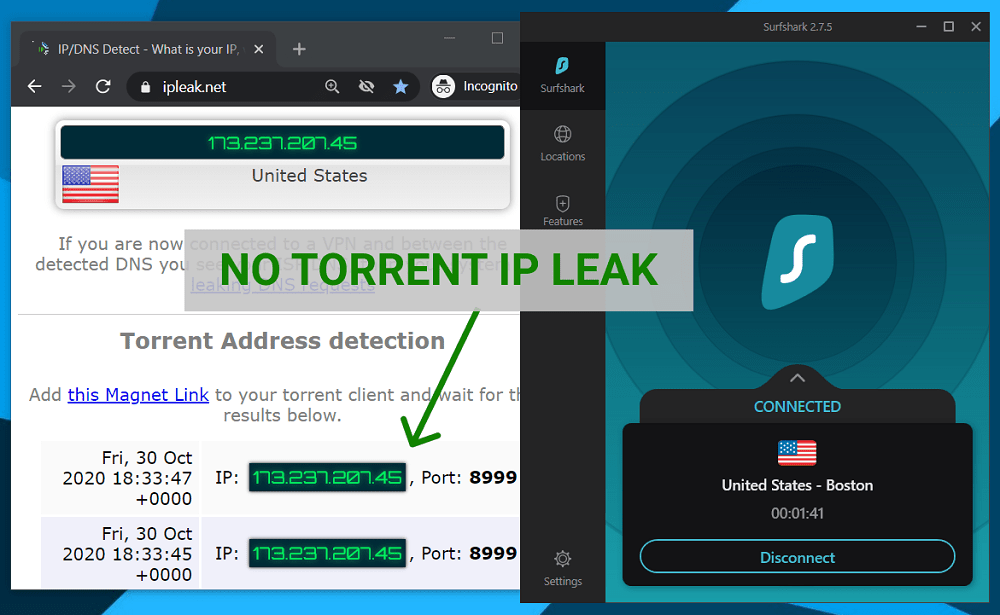 As always, use the kill switch before running any P2P traffic so to avoid any data leaks in case the VPN connection unexpectedly cuts out.
Does Surfshark VPN Work in China?
With features like obfuscation (NoBorders) Surfshark can help access content from areas with repressive, censorship-heavy internet policies.
A perfect example is mainland China where Surfshark VPN should work.
Though, of course, no VPN is ever really guaranteed to work flawlessly in China.
Such is the intensity of the cat & mouse game between VPNs and the Great Firewall.
To get Surfshark to work in China, I recommend enabling the NoBorders feature or, alternatively, using the Shadowsocks protocol.
If all else fails, it's worth following Surfshark's step-by-step guide on connecting in countries with heavy network restrictions.
Surfshark Reddit reviews: good or bad?
Even just a cursory glance over Reddit VPN reviews of Surfshark gives you a generally positive impression.
One user gave a thumbs up to how reliable the VPN is. They also mentioned how easy it is for them to access Netflix and Hulu.
The main drawback for them was Disney+ taking longer to load, particularly during login:
I also found an interesting comment (see below) regarding torrenting.
This user had positive experiences with Surfshark and P2P, seeing 'good speeds' and no connection issues.
Surfshark doesn't have an active subreddit, but does usually respond to users' questions and comments related to the service.
Here's how Surfshark compares to one of the leading VPNs on the market in NordVPN:
| | | |
| --- | --- | --- |
| | Surfshark | NordVPN |
| Lowest price | $2.30 /mo. | $4.19 /mo. |
| Top speed | 359 Mb/s | 373 Mb/s |
| Logs | No logs (audited) | No logs (audited) |
| Jurisdiction | British Virgin Islands | Panama |
| Servers | 3,200+ / 60+ countries | 5,000+ / 50+ countries |
| Works with Netflix | ✅ | ✅ |
| Torrents | ✅ | ✅ |
| Works in China | ✅ | ✅ |
| Max. connections | Unlimited | 6 |
| Browser extension | ✅ | ✅ |
| Ad blocker & anti-tracking | ✅ | ✅ |
| Support | Live chat, email | Live chat, email |
| Website | Surfshark.com | NordVPN.com |
In all honesty, the differences between these two popular VPNs are not huge.
Why Surfshark is better than NordVPN
Cheaper on the longer plans
Unlimited connections policy
Why NordVPN beats Surfshark
Faster VPN speeds
More privacy features
🏆 Winner: NordVPN (just)
The main reasons as to why NordVPN edges it for me is because it is fully audited and is the faster VPN.
These two aspects are most critical.
And while Surfshark doesn't lag too far behind, NordVPN is the slightly more "complete" product for me.
Find out more about NordVPN and its features in our in-depth NordVPN review.
Surfshark vs ExpressVPN
When comparing Surfshark with another industry giant – ExpressVPN, the head-to-head battle is really close.
| | | |
| --- | --- | --- |
| | Surfshark | ExpressVPN |
| Lowest price | $2.30 /mo. | $6.67 /mo. |
| Top speed | 359 Mb/s | 336 Mb/s |
| Logs | No logs (audited) | No logs (audited) |
| Jurisdiction | British Virgin Islands | British Virgin Islands |
| Servers | 3,200+ / 60+ countries | 3,000+ / 90+ countries |
| Works with Netflix | ✅ | ✅ |
| Torrents | ✅ | ✅ |
| Works in China | ✅ | ✅ |
| Max. connections | Unlimited | 5 |
| Browser extension | ✅ | ✅ |
| Ad blocker & anti-tracking | ✅ | ✅ |
| Support | Live chat, email | Live chat, email |
| Website | Surfshark.com | ExpressVPN.com |
🏆 Winner: Surfshark (just)
While both providers are based in the British Virgin Islands (good for privacy), ExpressVPN is the fully audited service.
It also offers a noticeably bigger choice of server locations.
But, that said, Surfshark is the cheaper and slightly faster VPN.
And it also has that 'unlimited connections' policy, which is far more generous than the maximum of five connections you get with an ExpressVPN account.
Find out more about ExpressVPN and its features in my detailed ExpressVPN review.
Surfshark help: live chat & email support
Surfshark offers one-to-one customer support via live chat or email. It also has tons of easy-to-follow articles and setup guides on its website.
There's no phone support but it's rare for a VPN to offer it anyway.
In any case, the best place to start your troubleshooting is from the main Help Centre.
I reached out to its support team via live chat on a couple of occasions while writing this Surfshark review. Both times, their customer service agents were extremely polite and helpful.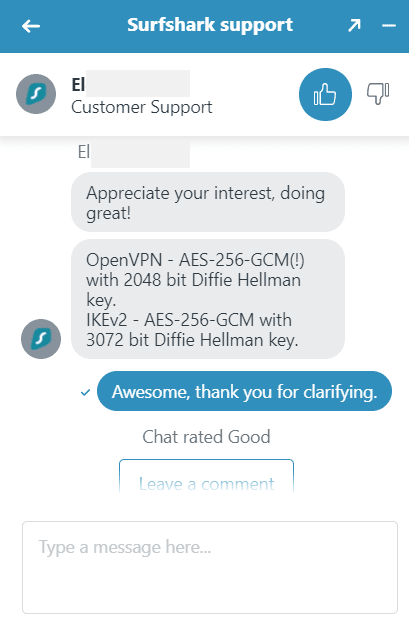 The live chat also gives you the option to forward the transcript of your conversation to your email, which is really useful especially when it comes to saving instructions and configuration tips.
If you're set on troubleshooting alone, Surfshark's tutorials cover a wide range of topics and include clear, step-by-step screenshots.
Surfshark VPN review score (⭐ 9.3 out 10)
Surfshark is a high-end VPN. There's no doubt about it. In just a short amount of time since launching, it has grown into a near-complete privacy solution. But most importantly, this is a fast and secure VPN service that's also easy to use. That's why Surfshark scores a seriously high 9.3 out of 10.
I've covered the important details in my Surfshark VPN review. Ultimately, I can definitely recommend this VPN.
But see below as to what really drew my attention with this provider. And what I think it could improve on.
Why Surfshark is good 😊
'No-log'. Albeit not fully audited.
Phenomenal speeds. Up to 360 Mbs (out of 500) in my test.
Excellent for privacy. Safe jurisdiction, RAM-only servers and no leaks.
Large server network. Spanning 60+ countries.
Great apps. Also works on a wide range of devices.
Works with Netflix & many other streaming services
Allows P2P (on ALL servers).
Works in China. Supports stealth and Shadowsocks connections.
Advanced features: multi-hop, GPS spoofing, ad/tracking blocker, static IPs.
Has browser extensions. Available for Chrome & Firefox.
Unlimited connections. Based on a fair usage policy.
Friendly and helpful support. Live chat or by email.
What needs to be improved 😬
Only nitpicking, but doesn't offer Tor over VPN connections.
Surfshark alternatives to consider
While I do think Surfshark offers a near enough complete VPN package, I know it might not check all the boxes for all. If this is the case, I recommend looking at these two alternative solutions: VPN.ac or Private Internet Access.
Our score
User rating
Our score
User rating
Price $3.75 p/mo
Pros
Safe jurisdiction (Romania)
Fast speeds with WireGuard support
Top encryption & security features
Allows P2P & torrent traffic
Simple & intuitive applications
Secure browser proxy extension
Fast & responsive support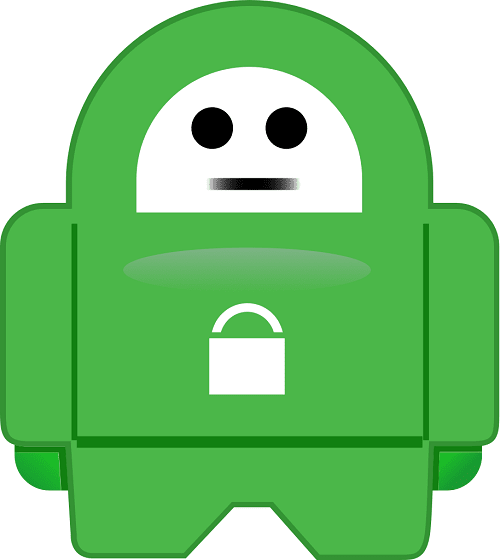 Our score
User rating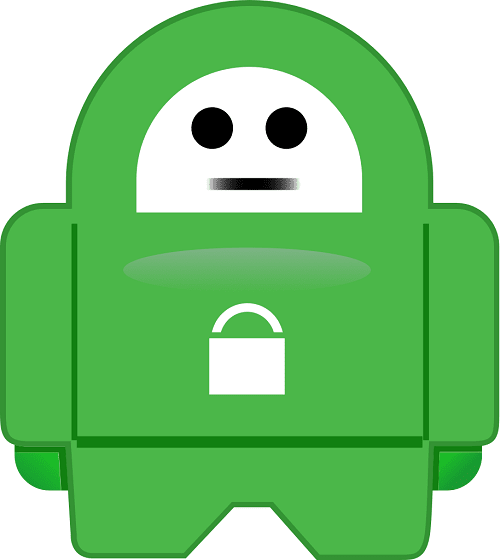 Our score
User rating
Price $2.69
Pros
Excellent speeds
Proven 'no-log' VPN
Strong encryption & privacy features
Up to 10 connections
Beautiful apps
Servers in 30+ countries
DNS leak protection
Live chat support & user community
Cons
Doesn't work in China
Privacy policy not audited
Surfshark FAQs
Is Surfshark a good VPN?
For a relatively new service, Surfshark is remarkably versatile and scores well on every single test. With easy-to-use clients, good speeds and a 'no-log' policy, it offers all the essentials that you'd look for in a decent VPN.
How to use Surfshark VPN?
Surfshark was intentionally built with simplistic UX so to be accessible to pretty much anyone, even if they've never used VPNs before. To use the service, you can download one of its many VPN apps — on most operating systems, select a preferred server and hit Connect.
Is Surfshark illegal to use in USA?
VPNs are completely legal in the United States, and several, well-known providers — such as IPVanish and StrongVPN — are actually based there. So, although Surfshark itself is registered in the British Virgin Islands, the service is not outlawed in any way in the US.
---
Leave your own Surfshark review 👇
Are you a Surfshark customer or have used it in the past? We want to hear about it.
Leave your Surfshark feedback in the comments below.