IPVanish is a popular VPN service known for its personal online security products. In this IPVanish review, I'll explain whether this VPN is a must-have online privacy tool or should be avoided at all costs.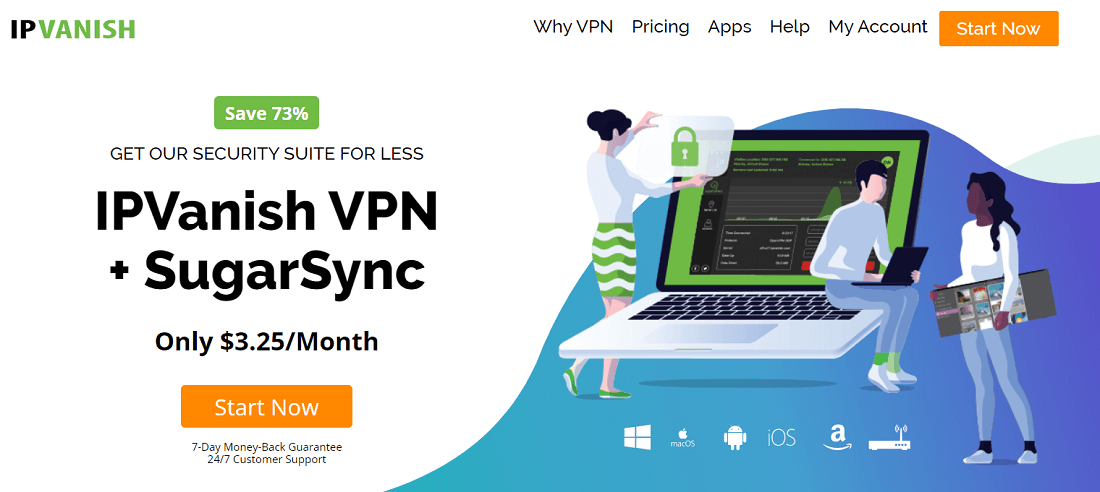 IPVanish facts
| | |
| --- | --- |
| Business jurisdiction | United States |
| Price | $6.49 /mo |
| Speed | 27 / 35 Mb/s average |
| Traffic logs | 'Zero-log' policy but has bump past |
| Apps | Windows, Mac, Android, iOS, Fire TV, Linux, Chrome OS |
| Features | Killswitch, OpenVPN obfuscation, LAN traffic block, DNS, IPv6 traffic leak protection, split-tunnelling |
| Works with | Netflix, Kodi, routers |
| Simultaneous connections | Up to 10 devices |
| Refunds | 30-day money-back guarantee |
| Customer support | 24/7 live chat, email and phone support |
| Website | IPVanish.com |
IPVanish price – decent value on one year plan
There are three IPVanish subscription plans to pick from: monthly, quarterly and annual.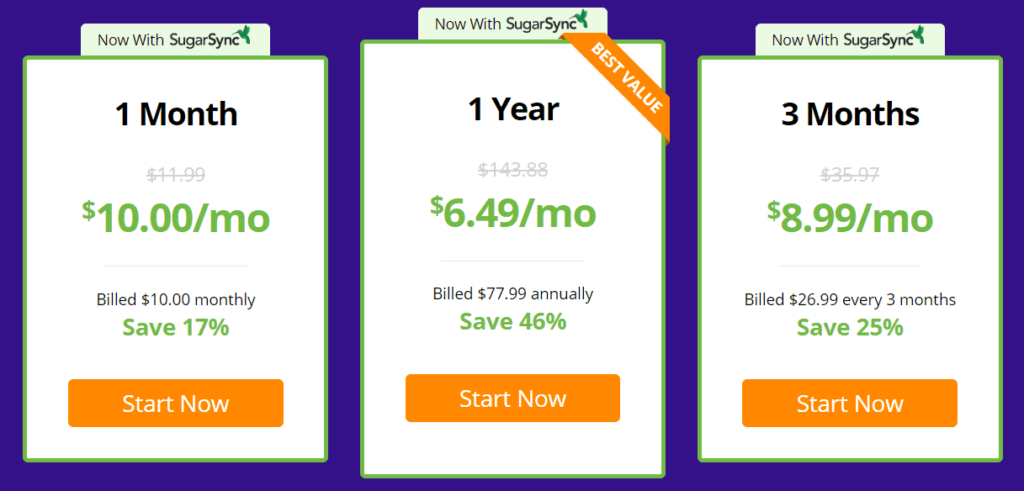 IPVanish deals
Plans with longer commitments come with pretty sizeable discounts.
So if you go for either the 3-month (quarterly) or the 12-month plan, IPVanish will reward you with deals up to 46% off from the standard monthly rate.
IPVanish coupon
IPVanish often runs special offers with discounted prices and coupons on its VPN plans.
You can find out if an offer is available at this time by heading to IPVanish.com.
Or, check out the VPN coupons page. It's updated regularly with the latest VPN deals.
IPVanish free trial & refunds
IPVanish does not offer a free trial period. But like with many other VPNs, you can make use of the 30-day money back guarantee after purchasing.
Payment methods
You can buy a IPVanish subscription either by credit or debit card (Visa, Mastercard, Discover, American Express, JCB).
PayPal is also an option.

IPVanish speed – fast and overall reliable
I tested IPVanish connections to see if the service is as fast and as reliable as it claims.
In all honesty, my expectations were already high going into this test, as IPVanish is a tier 1 VPN service, meaning it owns its servers and infrastructure.
Seven days of testing six different locations later and the results were definitely impressive.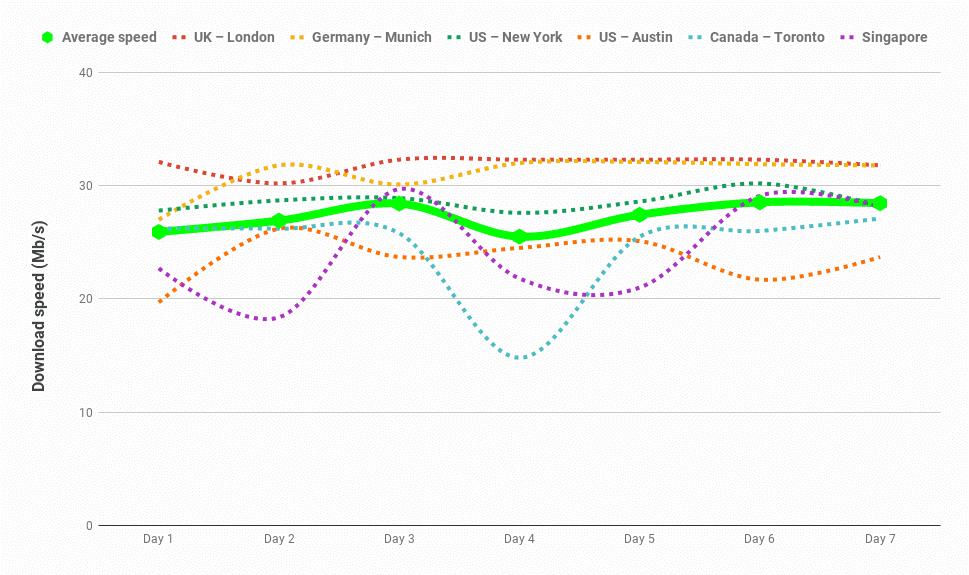 Speed test highlights
As you can see in the chart above, the average download speeds barely dipped below 30 Mb/s (my baseline speed is 35 Mb/s)
Nearby servers in the UK and Germany were especially consistent with a 32 Mb/s average
US servers performed well, considering they're much further away from me geographically
Nodes in Singapore and Canada showed noticeable dips midway through testing, but otherwise performed well for the other six days
IPVanish privacy – zero logs, bumpy past, no DNS leaks
Every VPN service, without exception, should get one thing absolutely right – user privacy.
To find out if it checks all the right boxes in this department, I tested IPVanish for DNS leaks and unpacked a few important facts about the company's past that you should know about.
IPVanish DNS leak test (passed)
After checking a few, random servers for potential DNS leaks, I was pleased to find that none of them exposed my real IP address.
The results – tested on IPLeak.net – showed correct IPv4 and DNS IP addresses assigned to me by IPVanish: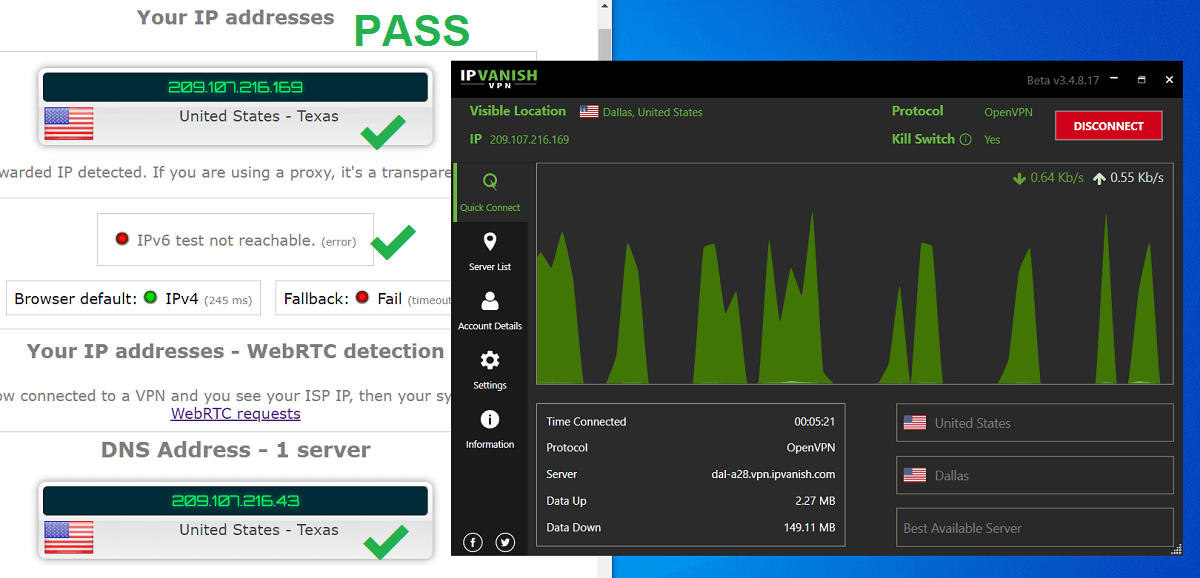 Is IPVanish safe and does it log?
Since its inception, IPVanish has been adamant about having a strict 'no-log' policy.
This is the statement you'll see a lot on the IPVanish website.
IPVanish is a zero-logs VPN service provider, which means that we do not keep a record of any connection, traffic, or activity data in regards to our Services

From IPVanish VPN's privacy policy
IPVanish logs and the FBI case
In 2016, IPVanish – which at the time was owned by another parent company – assisted the FBI with a serious criminal investigation.
The suspect's IP address was traced back to a server run by IPVanish, and the company was ordered to provide information about its user.
Its 'zero-log' policy held up – IPVanish actually had no traffic logs to share with the authorities.
But it did provide the FBI with the user's account information and connection logs, matching them with the online criminal activity.
Their cooperation with the authorities helped identify the suspect and ultimately led to a successful conviction.
Make of that what you will. This certainly hasn't made IPVanish's PR manager's job easy.
But my key takeaways on its logging policy are:
IPVanish has a real 'zero-logs' policy (although, hasn't recently been audited)

Today, it claims it no longer keeps connection logs

Remember – No VPN is immune to criminal investigations
IPVanish business jurisdiction – United States
IPVanish VPN and its parent company are registered in the United States.
It therefore falls under US jurisdiction.
This isn't ideal for any VPN, as it becomes subject to the Five Eyes international surveillance network.
On the upside, however, I'll reiterate – not many other VPNs can say they have a proven 'no-log' privacy policy.
Who owns IPVanish?
IPVanish is operated by by NetProtect, which is part of publicly-listed tech giant – J2 Global.
J2 Global owns many other recognisable brands, including IGN, Ookla Speedtest, Mashable and PCMag.

But ownership of the US-based VPN has changed hands on a few occasions.
Ownership timeline
IPVanish was originally launched in 2012 by Mudhook Media Inc. – a subsidiary company of Highwinds Network Group
In 2017, Highwinds was acquired by Texas-based tech security outfit StackPath
In 2019, just two years later, IPVanish once again found a new and current owner in NetProtect – owned by J2 Global
Furthermore, NetProtect houses several other, well-known VPN services, including StrongVPN, OverPlay, SaferVPN and Encrypt.me.
This means these services are part of one family and actually share parts of the network between them.
IPVanish apps & features
IPVanish works on many operating systems and devices.
It has native apps for Windows, Mac, Android, iOS, Amazon Fire TV and Chrome OS.

Likewise, it's compatible on Linux (Ubuntu, Fedora, Kali Linux, Linux Mint, Lubuntu, Pop! OS).
Additionally, if you plan on running your VPN through your entire WiFi network, IPVanish works with DD-WRT, Tomato, ASUSWRT and ASUSWRT-Merlin routers.
Where are IPVanish servers?
One of the biggest advantages to using IPVanish is having access to a large VPN network (pardon the tautology).
IPVanish offers access to more than 1,400 servers in 70+ geographic locations.
This makes super easy for changing your virtual location to be able to bypass geoblocking or online censorship.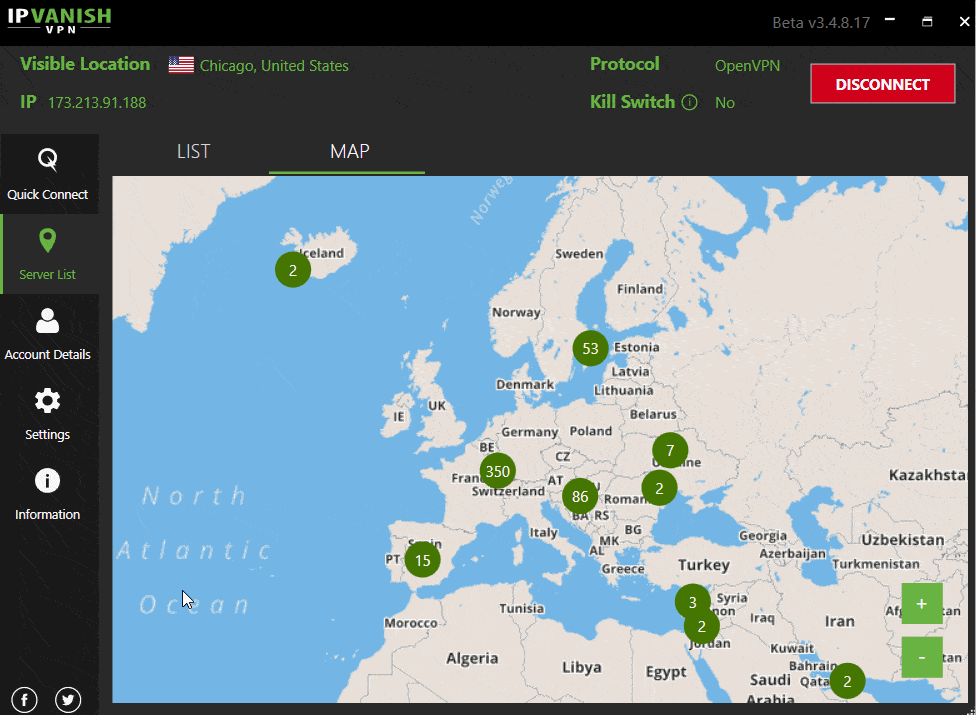 While testing the service for this IPVanish review, I did spot that some locations didn't completely match those listed in the app.
Though, for the most part, the difference was the app connecting me to another city in the same state.
For example, I selected Houston, but actually landed in Austin – both in Texas, USA.
Otherwise, the list of countries to choose from is big.
You'll have access to entire clusters (many servers in the same location) in the US, Canada, UK, Germany, the Netherlands, Hong Kong, to name a few.
Therefore, for optimal speeds, you're bound to find a server close to your location.
How IPVanish works
IPVanish works pretty much like you would expect a decent VPN to work.
It's easy to install and takes one click to connect.
The Windows app interface isn't that compact. In fact, you can expand the client's window to full screen, if you needed to.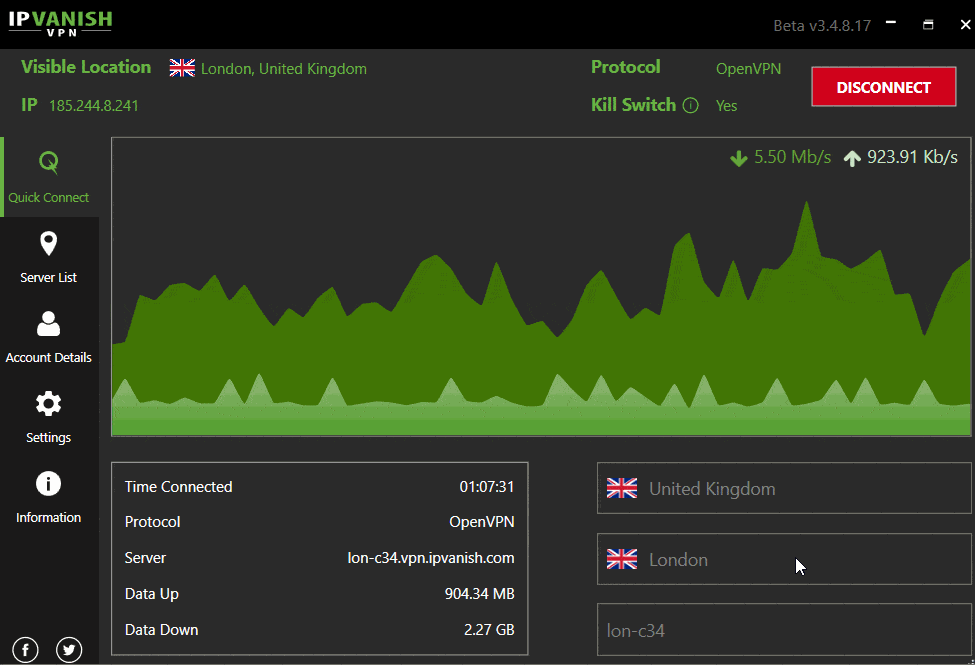 What I also really like about the IPVanish app is that despite all these additional features, the UI itself still feels light.
It's not clunky or laggy when switching between tabs, unlike some overloaded VPN apps I've previously reviewed.
However, the client does take up a chunky 90-100MB of memory while running.
IPVanish security
You'll want to fine-tune your IPVanish app's security settings to ensure you're getting the most out of your VPN.
Below are the security features you can toggle directly from the IPVanish app:
Internet killswitch
DNS leak protection
IPv6 leak protection
LAN traffic blocking
OpenVPN obfuscation (for networks and locations where VPNs are actively blocked, e.g. China)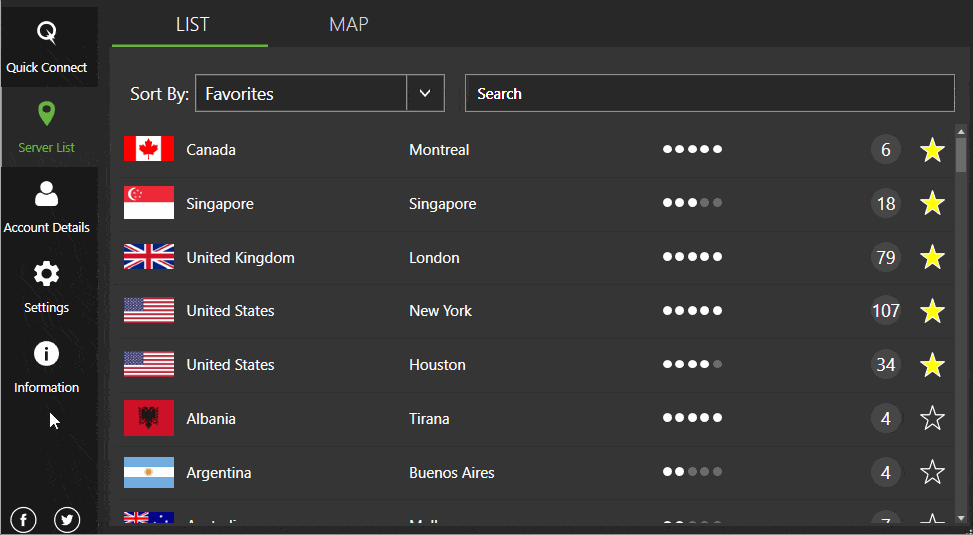 VPN protocols
IPVanish supports various connection types, depending on what you need the VPN for most (i.e. speed, security or bypassing censorship):
OpenVPN (UDP or TCP) – fast and secure
IKEv2 – fast and secure
SSTP – slow but very secure
L2TP – average speed and security level
PPTP – fast but not secure
Note: supported VPN protocols will vary by operating system
While testing the VPN for this IPVanish review, I was mainly connecting using the OpenVPN UDP protocol.
Data encryption
IPVanish uses some of the highest encryption standards implemented by VPNs today:
Encryption: AES-256 bit
Key authentication: RSA-2048 bit key
Data authentication: HMAC SHA1 data
Control authorisation: HMAC SHA-256
IPVanish Android app
The IPVanish Android app is certainly as slick as the desktop version.
There are a few differences, though.
For example, in settings you'll see the Split Tunnelling option. You can use it to filter out specific apps you don't need running through the VPN tunnel.
Also, the VPN protocol choice is limited to OpenVPN, as tends to be the case with VPN apps on Android. But you can switch between UDP (for normal connections) and TCP (bypass strict networks).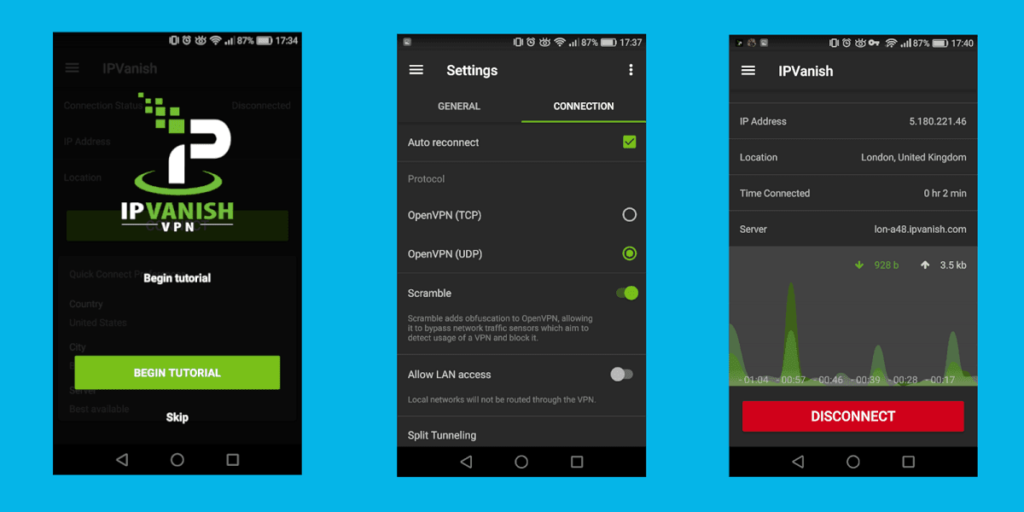 Can IPVanish be used on multiple devices?
Yes, IPVanish allows up to 10 device connections at the same time, making it a suitable VPN for families and large households.
IPVanish with Netflix
IPVanish works with Netflix without issues.
As you can see, I was able to access the Netflix US library by connecting to a US server using the Windows app.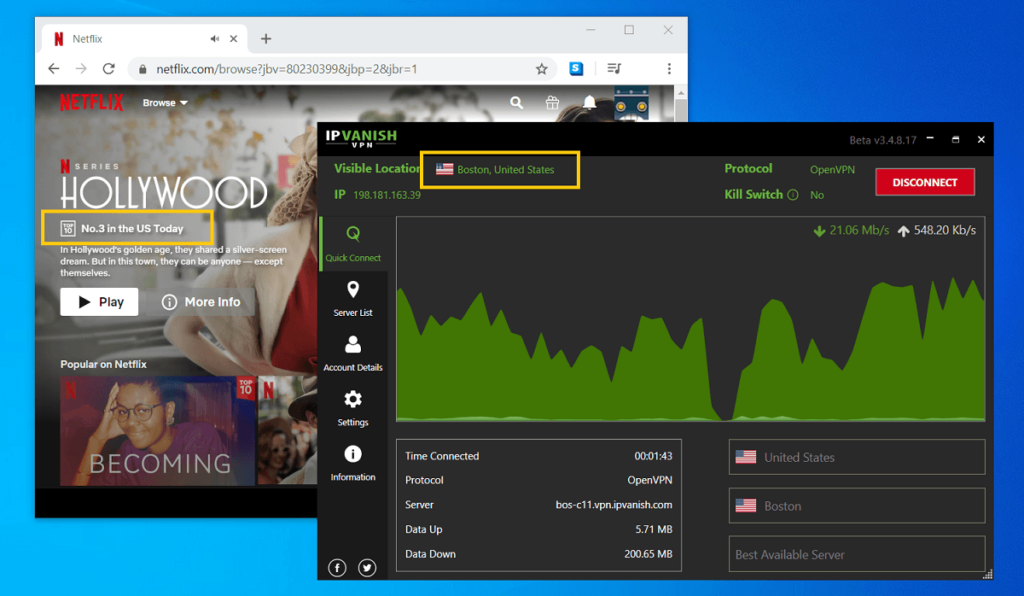 IPVanish and torrents – allowed through SOCKS5 proxy
IPVanish allows torrenting but only through one of its SOCKS5 proxy servers.
What is SOCKS5?
If you're not familiar with SOCKS5 proxies, you should know it doesn't work exactly like a VPN.
A SOCKS5 proxy can hide your IP address for both web (HTTP) and BitTorrent traffic. But what it doesn't do is encrypt your traffic like a VPN tunnel would.
What's clear from the the company's terms of service and from speaking to its support team – the provider prefers you to use the SOCKS5 proxy for torrenting.
This makes sense, especially as IPVanish is based in the US and owns its server infrastructure.
Most likely, this means it runs a higher risk of receiving copyright infringement notices for unauthorised content distribution over its VPN.

Is IPVanish safe for torrenting?
To download torrents with IPVanish, you'd need to configure the SOCKS5 proxy in your BitTorrent client.
The proxy is fairly quick to set up, and you can find information on how to do it along with the server address list here.
I don't recommend using the SOCKS5 proxy together with an active VPN connection as this can destabilise your connection and potentially compromise your anonymity.
I also don't recommend using the SOCKS5 proxy on its own for torrenting as your connection should really be encrypted at all times.
Which is why if you're reading this IPVanish review hoping it's suitable VPN to torrent with, then my honest conclusion is – this service might not be the best choice for you.
IPVanish SOCKS5 proxy torrent IP leak test (passed)
To check the proxy works as intended, I ran a quick IP address leak test on IPLeak.net.
My publicly visible IP address was shown to be that of of the IPVanish SOCKS5, proving the proxy works well.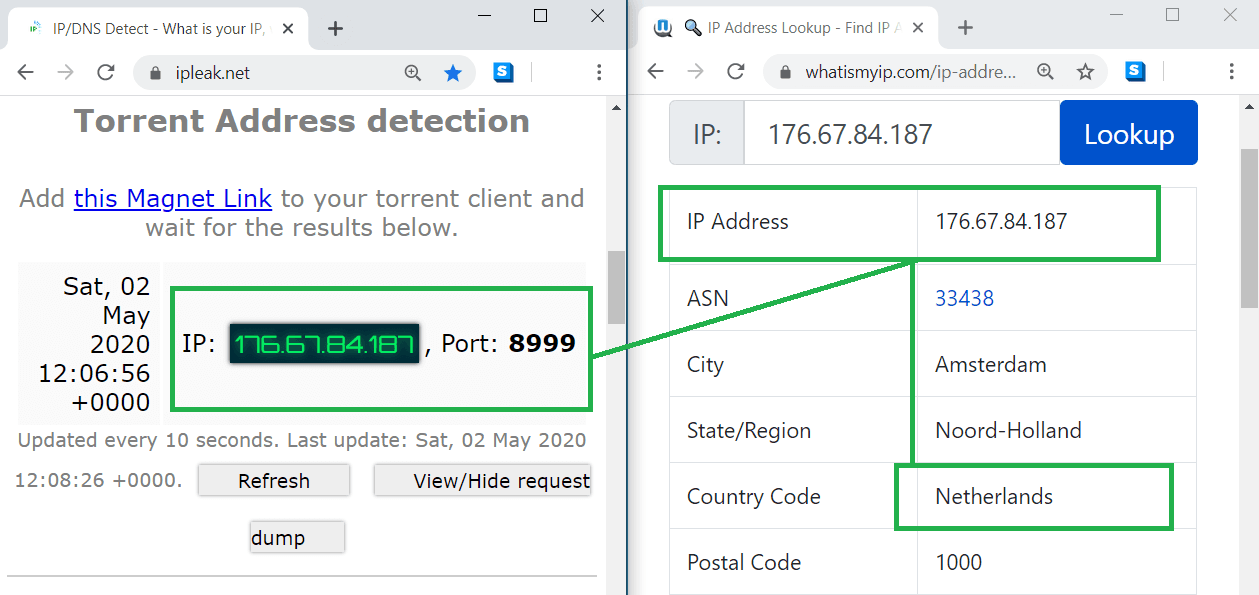 IPVanish reviews on Reddit – what the public says
Reddit is generally a credible source for IPVanish reviews. Although, I do recommend taking some time filter out the noise and shill posts.
After a few searches and filtering for quality user feedback, I found that, for the most part, people who've claimed to use IPVanish were usually happy with the VPN.

IPVanish customer support – five-star service
IPVanish offers a broad range of customer support options:
IPVanish phone number
Phone support is a rarity among VPNs, and IPVanish is one of the very few services that actually offers it.
Note that it's only available to customers in the United States, Mexico, Brazil, United Kingdom, Spain and Australia.
And you can find the correct contact number here.
IPVanish review verdict – a solid VPN but with drawbacks
After testing IPVanish for a month, I can recommend this VPN for many of its features, but not across the board.
Here's a recap of what I liked and disliked about the service:
👍 Why you should buy it (pros)
IPVanish doesn't store traffic logs and has proven it in the past
It's a top-tier VPN (owns its own infrastructure) and offers access to more than 1,400 servers in over 70 locations
Extremely slick and easy-to-use VPN apps
Offers 24/7 support, including phone support
Allows up to 10 multiple connections – more than most other top VPNs
Apps include essential security features like the killswitch as well as DNS and IPv6 leak protection
👎 Why you should look for alternative VPNs (cons)
Registered in the US, and is therefore subject to the Five Eyes surveillance network
It has previously cooperated with the FBI on a criminal investigation involving one of its users. The user has since been convicted for serious crimes.
In a nutshell, I think IPVanish is a very decent VPN.
It's on the cheaper end of the VPN market.
Additionally, it's a tier-1 provider. Thus, it's safe to say you'll be paying a below-average price for features normally charged at a premium.
Clearly, the company has had a bumpy past with user privacy, and you'll see this mentioned in almost every IPVanish review on the web.
But it's worth noting that, just like ExpressVPN in 2016, IPVanish has also managed to prove itself to be a credible, 'no-log' VPN.
This is undoubtedly a big deal.
And that's why I scored IPVanish a solid 7 out of 10.
If you're a first-time buyer, don't overlook this VPN.