Comparing NordVPN and ExpressVPN is the VPN equivalent of betting on Godzilla vs. Mechagodzilla. Both are huge companies with a lot of weight to be thrown around. But when it comes to fine margins, which of the two VPNs is truly the best to buy?
Below, we are going to get into a piece-by-piece breakdown of if and why one of these providers is better than the other.
In a rush?

We recommend NordVPN over ExpressVPN. It's faster, has more privacy features and is the cheaper VPN service.
In this guide, we compare:
Plus, we'll cover all of your frequently asked questions.
NordVPN vs ExpressVPN in summary
Despite the many similarities between NordVPN and ExpressVPN, we found that NordVPN is the faster and cheaper VPN out of the two. The Panama-based provider also has a few more advanced features up its sleeve.
Features comparison
| | | |
| --- | --- | --- |
| | NordVPN | ExpressVPN |
| Based in | Panama | British Virgin Islands |
| Price | $3.71 /mo. | $8.32 /mo. |
| Top speed | 373 Mb/s | 336 Mb/s |
| Logs | No (audited) | No (audited) |
| Servers | 5,000+ / 60 countries | 3,000+ / 90+ countries |
| Apps | Android, iOS, Windows, Mac, Linux, Chrome, Firefox | Windows, Mac, Android, iOS, Linux, Chromebook, Chrome, Firefox |
| Works with | Android TV, Amazon Fire TV Stick, Smart TVs, Apple TV, gaming consoles, most routers | Android TV, Amazon Fire TV Stick, Smart TVs, Apple TV, gaming consoles, most routers |
| Advanced features | Kill switch, split-tunneling, private DNS, Tor over VPN, multi-hop, dedicated IP, obfuscation, LAN invisibility, Smart DNS | Kill switch, IPv6 leak protection, split-tunneling, private DNS |
| Works with Netflix | Yes | Yes |
| Torrents | Yes | Yes |
| Works in China | Yes | Yes |
| Max. connections | 6 | 5 |
| Refunds | 30 days | 30 days |
| Customer support | Live chat, email | Live chat, email |
| Website | NordVPN.com | ExpressVPN.com |
What is NordVPN?
NordVPN is a globally renowned and arguably the most recognizable VPN service on the planet.
Initially founded in 2012, it has since grown into a tech giant, serving millions of users worldwide.
NordVPN offers apps for all popular operating systems and devices, including PC, macOS, Android, iOS and Linux. Likewise, it's compatible with flashed routers and has proxy add-ons for Chrome and Firefox web browsers.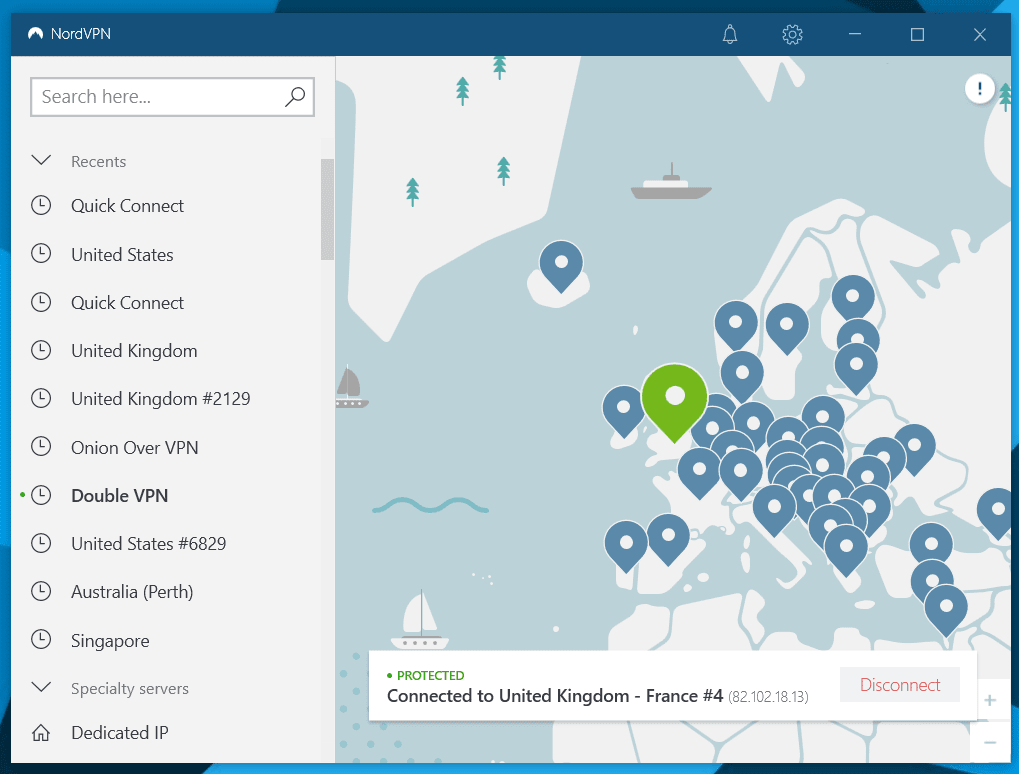 It comes with a very broad range of privacy features, including essential ones like the internet-blocking kill switch and private DNS resolvers as well as more advanced options such as Tor over VPN and multi-hop connections.
Our in-depth NordVPN review covers all you need to know about this VPN.
What is ExpressVPN?
Much like its rival, ExpressVPN is an extremely popular virtual private network provider with a large, worldwide user base.
It has apps for all common operating systems and devices (Windows, Mac, iOS, Android, Linux), and works with many VPN-compatible platforms, including Smart TVs and games consoles.
Like NordVPN, it also has add-ons for Chrome and Firefox browsers.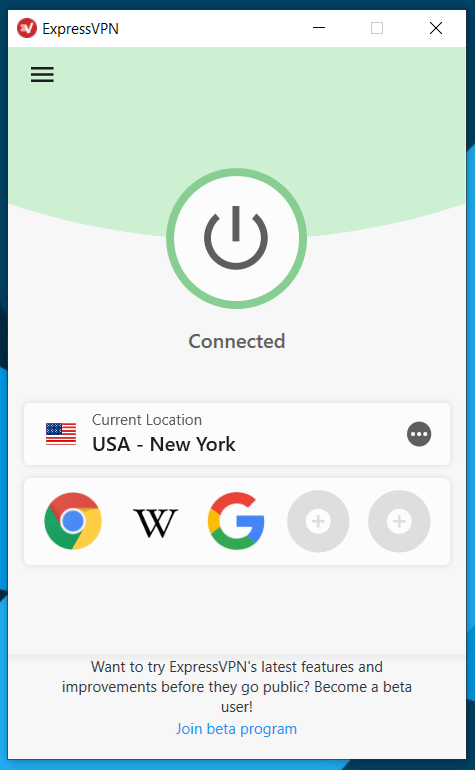 Although ExpressVPN isn't as feature-rich as NordVPN, this VPN nevertheless does the simple and essential things very well.
For instance, the BVI-based service is well known for providing exceptionally reliable connections which rarely drop under normal circumstances.
Learn more about ExpressVPN and its features in our detailed ExpressVPN review.
NordVPN vs ExpressVPN: which is faster? ⚡
Our speed tests show NordVPN is the considerably faster VPN with top speeds reaching 373 Mb/s vs ExpressVPN's 336 Mb/s. That said, in practise, the difference will hardly be noticeable as both support excellent throughput across both of their networks.
Both providers offer some of the fastest and most reliable VPN connections on the market thanks to their high-end and well-maintained infrastructures.
When looking at only the top speeds (in the chart above), you can see NordVPN edges it throughout three days of testing.
Day 1: NordVPN (367 Mb/s); ExpressVPN (336 Mb/s)
Day 2: NordVPN (373 Mb/s); ExpressVPN (330 Mb/s)
Day 3: NordVPN (368 Mb/s); ExpressVPN (334 Mb/s)
For all of our VPN reviews, we test speeds using a 500 Mb/s connection.
When running these speeds, we used the best available VPN protocols for performance.
So, for NordVPN, it was their NordLynx protocol — a modified version of WireGuard. While for ExpressVPN, we connected using their speedy Lightway protocol — a bespoke connection type which in terms of configuration, speed as well as encryption shares a lot similarities with WireGuard .
Top speeds by location compared
Below is a more detailed speed comparison between ExpressVPN and NordVPN where we show the maximum bursts for each of the six tested locations.
| | | |
| --- | --- | --- |
| | NordVPN | ExpressVPN |
| UK | 373.2 Mb/s | 335.9 Mb/s |
| EU | 277 Mb/s | 301.6 Mb/s |
| US (New York) | 364.3 Mb/s | 258.9 Mb/s |
| Canada (Montreal) | 321.2 Mb/s | 275.7 Mb/s |
| Singapore | 345.9 Mb/s | 205.7 Mb/s |
| Australia | 277.2 Mb/s | 204.3 Mb/s |
As you can see, NordVPN is faster through all endpoints except in the European Union.
It should be noted, however, that both VPNs offer access to numerous EU-based countries, meaning the speeds could look different depending on where in the EU you're actually connecting to (and from).
Average speeds by location compared
Next, we'll show the average speeds for each location over three days of testing.
| | | |
| --- | --- | --- |
| | NordVPN | ExpressVPN |
| UK | 369.4 Mb/s | 333.2 Mb/s |
| EU | 240.3 Mb/s | 295.5 Mb/s |
| US (New York) | 308.7 Mb/s | 253.4 Mb/s |
| Canada (Montreal) | 307.3 Mb/s | 224.5 Mb/s |
| Singapore | 310.7 Mb/s | 263.4 Mb/s |
| Australia | 247.1 Mb/s | 214.7 Mb/s |
Here, you can see that the gap between Nord and ExpressVPN narrows.
And this is where it's really worth us pointing out again that — with a relatively decent internet connection — the differences between the two VPNs will hardly be noticeable.
That even goes for bandwidth-heavy activities like streaming or gaming.
But, given the results are almost entirely in favour of NordVPN — even if marginally — it's safe to conclude that it is in fact the faster VPN.
NordVPN vs ExpressVPN: which is better for privacy? 🔐
When it comes to keeping your data safe, NordVPN and ExpressVPN are pretty much on par with each other. Both VPNs operate with 'zero-log' policies, and in both cases, this has been verified with independent audits.
Both services also operate out of 'offshore' jurisdictions with favourable digital privacy laws.
Nord is based in Panama, while ExpressVPN is registered in the British Virgin Islands, which, despite being a British overseas territory, maintains legislative autonomy from the United Kingdom.
| | | |
| --- | --- | --- |
| | NordVPN | ExpressVPN |
| No logs (verified) | ✅ | ✅ |
| Safe jurisdiction | ✅ | ✅ |
| Clean track record | ✅ | ✅ |
| No leaks | ✅ | ✅ |
| Strong encryption | ✅ | ✅ |
| RAM-only servers | ✅ | ✅ |
| Private DNS | ✅ | ✅ |
| Tracking & malware protection | ✅ | ❌ |
| Virus-free | ✅ | ✅ |
Do either keep logs? (No)
Neither ExpressVPN nor NordVPN log users' browsing activity or, for that matter, any web traffic.
Both providers claim strict 'zero-log' privacy policies. And these claims have been fully verified with external audits. In fact, both of their privacy audits were conducted by the same auditor — PwC.
Identifiable connection logs — i.e. your original IP address, usage timestamps and DNS queries — are also not stored.
Are they prone to leaks? (No)
We ran a series of VPN tests with both products to find out if either were prone to IP, DNS or WebRTC leaks.
Both providers — NordVPN and ExpressVPN — passed our tests with flying colours. Meaning they were leak-free.
Here's the NordVPN leak test result: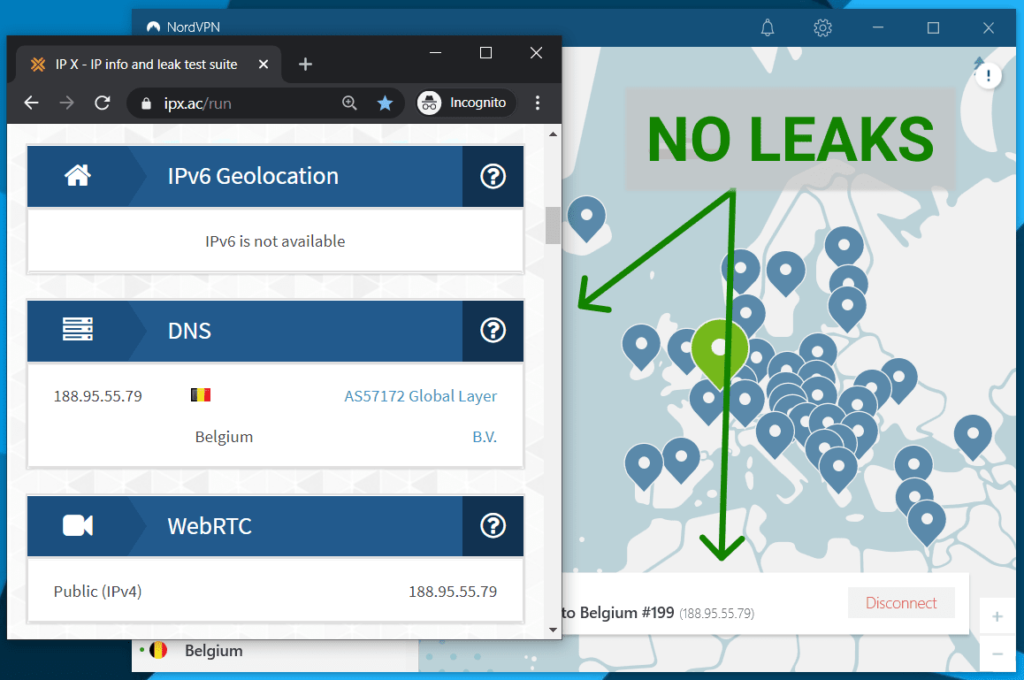 And this is the ExpressVPN equivalent: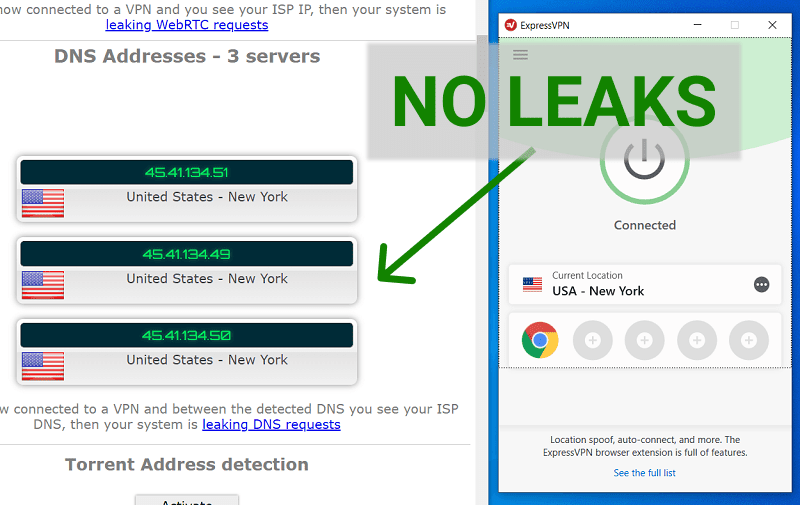 We checked for leaks using ipleak.net and ipx.ac.
Are both VPNs based in safe jurisdictions? (Yes)
ExpressVPN is located in the British Virgin Islands, while NordVPN is based in Panama.
The BVI and Panama have no mandatory data retention laws, which paves way for the 'zero-log' policy both ExpressVPN and Nord operate with.
Moreover, both jurisdictions are outside of the Five/Nine/Fourteen Eyes surveillance alliance, which in theory is a further bonus to your privacy.
Which VPN has the strongest encryption? 🔑
Both NordVPN and ExpressVPN apply the exceptionally strong, industry standard AES-256 or ChaCha20 encryption algorithms.
AES encryption is often dubbed as 'military-' or 'government-grade' as it's the same standard officially used by the US government.
With the widely adopted OpenVPN protocol, both VPNs use DH 4096 keys in combination with the AES-256 cipher for scrambling, and SHA512 for decryption.
For NordLynx/WireGuard connections, NordVPN implements ChaCha20 encryption keys, Poly1305 for authentication, Curve25519 for ECHD, and BLAKE2s for hashing.
For its counterpart Lightway protocol, ExpressVPN uses the wolfSSL cryptographic library and supports both AES as well as ChaCha20 encryption algorithms.
All of the mentioned data encryption methods are deemed very secure in the VPN world.
Thus, in terms of security, both NordVPN and ExpressVPN excel.
Has either VPN ever been hacked?
Between ExpressVPN and NordVPN, only the latter VPN service has experienced a known security breach.
Back in 2018, NordVPN had an incident, though, as a result of it, no actual private user data or login details were compromised or leaked into the public domain.
The breach affected only one, leased data centre — located in Finland — which was promptly shut down by the provider.
Since the incident, NordVPN — and ExpressVPN, for that matter — have deployed RAM-only servers.
This means data gets automatically wiped as soon as a server is powered off.
ExpressVPN vs. NordVPN: VPN features compared 📱
While both VPNs come equipped with the essential apps and tools, NordVPN edges it slightly over ExpressVPN given it offers a wider array of advanced features. For instance, with Nord, you'll be able to utilise advanced connection types like Tor over VPN, multi-hop, stealth mode and ad blocking — none of which you'll find in the ExpressVPN arsenal.
But, although NordVPN technically has more servers, ExpressVPN does offer secure access through more than 90 countries, and that's substantially more locations than is available with NordVPN.
| | | |
| --- | --- | --- |
| | NordVPN | ExpressVPN |
| Servers | 5,000+ servers / 50+ countries | 3,000+ servers / 90+ countries |
| Apps (PC, Mac, Android, iOS, Linux, Fire TV) | ✅ | ✅ |
| Features | Kill switch, split-tunneling, private DNS, Tor over VPN, multi-hop, dedicated IP, obfuscation, LAN invisibility, Smart DNS | Kill switch, IPv6 leak protection, split-tunneling, private DNS |
| Works with Netflix | ✅ | ✅ |
| Works in China | ✅ | ✅ |
| Torrents | Designated servers | All servers |
| Max. connections | 6 | 5 |
| Browser plugins | ✅ | ✅ |
| Smart DNS | ✅ | ✅ |
| Tracking & malware protection | ✅ | ❌ |
Which VPN has the most servers?
NordVPN destroys most competition with over 5,000 VPN servers on its network.
Though ExpressVPN is not too shabby either with its 3,000+ nodes.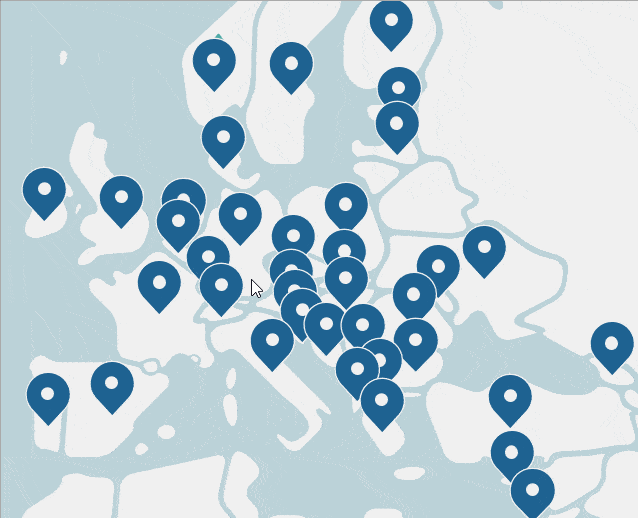 However, ExpressVPN provides VPN access to 90+ countries, compared to NordVPN's 50+ locations mix.
Which VPN is the easiest to use?
Both ExpressVPN and NordVPN have built their VPN clients with ease of use in mind.
So, even if you're not familiar with VPNs, you won't have any trouble using either application.
Perhaps ExpressVPN has a slightly more simplistic interface — with a big, straightforward Connect button.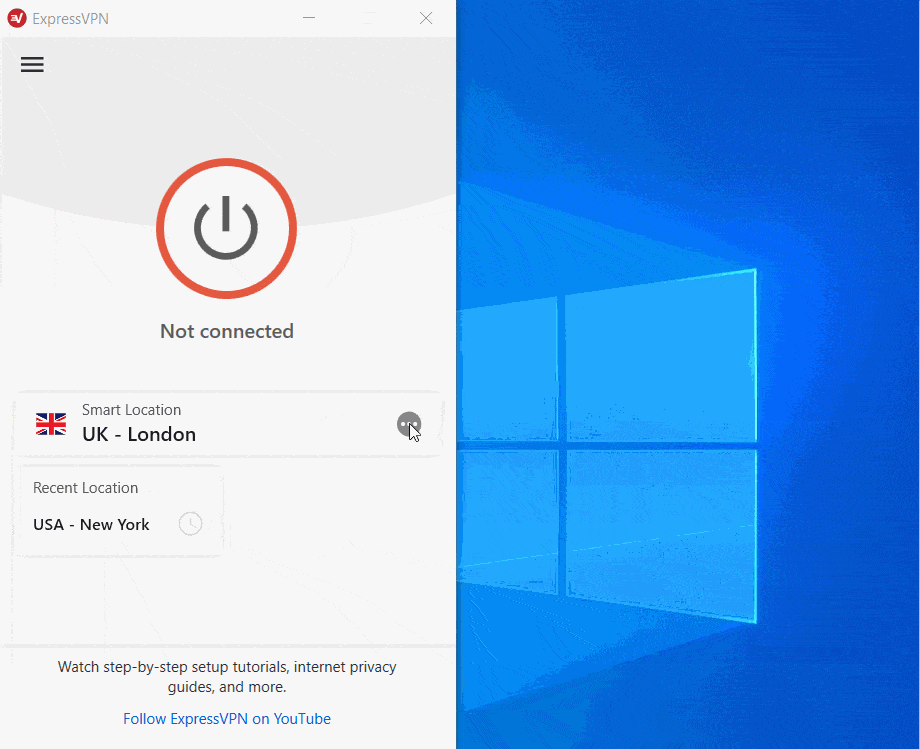 But NordVPN's UX isn't all that complicated either, as you have an interactive map with which you can quickly and easily select your preferred VPN server.
Both providers have apps for popular operating systems and devices, including Windows PC, Apple Mac, Android, iOS, Linux, Android TV plus proxy extensions for Chrome and Fire web browsers.
NordVPN vs ExpressVPN: which VPN works with Netflix? 📺
Not all VPNs are capable of unblocking Netflix. However, NordVPN and ExpressVPN are both examples of VPN services that do work with the hugely popular streaming service.
And, as both providers support great speeds, you'll almost certainly enjoy an excellent Netflix streaming experience.
Below is an example of NordVPN's compatibility with Netflix US.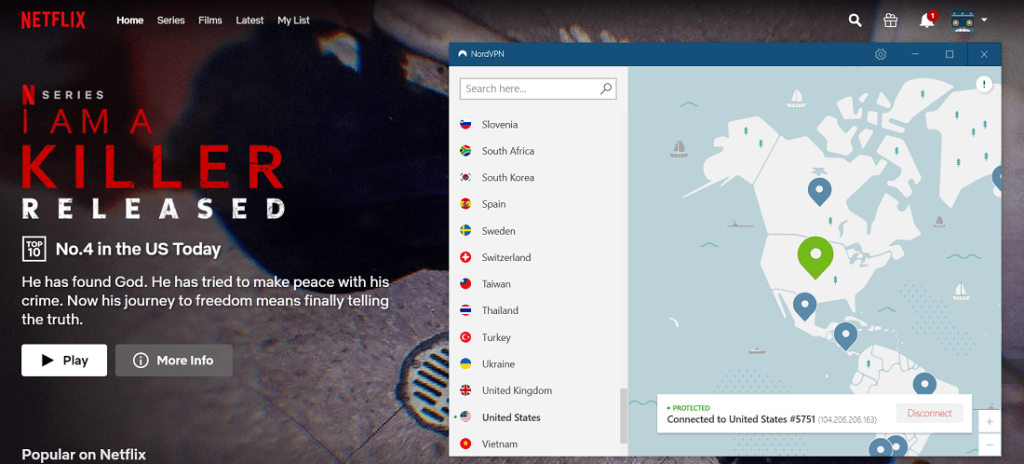 And in the next screenshot is a confirmation that ExpressVPN works with Netflix.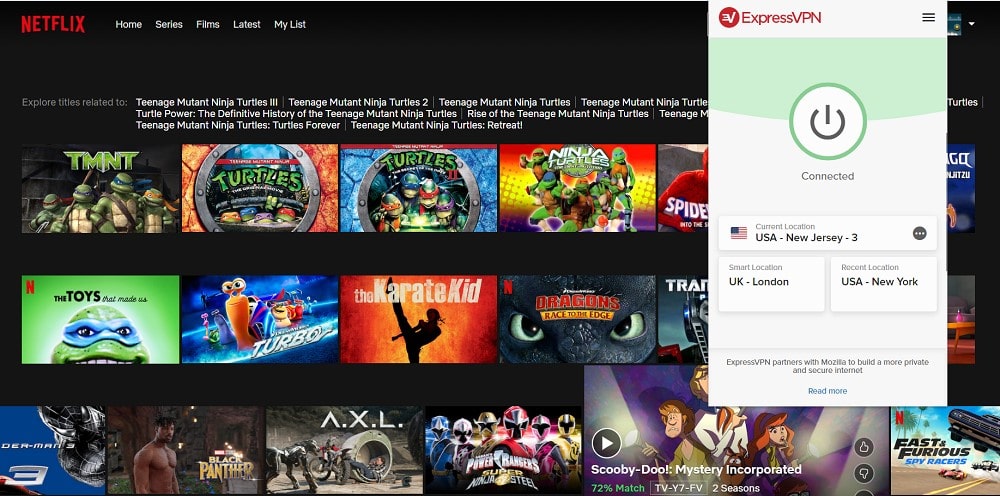 You can also expect the same compatibility with other streaming services, including Hulu, Amazon Prime Video, and Apple TV+.
The verdict: Both services are great options and are two of the best VPNs for Netflix.
NordVPN vs. ExpressVPN: which VPN works in China? 🐼
Despite the fact very few VPNs work in China, both NordVPN and ExpressVPN are indeed among those services that can be used to access restricted web content in the country.
With NordVPN, you'll need to enable the obfuscation feature — also known as 'stealth' mode — which currently only works with OpenVPN connections and unfortunately isn't supported with the faster NordLynx protocol.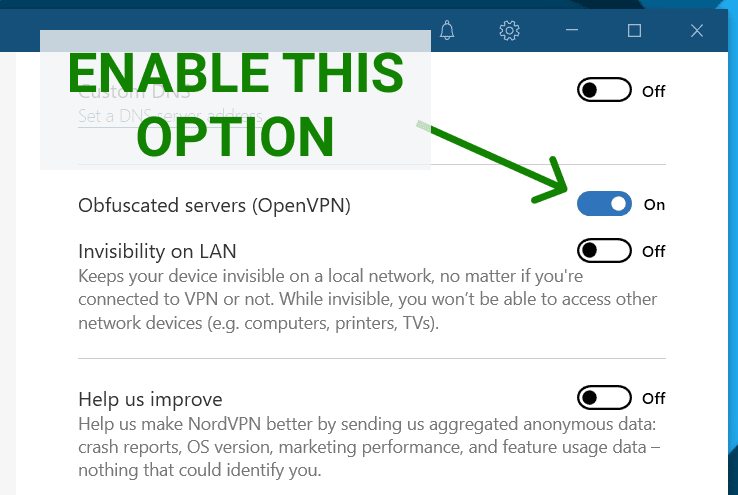 If instead you opt for ExpressVPN, there's nothing specific in its app settings that requires switching on. Meaning the service is good try and use in China.
Now, it's important to mention that no VPN is guaranteed to always work in mainland China, as the Great Firewall is designed to sniff out even the latest methods of bypassing its restrictive network environments.
Therefore, now and again, you should still expect to encounter some connectivity issues.
NordVPN vs. ExpressVPN: which is safer for torrenting? 📁
Another common service aspect between ExpressVPN and NordVPN is that both VPNs allow P2P traffic on their networks. And given neither service is known for IP leaks, they're therefore both considered safe for torrenting.
ExpressVPN, in fact, permits torrent traffic on any of its VPN servers.
And if you check your torrent IP — which is always recommended while using the service — you'll see it should match with that of the new IP address assigned to you by ExpressVPN.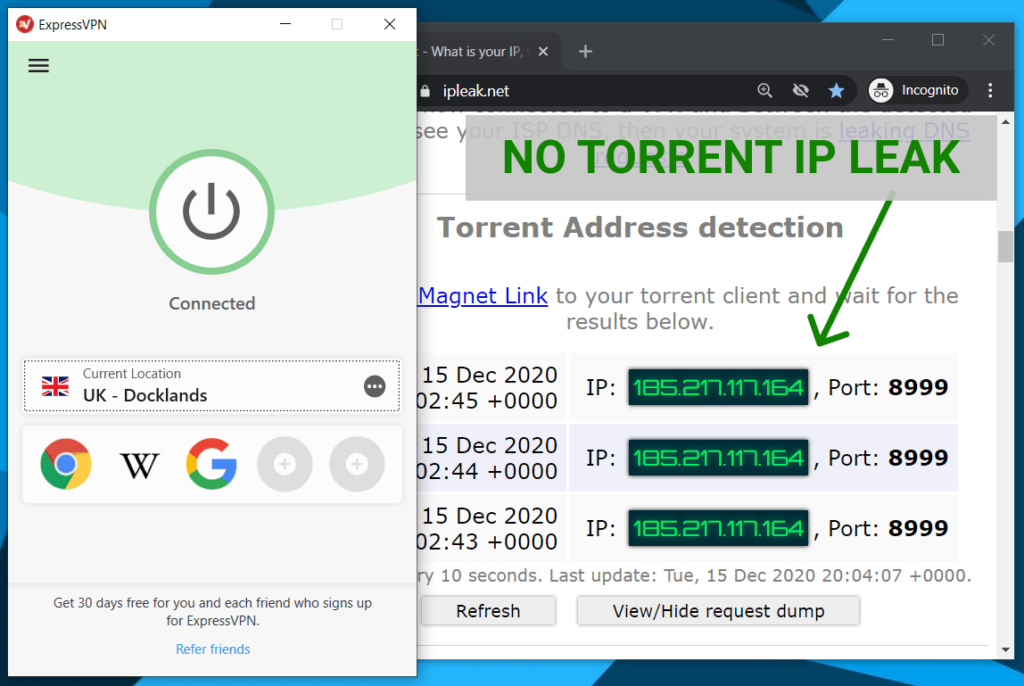 NordVPN, on the other hand, provides 'speciality' P2P servers that are easy to locate in its app, to which you'll need to connect to in order to torrent safely.
At the time of writing this NordVPN vs ExpressVPN comparison guide, the Panama-based service offers more than 40 P2P-friendly country locations.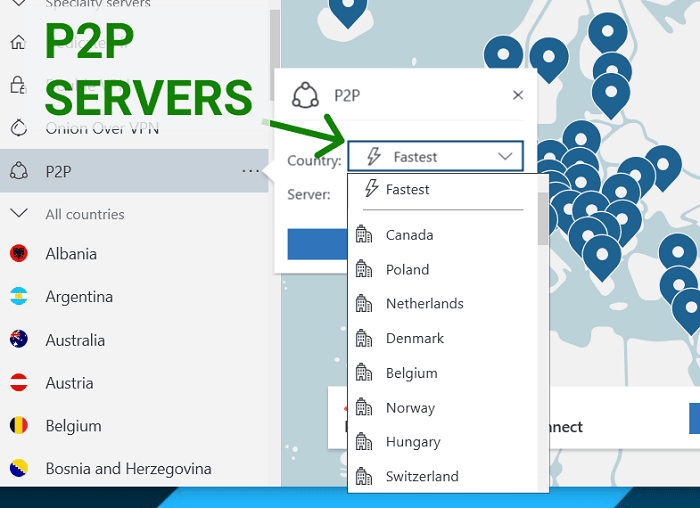 And, much like with its rival, our own NordVPN tests had shown it's not prone to torrent IP leaks, meaning it's safe to torrent with.
Nord vs. ExpressVPN: which is cheaper? (NordVPN) 🛒
When it comes to price, NordVPN offers the better deal with its cheapest offer at $3.71 per month for the two-year plan.
Plans & offers compared
Although Nord's two-year plan is not the shortest of commitments, it will save you 68% from the original monthly price for one of the highest rated and most secure VPNs on the market.
And regardless of which plan you opt for, you'll snag the bigger discounts with NordVPN.
In the best-case scenario with ExpressVPN, you can get a reduced cost of $8.32 per month for 12 months of service — saving you 35%. It is to this day one of the more expensive VPNs you can get.
Which VPN has a free trial: ExpressVPN or NordVPN?
Although NordVPN and ExpressVPN do not have a limited free VPN plan or a free trial, unlike, say, Windscribe or ProtonVPN, they do both offer a risk-free 30-day grace period.
This is based on their 'money-back guaranteed' policies, and it means that if you're not happy with the service, you can request a full refund from the provider.
ExpressVPN vs NordVPN: which VPN offers the best support?
In terms of support for any kind of troubleshooting or customer queries, NordVPN and ExpressVPN are both standard setters, offering 24/7 help via live chat or email to all users, when in need.
| | | |
| --- | --- | --- |
| | NordVPN | ExpressVPN |
| Live chat | ✅ | ✅ |
| Email | ✅ | ✅ |
| Phone | ❌ | ❌ |
| Video tutorials | ✅ | ✅ |
| Self-help knowledge base | ✅ | ✅ |
Both of these providers offer live chat and email support with fairly quick response times.
Neither offer phone support, which in any case is a real rarity among VPN companies. Though certain providers — like IPVanish and HideMyAss — do in fact offer phone contacts with to be able to reach their support agents on.
We tested contacting both Nord's and ExpressVPN's support teams on many occasions in the past, and have never experienced any issues with slow replies or unhelpful agents.
In all instances of us contacting both providers' customer support teams, we were able to get answers or help with our queries.
What's also worth mentioning is that both VPNs regularly publish video tutorials as well as various technical guides on their respective YouTube channels and self-hosted knowledge bases.
As both providers boast enormous numbers of users, you will likewise have a good chance of finding answers to technical questions (and not only) on external forums and websites such as Reddit — which we'll talk about in the next section.
NordVPN vs ExpressVPN Reddit reviews: what do other users say?
Expectedly, when checking for how other people compare NordVPN and ExpressVPN on Reddit, user feedback is full of mixed reviews.
Reddit user review #1
In this first example we found, the user has a few incorrect statements in that ExpressVPN offers more servers (it doesn't), allows a maximum of 3 simultaneous connections (it's actually 5) and that one of its key distinctions is the ability to run it through a router, when in fact the vast majority of VPNs support router connections. That includes NordVPN.
But what we definitely agree with this user on is that NordVPN's pricing beats that of ExpressVPN. And that in general, 'you can't go wrong with either' service.

Nord's price is simple killing Express VPNs. Express has more servers and more countries to select from. I'm a happy express user but honestly don't think you can go wrong with either. Nord also has a higher level of security, a built in ad blocker, & let's you use 6 separate connections (only 3 for Express). But at the same time, you can set up express's router feature & literally have your whole WiFi connection protected. Honestly don't know either 🤷‍♂️ lol

Source: Reddit.com
Reddit user review #2
This Reddit user claims to to have been subscribed to both VPNs, and that NordVPN turned out to be the faster service.
They mentioned they won't be renewing the subscription with ExpressVPN.

I have both and for my usage NordVPN has been faster AND cheaper. I will not renew my ExpressVPN subscription.

Source: Reddit.com
Reddit user review #3
Whereas this user's preference lies with ExpressVPN, beginning initially with its friendly user experience.
Like the majority of other Reddit users whose comments we scanned, this person also acknowledges that NordVPN's speeds were somewhat faster.
However, they experienced better, 'negligible' latency (i.e. ping response) with ExpressVPN as opposed to with Nord.

I bought ExpressVPN just because it's easier for an end-user, but found that it offers a fair bit more too. EVPN also offers firmware for some routers that'll connect all devices connected to the network to the vpn, which I use.

I think Nord is a little faster, but the latency is negligible with ExpressVPN in comparison with no VPN whereas for me personally, NordVPN is a fair bit higher.

Source: Reddit.com
Of course, this feedback came from all of three users, so it's qualitative at best.
Plus, because comments on Reddit about VPNs frequently come from non-genuine reviewers, often with a mission to discredit certain providers, it's important to take these sort of posts with a giant pinch of salt.
Which is the best — NordVPN or ExpressVPN? 🏆
Winner: NordVPN
Why NordVPN is better
Why ExpressVPN is better

It's the cheaper VPN


Faster connection speeds


More features (stealth, multi-hop, Tor, Smart DNS, ad blocker etc)


Offers dedicated IPs


More connections (up to 6)

'No-log' policy proven in court


More countries (90+)


Allows torrenting on all servers


Extremely easy to use


Includes app for Chromebook


Without a doubt, both products continue set themselves as benchmarks for the VPN industry. And it was genuinely difficult to pick just one winner between NordVPN and ExpressVPN.
So, as we mentioned at the very beginning of this comparison guide, it's the fine margins that differentiate these two world-class VPNs.
ExpressVPN nonetheless supports top download speeds, has a bullet-proof and fully verified 'no-log' claim and offers VPN access to almost one hundred country locations.
We also really like the fact its apps are not overloaded with bells & whistles. In a nutshell, it's a VPN service that gets all the basics right.
But, on the hand, NordVPN hardly lacks in any of those departments either.
Moreover, it's a clear winner when it comes to speed and equipping its users with a wider array of advanced privacy features — from multi-hop to Onion over VPN.
Lastly, and perhaps — most importantly, it will cost you less.
For us, NordVPN comes out on top.
Best NordVPN deal: 2 years for $3.71 per month (-68%) 👉 GET OFFER
NordVPN vs ExpressVPN FAQs
Still thinking? We've answered a few more common questions about ExpressVPN and NordVPN.
Why are VPNs used at all?
Although VPNs have a wide range of uses, the main reasons why people use them today are to mask their IP location, hide online activity from ISPs, bypass online censorship and to unblock geo-restricted content.
Can NordVPN be tracked?
NordVPN provides strong encryption plus DNS leak protection, which means your web traffic and queries are effectively anonymised. At most, your ISP will only be able to see that you're using a VPN but will not have detailed visibility over your actual online activities.
Can ExpressVPN be trusted?
ExpressVPN runs with a proven zero-log privacy policy, plus it's based in the British Virgin Islands, which means the company is not obliged by law to retain any user data. This makes ExpressVPN one of most secure VPNs on the market.
Which NordVPN servers work with Netflix?
Depending on which regional library you want to access with the help of the VPN, you can connect to any NordVPN location to be able to stream Netflix content.
Will ExpressVPN work on Firestick?
ExpressVPN is fully compatible with Amazon Fire TV sticks and Fire TV. To use its VPN with firesticks, you will need to download the ExpressVPN app from the Amazon Appstore.