Private Internet Access (also known as PIA) is a widely popular VPN service. For a long time, PIA had been dubbed as one of the most secure VPNs on the market, largely thanks to its strict 'no-log' policy and strong encryption.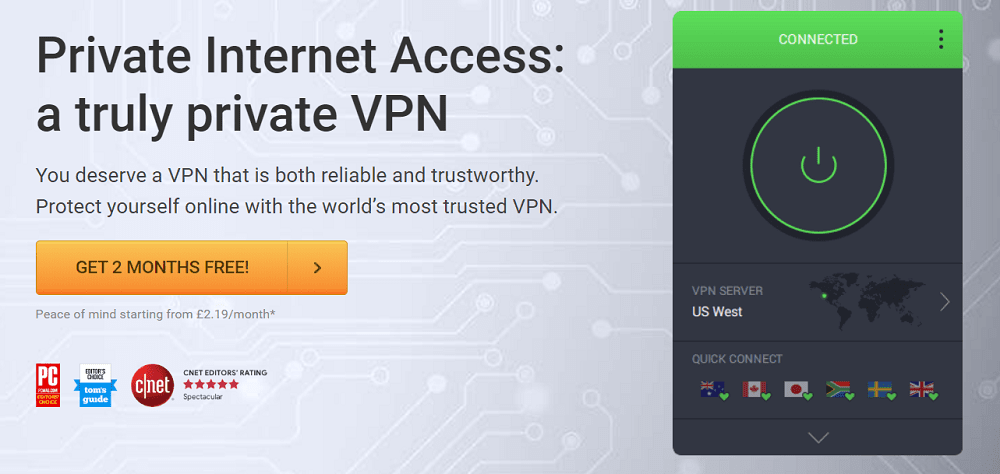 Historically, PIA impressed many a customer with its easy-to-use VPN apps plus consistent performance across its large, worldwide VPN network. Moreover, it has always been one of the cheaper VPN options available.
But do all of these attributes still hold true? In my Private Internet Access review, I explored the ins and outs of this VPN.
In this guide 🔎
Read on to find out if PIA still remains one of the recommended VPNs for price, speed, privacy and features.
PIA VPN overview
| | |
| --- | --- |
| 🏷 Price | $2.69 /mo. |
| ⚡ Speed | 345 Mb/s |
| 📃 Logs | None (verified) |
| 📍Based in | United States |
| 📱 Apps | PC, Mac, Android, iOS, Linux, Chrome, Firefox, Opera |
| 🌎 Servers | 12,400+ in 70+ countries |
| 🔐 Protocols | OpenVPN, WireGuard, L2TP/IPSec, PPTP |
| ⚙️ Features | RAM-disk servers, AES-256-bit encryption, kill switch, snooze, port forwarding, SOCKS5, Shadowsocks |
| 🍿 Netflix | Yes |
| ⬇️ Torrents | Allowed |
| 🇨🇳 Works in China | No |
| 🆘 Support | Live chat, email, forum |
| 🆓 Free trial | No |
| ↩️ Refunds | 30 days |
| 🌐 Website | PrivateInternetAccess.com |
What is Private Internet Access?
Private Internet Access (PIA) is a popular, open source VPN and proxy service offering a range of internet security features available through its paid subscription.
PIA is a veteran on the VPN market, and boasts having an incredibly large, core fanbase, which is evident by the amount of PIA-related posts you'd find on popular forums like Reddit.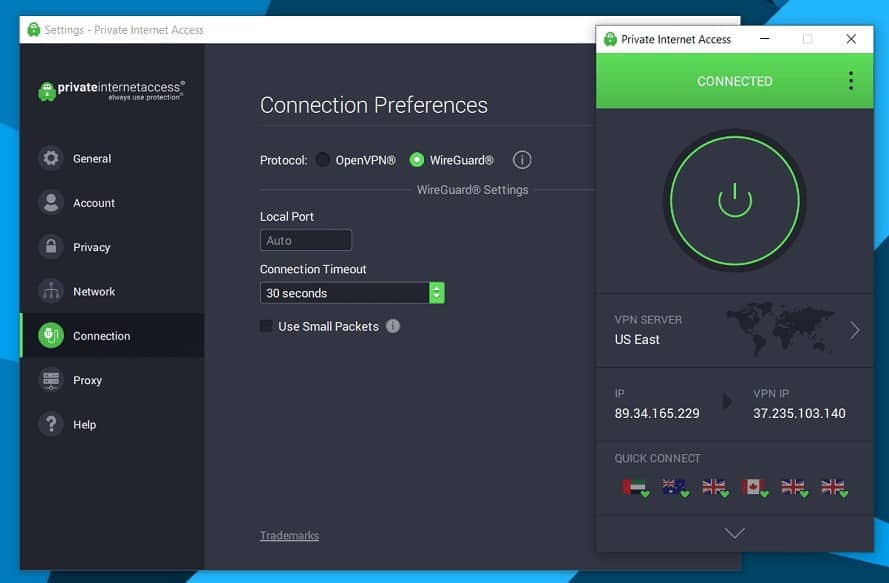 It is a proven 'no-log' VPN service, operating out of the United States where it is not subject to mandatory data retention laws. However, its home jurisdiction is a founding member of the Five Eyes surveillance alliance.
Some of its advanced security features include PIA MACE (ad & malware blocker), 256-AES (GCM or CBC) encryption, Eliptic Curve Cryptography for OpenVPN, split-tunnelling and the traditional kill switch.
Additionally, PIA supports the emerging WireGuard protocol, paving way for even faster VPN speeds that you'd normally get with a typical OpenVPN connection.
PIA was acquired in 2019 by publicly listed company – Kape Technologies, and I'll cover the details surrounding the controversial takeover later in this Private Internet Access review.
Price – how much does PIA VPN cost?
PIA VPN offers three subscription plans. They are – monthly, yearly and biennial (i.e. two years).

2 year plan (includes 2 months free)
The recommended plan with the biggest savings is the two-year subscription, which comes with two months of service free. It costs $69.95 for every two years – that's the equivalent of $2.69 per month.
With the two-year plan, you'll save 77%.
As a bonus, you'll also get two months of PIA VPN for FREE as well as a license for Boxcryptor — encryption software for securing cloud files.
1 year plan
Looking at the one-year plan, we can already see that PIA is easily one of the cheapest VPNs on the market at $3.33 per month. With this package, you'll save 72% on the standard monthly price.
Of course, this is what it would come to if you paid monthly. The payment for this plan is $39.95, which is still incredibly cheap for 12 months of premium VPN service.
1 month plan
The one-month price — $11.95 — is straightforward. This is slightly above average monthly pricing for almost any VPN , with the exception of a few more 'premium' brands out there.
PIA doesn't offer a six-month plan, but in this case I don't think it's an issue.
Private Internet Access discount (77% off)
PIA VPN offers huge savings on its two-year package.
Save 77%: Get 2 years + 2 extra months free for $2.69 per month
In addition to getting access to PIA VPN for a whole two years, you'll get two months of the service extra for free.
PIA charges an upfront payment of $69.95. From my experience, a lot of lesser-known, lower-grade VPNs offer only one year of service for the same amount of money.
Undoubtedly, this is one of the better VPN deals you'll find.
Does Private Internet Access offer a free trial?
PIA does not have a free trial available.
But, like with most other VPN services, the easiest, risk-free way to try out Private Internet Access is to sign up for one month, and then cancel the service within 30 days.
PIA will give you a full refund if you're not happy with the service.
Which payment methods does Private Internet Access accept?
PIA offers several payment options with which you can pay for your VPN subscription:
| | |
| --- | --- |
| Credit card | ✅ |
| PayPal | ✅ |
| Amazon | ✅ |
| Google Pay (through Android app) | ✅ |
| Apple/iTunes | ✅ |
| Bitcoin | ✅ |
| Ripple | ✅ |
| CashU | ✅ |
| Paygarden | ✅ |
Private internet access refund policy (30-day guarantee)
If you change your mind after signing up, PIA will provide a full refund if you make a claim within 30 days of purchase.
PIA's 30-day money-back guarantee applies to most payment methods, including cryprocurrency.
However, if you paid for the service using a gift card or through the Apple Store, you won't be able to claim for a refund directly with PIA.
Private Internet Access speed (345 Mb/s ⚡)
PIA is ridiculously fast when it comes to connection speeds. My download speeds reached a maximum of 345 Mb/s over the WireGuard protocol, making PIA one of the fastest VPNs available today.
As sceptical as I am about VPNs claiming superiority over other services, my test data actually shows that PIA sits among the best for speeds.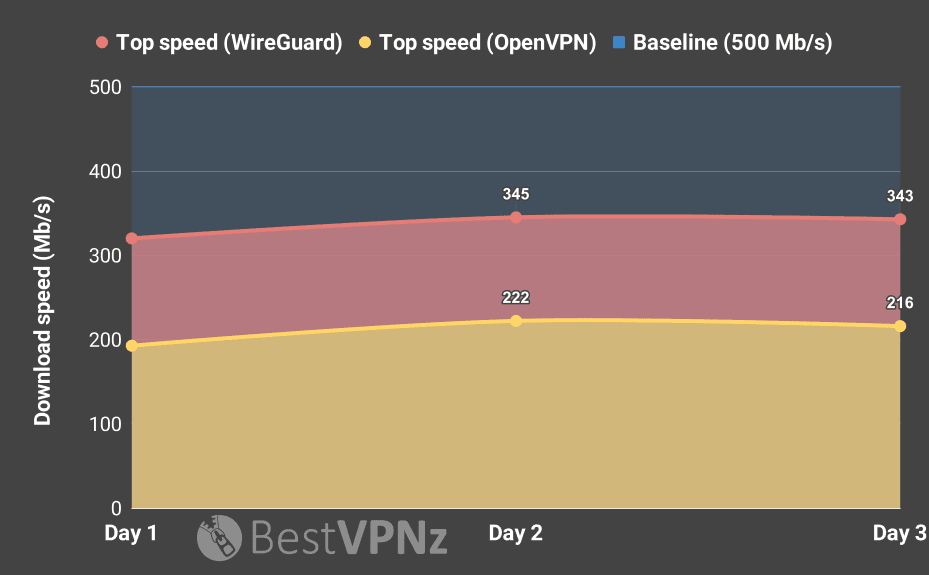 WireGuard speeds by location
Because PIA supports WireGuard – as a built-in protocol in its VPN client – you can expect lightning fast download speeds.
| | | |
| --- | --- | --- |
| Server location | Top speed | Average speed |
| United Kingdom | 345.2 Mb/s | 332.5 Mb/s |
| Netherlands | 320.2 Mb/s | 314.6 Mb/s |
| US (New York) | 125.8 Mb/s | 111.5 Mb/s |
| Canada (Ontario) | 282 Mb/s | 266.3 Mb/s |
| United Arab Emirates | 267.9 Mb/s | 254.2 Mb/s |
| Australia (Perth) | 76.4 Mb/s | 72.6 Mb/s |
Connections through my local servers enabled download speeds of up to 345 Mb/s.
But as you can see above, even far away locations to me exceeded expectations.
For instance, my speeds through Canada peaked at 282 Mb/s, which is staggering given the distance between me and that server is almost 3,500 km (and average ping of 80ms).
The average speed between all six locations was 225 Mb/s.
OpenVPN speeds by location
Yet, even if WireGuard wasn't already available, PIA's speeds over the OpenVPN protocol are also not at all shabby.
In fact, you can bargain on speeds reaching up to 222 Mb/s.
| | | |
| --- | --- | --- |
| Server location | Top speed | Average speed |
| United Kingdom | 222.3 Mb/s | 210.4 Mb/s |
| Netherlands | 196.2 Mb/s | 183.6 Mb/s |
| US (New York) | 91.3 Mb/s | 80.1 Mb/s |
| Canada (Ontario) | 86 Mb/s | 78.2 Mb/s |
| United Arab Emirates | 188.3 Mb/s | 175 Mb/s |
| Australia (Perth) | 22.6 Mb/s | 18.1 Mb/s |
On a side note, I ran all of these speed tests using a 500 Mb/s broadband connnection.
Private Internet Access is slow – how can I improve my speed?
My VPN test showed PIA is easily one of the fastest VPNs available. But even the very best VPN cannot always prevent unexpected speed drops.
I didn't experience any noticeable connection issues other than the reasonable drop-off that you'd get with most VPNs. But if you encounter this, I recommend trying out a different server or port as nine times out of ten this solves the problem.
Is Private Internet Access safe?
Private Internet Access is a proven no-log VPN meaning it doesn't log its users' traffic or connection activity and this has been verified externally. As a VPN service, it has a clean privacy track-record. My tests show PIA doesn't have any IP or DNS leaks, viruses, and that it really does encrypt web traffic data like it's supposed to.
PIA is, however, a US-based company, meaning its jurisdiction falls under the Five Eyes surveillance alliance. Plus, its takeover by a new parent company has raised privacy concerns among VPN users.
| | |
| --- | --- |
| No logs | ✅ |
| Safe jurisdiction (US) | ❌ |
| Clean track record | ✅ |
| No leaks (IPv4, IPv6, DNS, WebRTC) | ✅ |
| Strong encryption | ✅ |
| Custom DNS | ✅ |
| Obfuscation (Stealth) | ❌ |
| Passed virus scan | ✅ |
| Passed deep packet inspection | ✅ |
Does Private Internet Access keep logs?
Based on my findings, Private Internet Access is a proven 'zero-log' VPN provider.
Its privacy policy states:
The above-mentioned Personal Data is not, at any point, associated with any kind of activity done by the user inside the Private Internet Access VPN which is NOT recorded, logged or stored at all.

Excerpt from PIA's privacy policy
But it's one thing to claim being a 'no-log' VPN, and another to have actually proven it. On multiple occasions.
PIA has done just that.
PIA & FBI cases
In fact, PIA's 'zero-log' claims have been tested and verified in two, well-publicised court cases.
The first case happened in 2016 when the FBI subpoenaed PIA's parent company – London Trust Media – during its investigation into a user accused of making fake bomb threats online.
Official court records show the only information PIA could provide was a cluster of several VPN IPs supposedly used by the perpetrator.
A subpoena was sent and the only information they could provide is that the cluster of IP addresses being used was from the east coast of the United States. However, [Private Internet Access] did provide that they accept payment for their services with a vendor company of Stripe and/or Amazon.

Source: McWaters vs United States of America
During a second case in 2018, London Trust Media once again testified in court when another PIA user was on trial for hacking into the website of an online newspaper.
For a second time, PIA proved in court that it kept no logs of users' activity.
John Allan Arsenault, general counsel for London Trust Media, a VPN company, testified about how many VPN companies, including his, intentionally don't retain logs of internet activity of their clients so that they cannot be produced in response to subpoenas from law enforcement or others.

Source: Ross Colby vs United States of America
Has PIA been audited?
At the time of writing this review, PIA's privacy policy has not been audited.
However, the fact it has proven on multiple occasions in court that it doesn't have identifiable user logs means its no-log policy is as credible as it gets.
Transparency report on data requests
In addition to its verified 'no-log' policy, PIA also produces a semi-annual transparency report.
The reports archive dates back to 2018, and shows how many legal processes PIA has been involved in, detailing the number of subpoenas, court orders and warrants received by the company.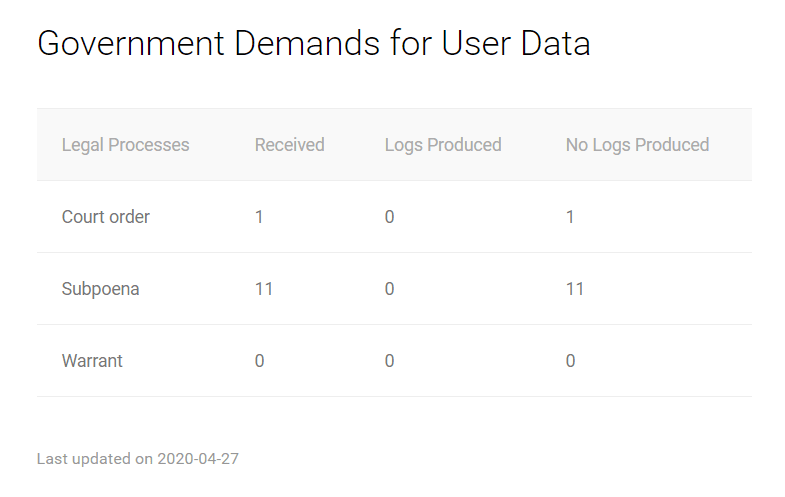 More importantly, it shows that at the time of writing this PIA VPN review, the company had produced no logs in any of the legal processes accounted for in the report.
Where is Private Internet Access based?
Private Internet Access is based in the United States. Sadly, this is a minus in terms of privacy.
Although there are no required data retention laws in the US, there are several reasons as to what makes it a risky jurisdiction for a VPN service.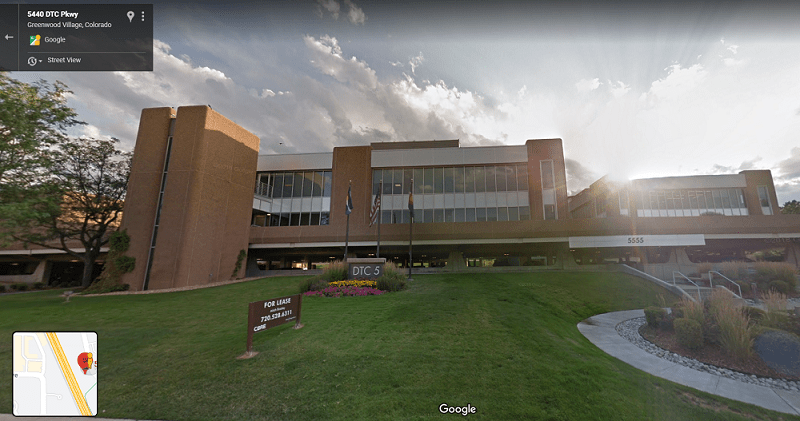 Does PIA fall within the Five Eyes surveillance network?
Firstly, the US is part of the notorious Five Eyes surveillance alliance where several of its federal agencies – from the CIA to the NSA – are involved in sharing intelligence data between members.
National security letters
Secondly, the USA Patriot Act enables the US government to issue National security letters – a type of subpoena that can require a business to log and share its user data.
Gag orders
Thirdly, US security agencies are known to issue companies with gag orders under the Foreign Intelligence Surveillance Act (also known as 'FISA'), preventing them from even disclosing received surveillance orders.
The relentless use of gag orders has even led to tech giants like Microsoft and Google to sue the US government.
However, as was the case with Twitter, these lawsuits can get dismissed. In other words, no matter how big the company is, it's not immune from the country's surveillance-happy legislation.
Although PIA's transparency report so far shows a clean track record, it's ultimately difficult to say what might go on behind the scenes.
Who owns Private Internet Access?
Private Internet Access is owned by Kape Technologies – a public company listed on the London Stock Exchange.
PIA was acquired by Kape from London Trust Media in 2019 for a reported $95.5m.
Aside from PIA, Kape also owns well-known VPN services CyberGhost and ZenMate.
The takeover, however, was mired in controversy, with many of PIA's core user base feeling London Trust Media had 'sold out' to a company with a 'shady' past.
For many, the acquisition had even spelt 'the end' for what has been long regarded a trustworthy VPN service.

I've been with PIA for years probably close now to 6-7 and was always pleased, however now that they are owned my a company know for malware (specifically adware) which is designed to track and market to these users by learning about them and creating marketing profiles I'm no longer going to use PIA.

Source: Reddit
But does the change of hands really mean bad news for PIA's user privacy?
Are its new owners – Kape – a company you can trust?
To answer these questions, I dug deeper into Kape's not so distant past.
What is Crossrider and what does it have to do with PIA?
Kape used to be named "Crossrider" until its name change in 2018.
Crossrider was initially founded in 2011 and had already completed an IPO on the LSE in 2014.
But what prompted the company to change its name?
Kape's CEO Ido Erlichman stated the rebranding effort was part of a 'strategic transformation' to take the company from the advertising business into the cybersecurity space.
The biggest problem lies in the fact that Crossrider was a known adware and malware distributor.
Crossrider adware typically infected PC and macOS systems through bundled installs of other software and even fake Adobe Flash Player installers.
It was also a top affiliate for Superfish – a major player in the once notorious 'Download Valley' ecosystem which injected ads into more than 16,000 websites, and generated $35 million in revenue in 2013 alone.
So it's easy to see why Kape's rebranding from Crossrider is regarded by critics as a move to clean up a tainted public image.
Moreover, Kape's murky past is one of the main concerns for the die hard PIA user base which, prior to the takeover, had deemed it a trustworthy VPN in a market often spoilt by false advertising.
PIA's response to privacy concerns
With many PIA users openly saying they will unsubscribe from the popular VPN, the company publicly addressed the concerns with posts on Reddit, Y Combinator and its blog.
The decision to join forces with Kape Technologies was not one that was taken lightly, and it was a decision that came on the back of extensive dialogue and due diligence by both the parties in the transaction.

Source: Private Internet Access blog
PIA insists it has done its due diligence on Kape, and that the takeover will not affect the VPN's day-to-day operations, nor its core value of "your privacy is our policy".
So what can we make of all this?
Well, undoubtedly, the jury's still out, as only time will tell if PIA truly sticks to its privacy-first mission.
No doubt, the key to this is that PIA continues to operate independently and does not start making gradual changes to its privacy policy.
If it can remain a no-log VPN in practise, then the remaining issue I see is its jurisdiction being in the US. Though, up until now, PIA has more than delivered as a secure VPN.
PIA DNS & IP leak test (passed ✅)
While I was testing PIA, one of the first things I checked was if the VPN was correctly assigning me with new IP and DNS addresses, as well as preventing potential WebRTC leaks.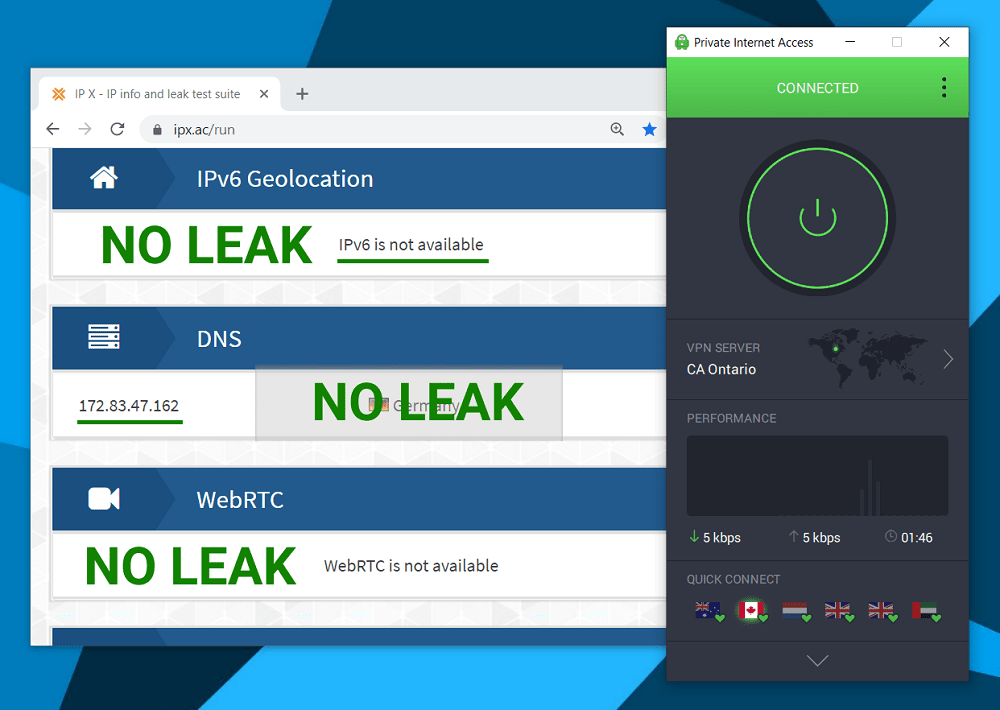 As you can see, the lookup detected no leaks whatsoever while I was connected to the VPN server.
This means PIA can successfully hide my online identity.
Is PIA safe to install? (Passed virus scan ✅)
I ran PIA's PC client through a virus scanner, which found no viruses or malware in the installation files.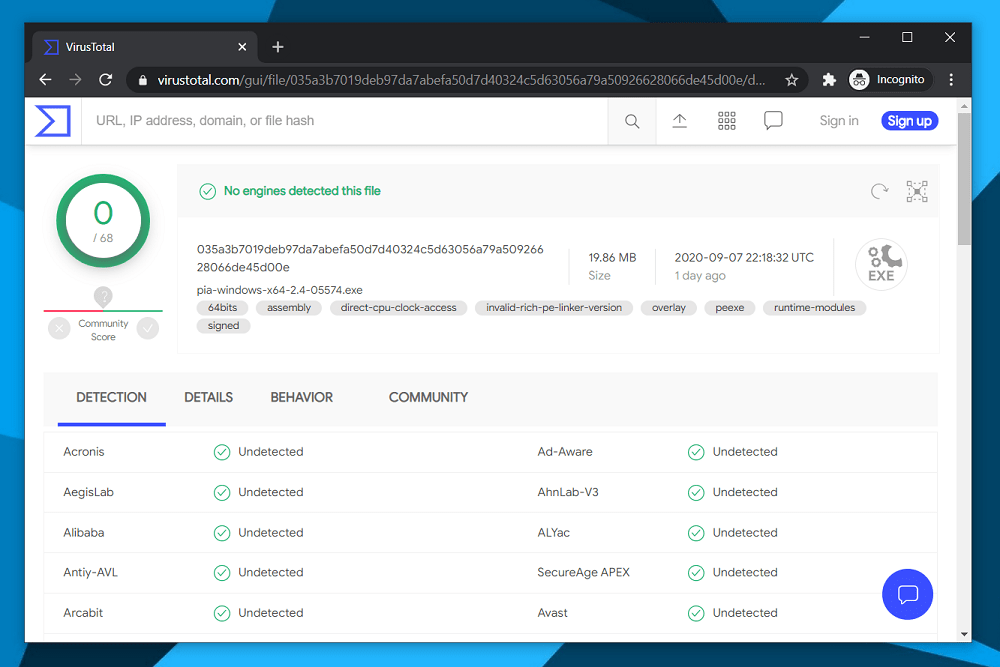 In other words, the PIA app is safe to install on your computer.
Deep packet inspection (passed ✅)
To check that PIA's encryption was working properly, I did a deep packet inspection, looking at my own web traffic while using the VPN.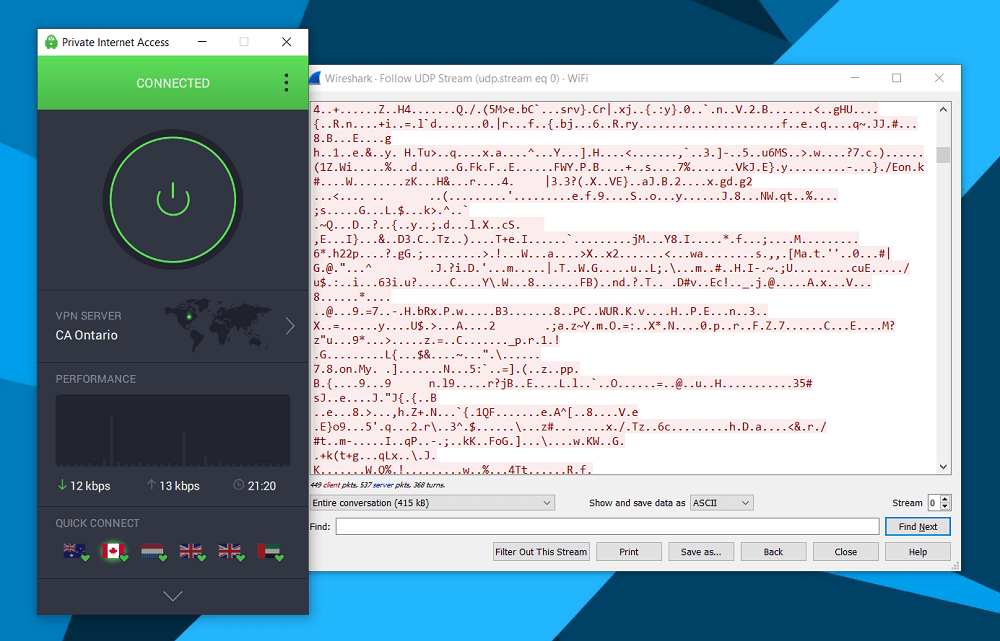 The checkup was a success, as scrambled data and random symbols was all there was to see.
This is VPN encryption in action.
More specifically, this is PIA's WireGuard protocol doing its work with ChaCha encryption.
If I hadn't been using a VPN, the data in these packets would show addresses of websites I'd been visiting, and my online activity would be visible to my ISP or potentially hackers.
How does Private Internet Access work?
PIA is very much an all-rounder VPN service, boasting a huge server network, slick apps, browser extensions and support for a wide range of platforms and devices on which you can run a VPN, like routers and gaming consoles.
| | |
| --- | --- |
| Servers | 12,000+ |
| Apps (PC, Mac, Android, iOS, Linux) | ✅ |
| Torrenting | ✅ |
| Works with Netflix | ✅ |
| Works in China | ❌ |
| Router support | ✅ |
| Max. connections | Up to 10 |

One of the first things springing to mind when using the PIA VPN client on desktop – in my case, on PC – is that the app is incredibly neatly designed.
It's just a really slick piece of software. It feels light. And the features are all easy to find.
For instance, you can pin certain features – like bookmarked servers or VPN snooze – to the main screen of the app for quick access. Very convenient.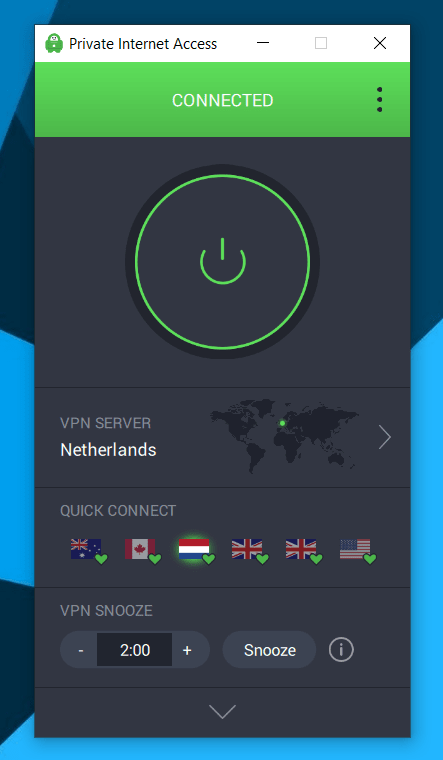 Pretty much as soon as you launch the client for the first time, it's ready to get you connected to the VPN with its default recommended settings.
Does PIA have apps for Android and iOS devices?
You can secure your mobile device with a PIA VPN connection both on Android and iOS as the provider has great apps for both operating systems.
I ran PIA for a few weeks on my own Android device, and found the experience to be smooth throughout while writing this Private Internet Access review.
You'll see the layout is pretty much identical to the desktop client in terms of its main view as well as the server selection.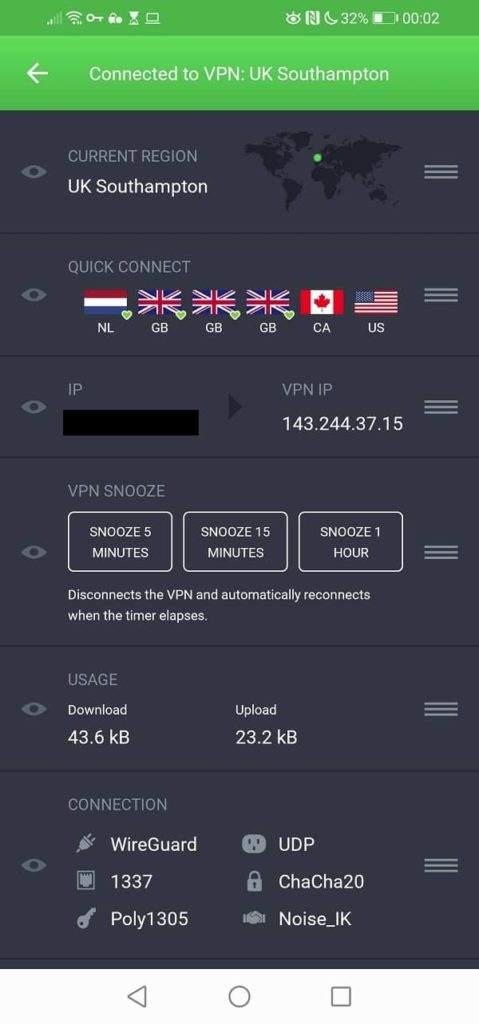 Plus, many of the features you'll find on desktop are also available on the mobile apps.
From what I found, it seems like the key features not included on mobile are PIA MACE and split-tunneling. I'll cover both of these and others further down in the review.
PIA VPN servers – which locations are available?
PIA is well known for its extensive server range and choice of locations. It operates 12,500+ servers, providing VPN access to 70+ countries including US, Canada, UK, Germany, Australia and many other global gateaways.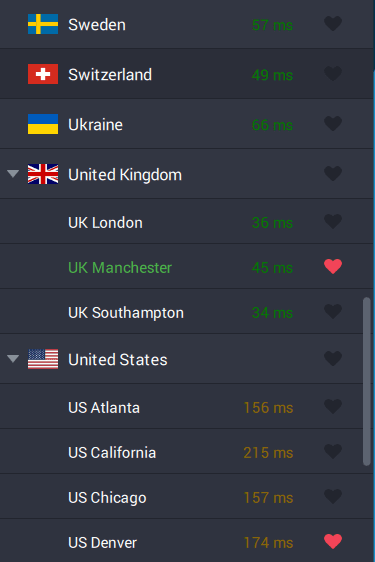 PIA's network combines both physical and virtual servers, meaning certain gateways in the more 'niche' or censored regions are in fact run through servers in other countries.
This isn't necessarily a bad thing, as the VPN still successfully spoofs your location to look like you're in one of the listed countries.
What is important, though, is that PIA labels virtual servers clearly in its client – you'll see a little globe icon next to the country along with a tooltip marking it as a 'geo-located region'.
The client has a switch to hide all virtual locations in case you don't want them to clog up the server list.
NextGen vs legacy network
In September of 2020, PIA released its "NextGen" VPN network.
The main upgrade with NextGen servers is that they use 10 Gb/s network cards compared to the 1 Gb/s cards implemented on the legacy network. It also means there's an upgrade in terms of privacy as NextGen uses RAM Disks, which means data is wiped whenever the server loses power.
Another big plus is that NextGen came with a fresh set of IP addresses. So if you've read somewhere or heard that PIA has dirty IPs that are often blocked by websites or end up prompting security captchas, this upgrade should have somewhat remedied the issue.
How secure is PIA VPN?
| | |
| --- | --- |
| RAM Disk | ✅ |
| Bare metal servers | ✅ |
| Protocols | WireGuard, OpenVPN |
| Kill switch | ✅ |
| Custom DNS | ✅ |
| Multi-hop | ❌ |
| Obfuscation | ❌ |
| Port forwarding | ✅ |
| Ad blocker | ✅ |
Advanced security features have long been PIA's strongpoint. And in recent years, it's clear the service has continued to improve.
PIA boasts a secure VPN infrastructure using bare metal servers and on volatile RAM memory instead of hard drives. Normally, only the biggest VPN providers can afford these upgrades, so it's definitely a statement by PIA.
Protocols & encryption
PIA supports a range of VPN protocols including WireGuard, OpenVPN, L2TP/IPsec and PPTP. When using PIA's own apps, the choice is between OpenVPN and WireGuard, while the other, weaker protocols are available through manual configurations through third party VPN clients.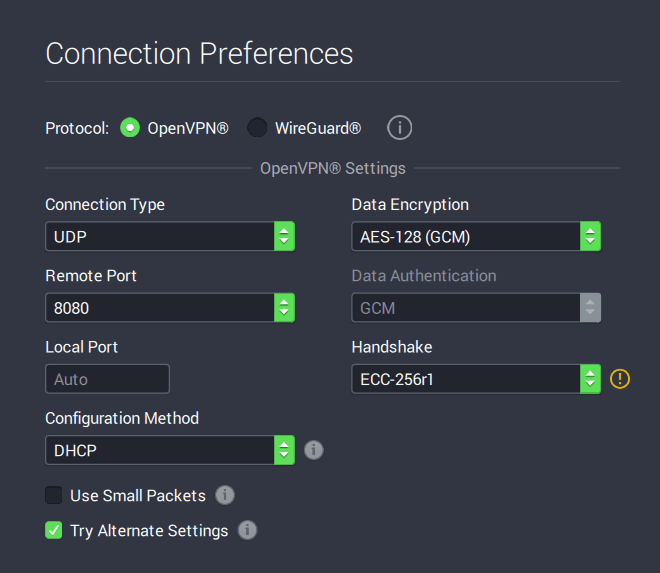 What I really like is that PIA's client lets you completely customise your OpenVPN connection preferences. For example, you can choose your own encryption cipher out of:
AES-128 (GCM)
AES-256 (GCM)
AES-128 (CBC)
AES-256 (CBC)
And if you use the CBC cipher, you can even pick between SHA1 or SHA256 authentication.
Similarly, you have the choice between six types of handshakes:
RSA-2048
RSA-3072
RSA-4096
ECC-256k1
ECC-256r1
ECC-251
What is PIA MACE?
Another interesting tool found in the VPN client and browser extension is PIA MACE.
When enabled, this feature blocks ads, malware and trackers, so it's essentially an alternative to popular adblockers like uBlock.
Private Internet Access uses the public block list at [email protected], and claims to update the list once a month.
Note – to enable MACE, you'll need to use PIA's DNS resolvers.
PIA DNS & network preferences
Private Internet Access has its own, custom DNS resolvers which is great for preventing DNS leaks or if you're not already using public DNS.
And as I covered earlier, I didn't find any leaks while using this VPN.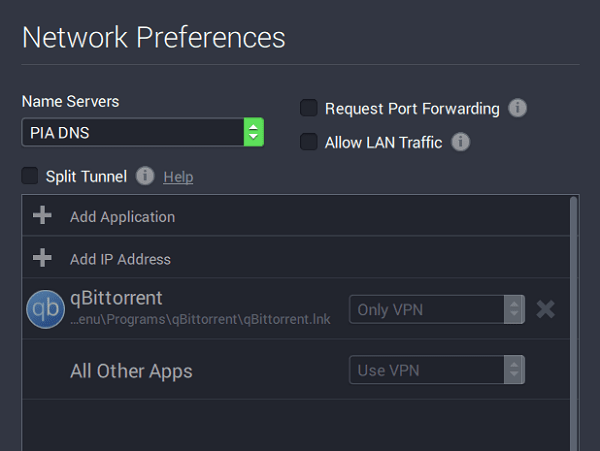 PIA also allows port forwarding, though it isn't supported across the whole network. Port forwarding is especially useful for gaming, but as it's deemed to be a security risk, I wouldn't recommend it for privacy use cases.
You can also enable split-tunneling, if needed. This feature let's you run specific apps through the VPN rather than all of them at once, or vice versa – when you can set certain applications to bypass the VPN while the rest of the connection stays encrypted.
PIA proxies – SOCKS5, Shadowsocks, browser add-ons
| | |
| --- | --- |
| Browser extension | ✅ |
| SOCKS5 | ✅ |
| Shadowsocks | ✅ |
| Smart DNS | ❌ |
Aside from PIA's VPN service, you'll also get access to several of its proxies. These are less secure but nevertheless alternative ways to change your online location.
The Shadowsocks proxy is actually built in to PIA's desktop client, and you can run it alongside the VPN. It supports just a handful of locations (UK, US West, Canada East, Switzerland and Israel), but shows you which one has the least latency.
Similarly, you can run the SOCKS5 proxy directly from within the VPN client, but you will need to enter the server address and port manually. Check here for more details on how to set it up.
Chrome & Firefox extensions
Now, PIA's browser extension is something I've really been looking forward to telling you about.
Let me just start by saying – it isn't a free tool and does require you to log in using your Private Internet Access account details. But it's absolutely more than just another proxy add-on for Chrome and Firefox.
Don't get me wrong, the proxy works very well by switching your IPv4 address to another server with ~30 odd locations to choose from. Awesome.
But the real beauty of this extension is in the settings, where you'll find a vast array of privacy, security and anti-tracking features for your browser. The screenshot you see above shows only a sample of them.
You can block Adobe Flash, WebRTC IP detection and force HTTPS connections on all websites.
Also, you can block the browser from accessing your camera, microphone and location, disable network prediction and even turn off autofill for credit card and address details. Pretty cool, right?
Furthermore, you can disable third party cookies, UTM tracking and even FBCLID – which is used by Facebook to track you when you click on outbound links from its platform.
Lastly, PIA MACE is likewise included in the extension, in case you're not already going to use it in the VPN client.
All in all, the Private Internet Access browser extension definitely got my attention and is probably the best VPN browser add-on I've used to date.
Does Private Internet Access work with Netflix? (📺Yes)
One of the biggest questions for many potential VPN buyers is whether the service they're looking at can work with Netflix.
So is PIA an ideal choice for a Netflix VPN? I ran a quick test, and the results show it is.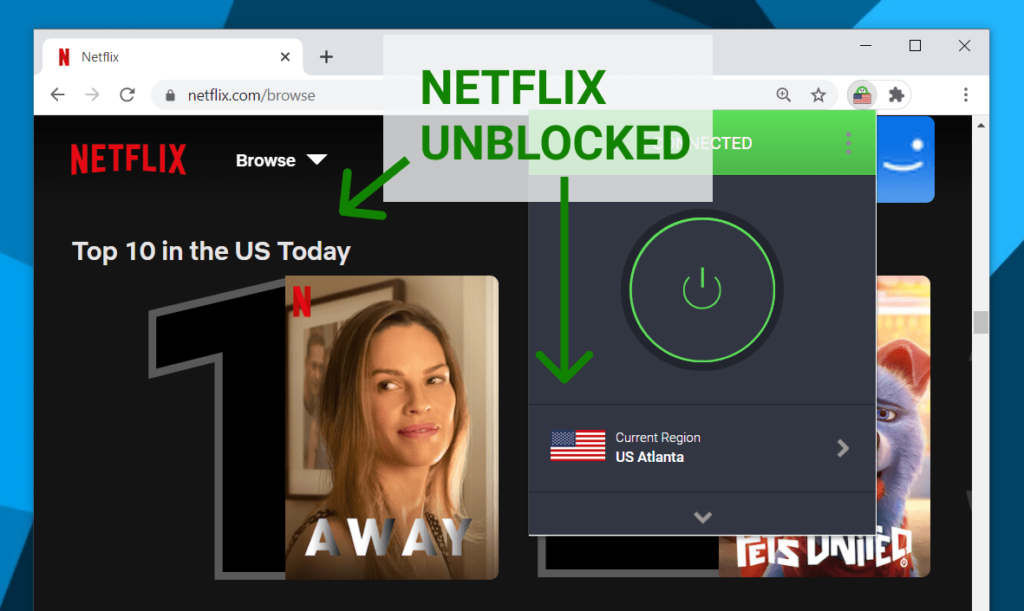 For my test, I actually used PIA's Chrome browser extension, connecting to a US server from outside of the United States. And as you can see, it worked like a charm.
Netflix not working?
Because Netflix actively blocks VPN and proxy IP addresses from being used to access its service, you might find at some point that the streaming service suddenly stops working.
To fix this, I would try changing the server, if there's another one available in the required location.
PIA & Fire TV stick (works but support is limited)
Private Internet Access doesn't fully support the Amazon Fire TV stick though it is technically possible to get them working together.
Technically, Fire TV is based on Android OS, but its architecture still has significant differences with that on mobile and tablet devices.
Here's what PIA's support agent told me:
Although we do not fully support firestick, we have a guide available for our users on how to install PIA to firestick. (sideload an APK)
How to install PIA VPN on Firestick?
There are a few steps you'll need to take to get Private Internet Access working on your Amazon Fire TV stick:
Download the PIA Android APK file to your computer
Transfer the APK file onto the Firestick via USB
Install the ES File Manager app within the Amazon interface on your TV
Install the PIA VPN application by locating the APK file using ES File Manager
Follow on-screen instructions and log in to PIA using your account details
Connect, and you're good to go!
PIA torrenting policy (allowed ✅)
You probably won't find much guidance about torrenting on PIA's website, and that's because the company operates out of the United States where copyright infringement laws are enforced more stringently than in other countries.
The short answer is – PIA doesn't block torrent traffic. But it also doesn't label any of its servers as 'P2P-optimised', like many other VPNs do. Technically, you could torrent through any available endpoint, PIA is just likely to reroute your traffic through its own designated servers.
Unsurprisingly, PIA doesn't technically provide support for this use case, but some information can be found either on Reddit or PIA's user forum.
Is PIA safe for torrenting?
My findings show PIA should be a safe VPN for torrents/P2P traffic. Below you'll see an example of a torrent IP leak test that I ran.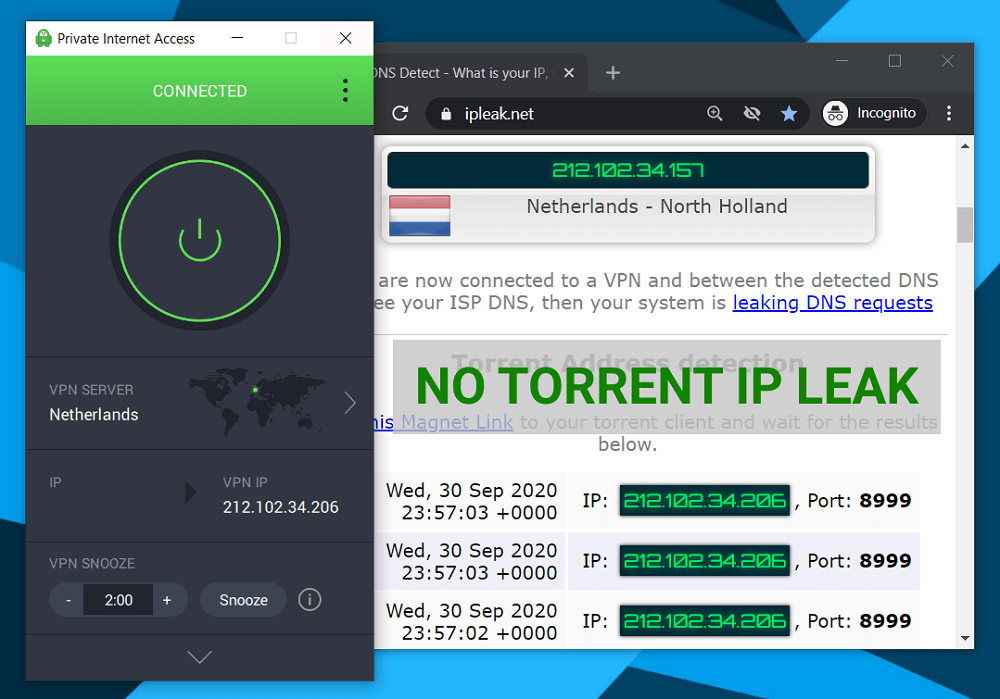 After connecting to PIA VPN, I downloaded a test torrent magnet link from ipleak.net and dropped it into my BitTorrent client. Then, I checked back on the leak test to see which IP address was being picked up – my ISP's or that of the VPN server.
And as the test shows, the IP being picked up belonged to Private Internet Access.
Will I receive copyright or DMCA notices?
Many PIA users successfully claim to use the VPN for torrenting for lengthy periods of time without any problems with their ISPs. You'll see evidence of this just by browsing forums like PIA's user community pages.
I torrent using uTorrent daily and each and every time a new release is put out. I run PIA in my router along with the socks5 proxy PIA provides. No disconnects EVER. I have been a customer of PIA for many years and am not going anywhere. You can always check your torrent ip and mine is NEVER my actual IP.

Source: PIA community
But there have been some past reported cases of customers receiving DMCA or copyright infringement notices from ISPs despite claiming to have used the VPN.
For example, this person said they received a notice even though they had been connecting to PIA's NextGen network over the WireGuard protocol.
Got one copyright notice from my ISP: Running Windows 10 and using the latest app version on the the Next Generation network with WireGuard and split tunnelling with the only app using the VPN being my torrent app.

Source: Reddit
So why did this happen?
The truth is, it's difficult to know without fully digging into the details of their VPN and network setup. But there are a couple of important steps you can take to secure your connection as much as possible.
1. Use the kill switch
Most providers, including PIA, have the kill switch feature, and it's recommended to keep it on at all times when connected to the VPN.
2. Bind the torrent client to your VPN network interface
This is an advanced feature you'll find in torrent clients like qBittorrent. It acts much like a kill switch specifically for the torrent programme in case the VPN connection drops.
Does Private Internet Access work in China?
Unfortunately, PIA is not considered to be a reliable VPN to use in China. Active VPN blocking by the Great Firewall, including PIA DNS poisoning, will make connecting in most mainland regions a choppy experience.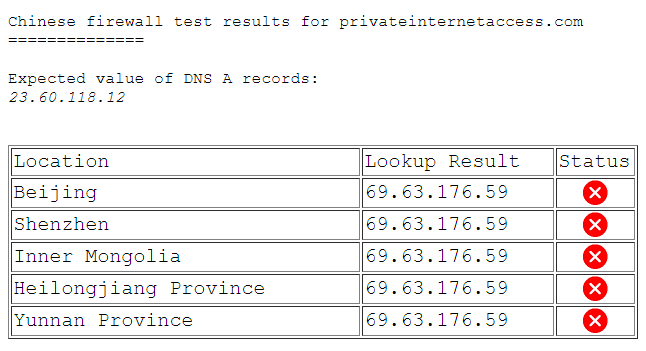 OpenVPN or even SOCKS5 proxy connections tend to get blocked pretty quickly, if not right away.
Also, as a service, Private Internet Access does not guarantee connectivity due to the network volatilities created by the firewall.
However, some users have reported success with manual L2TP connections, which, given PIA does not have the 'stealth VPN' feature, will probably be your best bet for connecting to the VPN in China.
Private Internet Access vs NordVPN
The easiest way to find out which VPN is better between PIA and the enormously popular NordVPN is to compare the two side by side. Here's how their services stack up against one another:
| | | |
| --- | --- | --- |
| | PIA VPN | NordVPN |
| Price | $2.69 /mo. | $3.71 /mo. |
| Logs | None (verified) | None (verified) |
| Jurisdiction | USA | Panama |
| Top speed (WireGuard) | 345 Mb/s | 373 Mb/s |
| Servers | 12,000+ | 5,000+ |
| No IP/DNS leaks | ✅ | ✅ |
| Works with Netflix | ✅ | ✅ |
| Works in China | ❌ | ✅ |
| Torrents | ✅ | ✅ |
| Obfuscation | ❌ | ✅ |
| Connections | 10 | 6 |
| Smart DNS | ❌ | ✅ |
| Support | Chat, email | Chat, email |
| Website | PrivateInternetAccess.com | NordVPN.com |
The main advantage with PIA over NordVPN is that it's overall a cheaper VPN. Additionally, PIA features more servers and offers up to four more simultaneous connections.
Both providers support the WireGuard protocol, though NordVPN is marginally faster. Needless to say, both VPNs are exceptionally fast with download speeds capable of exceeding 300 Mb/s.
Both are also verified as 'zero-log' VPN services. However, NordVPN's jurisdiction – Panama – makes it a preferred choice in terms of offering increased privacy.
NordVPN is also considered to be a more reliable VPN to use in China, which is helped by the fact it features obfuscated OpenVPN connections.
🏆 Winner: NordVPN
Private Internet Access vs ExpressVPN
PIA is frequently compared with ExpressVPN – a giant in the VPN industry. This is how the two compare:
| | | |
| --- | --- | --- |
| | PIA VPN | ExpressVPN |
| Price | $2.69 /mo. | $8.32 /mo. |
| Logs | None (verified) | None (verified) |
| Jurisdiction | USA | British Virgin Islands |
| Top speed | 345 Mb/s | 336 Mb/s |
| Servers | 12,000+ | 3,000+ |
| No IP/DNS leaks | ✔️ | ✔️ |
| Works with Netflix | ✔️ | ✔️ |
| Works in China | ❌ | ✔️ |
| Torrents | ✔️ | ✔️ |
| Obfuscation | ❌ | ❌ |
| Connections | 10 | 5 |
| Smart DNS | ❌ | ✔️ |
| Support | Chat, email | Chat, email |
| Website | PrivateInternetAccess.com | ExpressVPN.com |
PIA definitely has a big advantage in terms of its pricing, and it is substantially faster than ExpressVPN, making it an obvious choice for streaming or gaming.
The US-based provider also has a larger server network and allows twice as many connections.
Both are 'no-log' VPNs and have been proven to be secure, but ExpressVPN has the upper hand being based in the 'privacy haven' that is the British Virgin Islands.
🏆 Winner: Private Internet Access (just)
Make no mistake, ExpressVPN is a well regarded VPN service. I recommend checking out my ExpressVPN review for more details.
Private Internet Access Reddit reviews: good or bad?
PIA is arguably the most discussed VPN service on Reddit, and this is mainly due to its near-immaculate track-record as a secure virtual private network provider.
For the most part, you'll find positive user reviews like this one – before the company was sold to Kape:

tl;dr: PIA has been an incredibly solid, fast and reliable VPN provider for me through 2 years. Never had an issue with them whatsoever.

Source: Reddit
PIA also runs its own subreddit – /r/PrivateInternetAccess – where its staff regularly post and comment on all things related to the product.
But, as I already mentioned earlier in this PIA VPN review, the Kape takeover prompted somewhat of an exodus among the die hard clientele – many of whom voiced their privacy concerns on various Reddit communities. A lot of the unease is based on Kape's history in the adtech/adware business plus speculation over what may come next for PIA's privacy policy as well as its modus operandi.
Here are a couple of other comments I found on the site:
I'm gonna stay with it until my sub runs out or until something else bad happens. Depending on what happens from now and then, I'll choose to switch or stay.

Source: Reddit
What exactly "operate independently" remains to be spelled out in black and white terms and relayed transparently to us the million plus customers. If Kape bosses fail to understand no-logging means NO-LOGGING, then that means that all this stellar reputation PIA has rightfully acquired, will be reduced to ashes.

Source: Reddit
It's safe to say the jury's still out, and many existing, concerned PIA subscribers are currently monitoring the company's every move. As am I.
PIA support – is it helpful?
Whether you're a VPN expert or a newbie, it always helps when your VPN can offer solid technical support. Private Internet Access offers customer service in the following ways:
Live chat (24/7)
Email
User community
Online help articles & tutorials
As with all of my VPN reviews, I spoke to the provider's support team to gauge if the service is helpful when it comes to troubleshooting and getting technical guidance.
PIA's live chat looks to be geared more towards support than sales, as the required fields in the chat ask for some basic details about your connection setup.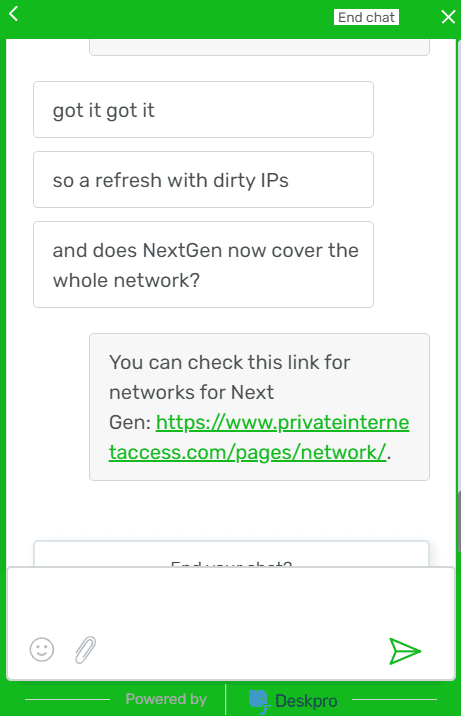 I got in touch inquiring about the NextGen servers and to find out how they're actually different from the legacy network.
The two agents I spoke with didn't immediately know the answer, referring me to blog posts which I had already seen and that didn't contain any juicy details.
Thankfully, though, the second support rep did some quick research and informed me that the main difference was a fresh set of IP addresses, which is obviously a big deal as some PIA IPs have been known to cause browsing issues due to abuse of the service by other users.
On the whole, their support is quite helpful. And, in any case, you can always check the user forum to see if your particular issue has already been raised by someone else. If not, it might be worth posting about it yourself, and you'll get a reply either from Private Internet Access or other users with know-how.
PIA VPN review – bottom line (⭐ 9.2 / 10)
Having tested Private Internet Access for several weeks on multiple devices, I can confidently recommend this VPN. Based on many hours of research and testing, I'm giving PIA a high score of 9.2 out of 10.
So why do I rate it so highly? And what did I find to be its main flaws?
👍 What I loved about PIA
Fast like Usain Bolt with speeds reaching >300 Mb/s with WireGuard
A true 'no-log' VPN – and has proven so in courts
Top security features – bare metal servers running on RAM, AES-256-bit encryption, no leaks, has ad blocker and anti-tracking tools
12,000+ servers in 70+ country gateways
Works with Netflix & allows torrents
Smooth apps

– an advanced yet simple VPN client

Excellent browser extension with proxy and tons of privacy features
Up to 10 connections allowed with each PIA account
Live chat support and the highly useful user community
Cheap for a high-end VPN at $2.69 per month on the two-year plan
👎 What are the drawbacks?
US jurisdiction means it's vulnerable to government surveillance orders
Not reliable in China, and doesn't offer resolving features like obfuscation
New parent company and its past business raise some questions on PIA's commitment to privacy
Private Internet Access alternatives VPNs
I can personally recommend PIA VPN with confidence. But in case you still have concerns or simply haven't been convinced by my Private Internet Access review, here are some alternatives worth learning more about:
Our score
User rating
Our score
User rating
Price $3.75 p/mo
Pros
Based in Romania (outside of FVEY network)
Excellent speeds (319 Mb/s)
Strong encryption & security features
No traffic logs
Works with streaming services
Allows torrenting
Secure proxy extension for browsers
Affordable price for a VPN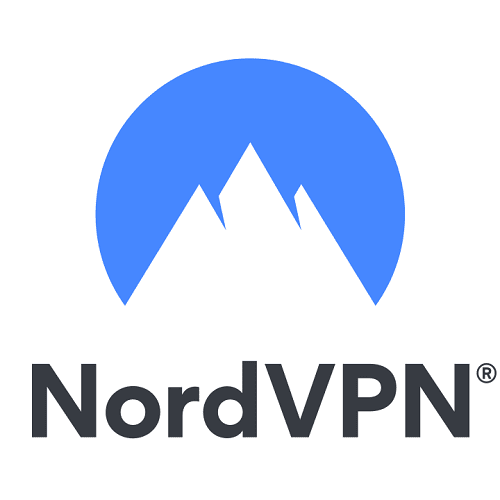 Our score
User rating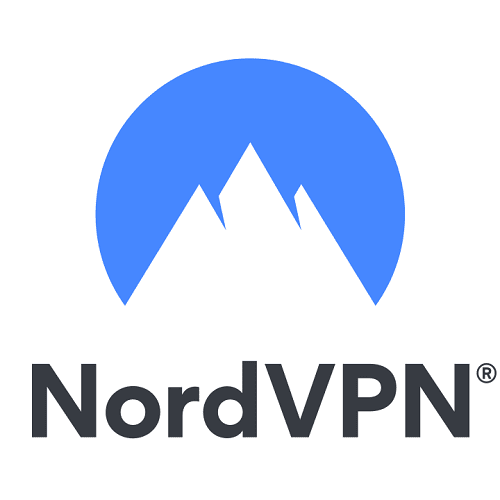 Our score
User rating
Price $4.19
Pros
Strong security features
Zero logs & no leaks
Based in Panama (no data retention)
Exceptional speeds (340 Mb/s)
Works with Netflix & other streaming services
Allows torrenting
Includes Smart DNS proxy
Works in China & has Stealth feature
Cons
No split-tunneling on desktop client
Private Internet Access FAQ
What does Private Internet Access do?
As a VPN service, Private Internet Access hides your IP address and encrypts your internet traffic, making it impossible to decipher for third parties, such as your internet provider. The provider also offers a range of proxy services which can also spoof your virtual location, minus the encryption that you'd get with a VPN connection.
Is Private Internet Access good?
Private Internet Access has long been very highly rated among VPN users worldwide due to its verified no-log policy, versatile product and excellent encryption. In addition, like any good VPN, PIA supports great connection speeds.
Is Private Internet Access secure?
Private Internet Access secures users' data with strong AES-256 (OpenVPN) or ChaCha20 (WireGuard) encryption algorithms, both of which are practically impossible to crack using modern technology.
Does Private Internet Access have DNS leak protection?
Yes. Private Internet Access gives you the option to use its own, private DNS resolvers alongside the VPN, which protect against any potential DNS leaks. Our tests also confirmed that PIA is leak-free.
Can I install Private Internet Access on my router?
Indeed, Private Internet Access works on routers, including DD-WRT, Tomato and Pfsense. The provider generally recommends to use routers with AES acceleration hardware in order to achieve optimal speeds.
How much is PIA VPN?
On the rolling mothly plan, PIA VPN costs $11.95, whereas on a yearly plan, it costs the equivalent of $3.33 per month. The biggest savings, however, come with the two-year, with which you'll get a huge 77% discount along with two months of free service as a bonus.
---
Leave your PIA VPN review 👇
Are you a Private Internet Access customer or have been a user in the past? Share your experience with us and leave your your PIA review in the comments below.