TunnelBear is a Canada-based VPN widely recognised for its cute and totally unmistakeable bear mascot. Its apps are known for their simplistic, easy-to-use design and are a great example of how VPN software has become accessible to pretty much anyone. Including those of us who are not so tech-savvy.
But does its quirky, cartoonish theme vouch for a good VPN experience that's actually worth paying money for?
My TunnelBear review looks into all of the important questions, including:
That… and so much more. So let's dive right in! 🤿
TunnelBear overview
| | |
| --- | --- |
| Based in | Canada |
| Price | Free – $3.33 /mo. |
| Speed | 183 Mb/s |
| Logs | Non-identifiable |
| Apps | Android, iOS, Windows, Mac, Chrome, Firefox, Opera |
| Features | Kill switch, Obfsproxy, Split-tunneling, ad blocker, anti-tracking, |
| Works with | Netflix, Hulu, Amazon Prime, Mobile apps |
| Torrents | Allowed |
| Max. connections | 5 |
| Free trial | Yes |
| Refunds | Case-by-case |
| Customer support | Email, chatbot |
| Website | TunnelBear.com |
What is TunnelBear?
Aside from its distinct bear mascot and healthy doses of bear-related puns, TunnelBear is well known for its fast virtual private network service that's also extremely easy to use.
It really is a matter of plug 'n play.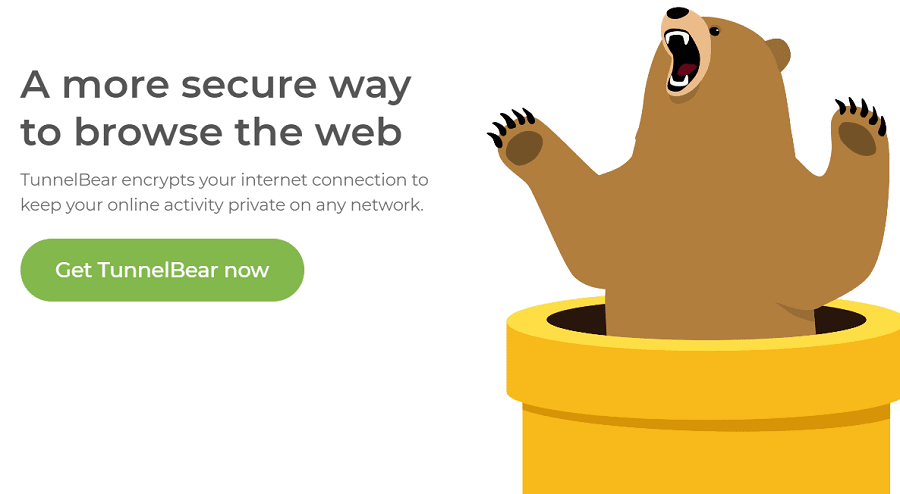 TunnelBear comes with VPN apps for PC, Mac, Android and iOS devices. But on top of the VPN, you can also make use of its proxy which comes as an extension for Chrome, Firefox and Opera browsers.
And if it's the Chrome browser you use, there's also a super handy ad blocker extension – TunnelBear Blocker. It also works as an anti-tracking tool while you browse the web.
Is TunnelBear good?
If you're shopping for a good VPN that's guaranteed to give you top speeds and a strong layer of privacy, you could probably look no further than TunnelBear.
My TunnelBear review and test showed TunnelBear is easily one of the fastest VPNs, scoring reliable download speeds in the region of 183 Mb/s (for an OpenVPN connection, this is really great).
It also operates with a 'no-log' policy and uses strong 256-bit encryption.
And when you add to the mix its user-friendly apps, TunnelBear quickly becomes a very decent choice for a VPN.
In fact, I'd say it's ideal for a first VPN.
On the other hand, if you're a more tech-savvy user who needs a bigger selection of advanced security features, then it might be worth looking at some alternatives.
TunnelBear pricing – how much does it cost?
Conveniently, TunnelBear has a simple pricing structure: You can choose between one to three years or a rolling monthly plan. The cheapest overall deal is $3.33 per month on the three-year package.
There's also a free trial giving you 500MB of data. That won't be enough to use TunnelBear regularly, but it's a convenient option if you want to give this VPN a tryout before paying.

TunnelBear's recommended plan is the three-year package. It gives unlimited use of the VPN and its cross-platform apps for $120. You will save 67% and the price would be equivalent to just $3.33 per month.
If you're not down for this lengthy a commitment, you also have the two-year option, with which you'd still cut the cost of your bill by a chunky 58%. For this plan, you'd get charged a one-time, upfront fee of $99.99, which works out to $4.17 per month.
With the yearly plan, you'll save exactly 50%, paying $4.99 per month.
TunnelBear's monthly plan – from which the above savings are deducted – costs $9.99. This is an average price for a rolling VPN contract, but unless you need VPN access for a month only, I'd recommend going for one of the discounted plans.
TunnelBear free trial (500MB of data on the house)
If you're looking for a VPN with a real free trial, TunnelBear offers one, and it doesn't require you entering your credit card details to get started.
The free VPN trial comes with only 500MB of data. It's probably enough for a quick browsing session, and gives you plenty of time to run some VPN checks of your own.
Apart from the data limit, there are no other restrictions to the VPN on the free trial.
In other words, you'll have access to all VPN servers and have the same level of security as you'd get on the paid plans.
TunnelBear coupon – save 67% on 3-year plan
It's unlikely you'll find any actual coupon codes to use with TunnelBear.
But, as mentioned earlier, you can get a sizeable VPN discount when subscribing to the service for a year or longer.
The best deal you can grab with TunnelBear is through its three-year plan, which will automatically reduce the original monthly price by a hefty 67% discount.
There's no need to enter any promo code at checkout.
Accepted payment methods
TunnelBear only supports two payment methods: Credit Card and BitPay. Through BitPay you can make payments using Bitcoin.
Refund policy
On its website, TunnelBear states it offers refunds only on a case by case basis:
"TunnelBear may offer refunds on a case-by-case basis. If you are unsatisfied with your purchase for any reason, you can request a refund by contacting our friendly Support Bears."

Source: TunnelBear.com
Now, although this policy might seem somewhat vague, it does make sense as this provider offers a legitimate free trial. And undoubtedly, the free trial is there to also weed out any abuse of the classic 30-day 'money-back' policy you'll see offered by most VPN services.
So the best way to convince yourself whether TunnelBear works for you or not is to sign up for the free trial.
TunnelBear speed: ⚡ 183 Mb/s
TunnelBear is one the FASTEST VPN service I've tested with the OpenVPN protocol, reaching maximum download speeds of 183 Mb/s. Though, it currently doesn't support the emerging and even faster WireGuard protocol.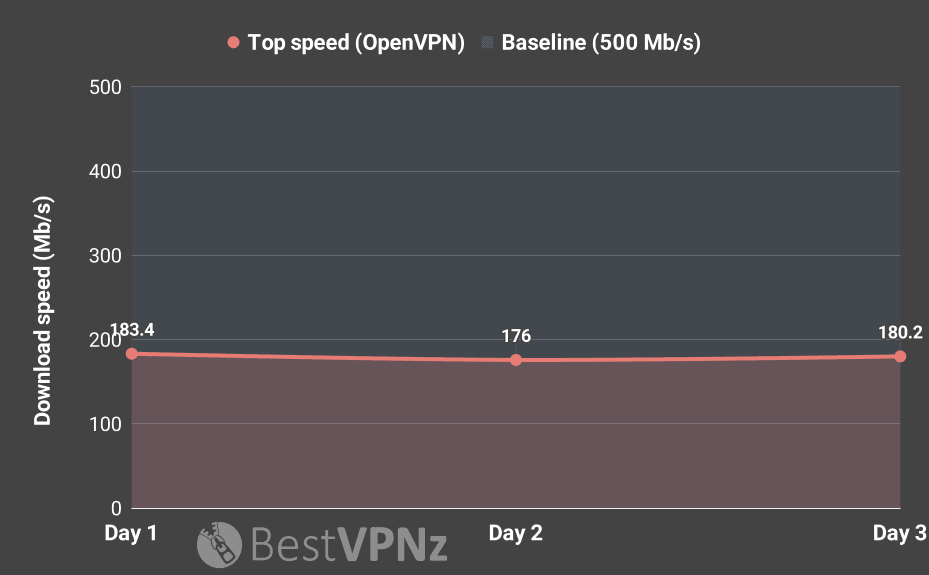 As you can see in the chart above, TunnelBear reaches very decent speeds when testing with OpenVPN.
Keep in mind, however, you will likely get even better speeds with VPNs that do support WireGuard connections.
OpenVPN speeds by location
I ran my speed tests through six international VPN locations – UK, Ireland, US (east), Canada (east), Singapore and New Zealand.
My baseline internet speed – with which I tested Tunnelbear – was 500 Mb/s.
| | | |
| --- | --- | --- |
| Server location | Top speed | Average speed |
| United Kingdom | 183.4 Mb/s | 179.9 Mb/s |
| Ireland | 154.5 Mb/s | 140.3 Mb/s |
| United States (New Jersey) | 119.6 Mb/s | 114.1 Mb/s |
| Canada (Ontario) | 150.4 Mb/s | 140.9 Mb/s |
| Singapore | 120.4 Mb/s | 110.7 Mb/s |
| New Zealand | 58.5 Mb/s | 53.2 Mb/s |
Expectedly, the top download speed was through a nearby server (UK), reaching 183 Mb/s.
But even with far-away locations from me, like Canada and Singapore, I clocked speeds well in excess of 100 Mb/s – a really positive sign, especially if you'll need access to distant VPN locations.
The average speed between all locations combined was 123 Mb/s.
Is TunnelBear Safe – is it good for privacy?
TunnelBear is an audited VPN that does not store any identifiable usage logs. The company also has a good privacy track record and is based in Canada, which – despite being a Five Eyes alliance member – is still deemed a relatively safe jurisdiction for a VPN company.
The provider doesn't yet run its servers on volatile (RAM-disk memory), nor has it made its code open source. These are the two privacy aspects that would be worth improving.
Nevertheless, my research shows TunnelBear VPN is safe to install and has no leaks.
| | |
| --- | --- |
| No identifiable logs | ✅ |
| Audited | ✅ |
| Open source | ❌ |
| Safe jurisdiction | ✅ |
| Clean track record | ✅ |
| No leaks | ✅ |
| RAM-disk servers | ❌ |
| Virus & Malware-free | ✅ |
| Advanced security features | ❌ |
Does TunnelBear keep logs?
On its website, TunnelBear states it 'will never monitor, log, or sell its users browsing activity'.
It does keep some connection logs – mainly for support, maintenance and to inform product development – but none that would identify an individual user.
Logs it DOESN'T store ❌
Web traffic logs
IP address when visiting its website
IP address from the service connection
DNS queries
Logs it DOES store 📋
OS version – for user support & product development
VPN app version – for support
Whether the account has been active in the past month
Amount of data used in the past month
High-level account events (e.g. when make a payment)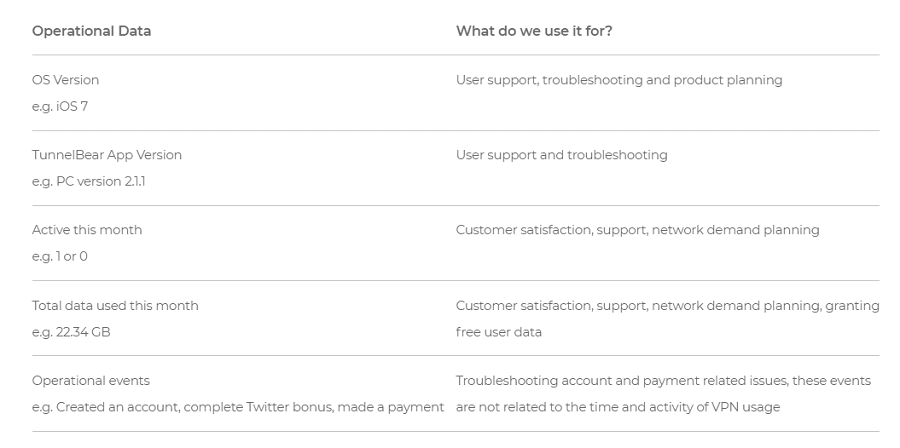 Note: In your TunnelBear account dashboard, you have the option to delete your personal data along with your account.
Where is TunnelBear based?
As a company, TunnelBear is registered as "TunnelBear LLC" in Ontario, Canada.
Canada doesn't have required data retention laws and VPN services are completely legal in the country.
Although it's a member of the notorious Five Eyes data-sharing alliance, Canada should still be regarded as an operationally safe jurisdiction for VPNs due to its advanced legal system and vocal pro-privacy lobby.
Canada is also home to well-known VPNs – Windscribe and BTGuard.
Who owns TunnelBear? (McAfee)
In March of 2018, TunnelBear announced it was acquired by publicly listed cybersecurity giant McAfee.
Although its parent-company is headquartered in the United States, TunnelBear maintains that the business and its operations have continued to run autonomously out of Canada.
Leak test (passed ✅)
Based on my findings, there are no leaks to be concerned with when running TunnelBear VPN.
As shown below, I ran a quick IP and DNS leak test, which confirmed there were no IP, DNS or WebRTC leaks found.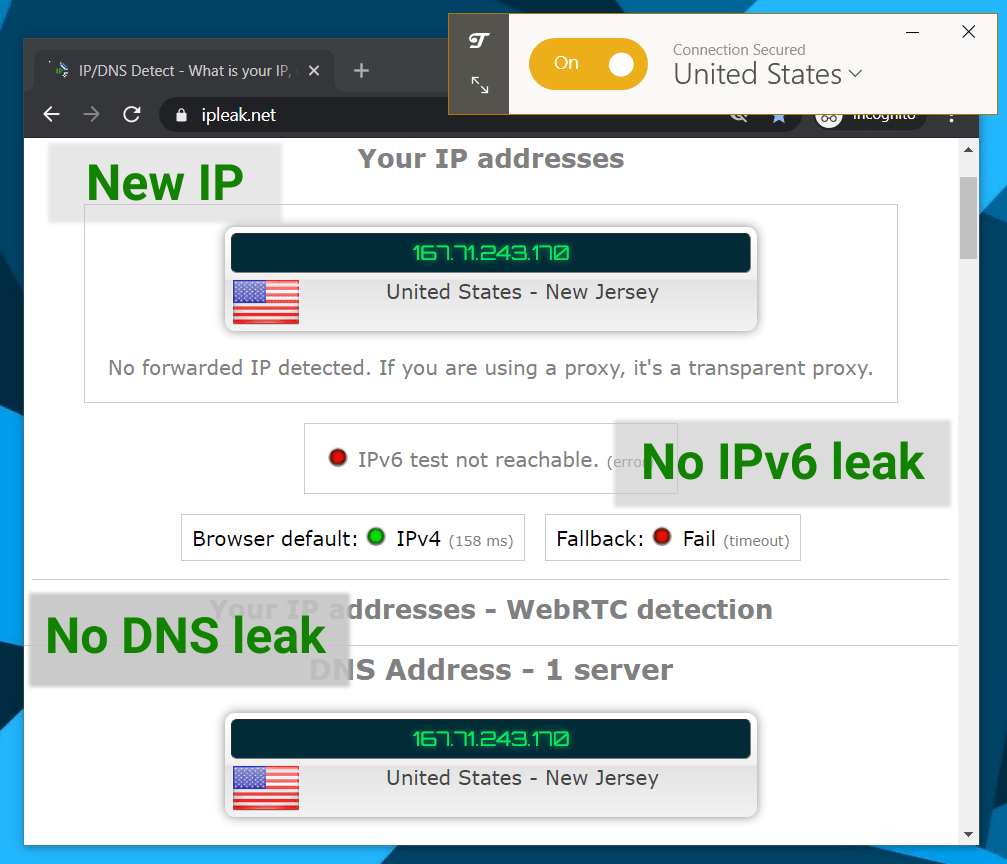 As a result, TunnelBear passed the leak test.
Virus scan (passed ✅)
Before using TunnelBear, I scanned its desktop installation file for potential security threats on VirusTotal.com
The scan didn't return any warnings whatsoever – not even false positives – meaning TunnelBear is completely safe to install.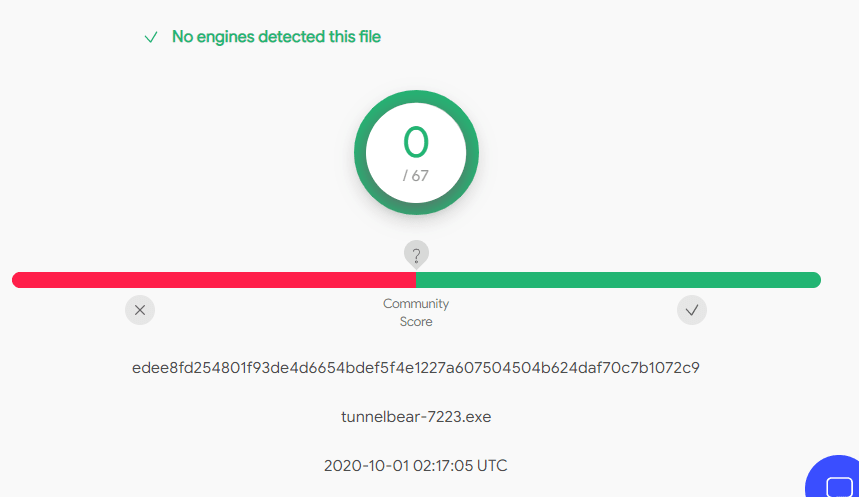 VPN protocols & encryption
TunnelBears supports OpenVPN and IKEv2 protocols, although the latter is available only on PC and iOS.
The service encrypts your data on all devices with AES-256 ciphers – the golden standard for VPN encryption.
| | | | | |
| --- | --- | --- | --- | --- |
| OS | Protocol | Encryption | Auth. | DH group |
| Windows | OpenVPN / IKEv2 | AES-256-CBC | SHA256 | 2048-bit |
| macOS | OpenVPN | AES-256-GCM | SHA256 | 3072-bit |
| Android | OpenVPN | AES-256-CBC | SHA256 | 4096-bit |
| iOS | OpenVPN / IKEv2 | AES-256-CBC | SHA256 | 2048-bit |
Note that the more secure and efficient GCM cipher is applied only on macOS, while all other systems use CBC.
For authentication, it uses the SHA256 hash algorithm.
Key exchange strength varies entirely by operating system – beginning with the 2048-bit DH group on PC, iOS and going up to 4096-bit on Android devices.
Encryption test (passed ✅)
As a rule, I'll always run a quick data packet check to make sure the VPN is working and my traffic data is not somehow being leaked.
I connected to TunnelBear and, using the network analysis tool Wireshark, inspected some of my web traffic while on the VPN.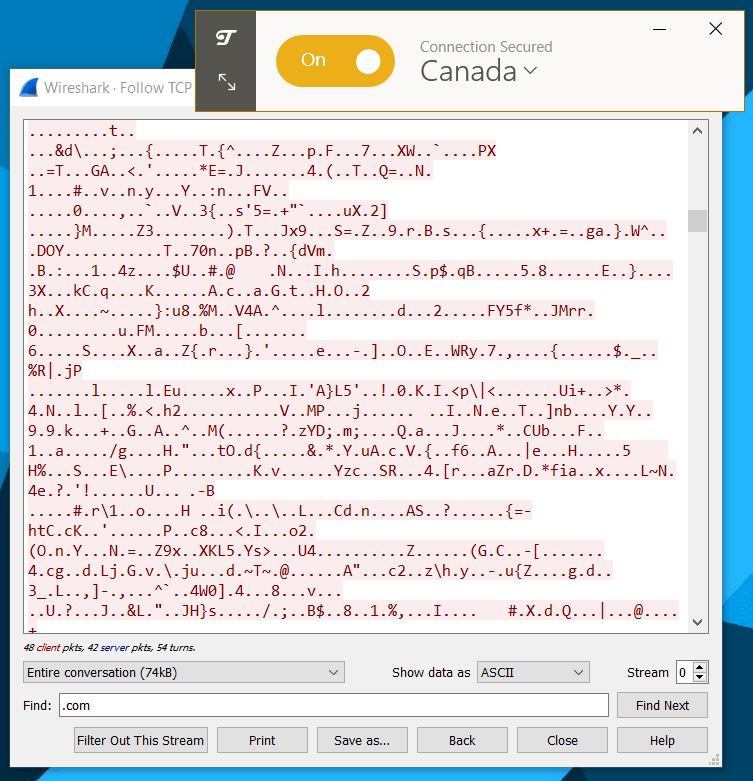 As per the above screenshot, my check confirmed TunnelBear's encryption works, as none of the data packets revealed any intelligible information about the websites I had been visiting.
Annual security audits
Since 2016, TunnelBear has been audited on an annual basis by Germany-based penetration test specialists Cure53.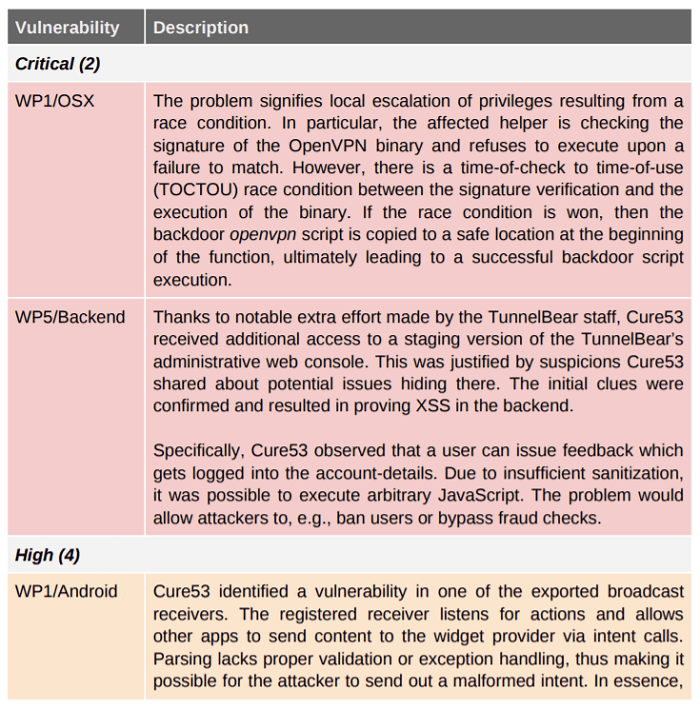 For example, in the 2019 assessment, the auditor identified risks such as cross-site scripting (XSS) via the user feedback form, which could have potentially led to attackers being able to ban users or bypass fraud checks.
How does TunnelBear work?
TunnelBear was clearly designed to be used by pretty much anyone. Even if you're a first-time VPN user. It works right out of the box, meaning you don't need to spend much time figuring out how to use it. Once logged in, you simply need to choose a location from of the available 20+ countries and then hit the Connect switch.
The number of country gateways isn't as big as you'd find with larger VPNs. But on the upside, TunnelBear is compatible for a range of use cases – from torrenting to using the VPN for bypassing network restrictions in places like mainland China.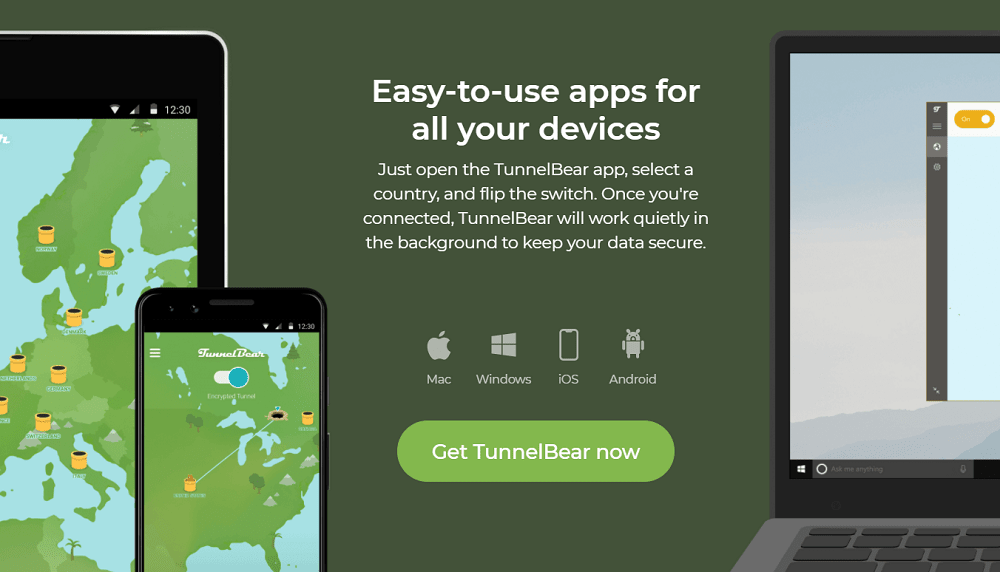 | | |
| --- | --- |
| Servers / countries | 1,800 servers / 20+ countries |
| Apps (PC, Mac, iOS, Android, Linux) | ✅ |
| Works with Netflix | ✅ |
| Torrenting | ✅ |
| Works in China | ✅ |
| Works on routers | ❌ |
| Max. connections | 5 |
| Browser extension | ✅ |
| Ad & tracking blocker | ✅ |
Where are TunnelBear servers located?
TunnelBear provides access to just under 2,000 VPN servers distributed across 20+ countries.
In the app, you'll see you can connect to servers in the US, Canada, Brazil, Japan, Singapore, India, Australia, New Zealand, plus a ton of locations across Europe.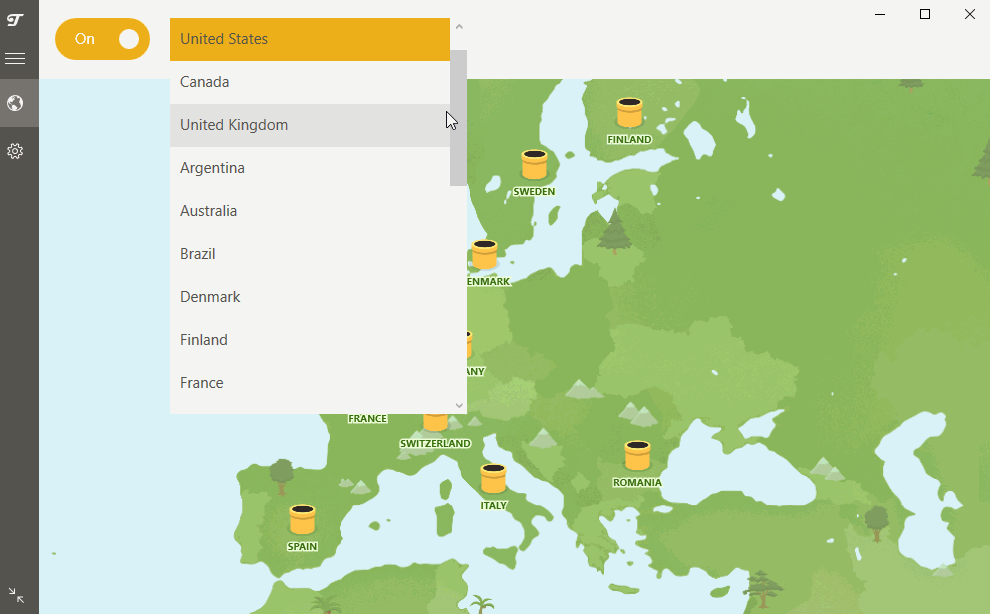 The server network is a little small in size – certainly compared to some of the bigger VPN providers out there. But, unless it's missing your local gateway altogether or perhaps you travel a lot, the locations available in the menu should suffice.
One downside for me, though, is that you can't choose specific cities or regions in large countries like the US, for instance. You can only pick countries.
Windows & macOS (desktop) clients
I've mentioned a few times already in this TunnelBear review that this VPN is easy to use. And this is exactly the case with both of its desktop VPN apps – for PC and Mac.
The desktop client is – for the most part – dominated by the interactive server map. You can also toggle between full screen and compact views.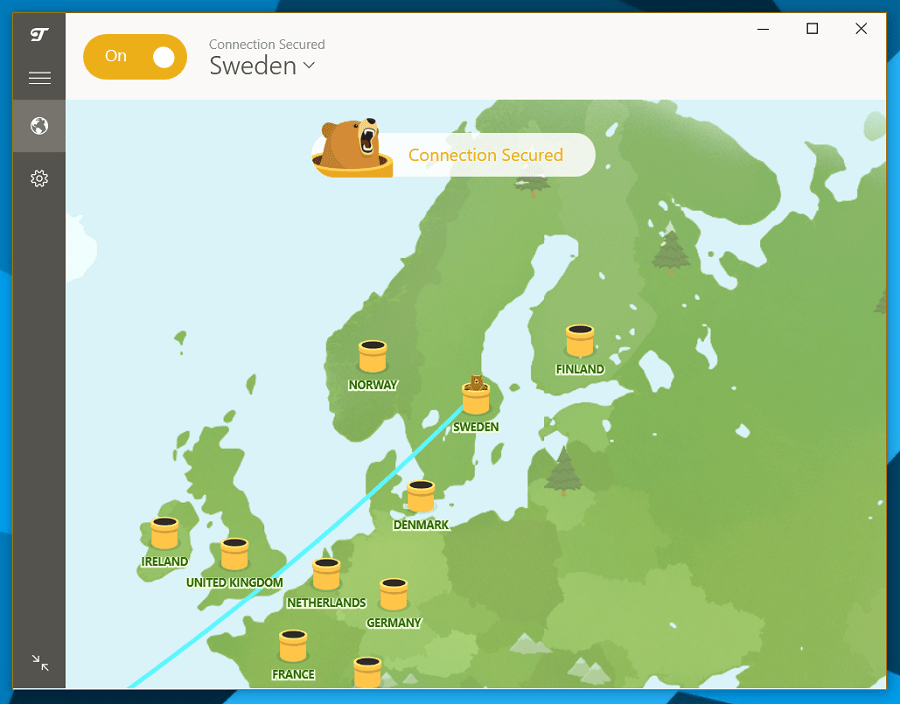 Server selection is simple – either by finding the location on the map or from the dropdown menu found next to the main Connect switch.
It's worth checking under the hood to see which settings might need tweaking to optimise the connection for your needs. There you'll find the following options:
UDP/TCP toggle (labelled as "TCP override")
VigilantBear – this is your internet kill switch
GhostBear – TunnelBear's obfuscation feature to avoid your network from detecting VPN traffic
Trusted networks – the app will auto-connect on non-trusted WiFi networks
I recommend enabling the kill switch before using TunnelBear to avoid any traffic data accidentally leaking through in case the VPN connection drops unexpectedly.
TunnelBear Android app – how does it work?
TunnelBear's Android app works a lot like the desktop version.
Its main interface is likewise all about the map, through which you can find and choose your VPN server.
Unlike on desktop, the server list expands when you swipe up from the bottom of the screen.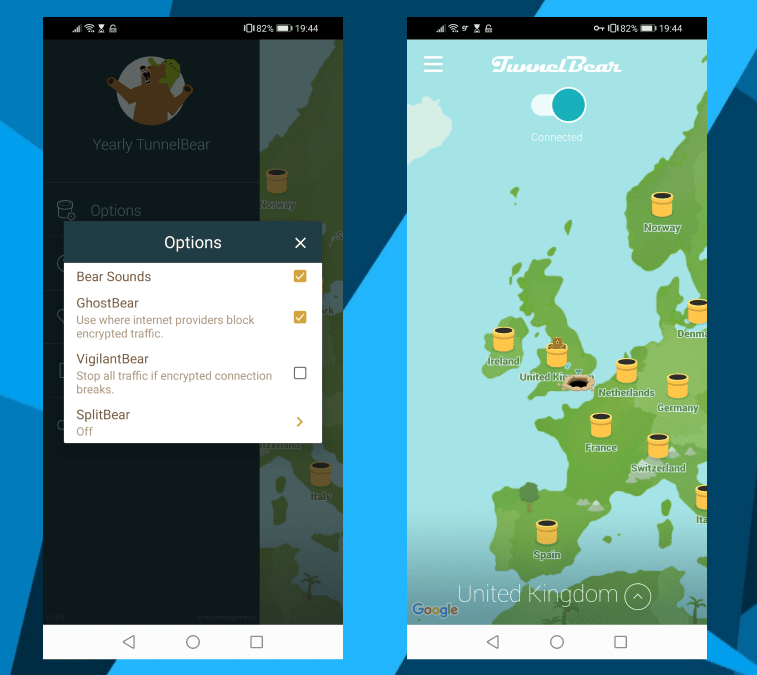 The app is a kind of limited in terms of features, as you'll find it only has:
The kill switch
Obfuscation toggle
Split-tunneling (this feature is available on mobile-only)
Bear sounds. Yep, these are real. And random. I think. So switch this off unless you want an expected WTF moment.
You can use split-tunneling if you need to run specific apps through the VPN, as opposed to the entire connection on your Android device.
TunnelBear Linux (limited support)
Albeit it doesn't currently have a native OS application, TunnelBear is still compatible with Linux systems. But note that you'll need to configure the VPN manually.
Keep in mind, however, on older distros, NetworkManager may fail to pick up TunnelBear's custom DNS resolvers.
So to avoid potential DNS leaks, either configure public DNS resolvers in your network settings or apply the workaround solutions included in TunnelBear's tutorial.
I also recommend checking out our own guide on how to set up OpenVPN on Linux Mint.
TunnelBear Chrome/Firefox/Opera extension
An account with TunnelBear also gives you access to its proxy service for browsers.
It comes as an add-on and is available for all three of the major web browser including Chrome, Firefox and Opera.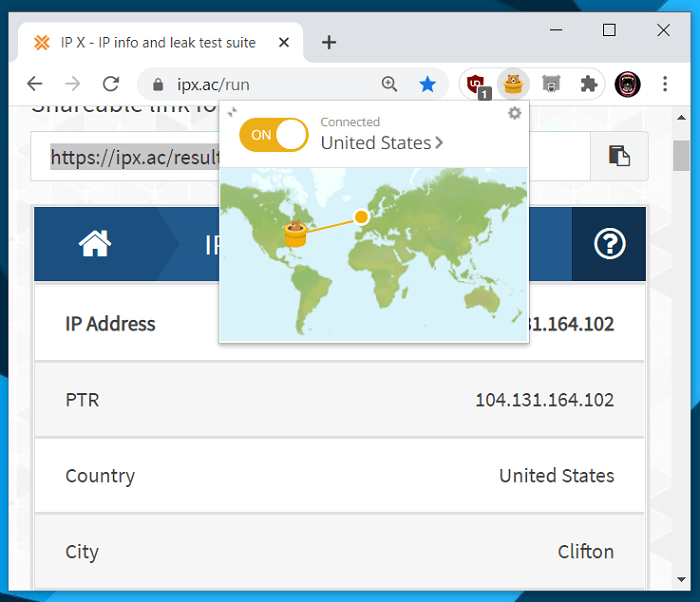 TunnelBear's extension lets you spoof your browser location through any of the 20+ countries.
Unlike with a VPN, the proxy will not encrypt your traffic. But there's no reason you can't use both at the same time, if needed.
In fact, this is not a bad way to double-hop (i.e. jump through two locations), except your traffic would not be encrypted twice as with your typical multi-hop VPN.
TunnelBear Blocker: kill ads & trackers
As an extra privacy layer, TunnelBear has a completely free ad blocker and anti-tracking tool – all in one – available for Chrome browsers.
It's called TunnelBear Blocker, and you don't need a paid TunnelBear subscription to use this very useful Chrome add-on.
TunnelBear Blocker works by eliminating the following annoyances and risks out of your browsing experience:
Scripts & trackers. Blocks cookies designed for retargeting you with ads
Ads. It blocks them using several crowdsourced block lists
Flash. Prevents security risks and blocks Flash-based ads (e.g. auto-played video ads)
Ultrasonic tracking. Disables your device microphone, also to prevent tracking for ads
Social media buttons – blocks them to stop more off-page tracking for ads
Malware – blocks suspicious-looking ads from loading to reduce risk of them injecting malware into your device
Browser fingerprinting. Blocks scripts used to collect data about your device
What's also really convenient about this extension is you can quickly disable it for any website on which you need those juicy scripts running.
Likewise, you're able to turn off specific blockers. For instance, you can choose to keep Flash running on a website, but continue to keep blocking everything else.
The add-on is essentially a forked version of uBlock Origin, and also contains code from the Gmail extension PixelBlock as well as the lesser known ad & popup blocker F***F***Block.
Does it work on routers?
Currently, TunnelBear doesn't provide an app or configurations for running the VPN through a flashed router.
TunnelBear is not supported for Kindle/eReaders, Windows mobile devices, Apple/Android TV, or gaming systems. TunnelBear does not provide configurations to be used on modems/routers.

Source: TunnelBear.com
Does TunnelBear work with Netflix? (📺 Yes)
I was surprised to see my TunnelBear review was one of the few to find the service working perfectly well with Netflix.
On testing it out, I was able to quickly access Netflix US from my non-US location.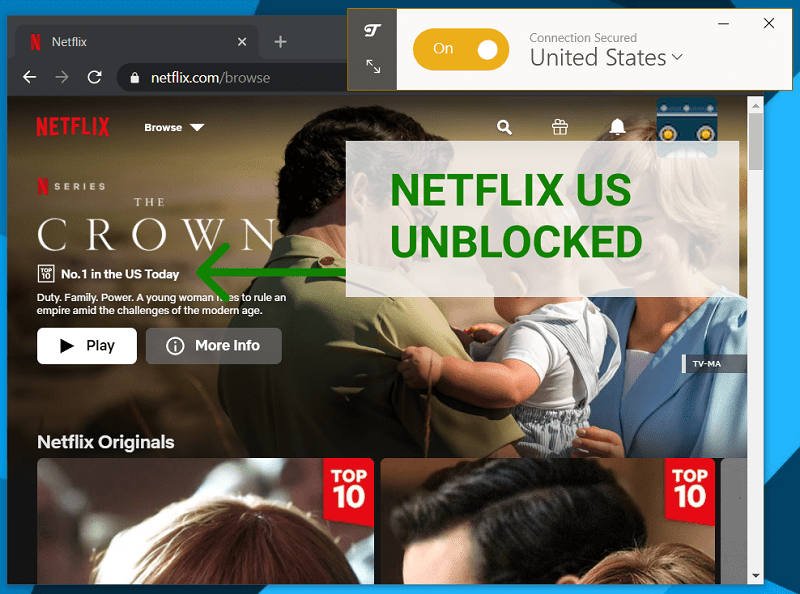 Neither did I have any issues with streaming the actual content while writing this TunnelBear review. So TunnelBear is one of the VPNs that work with Netlix.
I should add that for my TunnelBear review, I used the VPN, and not the browser proxy.
But the main problem is that TunnelBear doesn't technically support unblocking geo-restricted services for streaming purposes. So if it suddenly stops working, it's not guaranteed that you'll get help.
Does TunnelBear work with Firestick?
Unfortunately, TunnelBear does not work with Amazon Fire TV Stick devices.
This is because it doesn't have an Amazon App Store app. Also, as mentioned earlier, the service is not compatible with Android TV.
TunnelBear torrenting rules (allowed ✅)
Today, TunnelBear allows torrenting on its network. This wasn't the case in the past, but the provider has since updated its policy.
It's clear it's still not keen on promoting P2P as a use case because the website doesn't mention torrents or P2P. TunnelBear does however say it allows 'file-sharing', and suggests a few servers clearly optimised for torrenting:
If you run into any issues doing so, try connecting to one of the following tunnels: Canada, US, UK, Romania, Netherlands, Germany, or Sweden.

Source: TunnelBear.com
Torrent IP leak check (passed ✅)
My TunnelBear review proves it's a safe VPN to use for torrents.
After adding a test magnet link to my BitTorrent client, the lookup (on ipleak.net) picked up the VPN's IP address as my torrent IP.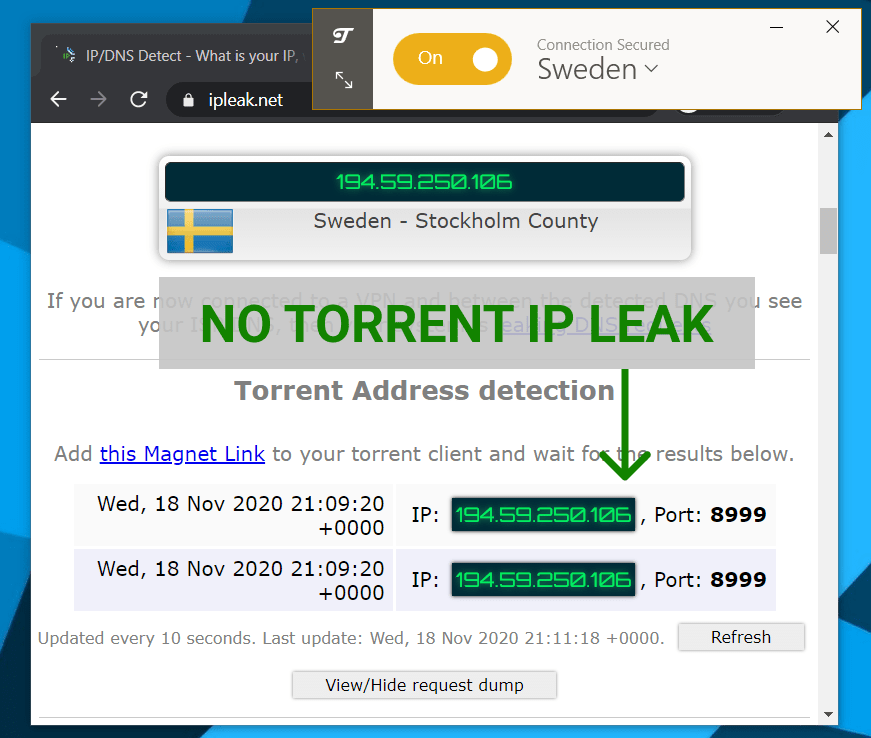 In other words, the test found no torrent IP leaks with TunnelBear.
Does TunnelBear work in China?
TunnelBear is one of the few VPNs that works in China thanks to its obsproxy feature – GhostBear – which works by making VPN traffic appear as normal web traffic.
Because China's notorious firewall inspects traffic data packets for signs of VPN usage, using a VPN service in the country is a challenge in itself. Many simply get blocked, but also lack features to help with bypassing the blocks.
So it's definitely a bonus that TunnelBear offers the stealth feature.
Expectedly, TunnelBear's website is also blocked in China, which is an additional obstacle with signing up in the first place.
It's recommended to either create an account before you travel or to get temporary access to a working VPN if you're already in the country.
TunnelBear vs NordVPN: which is best?
I compared some of TunnelBear's main features and benefits versus VPN industry giant NordVPN.
Here's how the two providers stack up side by side:
| | | |
| --- | --- | --- |
| | TunnelBear | NordVPN |
| Lowest price | $3.33 /mo. | $3.71 /mo. |
| Top speed | 183 Mb/s | 373 Mb/s |
| Logs | Bandwidth, OS | No logs (audited) |
| Jurisdiction | Canada | Panama |
| Servers | 1,800+ / 20+ countries | 5,000+ / 50+ countries |
| Works with Netflix | ✅ | ✅ |
| Torrents | ✅ | ✅ |
| Works in China | ✅ | ✅ |
| Max. connections | 5 | 6 |
| Browser add-on | ✅ | ✅ |
| Ad blocker & anti-tracking | ✅ | ✅ |
| Support | Email, chatbot | Live chat, email |
| Website | TunnelBear.com | NordVPN.com |
Despite being the slightly more expensive of the two services, NordVPN has clear advantages in terms of speed and server network size.
That said, TunnelBear is still the fastest VPN for OpenVPN connections. But NordVPN has the upper hand as it supports the faster WireGuard protocol, allowing for that ridiculously fast throughput.
Another thing worth mentioning – NordVPN allows six simultaneous device connections, while TunnelBear has a limit of five per account.
🏆 Winner: NordVPN
Learn more about NordVPN and its latest features in our in-depth NordVPN review.
TunnelBear vs ExpressVPN comparison
When comparing TunnelBear against another household name in ExpressVPN, this is the picture we get:
| | | |
| --- | --- | --- |
| | TunnelBear | ExpressVPN |
| Lowest price | $3.33 /mo. | $8.32 /mo. |
| Top speed | 183 Mb/s | 335 Mb/s |
| Logs | Bandwidth, OS | No logs (proven) |
| Jurisdiction | Canada | British Virgin Islands |
| Servers | 1,800+ / 20+ countries | 3,000+ / 94+ countries |
| Works with Netflix | ✅ | ✅ |
| Torrents | ✅ | ✅ |
| Works in China | ✅ | ✅ |
| Max. connections | 5 | 5 |
| Browser add-on | ✅ | ✅ |
| Ad blocker & anti-tracking | ✅ | ❌ |
| Support | Email, chat bot | Live chat, email |
| Website | TunnelBear.com | ExpressVPN.com |
Although my research for this TunnelBear review shows the Canada-based VPN only keeps basic, non-identifiable connection logs, ExpressVPN arguably still has more bragging rights in the privacy department.
This is because ExpressVPN's 'no-log' promises have actually been tested in court where it was proven the hugely popular VPN is true to its claims.
This is without a doubt a huge deal.
Also, ExpressVPN boasts an enormous server network with access to over 90 countries.
However, TunnelBear is still the faster and cheaper VPN.
🏆 Winner: ExpressVPN
For me, ExpressVPN edges it. And I'll explain why.
If you're looking for a VPN that works with more devices, gives you access to more locations and is by far the faster service – go with ExpressVPN.
Still, if you're on a tighter budget, go with TunnelBear.
Learn more about ExpressVPN and its features in our detailed ExpressVPN review.
TunnelBear support: how to get help?
For troubleshooting, TunnelBear offers 1-to-1 email support. There's no live chat service, albeit its website does have a chatbot which helps to quickly find relevant support pages based on the keywords you type.
But the chatbot is still a chatbot. In other words, it has limited capabilities and you definitely won't get any detailed answers out of it.
The best way to get help with TunnelBear is to open a support ticket.
When we contacted their support, we received a reply within two hours.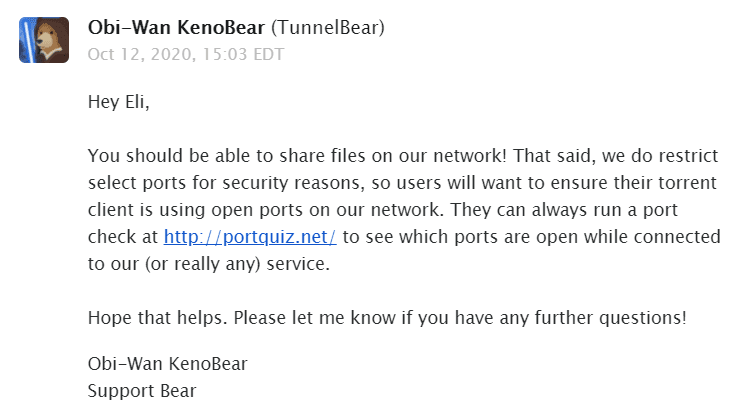 TunnelBear is not working – how can I fix it?
If you're having problems with connecting TunnelBear VPN, these are a few things you check and try out:
Make sure other apps are not blocking TunnelBear (example: a firewall)
If possible, try connecting on another network
Enable TCP override in the app; this should make the VPN connection more stable
Enable obfuscation (GhostBear) in case your network is blocking VPN traffic
TunnelBear Reddit reviews
VPNs are normally a hot discussion topic on Reddit. And in general, it can be a great place to find useful VPN reviews.
I couldn't find a huge amount of relevant and insightful posts about TunnelBear, but there are some highlights worth mentioning.
What does Reddit say?
This Reddit user asked why TunnelBear was 'not considered a good VPN for torrenting':

The most upvoted reply is – with all due respect – vague:
It's a shot in the dark, but they're owned by McAfee, which itself is a scammy company that overall does nothing good for the world. The other thing is that being based in Canada, or the US for McAfee, means that TunnelBear might be subject to 5 eyes regulations, which is stupid because 5 eyes basically gives a get out of jail free card for the government to spy on you without having to follow existing laws. That is, if the VPN provider keeps logs, which I don't think tunnelbear keeps.
I mean, the reasons they outline don't have much to do with torrenting.
They mention the parent company (McAfee) as untrustworthy. Then they add some fairly inaccurate definitions about the function of the Five Eyes intel-sharing network and how it's an issue 'if the VPN keeps logs'. Which they 'don't think TunnelBear keeps'.
While Five Eyes is most definitely a broader privacy issue, it's fairly unlikely it will concern VPN users that torrent.
Likewise, my TunnelBear review has proven the provider keeps no identifiable logs and is safe for torrenting.
This Reddit user complained they couldn't watch Netflix on the 'free version of TunnelBear':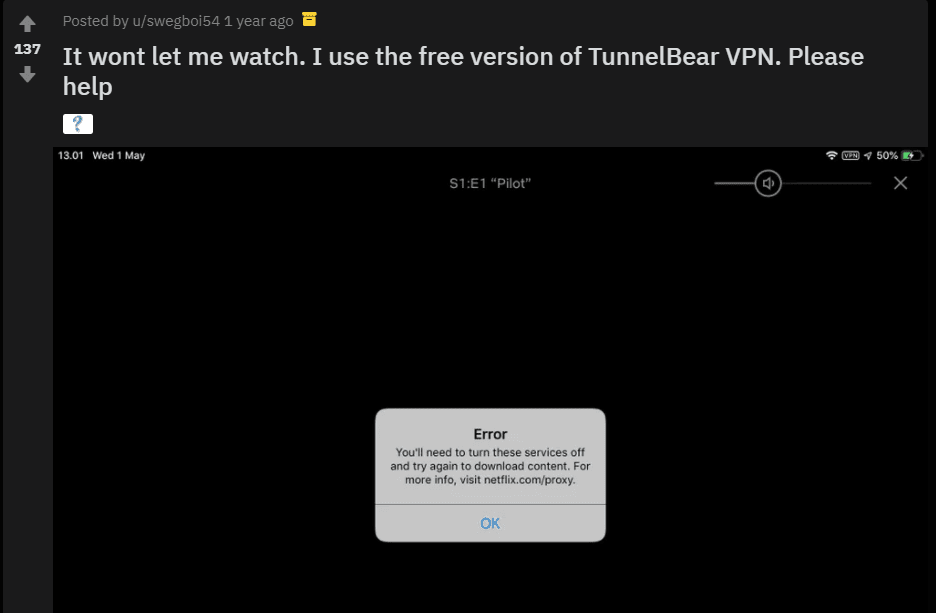 Thankfully, one user replied with the right answer:
How are you planning to watch whatever you are planning to watch with just 400 mb data? Even when you retweet on twitter, it only gives you 1GB more for a month.

Source: Reddit.com
TunnelBear review results – I gave it ⭐ 7.8 / 10
TunnelBear is a conveniently simple and fast VPN service. It's offers very strong encryption, has been audited and comes with solid privacy features. I was also pleased to find no leaks whatsoever while testing the Canada-based provider for this TunnelBear review. Moreover, it's not expensive.
Without a doubt, this VPN isn't quite for everyone. I'd say – if you are a more advanced user and already have a decent understanding of how VPNs work, you'll need to consider other options.
But if you are completely new to VPNs and you just want a trustworthy, fast service – without the frills or complex settings – then I can fully recommend TunnelBear.
Why it's a great VPN 👍
Fast for OpenVPN connections
It's extremely simple and easy to use
Strong encryption & no VPN leaks
Doesn't log identifiable user information
Works in China
Allows torrents/P2P

Awesome browser extensions (proxy AND

ad blocker)

Cheap & has a

limited free plan
Why it might not be for you 👎
Limited choice of server locations
Doesn't work on routers
Vague refund policy
TunnelBear alternatives – are there any better VPNs?
If you think TunnelBear has limitations that don't make this VPN worth your while, there are other services worth looking at.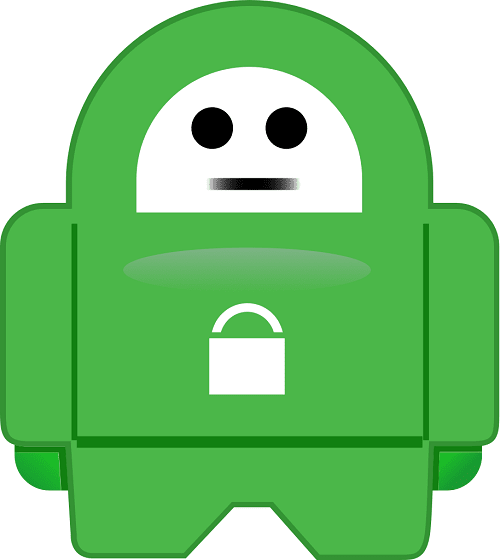 Our score
User rating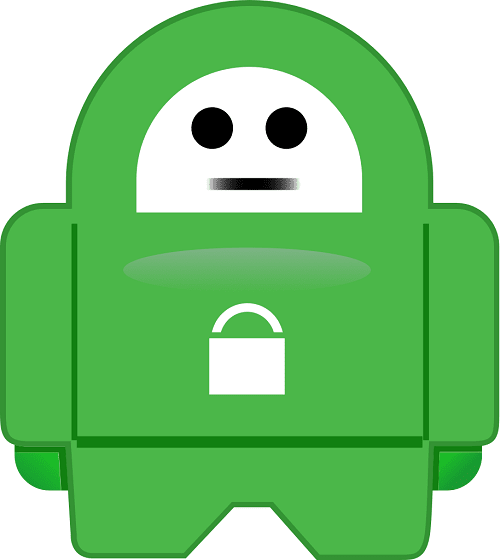 Our score
User rating
Price $2.69
Pros
Excellent speeds
Proven 'no-log' VPN
Strong encryption & privacy features
Up to 10 connections
Beautiful apps
Servers in 30+ countries
DNS leak protection
Live chat support & user community
Cons
Based in the US (part of FVEY)
Doesn't always work in China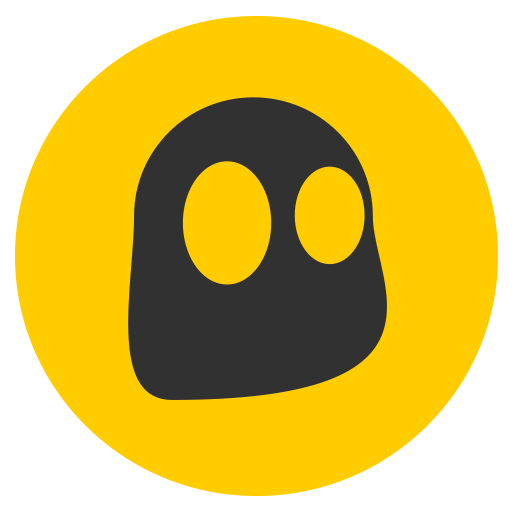 Our score
User rating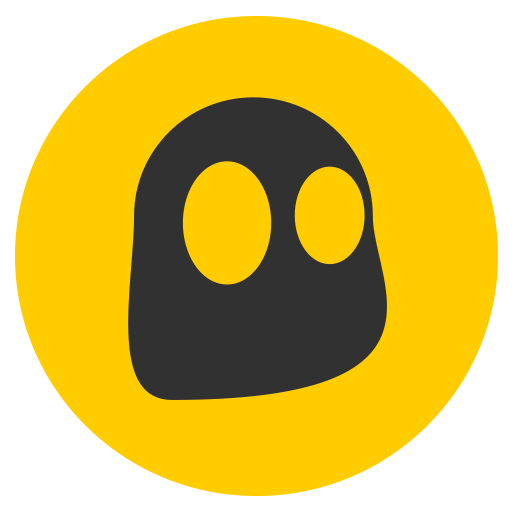 Our score
User rating
Price $2.19 p/mo.
Pros
Based in Romania (good for privacy)
All-in-one security suite
Huge server network
Fast & supports WireGuard
Allows torrenting/P2P
Multi-language support
Money-back guarantee (up to 45 days)
Cons
Doesn't work in China
Privacy policy not audited
For example, if you're looking for a VPN with a much wider range of supported devices and platforms, Private Internet Access (PIA) is a really decent option.
PIA also has a verified no-log policy and lots of in-app features for customising your connection. Including a way to adjust your encryption parameters.
And if you need a really feature rich solution with a large VPN network and good speeds, check out CyberGhost.
In addition to its VPN, CyberGhost comes with a fully fledged anti-virus / security suite. And it comes a money-back guarantee for up to 45 days (depending on your plan).
TunnelBear FAQ
What does TunnelBear do?
TunnelBear is a multi-product brand, offering VPN and proxy services that you can use on a wide range of desktop and mobile devices. It also has free ad-block and tracking protection features that you plug into the Chrome browser.
How much is TunnelBear?
TunnelBear costs between $3.33 per month (on the discounted three-year plan) and $9.99 per month (on the basic monthly package). Note that the discounted plans require an upfront payment. Additionally, TunnelBear offers a limited free service with 500MB of monthly data on the house, even if you do not have a paid subscription.
Does TunnelBear work in USA?
US residents can use TunnelBear VPN without any obstacles. And its server network also has gateways in the United States, meaning you can choose "USA" from the server list to connect to the most suitable node for your location.
How many devices can I use TunnelBear on?
You can use the same TunnelBear account on up to 5 devices simultaneously.
---
Leave your TunnelBear VPN review
Are you a TunnelBear customer or have used the service in the past? We want to hear about your experience – share your own TunnelBear review in the comments below 👇