Welcome to our HideIPVPN review, a comprehensive exploration of this lesser-known but competitive VPN service. Whether you're a VPN newbie or an experienced user looking for a new service to try, we're about to delve into the various features, pricing, performance, safety, and usability of HideIPVPN.
Let's explore if this VPN provider is the right fit for you.
HideIPVPN Review Feature Overview
| | |
| --- | --- |
| 📍 Based in | Moldova |
| 🏷 Price from (p/mo) | $2.99 |
| 🆓 Free trial | 3 days |
| ⚡ Speed | 399 Mb/s out of 500 |
| 🌏 Servers | 20+ in 12 countries |
| 📃 Logs | No traffic logs |
| 📱 Apps | Windows, Mac, Android, iOS |
| ⚙️ Features | VPN, Smart DNS, proxy, browser extensions apps kill switch, DNS leak protection |
| ✅ Works with | Netflix, HULU, BBC iPlayer, Android TV, Linux, most routers |
| ⬇️ Torrents | Allowed on select nodes |
| 💻 Connections | 5 devices |
| ↩ Refund | 30-day money-back guarantee |
| 🆘 Customer support | Self-service FAQ, 24/7 email ticketing support |
HideIPVPN impresses right out of the gate with its feature set. From offering high-speed connectivity to ensuring user privacy, HideIPVPN covers many of the essentials that make a good VPN.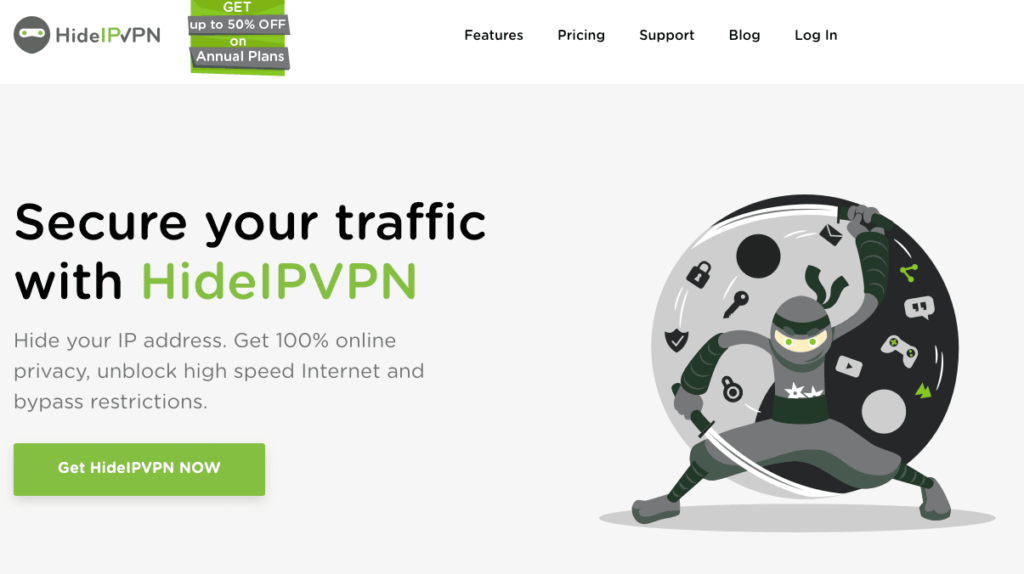 HideIPVPN Pricing: Super Affordable 🏷️
HideIPVPN offers three affordable subscription plans:
| Subscription | Monthly Cost | Savings | Included Features |
| --- | --- | --- | --- |
| 24 months | $2.99 | 70% | VPN, Smart DNS and proxy |
| 12 months | $4.99 | 50% | Includes all features |
| 1 month | $6.99 | 30% | Includes all features |
HideIPVPN accepts various payment methods, including:
VISA
MasterCard
PayPal
Bitcoin
Discover
JSB
American Express
Dinners Club
There's no contract, so you can cancel anytime, and the service comes with a 30-day money-back guarantee. Compared to some big names on the market, HideIPVPN is a bargain. Plus, they offer a 3-day free trial and a 7-day trial for the Smart DNS service.
💡 Pro tip

No budget to spare? Check out our selection of the best free VPN services.
HideIPVPN Speed Test: One of the Fastest
Here's a table summarising the HideIPVPN speed test results I obtained:
| | UK – Maidenhead | Netherlands – Amsterdam | US – Virginia | Canada – Montreal | Singapore | Daily max | Daily average |
| --- | --- | --- | --- | --- | --- | --- | --- |
| Day 1 | 388 | 399 | 351 | 361 | 106 | 399.0 | 321.0 |
| Day 2 | 339 | 399 | 370 | 379 | 108 | 399.0 | 319.0 |
| Day 3 | 379 | 383 | 370 | 333.0 | 122 | 383.0 | 317.4 |
HideIPVPN speeds measured in Mbps across five locations over three days.
These tests were conducted over Wi-Fi on a 500 Mb/s connection, predominantly using HideIPVPN's Android app, which defaults to the IKEv2 protocol.
HideIPVPN excelled in these tests, producing some of the fastest speeds I've seen to date.
While, perhaps surprisingly, the Wireguard protocol on desktop couldn't quite replicate these high speeds, the performance remained commendable, facilitating a seamless browsing experience on my Mac laptop.
Is HideIPVPN Safe? (Yes) 🔒
Yes, HideIPVPN is safe due to its strict no-logs policy, strong encryption, absence of DNS and IPv6 leaks, and its registered location in the privacy-friendly jurisdiction Moldova.
Let's take a look at the key safety aspects of HideIPVPN:
| Safety Feature | Does HideIPVPN pass? |
| --- | --- |
| No logs | Yes |
| Privacy-friendly jurisdiction | Yes (Moldova) |
| Strong encryption | Yes |
| No DNS, IPv6 leaks | Yes |
| No viruses or malware | Yes |
| Passed data packet inspection | Yes |
Does HideIPVPN Keep Logs?
HideIPVPN claims a strict no-logs policy. The only information stored is your provided name and billing details.
Here's a quote from their Terms:
"HideIPVPN keeps a no-logs policy, this means that activity whilst using VPN is not being stored nor shared in any form. Only data stored is client's full name and billing activity. We do not store IP addresses, browsing history , traffic destination or DNS queries. HideIPVPN cannot be obligated to provide data that do not exist due to our log policy."
💡 Pro tip

If you're looking for a totally zero-log service, check out our top picks for No Log VPNs.
Where is HideIPVPN Based?
HideIPVPN is based in Moldova, which has no data retention requirements. This privacy-friendly jurisdiction is a significant plus.
DNS Leak Test
HideIPVPN passed DNS leak tests conducted on IPLeak.net.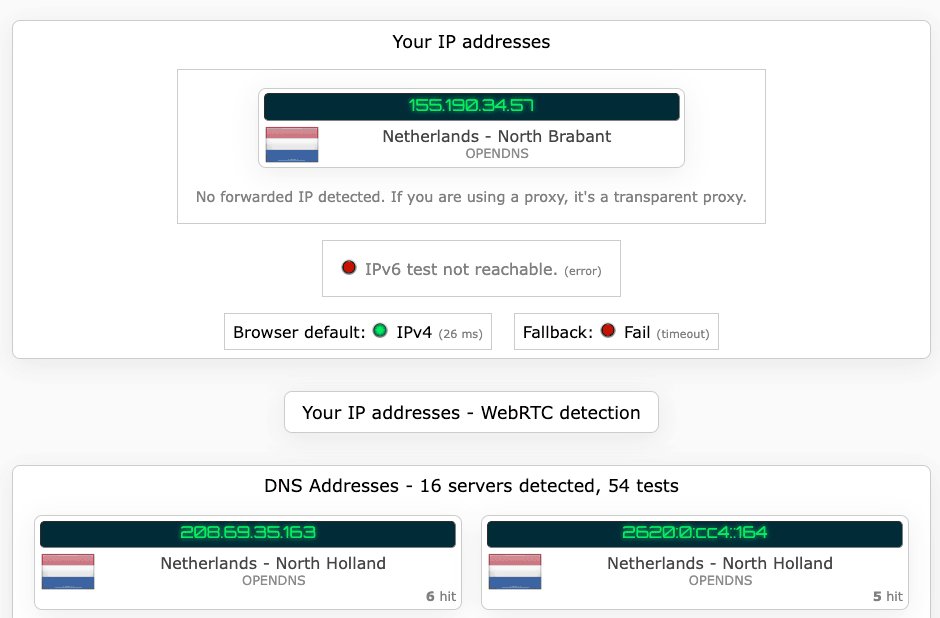 Virus Scan
You'll be glad to know that HideIPVPN's VPN client — I tested for MacOS — passed virus scans with flying colors, which means it's free from any malware.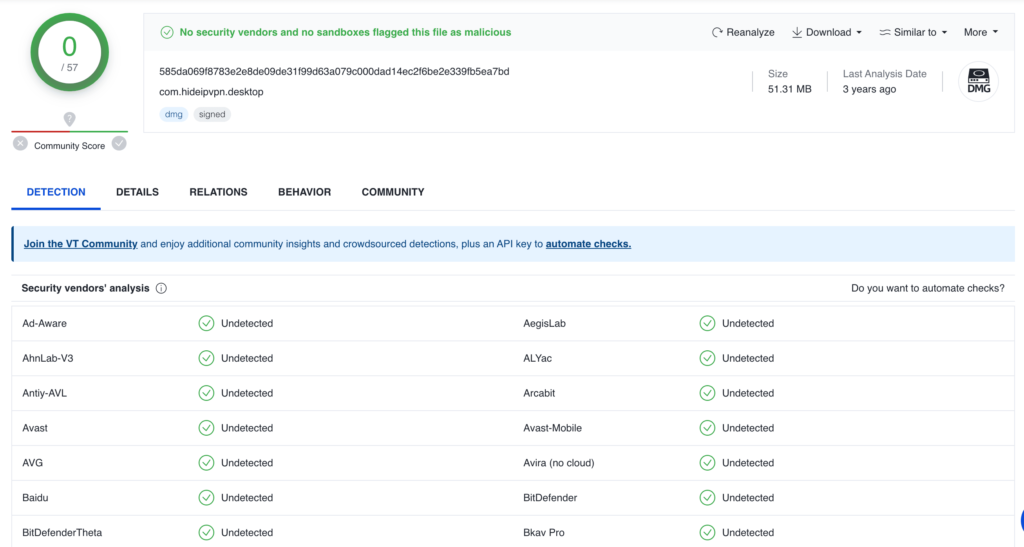 Encryption Test
HideIPVPN also passed deep packet inspection tests, proving it to be effective at masking your browsing data.
How Does HideIPVPN Work? ⚙️
HideIPVPN uses anonymous IP addresses to protect user identities and offers access to Smart DNS and proxy services along with VPN. The VPN can be run on up to five devices and is compatible with most streaming services, with particular optimisation for US, UK, and Poland content.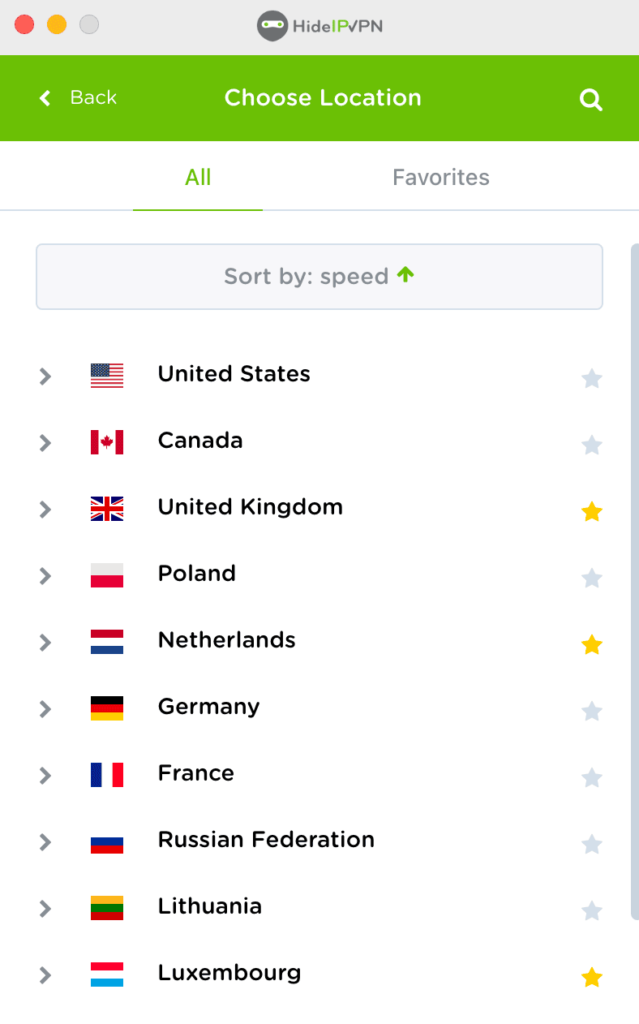 The server list, while modest, is diverse, covering key regions like North America, Europe, South East Asia, and the Pacific. The network consists of 24 servers in 12 countries, including the US, Canada, Germany, the UK, Poland, the Netherlands, France, Lithuania, Luxembourg, Russia, Australia, and Singapore.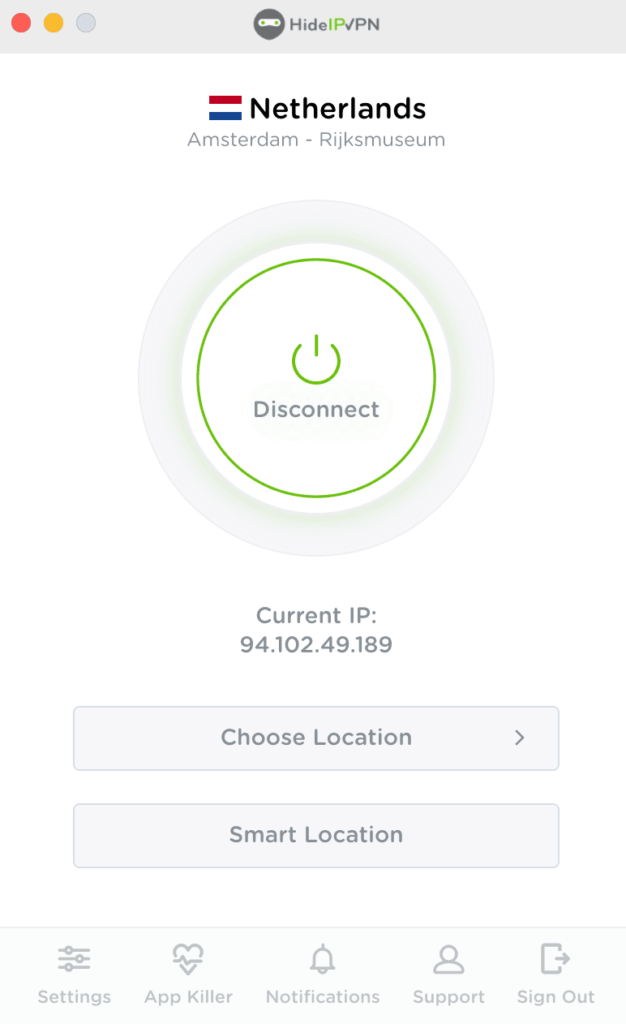 The HideIPVPN apps for Android, iOS, Windows, and Mac are slick and easy to use. They also work with Linux and most DD-WRT-compatible routers.
I didn't encounter any significant glitches or bugs, though on a few occasions, I was routed to a different endpoint when selecting a specific location.
Encryption and Protocols
HideIPVPN uses industry-standard AES 256-bit and RSA 4096-bit encryption. It offers connections with seven VPN protocols, including Wireguard, OpenVPN, SSTP, SoftEther, L2TP/IPsec, IKEv2, and PPTP.
Note that Wireguard connections will need to be set up through the Wireguard client.
While HideIPVPN doesn't offer advanced features like obfuscation or multi-hop, which big providers like NordVPN have, it remains an efficient, fast, and reliable VPN service for those seeking simplicity and reliability.
💡 Pro tip

Unsure about what these terms mean? See our comprehensive and easy-to-understand guide on What is a VPN.
HideIPVPN Smart DNS servers
HideIPVPN offers a 7-day free trial for its Smart DNS service. It can unblock streaming content from the US, UK, and Poland while hiding DNS data from your ISP.
The service supports over 200 streaming networks, with a full channels list available on the HideIPVPN website.
Users can search by country, device, and type of content (video, music, or sports).
The Smart DNS works on a variety of devices, including desktops, mobile devices, Smart TVs, and gaming consoles like Playstation and Xbox.
Proxy Servers
HideIPVPN provides proxy servers in all 12 of the countries they operate in. Users can obtain the IP address and port information from the client area on their website.

HideIPVPN Chrome Browser Extensions
Now, let's talk a little bit about another handy feature from HideIPVPN – their browser extensions.
For all you Chrome users out there (and Firefox fans, too), HideIPVPN has developed a nifty browser proxy extension that can make your online experience even smoother.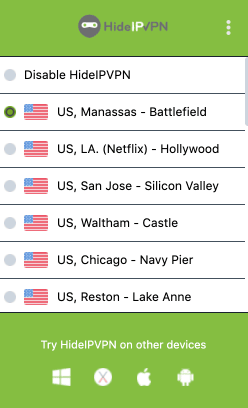 This extension is like a mini version of the VPN, right there in your browser — without the full encryption, of course.
What's more, it gives you access to all of the server locations available with the VPN itself.
So, whether you're in the mood for a US Netflix binge or you need to check out content from another corner of the globe, all it takes is a couple of clicks.
You're given the ability to switch ports as needed, providing you with more control over your browsing experience. And, it also includes Web RTC leak protection.
Is HideIPVPN Safe for Torrenting?
Torrenting is allowed on designated servers in Germany and the Netherlands, but explicitly not allowed on servers in the US, UK, Poland,
France, and Canada.
In my tests, HideIPVPN successfully cloaked my IP address and concealed torrent traffic when using my P2P client — BitTorrent.
For us, HideIPVPN is a very decent choice as a torrent VPN.
Does HideIPVPN Work with Netflix and Other Streaming Services? (Yes) 🍿
HideIPVPN works effectively with Netflix, particularly for accessing US-based content. Our tests showed successful bypass of geoblocks, making it a reliable option for streaming enthusiasts.
Aside from Netflix, it works with Hulu, BBC iPlayer, FOX, ITV, HBO Go, Sky Go, Crackle, ESPN, and other services. It also functions well with FireTV. However, the ability to access these services is somewhat limited due to the 12-country server network.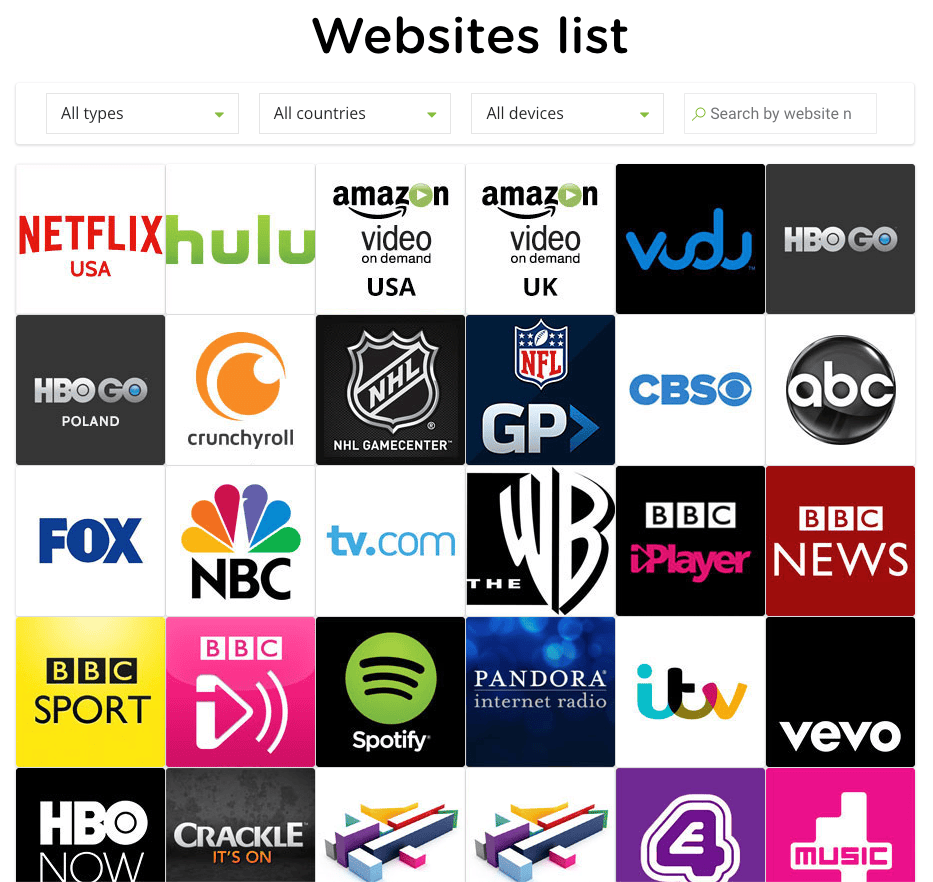 As for operating in highly restricted areas, HideIPVPN is unlikely to work in China, as it lacks advanced firewall-bypassing features. Moreover, its website is also blocked in China.
💡 Pro tip

For ultimate reliability, see our top picks for Best Netflix VPNs.
HideIPVPN Review of Customer Support
HideIPVPN offers 24/7 email ticketing support, which, in my experience, has been very responsive.
Their website also includes a well-detailed FAQ section and tutorials for users who prefer self-service.
HideIPVPN Alternatives
While HideIPVPN performs well, if you're seeking alternatives, I'd recommend NordVPN and VPN.ac.
These are our top-rated VPN services that are both exceptionally fast and secure.
With NordVPN, expectedly, you'll be paying a fair amount more, but you will get access to a lot more features, including multi-hop, obfuscation and a much wider server range.
VPN.ac also offers more features and a slightly bigger server range, but for a similar price as you'd be paying for HideIPVPN.
HideIPVPN Review Verdict: 8.6 out of 10 ⭐
HideIPVPN is an excellent, lesser-known VPN service that's been around for years and has held up impressively in a highly competitive market.
If the server range aligns with your needs, it's definitely worth trying out, especially considering that HideIPVPN now supports the speedy Wireguard protocol.
It's one of the few providers that offer both Smart DNS and standard proxy in addition to a robust VPN service.
The apps are simple, effective, and notably speedy, particularly on Android via IKEv2.
The service is also very affordable compared to some of the big names and offers a free trial.
Taking all this into account, HideIPVPN gets a very solid score of 8.6 out of 10 in this HideIPVPN review. It offers great value, particularly if you're seeking a no-frills, efficient service for anonymity and unblocking content.
HideIPVPN Review FAQ
What is HideIPVPN?
HideIPVPN is a Moldova-based VPN service that offers secure, private browsing with features like a no-logs policy, Smart DNS and proxy.
Is HideIPVPN any good?
Yes, HideIPVPN offers great speeds, essential privacy features, and the ability to unblock popular streaming services like Netflix, FireTV, BBC iPlayer and many others.
Does HideIPVPN keep logs?
No, HideIPVPN maintains a strict no-logs policy. This means they do not store any data related to your online activities, including your browsing history, traffic destination, DNS queries, or IP addresses. The only data stored are a client's full name and billing activity, further ensuring the privacy of user activities.
Does HideIPVPN work on iPhone?
HideIPVPN does indeed work on iPhone. They provide a dedicated app for iOS devices, ensuring seamless and secure internet access. The app is user-friendly and makes it easy to switch between different servers.
How many servers and countries does HideIPVPN have?
HideIPVPN has over 20 servers located across 12 countries worldwide, including in the United States, United Kingdom, Canada, the Netherlands, Germany, Poland, Singapore, Australia and more.
Does HideIPVPN offer a free trial?
Yes, HideIPVPN offers a 3-day free trial for its VPN service and a 7-day trial for the Smart DNS service.
Recommended VPN guides