VPN.ac is a VPN service owned by Romania-based Netsec Interactive Solutions. Its parent company specialises in IT security auditing and penetration testing.
And although it might not be the most well-known provider on the VPN market, it's nonetheless regarded as one of the most diligent and innovative services out there — meaning there's plenty that can be said about them in this VPN.ac review.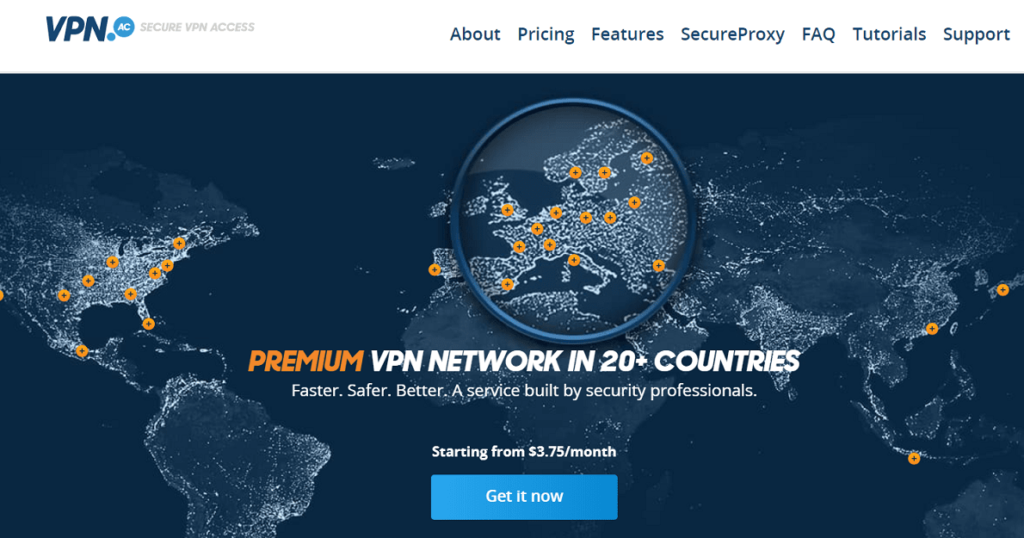 The reason why you may be hearing about VPN.ac for the first time — the company historically markets itself as a 'low-key' provider.
According to its website, its motto is to provide a 'secure, reliable and fast' service for a core base of 'loyal customers'.
Claims such as these, however, have to be backed up. So that's what I'm going to find out.
In this review, I took a close look at VPN.ac to figure out what makes it a good choice for VPN shoppers.
I also wanted to see if the service has room for improvement.
VPN.ac overview
| | |
| --- | --- |
| 📍 Based in | Romania |
| 🏷 Price | $3.75 /mo. |
| ⚡ Speed | 350 Mb/s |
| 📃 Logs | Limited |
| 📱 Apps | PC, Mac, Android, iOS, Linux, Chrome, Firefox, Opera |
| ⚙️ Features | Killswitch, private DNS, browser proxy, ECC encryption, AES-GCM, obfuscation, WireGuard, Wintun driver support |
| 🍿 Netflix | Yes |
| 🇨🇳 Works in China | Yes |
| ⬇️ Torrents | Allowed |
| 💻 Connections | 6 |
| ↩️ Refunds | 7-day money-back guarantee |
| 🆘 Customer support | Email |
| 🌐 Website | VPN.ac |
How much does VPN.ac cost?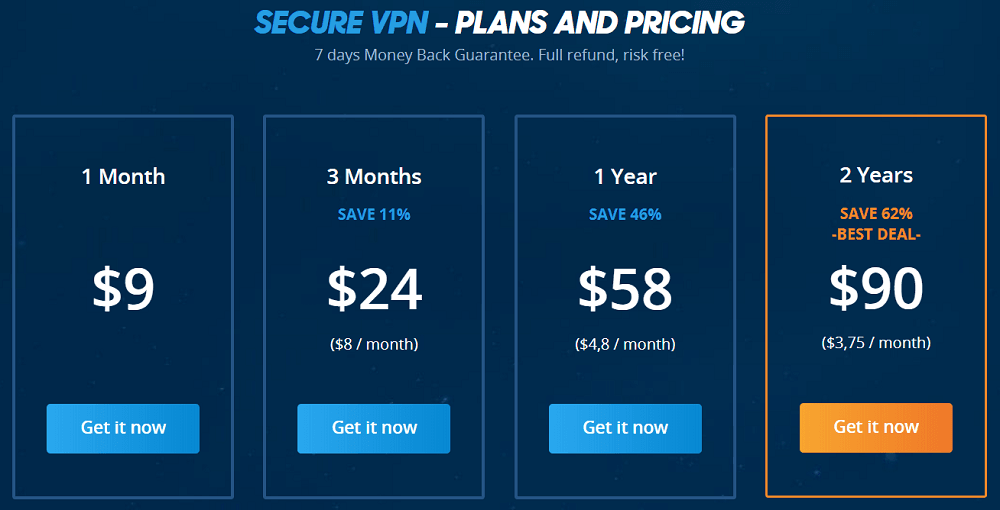 VPN.ac has four plans to choose from, depending on how long you want to sign up for.
As it goes, the longer you subscribe for, the more you will save.
For example, signing up for a full year will snag you the same service at nearly half the price. While a two-year subscription will save you a chunky 62% on the usual monthly price — working out at $3.75 per month.
Refund policy
VPN.ac offers a 7-day money-back guarantee should you change your mind after signing up. Essentially, you can claim a full refund in case of unresolvable technical issues.
In comparison to other VPNs, it's definitely not the longest refund period I've come across as normally you'd have a 30 days to exercise a potential claim.
To cancel the subscription, you'd need to contact Support. You can do this by opening a ticket from your account dashboard.
Payment options
| | |
| --- | --- |
| PayPal | ✔️ |
| Credit card | ✔️ |
| Cryptocurrencies (Bitcoin, Bitcoin Cash, Litecoin, Ethereum, Dash, Dogecoin, Monero, Ripple and others) | ✔️ |
| Direct Debit | ✔️ |
| SEPA bank transfer | ✔️ |
| UnionPay, iDeal, WebMoney, SEPA Direct Debit | ✔️ |
| iDeal | ✔️ |
| WebMoney | ✔️ |
VPN.ac coupon
I love VPN discounts, as I'm sure you do too. In fact, I rarely make online purchases without first searching for available coupons. So, if you were looking for a VPN.ac special offer – it's here, and it's actually a discount for life.
BestVPNz.com readers can take advantage of this 20% Lifetime Discount on any VPN.ac plan.
To claim this offer, just enter the code below at checkout and enjoy -20% from your costs for the entire duration of your subscription.
Speed test (350 Mb/s)
Thanks to its support for the increasingly popular WireGuard protocol, VPN.ac proved to be one of the fastest VPNs I've tested to date. My test clocked exceptionally fast download speeds of 350 Mb/s, while OpenVPN connections likewise performed well.
As part of this VPN.ac review, I ran some speed tests to measure its speeds.
For my tests, I ran connections through servers in the UK, Netherlands, US (Miami), Canada (Toronto), Singapore and Australia (Sydney).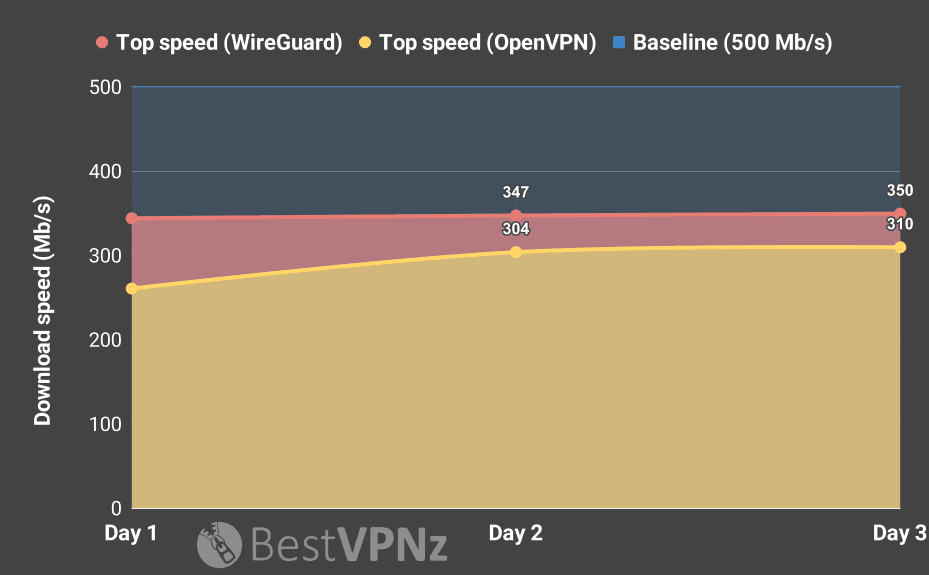 I tested each node over WireGuard and the classic OpenVPN with Elliptic Curve Cryptography (ECC) protocols. You can learn more about ECC in the security features overview.
VPN.ac with WireGuard
| | | |
| --- | --- | --- |
| Server location | Top speed | Average speed |
| UK – London | 349.6 Mb/s | 347 Mb/s |
| Netherlands (P2P-optimised) | 330.7 Mb/s | 324 Mb/s |
| US – Miami | 188.2 Mb/s | 178.7 Mb/s |
| Canada – Toronto (P2P-optimised) | 323.7 Mb/s | 294.2 Mb/s |
| Singapore | 303.1 Mb/s | 279 Mb/s |
| Australia – Sydney | 165.6 Mb/s | 130 Mb/s |
VPN.ac with OpenVPN
| | | |
| --- | --- | --- |
| Server location | Top speed | Average speed |
| UK – London | 309.7 Mb/s | 291.4 Mb/s |
| Netherlands (P2P-optimised) | 273.3 Mb/s | 257.7 Mb.s |
| US – Miami | 136.5 Mb/s | 120.9 Mb/s |
| Canada – Toronto (P2P-optimised) | 253.7 Mb/s | 250 Mb/s |
| Singapore | 131.8 Mb/s | 119.8 Mb/s |
| Australia – Sydney | 228.5 Mb/s | 223.3 Mb/s |
To summarise, the results were extremely positive after three days of testing.
As VPN.ac was one of the early adopters of WireGuard, there was no way I was going to skip testing its speeds over this protocol.
I was definitely left impressed as my download speeds peaked at an immense 350 Mb/s, with an average of 211 Mb/s across all six locations.
OpenVPN connections likewise were exceptional. During the three days of testing, I reached a ridiculous top download speed of 310 Mb/s (out of 500), which easily makes VPN.ac one of the fastest VPNs for OpenVPN.
With both protocols performing extremely well, it's clear VPN.ac is a lightning fast VPN.
And my tests have successfully verified this.
Note – to use VPN.ac over WireGuard, you'll need to download the official WireGuard client as the provider doesn't yet support the protocol in own client.
Clock faster speeds using Wintun driver
VPN.ac was one of the first VPN providers to add Wintun driver support for its Windows client.
Wintun is an OpenVPN adapter and an alternative to the classic TAP driver.
The main advantage of Wintun over TAP is faster speeds on broadband connections over 200 Mb/s.
However, a small downside of using Wintun is that the VPN will likely take a few seconds longer to connect.
Is VPN.ac good for privacy?
No traffic logs and no data retention, thanks to a privacy-friendly jurisdiction
| | |
| --- | --- |
| No identifiable logs | ✔️ |
| Privacy-friendly jurisdiction | ✔️ |
| Audited | ❌ |
| No DNS, IPv6 leaks | ✔️ |
| No viruses or malware detected | ✔️ |
| Strong encryption | ✔️ |
| Data packet inspection passed | ✔️ |
Does VPN.ac keep logs?
VPN.ac keeps no user activity logs. And historically they've been very strict about this. Users will enjoy the fact this provider doesn't store data on your visited websites. This includes messages sent, videos watched — you get the picture.
Basic connection logs — capturing your source IP address and traffic volume — are kept for security and support cases. But, they're stored on a standalone, encrypted server for a most of 24 hours.
It's worth noting that many VPN providers store session logs for up to a month, if not longer. I really like that VPN.ac is consistently transparent about storing basic logs.
Actually, this plays a major role in keeping their infrastructure secure from brute-force or MITM attacks.
Which jurisdiction is VPN.ac registered in?
Romania is home to other, well-known VPN providers like ibVPN and CyberGhost. And there's a good reason for that.
Most member states of the European Union are obliged to follow the EU Data Retention Directive, which requires local ISPs to retain user IP addresses for up to two years.
But, in 2014, the Romanian Constitutional Court ruled the legislation 'unconstitutional'. In brief, it failed to fall in line with citizens' rights to 'intimate personal life and privacy of communication'.
It's safe to say that VPN.ac is registered in one of the more favourable jurisdictions in Europe.
Does VPN.ac have DNS leaks?
While on the topic of privacy, I tested VPN.ac for DNS leaks using the resource IPLeak.net.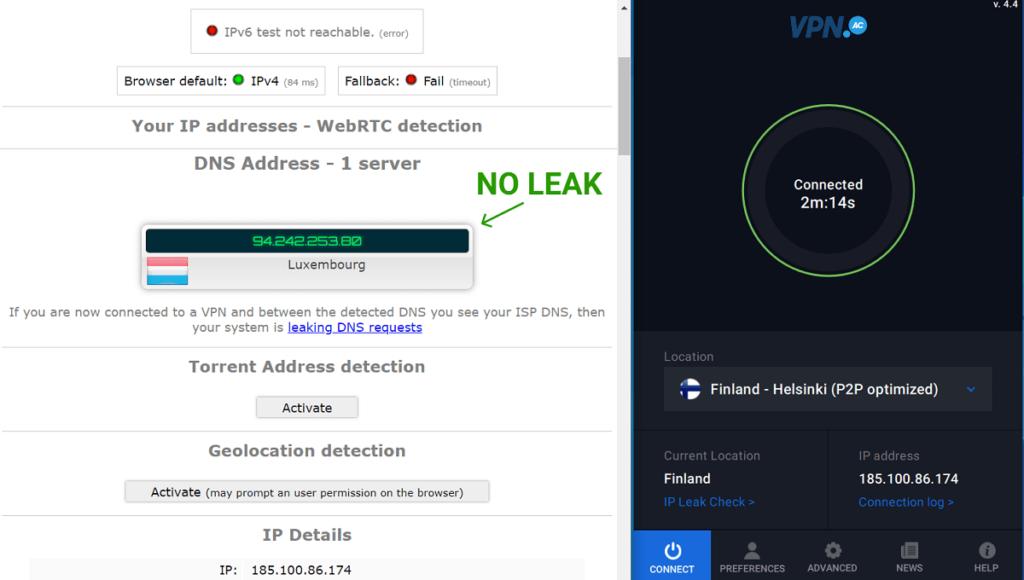 As you can see, the VPN test showed browser default IPv4 address to match the IP shown in the client. IPv6 was correctly blocked.
The DNS lookup successfully picked up VPN.ac's own, private DNS resolvers. For my test VPN connection to Finland, the DNS resolved in Luxembourg.
Virus & malware test (passed ✅)
I scanned the VPN.ac Windows client for common viruses and malware on VirusTotal.com.
This step in the testing process is no less important than making sure the VPN retains no logs as you would actually download the software to your computer/device.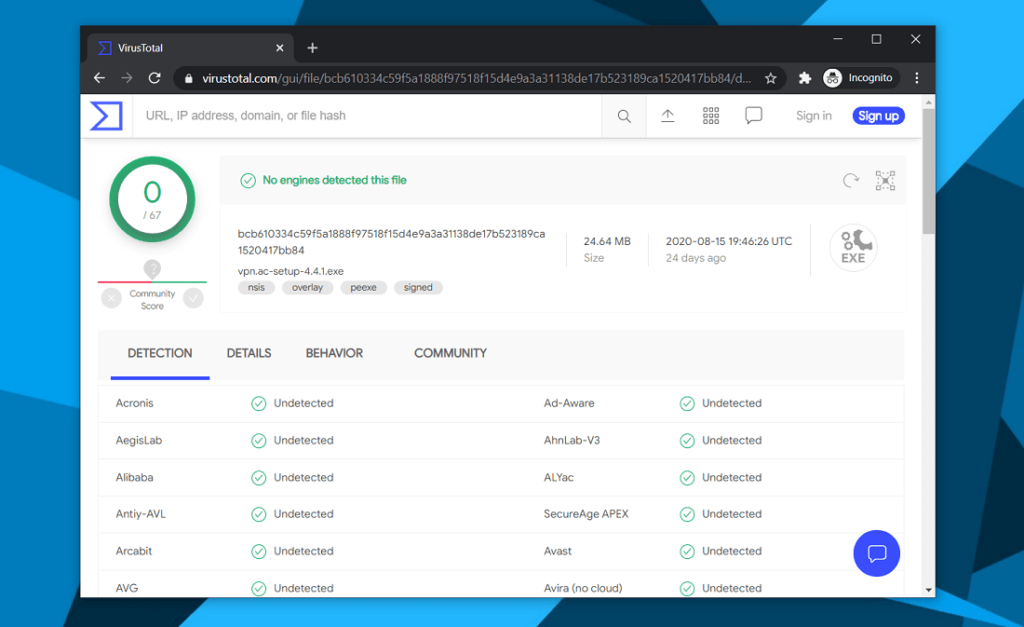 The results of the scan confirmed there are no viruses or malware present in the PC client files, meaning the app is safe to install and use.
Encryption test (passed ✅)
One of the main reasons to use a VPN is to make sure your ISP is unable to monitor your internet activity using a process called Deep packet inspection (DPS).
Well, I went and inspected some data packets myself. This was to make sure VPN.ac encryption actually works.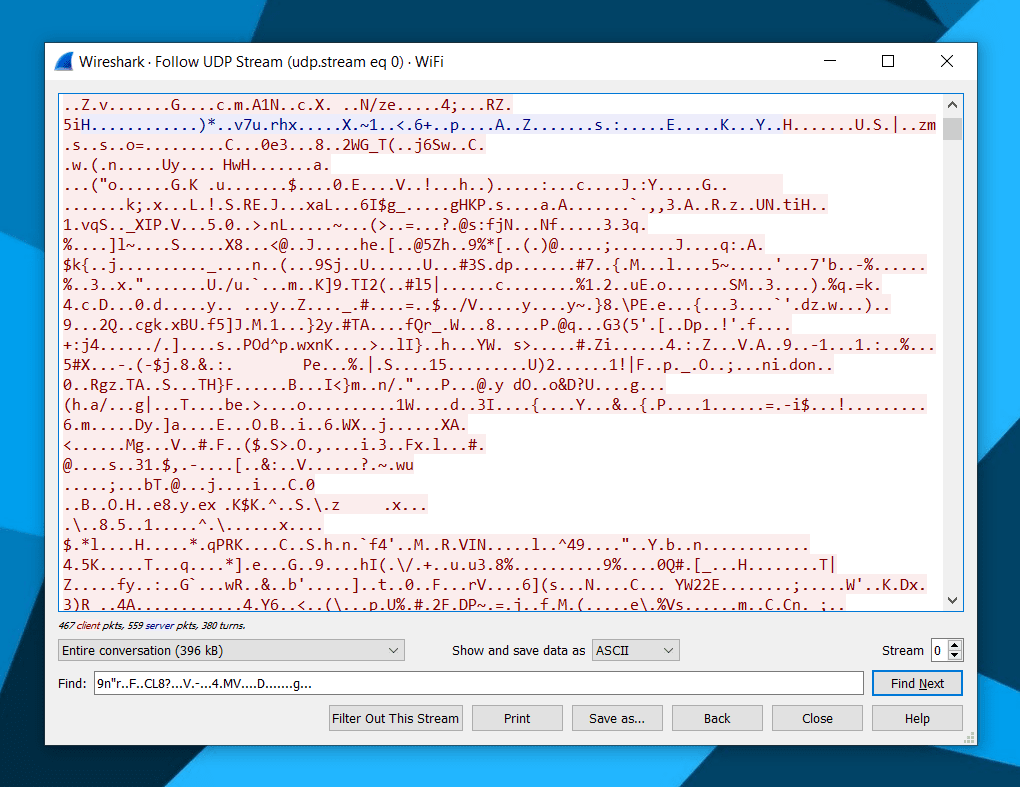 To inspect my own VPN data, I used a free software tool called Wireshark.
While VPN.ac ran in the background, I visited a few websites, after which I scanned through some of the data packets sent through the active OpenVPN tunnel.
So, as you can see in the screenshot above, the data contained in the inspected packets was very much a mishmash of unclear characters.
More importantly, in the several packets I had inspected, I found no trace of URLs I had visited.
That's VPN.ac in action, and my test has shown that it is a secure and safe VPN.
What features does VPN.ac have?
Innovative encryption, intuitive apps and premium server infrastructure.
Apps and platforms support
VPN.ac has built slick, native apps for Windows, Mac, iOS and Android operating systems.
Each app is equipped with a bundle of features — from the basics of one-click VPN connections to a wide selection of encryption protocols.
Aside from server and protocol selection, you can also tweak your settings to match for your specific needs.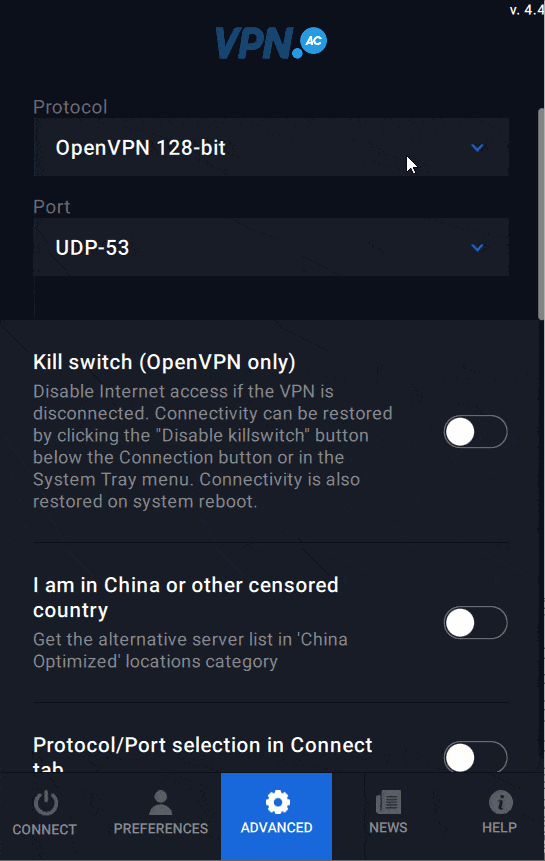 You can set it up to launch and connect automatically as soon as you switch on your computer or mobile device.
You can also set the app to cut off internet access should the VPN connection drop for any reason. One thing to note with this feature — it might cause an error with the Windows 10 TAP adapter (for OpenVPN) after waking the computer up from sleep mode.
SecureProxy — Chrome / Firefox / Opera extension
At one time or another, most of us have used a shady, free proxy to change our IP address location.
That wasn't a great idea.
Not only are free proxies notoriously slow, but they're also a serious security risk. It's not uncommon for hackers to set up or even hijack public proxies. And just like with VPNs, it's essential to know who's running the service, and how.
With its premium SecureProxy add-on for web browsers, VPN.ac truly levelled-up.
The proxy is available as a browser extension on Chrome, Firefox and Opera.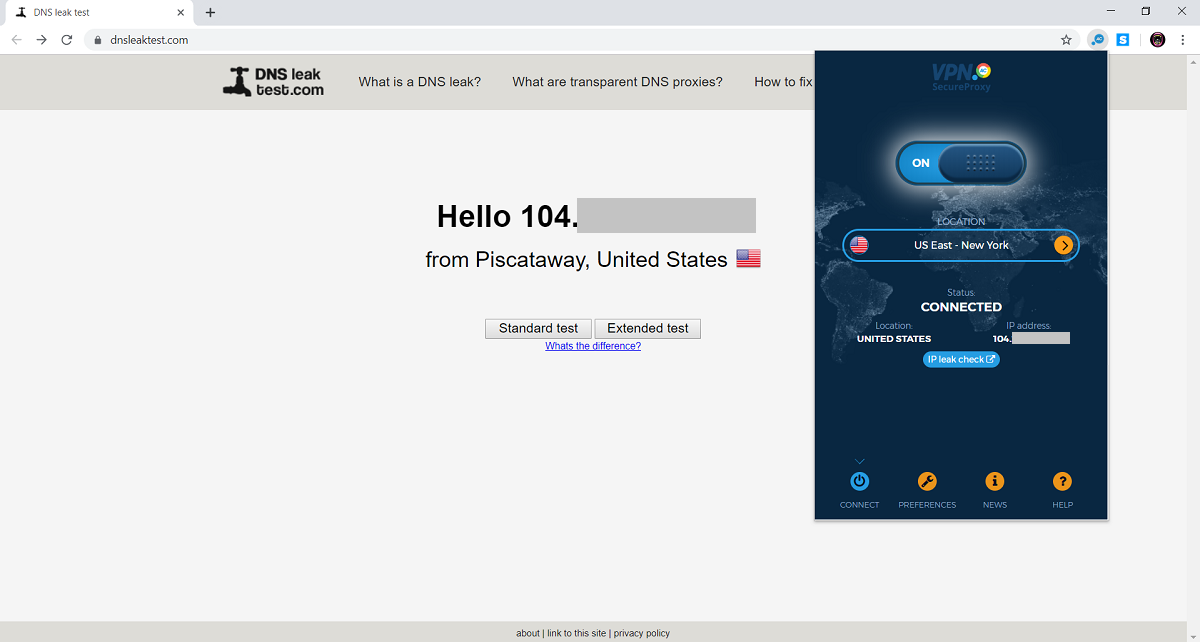 SecureProxy uses TLS to encrypt all of your browser activity. It brilliantly evades tough firewalls.
It's pretty versatile too. You can keep accessing any website with your original IP while the rest of your browser traffic can flow through the proxy server.
You can use it with or without the VPN. And there are 30+ country locations to pick from.
Router support
VPN.ac works with DD-WRT, Tomato, Advanced Tomato, OpenWRT, AsusWRT/Merlin and pfSense routers. These are all viable options if you'd like to run your VPN connection through a custom router.
Server locations
VPN.ac provides VPN access to 20+ countries, while its browser proxy, which I mentioned earlier, gives access to over 30 countries.
Multiple nodes are available in popular locations, like US East, UK. This allows for better load distribution should any servers experience heavy usage.
You won't find over a hundred country locations to pick from but the service still covers most regions. This includes North America, Europe and Asia-Pacific.
South America is currently only supported with one server in Brazil. This is a potential area for expansion, and I think it would be a big step forward if VPN.ac started deploying more nodes on the continent.
On the plus side, though, it has an entire category of China-optimised servers. Most are running with the trusty XOR cipher — capable of bypassing the Great Firewall.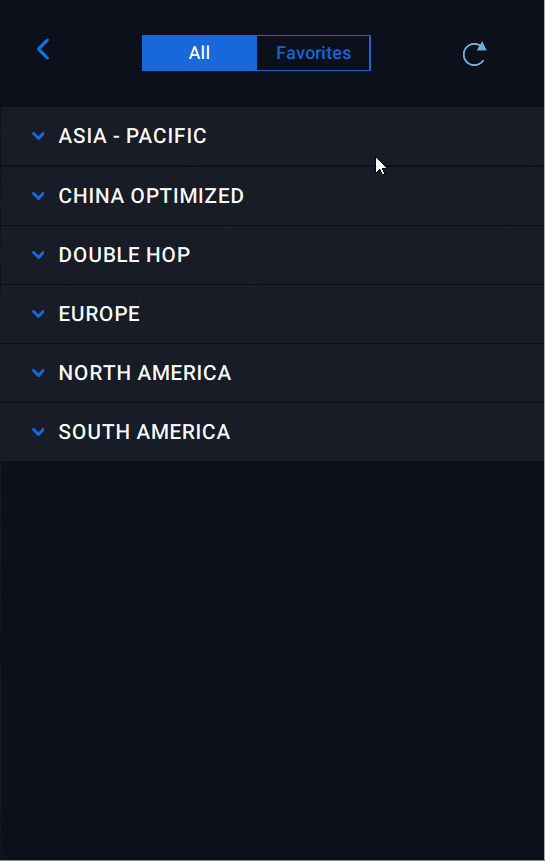 And as the speed test showed, the 'double-hop' option is also truly worth exploring. The feature — first released in 2016 — lets you encrypt your web traffic through two VPN tunnels instead of one.
These connections are also known as 'double VPNs', and they're advantageous to enhancing privacy as they make it practically impossible for ISPs to associate web traffic with specific accounts.
On some occasions, as seen in my own speed test, you can even get faster connectivity. Though, this depends entirely on server quality and the combination of geographic locations.
Streaming and P2P
A huge plus for Netflix subscribers is that the Netflix US library is accessible from any VPN.ac server, including non-US. This means that you can confidently consider this VPN to use with Netflix.
Torrent traffic is allowed but only on designated servers that are clearly labelled in the app as 'P2P optimised'.
Encryption & infrastructure
VPN.ac implements the following encryption protocols across its network of servers:
OpenVPN: 256-bit AES-CBC, 128-bit AES-CBC or 128-bit BF-CBC
For AES (128 or 256-bit), VPN.ac uses RSA-4096 and Elliptic Curve (ECDHE) with secp256k1, SHA512 HMAC
WireGuard: ChaCha20 for encryption with Poly1305 for message authentication
All OpenVPN certificates get generated offline, on a secure machine, and with several entropy sources
IKEv2: Currently available for manual connections; coming soon soon to its apps
L2TP/IPsec: 256-bit AES or 128-bit AES – varies by operating system (soon to be phased out)
PPTP: 128-bit MPPE (soon to be phased out)
SecureProxy for Chrome, Firefox and Opera browsers: AES 128-GCM with 4096-bit RSA certificates
All of its VPN nodes run on bare-metal servers, through dedicated network ports.
If you're wondering what this means — simply put, the team behind VPN.ac configures each server form the ground up.
This option is much more expensive and secure than simply leasing virtual servers with shared network ports.
In fact, this is the main reason VPN.ac doesn't offer hundreds of server locations.
It's a clear indication that this provider opts for quality over quantity.
Managing your subscription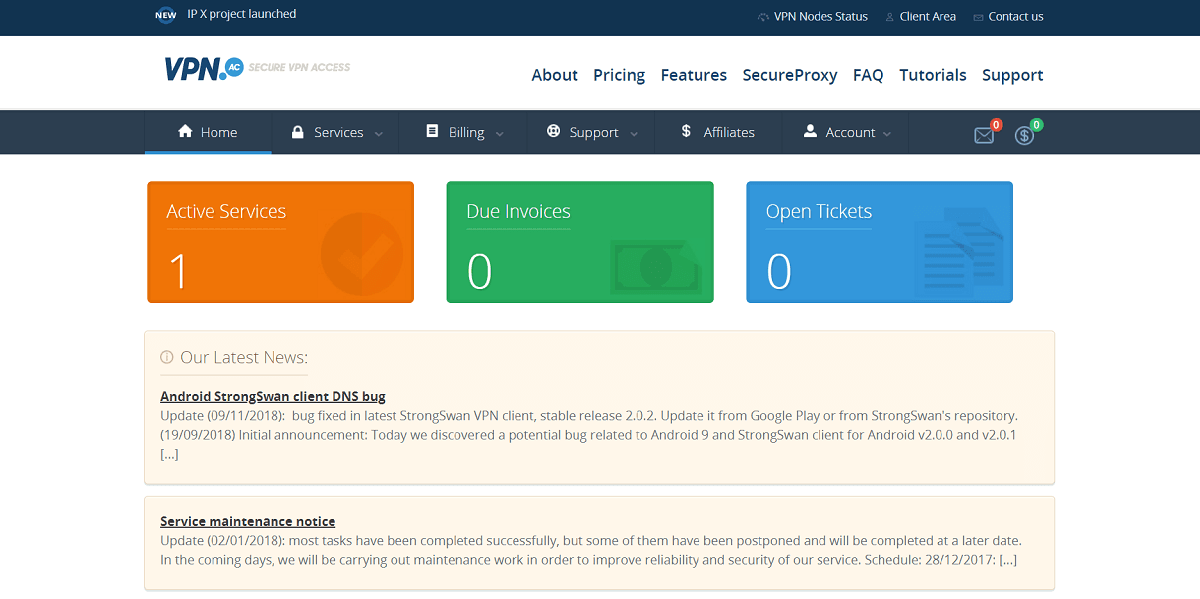 Once you've signed up, you'll get access to the Client Area accessible from the VPN.ac website.
It's here that you can manage everything related to your account including your subscription and support tickets.
Customer Support
If you encounter technical issues or need some help with getting your VPN up and running, you have two options available.
One of them is the comprehensive knowledge base. Think of it as a Wiki where you'll be able to find a broad range of help topics on things like resetting your password.
Furthermore, you can use the knowledge base to find instructions on how to test for DNS leaks. This will ensure you're getting the most out of your VPN.
If you have an urgent case, you can raise it by opening a support ticket. Now, with the absence of live chat, it's important that email response times to active tickets are quick. This is where VPN.ac demonstrates its 'customer-first' approach.
Having opened a support ticket, I received a prompt reply to my query within a grand total of 20 minutes.
Do I recommend VPN.ac? (⭐ 9.6 / 10)
VPN.ac delivers exceptionally well on most crucial aspects of virtual private networking. These are — security, speed, reliability and good user experience. Moreover, it's cheap.
Yes, it has some areas for improvement. And I think as it continues to grow, VPN.ac will expand its server network to more locations.
But, based on my testing and research of VPN.ac, I'm giving this VPN service a thoroughly deserving score of 9.6 / 10.
Inevitably, my high score makes VPN.ac rank narrowly as one of the best VPN services. And I am quite certain you won't be disappointed with it as a user.
What I liked about VPN.ac 👍
Very strong security: AES-GCM, Elliptic Curve Cryptography, XOR obfuscation, IP leak protection and custom DNS.
Exceptionally fast VPN with peak download speeds of 319 Mb/s over the lightning fast WireGuard protocol
Great for privacy overall no logs and not subject to data retention in its home jurisdiction
Allows torrents over designated P2P servers
Fast browser proxy extension for Chrome, Firefox and Opera
Nice apps that are easy to use even for a beginner
Fast support despite not having live chat
What I think could be improved 👎
Expand its server network
Improve speeds on some US servers
I wouldn't be surprised if live chat was also eventually introduced as a measure to cope with a growing user base.
But for what it offers as of today, and based on my own VPN.ac review, I'm confident this provider will cater to the needs of most people on the lookout for a new VPN.
Plus, you'll be dealing directly with actual security experts.
I can confidently recommend VPN.ac to anyone who:
doesn't want to pay for an expensive VPN
is tired of generic and unhelpful copy & paste responses from support
is looking to become serious about online security and privacy
VPN.ac alternatives – if you're not convinced
Although I'm confident VPN.ac accommodates for most VPN use cases, it might have a missing feature that you really need. If this is the case, there a few, other options available.
These are my two VPN recommendations as alternatives to VPN.ac.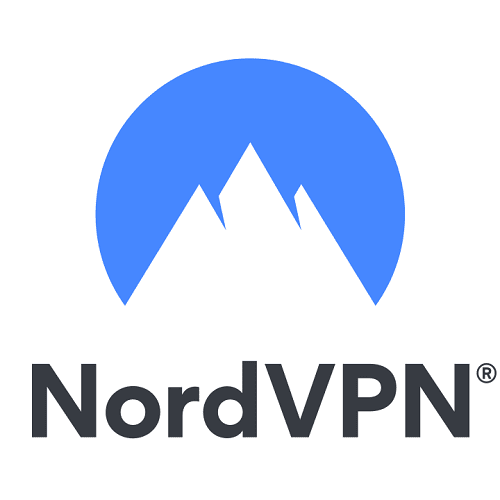 Our score
User rating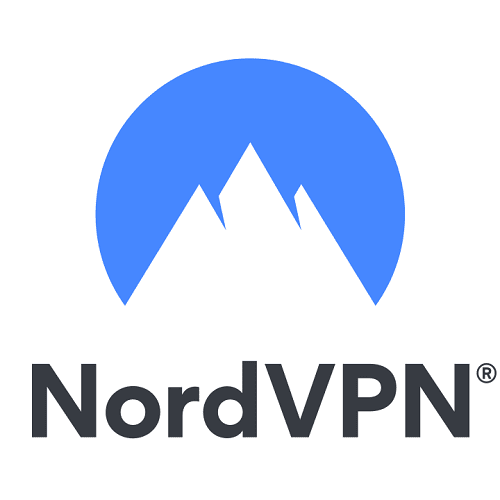 Our score
User rating
Price $3.71 mo.
Pros
Top security features
Zero logs & no IP leaks
Based in privacy-friendly Panama
Cons
No split-tunnelling on desktop
I've written many other VPN reviews, if you want to compare VPN.ac with even more services.
---
Are you a VPN.ac customer or have used the service before?
Rate them and share your experience with us 👇