As with any device connected to the internet, Android phones and tablets are no less susceptible to security and privacy risks. Which is why it's more important than ever to protect your data with the right privacy tools. One of those tools inarguably is VPN, and in this guide, we'll compare the best Android VPN apps.
In this guide 🔎
In a hurry?

Our top pick among Android VPNs is NordVPN 🥇
What is VPN on Android?
Before spending any money on one, it's important to first understand — what is a VPN.
A VPN lets you run a private connection between your Android device and the internet.
It creates a secure, encrypted tunnel for your web traffic, making it impossible to read. As a result, your ISP — or any malicious third party — will not be able to see what you're up to online.
Also, a VPN assigns you with a brand new IP address reflecting that of the VPN server you're connected to.
Thanks to this, you can appear online as though you're actually in a different location.
Do I need a VPN on my Android phone?
Today, VPNs are an essential checkbox when it comes to privacy best practises. Regardless of whether you use one on your desktop computer or on your mobile phone or tablet, including Android.
With a good VPN, you'll be able to get closer to anonymising your online identity and hide your mobile data from prying eyes.
But that's not all.
VPNs are also used for unblocking websites and streaming.
So, if you reside in a location with strict online censorship or simply want to get the most out of your streaming subscription (e.g. Netflix), a VPN will be your ideal companion.
What is the best VPN for Android?
Based on countless hours of testing and many VPN reviews, we've hand-picked five apps that we think are the true best VPNs for Android.
These providers all come with solid combinations of speed and security — essential for any VPN. And — perhaps most importantly — their VPN apps for Android are well designed and are not difficult to use. Even for beginners.
So here's our top list of Android VPNs as well as reasons why we reckon these five stand out above the rest.
Our score
User rating
Our score
User rating
Price $4.19
Pros
Zero logs & no leaks
Built-in malware & phishing blocker
Includes tapjacking protection
Exceptionally fast speeds
Based in Panama (good for privacy)
Works in China
Allows torrents on designated servers
Includes Smart DNS
Compatible with most devices & platforms
Cons
In-app search is a little clunky
A favorite VPN service across the world, NordVPN makes it to the top of our top Android VPNs list.
Great for security
The provider is based in Panama — a nation that doesn't belong to any of the main surveillance alliances, like Five Eyes. This for sure is a plus in terms of how your data would be handled.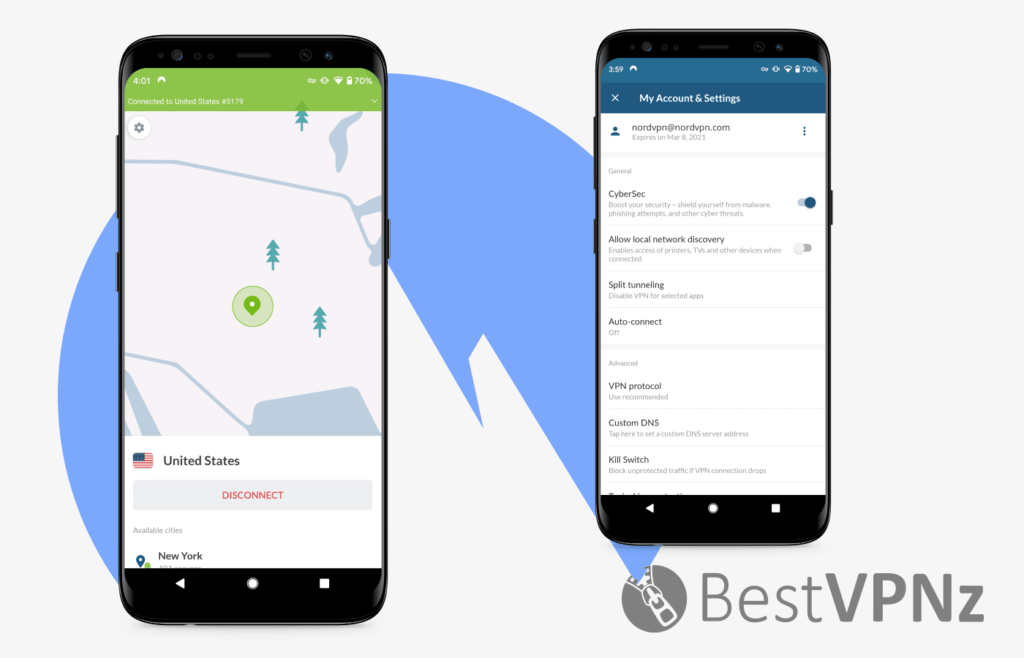 NordVPN applies top of the range security: AES-256-GCM encryption, with SHA2-512, TLS1.2 and 4096-bit DH keys.
It also runs its entire network on RAM-only servers, which means no user data ever gets physically stored in their data centres. A bonus for your privacy.
Furthermore, NordVPN doesn't keep any identifiable logs, and this claim gets regularly verified by external audits.
One of the fastest VPNs, by far
We've tested NordVPN's speeds many times, so it's best to let the data speak for itself.
This is how fast the service is across six locations based on tests with a 500 MB connection:
| | | |
| --- | --- | --- |
| Location | Top speed | Average speed |
| UK | 373.2 Mb/s | 369.4 Mb/s |
| Sweden | 277 Mb/s | 240.3 Mb/s |
| US (New York) | 364.3 Mb/s | 308.7 Mb/s |
| Canada (Quebec) | 321.2 Mb/s | 307.3 Mb/s |
| Singapore | 345.9 Mb/s | 310.7 Mb/s |
| Australia (Perth) | 277.2 Mb/s | 247.1 Mb/s |
Lots of useful VPN features
NordVPN gives you access to more than 5,000 servers. Few VPNs — especially outside of this top five — can boast running networks as sizeable as this.
When using NordVPN on your Android device, you'll enjoy a user-friendly interface. Many of the features — like finding a location to connect to — require simple scrolling and tapping.
NordVPN is well-optimised for accessing and watching Netflix, Hulu and many other streaming services.
It also allows torrenting and actually has dedicated P2P servers distributed across numerous global locations. This means you can enjoy speedy, safe torrenting from anywhere in the world.
Additionally, you'll be able to use some extremely handy privacy features like split-tunneling, the kill switch as well as tools to protect your Android device from malware, phishing and even tapjacking attacks.
Its desktop apps — for PC or Mac — are very similar to their Android version and are just as easy to use.
Decent pricing with guarantee
NordVPN will cost you from $3.71 per month, depending on the package you choose.
While it doesn't have a standard free trial available, its 30 day money-back guarantee means there's no risk in trying out this market leading VPN.
Our score
User rating
Our score
User rating
Price $2.69
Pros
Zero logs (verified)
Fast & supports WireGuard
Strong security features
Allows torrents
Connection snooze function
Offers dedicated IP
Includes port forwarding
Up to 10 device connections
Cons
Might not work in China
Based in US
Private Internet Access (PIA) impresses with speed, price and the multitude of VPN features which are likewise available on Android.
Hence why it's No.2 in our list.
The cheapest top Android VPN
With PIA you get a VPN that's more affordable than most others, without compromising on what you get in terms of features.
It's available at a low price of $2.69 per month if you commit to a longer term, two-year plan.
Even its monthly packages are cheaper than many other market leading VPN services, so it's excellent for those with a tight budget but still want to get access to a reputable, high-end VPN.
As with many premium VPNs, you can't get a free trial with PIA, but the 30 day money-back guarantee is there to be used if you want to try it risk-free.
Fast in most locations
With PIA you get one of the fastest VPNs we've tested, over both WireGuard and OpenVPN connections.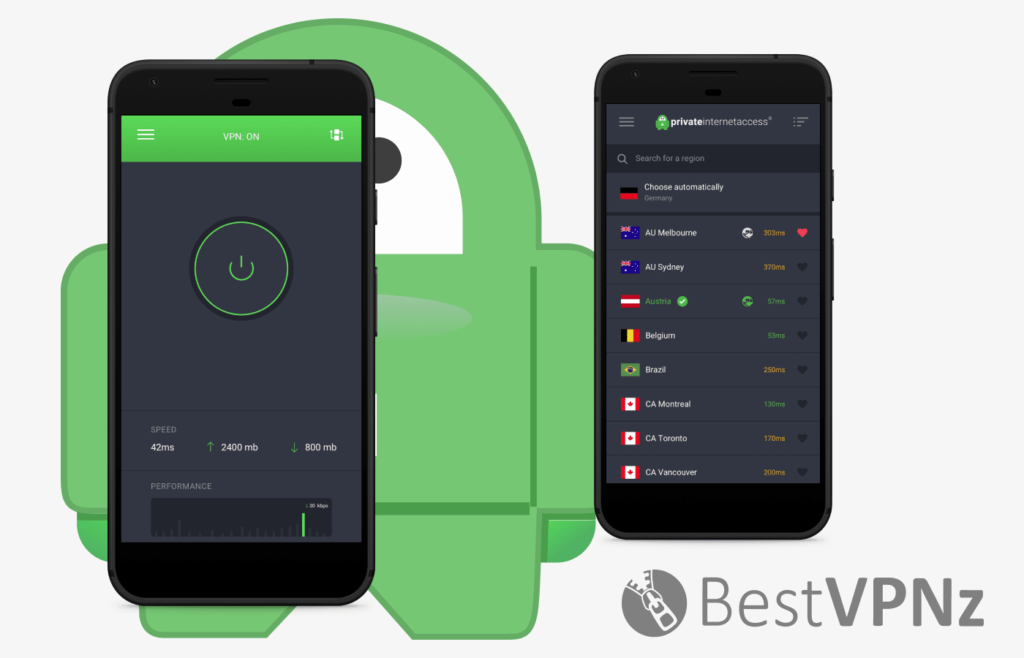 In our own VPN speed tests, we clocked in excess of 340 Mb/s with a 500 Mb/s broadband connection.
Here are the results of the PIA speed test in detail:
| | | |
| --- | --- | --- |
| Location | Top speed | Average speed |
| UK | 345.2 Mb/s | 332.5 Mb/s |
| Netherlands | 320.2 Mb/s | 314.6 Mb/s |
| US (New York) | 125.8 Mb/s | 111.5 Mb/s |
| Canada (Ontario) | 282 Mb/s | 266.3 Mb/s |
| United Arab Emirates | 267.9 Mb/s | 254.2 Mb/s |
| Australia (Perth) | 76.4 Mb/s | 72.6 Mb/s |
Slick VPN apps
With PIA, you can look forward to an intuitive app layout, similar to the one you'll get on desktop.
Its very easy to use and we particularly like how the app lets you re-arrange and pin certain features and settings to its main screen.
This makes it really easy to do things on the fly, like quickly change servers to another bookmarked location or even put the connection on snooze for a few minutes.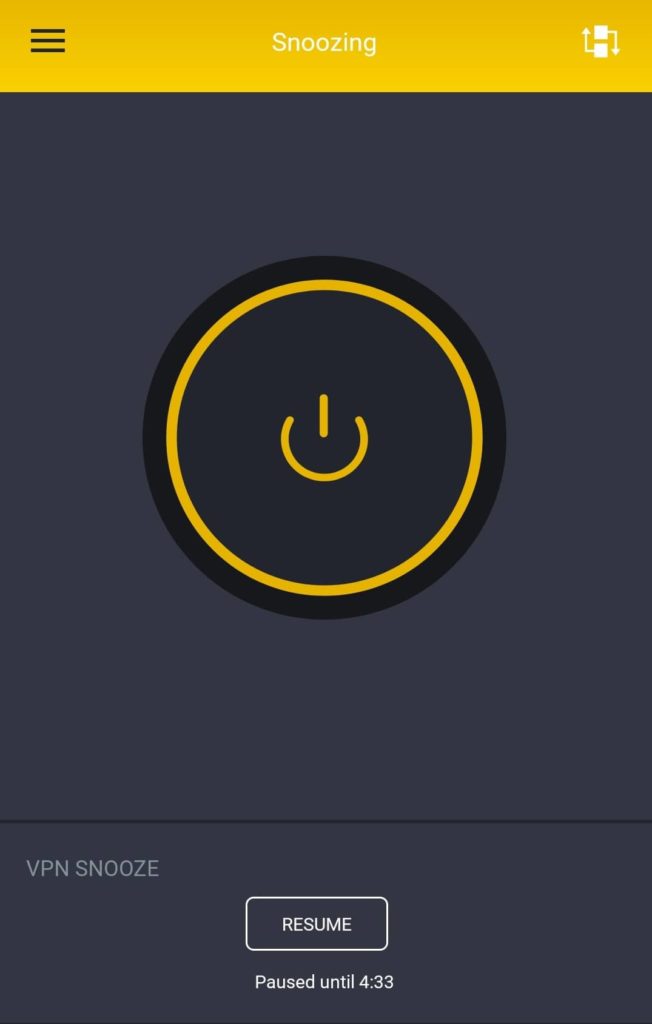 A very minor drawback is that unlike, PIA for desktop, the Android app is missing the PIA MACE feature, which blocks ads and unwanted trackers.
On the plus side, however, this Android VPN works with Netflix without issues.
No logs, really
PIA has proven in court that it doesn't keep logs.
So this is a huge plus in terms of actual privacy as not many VPNs can back up their 'no log' claims as well as this.
Perhaps one slight area of concern is that its business operates out of the US.
Traditionally, it's not an ideal jurisdiction for a VPN company. But given that Private Internet Access has a fully verified 'no logs' policy, this wouldn't be a deal-breaker for us.
Our score
User rating
Our score
User rating
Price $6.67 p/mo
Pros
No logs (audited)
Based in the British Virgin Islands (no data retention)
Strong encryption & security
Fast & reliable connections
Simple, intuitive apps
Works in China
Torrenting on any server
Helpful support
ExpressVPN is another all round favorite in today's VPN industry, and will work perfectly on your Android device too.
Simplistic design
Now, while we think each provider in this top five is perfectly suitable for non-tech savvy users, ExpressVPN deserves a special shout-out in this regard.
Its Android app is simplistic and is, like, really easy to use.
As you can see in the screenshot below, the main dashboard is not cluttered with any excess detail. In fact, its default configurations are already optimised for you to be able to tap the big "On" button, so your connection gets up and running within seconds.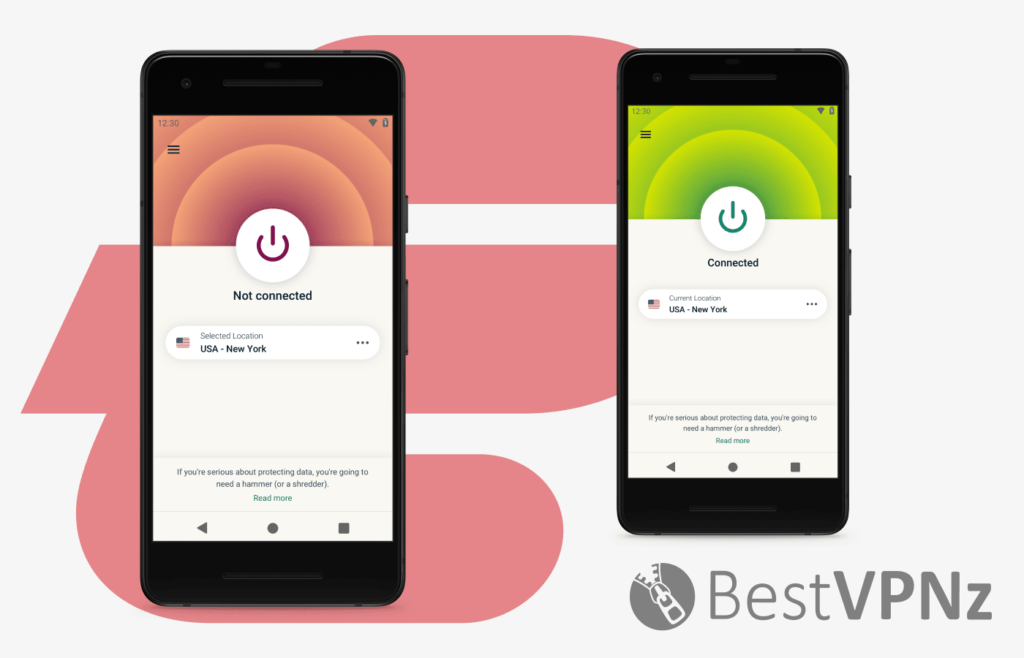 ExpressVPN works fine with Netflix, but in case you do encounter any technical issues, you can expect fast assistance from its customer support service.
Another fact that we like is that ExpressVPN is one of the few VPNs that should work in China.
So if you live in the mainland or intend on travelling to the country, this will be invaluable for bypassing the countless content restrictions.
Proven zero-log service
ExpressVPN is formally based in the British Virgin Islands, which is a plus due to its advantageous user privacy laws.
There's no legislation in the BVI requiring companies registered in the country to keep user logs.
On top of strong encryption and 100% RAM-disk servers, ExpressVPN operates with a court-proven zero-log privacy policy. This has likewise been verified by external audits.
Reliable connections
Thanks to its bespoke encryption protocol in Lightway — which is capable of encrypting with either ChaCha20 or AES-256 algorithms — ExpressVPN supports fast and highly stable connections across most of its 150+ geographic locations and a whopping 90+ countries.
| | | |
| --- | --- | --- |
| Location | Top speed | Average speed |
| UK | 335.9 Mb/s | 333.2 Mb/s |
| Germany | 301.6 Mb/s | 295.5 Mb/s |
| US (New York) | 258.9 Mb/s | 253.4 Mb/s |
| US (California) | 253.8 Mb/s | 224.5 Mb/s |
| Canada (Ontario) | 275.7 Mb/s | 263.4 Mb/s |
| China (Hong Kong) | 222.5 Mb/s | 214.7 Mb/s |
Our ExpressVPN speed tests — the results of which you can see in the table above — were run over the course of three days.
And the fact that the average speeds are so close to the top speeds indicates just how reliable you can expect them to be if you were a user.
Our score
User rating
Our score
User rating
Price $3.75 p/mo
Pros
Based in Romania (no data retention)
Excellent speeds with WireGuard support
Advanced encryption features
Private DNS resolvers
Allows P2P traffic
Works in China
Reliable VPN apps
Responsive support
Although it may not be the most recognisable VPN brand in the world, if you're an Android user, you need to have VPN.ac in your short list.
Here's why…
It was founded by security experts
The folks behind VPN.ac and its parent company — Netsec Interactive Solutions — specialise in infosecurity. And aside from its VPN venture, they also offer penetration testing services.
Not bad for a small company from Romania.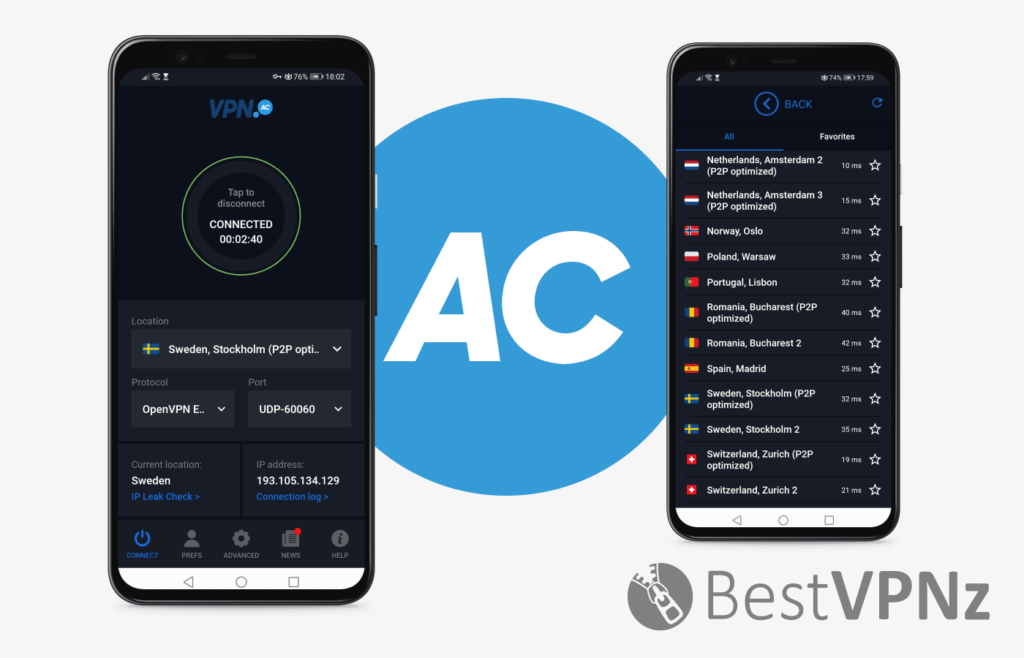 Speaking of Romania — the EU country is generally regarded as a decent jurisdiction for operating a VPN service out of.
This is thanks to the fact that — unlike in most EU member states — data retention is not enforced by law, which allows locally-based providers such as VPN.ac (and also the rather well-known CyberGhost VPN) to operate with a bare minimum or no-log policy.
In the case of VPN.ac, the provider is transparent in that it securely stores basic connection logs for one day, after which they are permanently deleted.
Fast & reliable network speeds
As it's a smaller provider, VPN.ac doesn't necessarily hit it out of the park with its location coverage (20+ countries).
But it does more than make up for it with ridiculously fast speeds that are further boosted by its support for the speedy WireGuard protocol.
In fact, our own tests show that with a 500 Mb/s connection and short enough latency, you can reach ~350 Mb/s. Which is excellent for any VPN.
| | | |
| --- | --- | --- |
| Location | Top speed | Average speed |
| UK | 349.6 Mb/s | 347 Mb/s |
| Netherlands | 330.7 Mb/s | 324 Mb/s |
| US (Florida) | 188.2 Mb/s | 178.7 Mb/s |
| Canada (Ontario) | 323.7 Mb/s | 294.2 Mb/s |
| Singapore | 303.1 Mb/s | 279 Mb/s |
| Australia (Sydney) | 165.6 Mb/s | 130 Mb/s |
Moreover, this provider offers reliable and stable connections, including with its VPN app for Android.
Add that on top of the excellent security measures that VPN.ac deploys, and you've got a very tidy VPN solution.
VPN.ac apps are very intuitive and easy to use. The provider also offers informative guides for setting it up on any operating system or VPN-compatible.
Helpful customer support
Now, you might think it's a drawback that VPN.ac doesn't offer live chat support.
But from our experience in testing many VPN services, we'd would argue that email support — and from a smaller company too — is actually much more efficient and helpful.
So, as opposed to going round in circles with a helpless live chat agent, who'll almost certainly escalate your technical query as an email ticket anyway, we think it's way faster and more useful to speak to experienced technicians — by email — in the first place.
One of the cheaper solutions out there
$3.75 per month on a 2-year plan makes VPN.ac very affordable.
But its basic, rolling one-month plan is still below the average market price at $9.
VPN.ac is definitely one of the cheaper providers out there, but do keep in mind that refunds are guaranteed for 7 days only.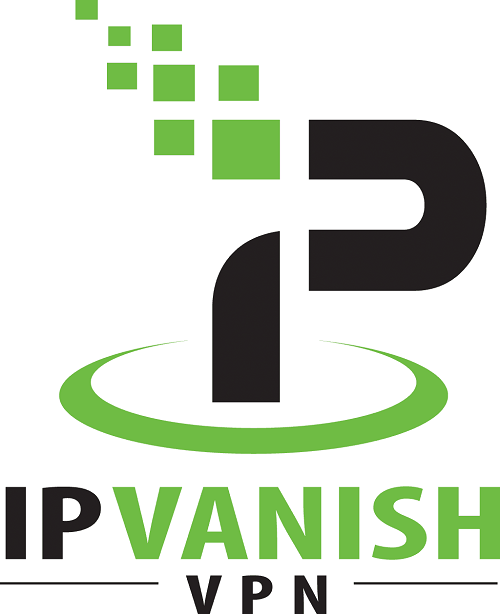 Our score
User rating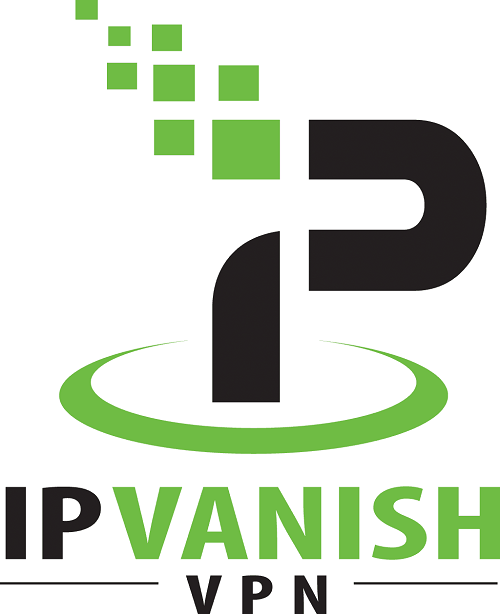 Our score
User rating
Price $3.33 /mo.
Pros
Zero logs (verified)
Large server network
Strong encryption
Torrents allowed
Built-in split-tunneling
Unlimited connections
Offers phone support
Cons
Doesn't work in China
Based in US
No WireGuard support
Last, but certainly not least, in our list is IPVanish, and we'll explain why this veteran provider made it into our recommended Android VPNs list.
Unlimited connections
Among our top five, IPVanish is the only VPN that doesn't impose limits on simultaneous connections.
Meaning, you can use the same account on an unlimited number of devices, all at the same time.
Of course, keep in mind this will be subject to fair usage.
A solid privacy resume
IPVanish has proved in court that it didn't keep or have access to its users' traffic logs.
And although it did used to (transparently) keep basic connection logs, nowadays it operates as a 'no log' service.
Like PIA, IPVanish is based in the United States, which might be a reason for issue with some potential users. Although — as mentioned earlier in this guide — we're not entirely convinced the US/Five Eyes alliance membership should necessarily be one of those reasons.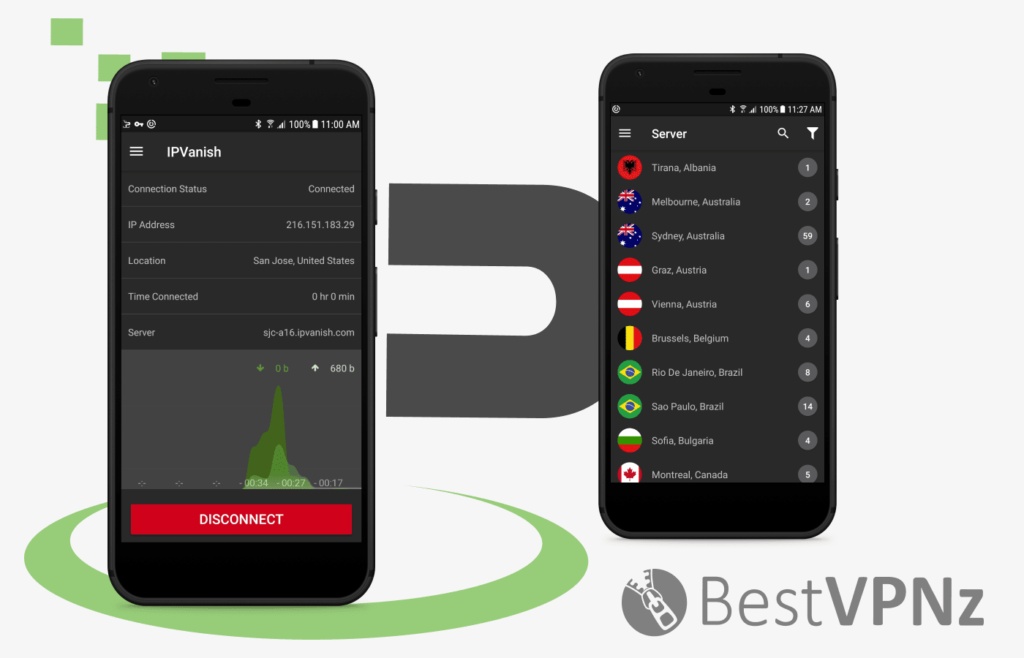 User-friendly app
IPVanish users with Android phones or tablets will enjoy a simple yet powerful app interface.
But apart from the fact this app looks and feels good, it actually works pretty darn well too.
It's a stable piece of VPN software equipped with all the essential features you'd expect to find in an Android VPN app, including encryption protocol selection (OpenVPN or IKEv2) and split-tunneling.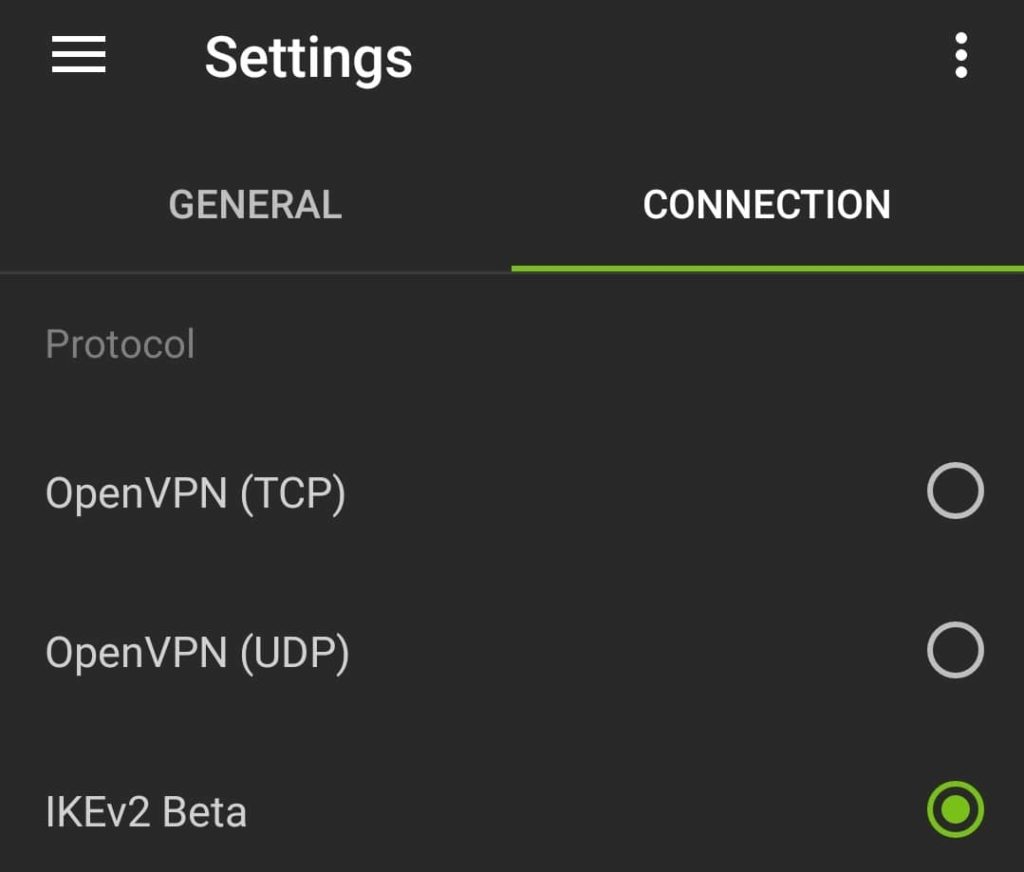 The kill switch can be activated in your Android VPN settings, which you can easily navigate to directly from the IPVanish app.
Excellent OpenVPN speeds but lacks WireGuard
At the time of writing this Android VPN apps guide, IPVanish does not support the speedier WireGuard protocol.
So when we tested its speeds, we checked using the next best protocol in OpenVPN instead.
The results are below, and as you can see, they're not bad at all considering we weren't testing with WireGuard.
| | | |
| --- | --- | --- |
| Location | Top speed | Average speed |
| UK | 199.9 Mb/s | 196.7 Mb/s |
| Germany | 158.4 Mb/s | 146.6 Mb/s |
| US (Arizona) | 134.0 Mb/s | 122.2 Mb/s |
| Canada (Ontario) | 140.5 Mb/s | 129.2 Mb/s |
| Japan (Tokyo) | 33.8 Mb/s | 27.5 Mb/s |
| Australia (Melbourne) | 25 Mb/s | 22.8 Mb/s |
For instance, through the United Kingdom — our nearby server — we managed to get download speeds of 200 Mb/s out of our 500 Mb/s baseline.
Admittedly, speeds through Japan and Australia weren't great. But we have to factor in the long ping response, which was between 200 and 200 ms for the two locations respectively.
A VPN with phone support!
Indeed — IPVanish is one of the very few providers to offer actual phone support.
So, if you prefer to troubleshoot with a support agent over a call instead of email or live chat — both of which are also available, by the way — you can do that, providing you're based in one of the six supported countries.
They are US, Mexico, Brazil, UK, Spain and Australia.
First invoice discounted
IPVanish offers savings on your first bill regardless of which contract length you opt for — monthly or yearly.
As you might expect, though, you'll save the most money — up to $40 — with the annual plan, which works out at $3.33 per month.
The provider offers your typical 30-day grace period, in case you're not happy with the service and choose to claim your money back.
Android VPN comparison chart
| | | | | | |
| --- | --- | --- | --- | --- | --- |
| | NordVPN | PIA VPN | ExpressVPN | VPN.ac | IPVanish |
| Based in | Panama | USA | BVI | Romania | USA |
| Price | $3.71 | $2.69 | $8.32 | $3.75 | $3.33 |
| Top speed | 373 Mb/s | 345 Mb/s | 336 Mb/s | 350 Mb/s | 200 Mb/s |
| Reliability | Excellent | Good | Excellent | Excellent | Excellent |
| Logs | No (audited) | No (verified) | No (verified) | Connection (1 day) | No (audited) |
| Countries | 60+ | 70+ | 90+ | 20+ | 70+ |
| Netflix | ✅ | ✅ | ✅ | ✅ | ✅ |
| China | ✅ | ❌ | ✅ | ✅ | ❌ |
| Max. connections | 6 | 10 | 5 | 6 | Unlimited |
| Refunds | 30 days | 30 days | 30 days | 7 days | 30 days |
---
Android VPN FAQs
What does a VPN do on Android?
When connected to a VPN server, a VPN app for Android will change your IP address. This means you'll be accessing websites and web services with a brand new IP location — different to that normally assigned to you by your internet provider.
The VPN also creates a secure tunnel between your device and the internet. Through this tunnel, your data gets encrypted and effectively becomes invisible to anyone or anything with access to your web traffic.
Why use a VPN on Android?
The two most common reasons for using a VPN — whether it's on your Android mobile device or desktop computer — is to a. improve your internet privacy and b. unblock censored websites and content in locations where they are restricted.
However, the privacy aspect is arguably even more important with Android, as you're more likely to connect to heavily monitored or outright unsecured public WiFi networks using your mobile device.
In these cases, using a VPN is highly recommended in order to keep your internet activity private.
How to get a VPN on Android?
Finding a VPN to use with your Android device is not as tricky as it first might seem.
Follow these few, simple steps and you'll be up and running with a secured, private VPN connection within a matter of minutes.
Find a good Android VPN app that fits your needs
Sign up to the service
Download its Android VPN app from the provider's website or the Play Store
Launch the VPN app and log in with your unique account details
Once you've completed these four steps, your VPN will be ready to use.
Can I use my Android VPN for Netflix streaming?
Streaming services like Netflix actively work to prevent its customers from accessing content while using a VPN. And if your provider isn't compatible, the chances of encountering the infamous Netflix 'Error' message while trying to stream shows are high.
That said, all five Android VPN apps recommended in this guide are perfectly suitable to use alongside Netflix.
How to use US VPN on Android?
To start using a US VPN on your Android device, you'll need to go to your VPN provider's server menu and connect to one of the available gateways in the United States.
Near enough every VPN will offer access to at least one US location.
How to access US Netflix on Android?
To access American Netflix from outside of the United States, you'll need to connect to a US-based server offered by your chosen VPN provider.
But keep in mind — not all VPNs are compatible with Netflix.
Also, some providers that do work with the popular streaming service will run specially dedicated servers for streaming. These nodes are usually clearly labelled and are easy to locate within their VPN clients.
What is a good free VPN on Android?
The Google Play store is flooded with free VPN and security apps. But unfortunately, it hasn't always done a great job in filtering out high-risk apps from its marketplace.
As a result, the Play Store is rife with apps known for data harvesting, malware, tracking scripts and leaks. And these are not things you'd want in a VPN. At all.
Of course, it's difficult to know which developers are shady. Or even to predict which ones will sell your data to third parties.
But among the dross, it is still possible to find reputable, secure and genuinely free VPN apps for Android. Our top pick would be the Swiss-based ProtonVPN, which offers a free plan with no data limits.
What is the best VPN client for Android?
In some cases, you might be satisfied with your VPN service but not with their Android app. This could be for a variety of reasons, such as the app being slow or clunky.
The best alternative in this situation is to use a third party VPN client to connect to the service you're subscribed to.
The two recommended VPN clients are OpenVPN or WireGuard. They're both open source apps — which you can download from the Play Store — and both are tied to their namesake encryption protocols.
How to connect to a VPN on Android?
Once you have access to a VPN service and its Android app, you simply need to choose your VPN server and then tap on Connect — which is usually a big, ol' button that can't be missed.
But if you intend on using a third party Android VPN client, such as OpenVPN or WireGuard, you'll need to locate and download your provider's configuration files for the server/s that you want to connect to.
You'll normally be able to locate the configuration files in your account client area on the web. But if they're not there, you might need to reach out to your VPN's support team.
What is the best Android VPN?
To recap, here's a quickfire summary of the best VPN apps for Android based on the services that we've tested and are confident in recommending.