---
BTGuard is a VPN and SOCKS5 proxy service that operates as a business of Canada-based company Netcrawled LLC. The provider is well known for its strict 'no-log' and torrent-friendly policies, both of which have helped build it a strong reputation on the virtual private network market.
In this review, we'll take a close look at what the service has to offer in terms of online anonymity – closely examining whether its VPN and proxy perform as promised. The review will include overviews of BTGuard's server network, privacy policy, encryption techniques, compatibility, speed and price.
---
Quick Links
---
Server Network
BTGuard offers servers in three countries: Canada, the Netherlands and Singapore. Its website states that it operates with lines capable of 10Gb/s port speeds, with access to several tier 1 networks.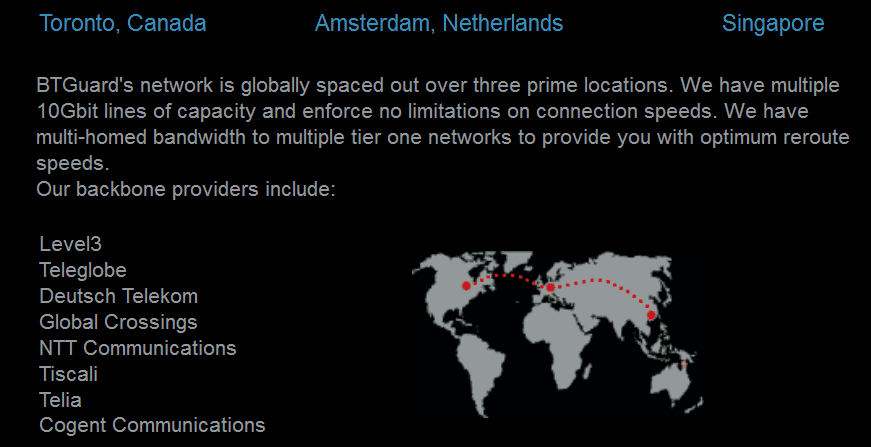 Its backbone providers include Level3, Teleglobe, Deutsch Telekom, Global Crossings, NTT Communications, Tiscali, Telia and Cogent Communications.
Although there are just three available locations, each of them strategically covers customers in North America, Europe, and Southeast Asia. Its Canada servers are ideal for users in the United States and Canada. The Netherlands endpoint accommodates users throughout Europe as well as North Africa, while the Singapore server covers the surrounding locale with the inclusion of users in mainland China.

Privacy Policy
BTGuard's privacy policy is published on behalf of its parent company Netcrawled LLC. Its contents are quite brief, with about half a dozen key bullet points outlining the service's approach to data protection and customer privacy.
The service is known for its strict 'no-log' policy and its positive attitude towards torrent transfers – which isn't always observed with every VPN provider.
As mentioned earlier, the company is based in Canada, where until recently, data protection laws were considerably favourable towards telecoms and internet-service firms. In the last few years, however, Canada has adopted tougher anti-piracy and data retention laws.
But despite the Canadian government introducing an anti-piracy law in 2015, which forces ISPs as well as VPN companies to hand over IP addresses of users assumed to have pirated unauthorised content, BTGuard stands firm in stating that, in any instance, such legislation would never result in the compromise of user confidentiality. The company has also previously hinted that in the future, it may replace its Canada server with a different location.
Likewise, it is not uncommon for VPN providers to move their HQ or registered address locations, which could be another possibility should their Canadian residency become untenable.

Encryption
BTGuard provides encryption over OpenVPN and PPTP protocols. OpenVPN is available with 128-bit Blowfish-CBC keys.
With OpenVPN, users also have the choice to switch between UDP and TCP. Primary focus is given to UDP connections as users are able to connect over it to all BTGuard servers; while over TCP, you can only connect to the fastest available server.

UDP is recommended and is used for standard VPN connections, while TCP is better recommended for use over tough firewalls in restrictive locations like Iran and China.
Its PPTP protocol uses MPEE-128-bit encryption. As this is the weakest (commonly) available form of VPN encryption, we recommend that PPTP is only used for bypassing geographic restrictions, and not for accessing or working with sensitive data over non-secure networks, i.e. for privacy purposes
In terms of acceptable usage policy, BTGuard allows users to connect on as many devices as necessary from a single location, which presumably is determined by IP addresses. However if one account is shared and noticed to be active from multiple locations, then the provider reserves the right to suspend the account.
---
---
How to setup
BTGuard does not offer its custom built applications, therefore, the most recommended way to configure BTGuard with OpenVPN is with trusted third party VPN clients such as OpenVPN GUI for Windows or Tunnelblick for Macintosh.
iOS and Android users are recommended to use the OpenVPN Connect application, which can be downloaded from the App Store and Google Play respectively.
To connect with PPTP, users can utilise their operating system or device's built-in VPN client.
As OpenVPN is the universally recommended encryption protocol, we will demonstrate how to set up BTGuard on a desktop machine using the open source OpenVPN client for Windows. We will also briefly show how to configure the VPN on a smartphone using the OpenVPN Connect app.
Desktop setup (Windows example)
1. Download and install OpenVPN Windows client (Tunneblick for Mac)
Detailed instructions on doing this can be found in our OpenVPN setup tutorials for Windows and Mac.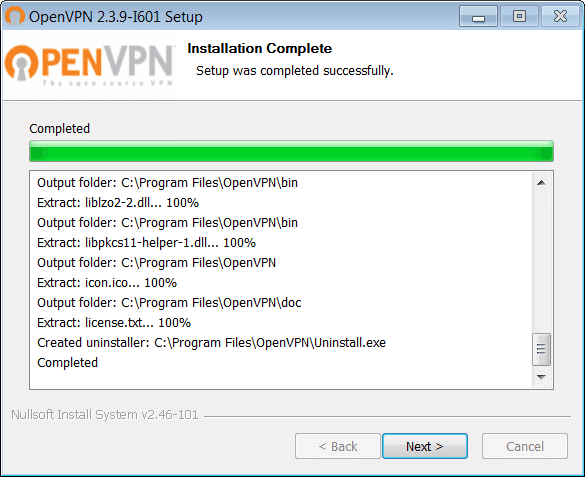 Ensure to set the client to "Run as Administrator". This is done by right-clicking its launch button, heading to the "Compatibility" tab and toggling this option "On".
2. Download and unzip BTGuard OpenVPN configuration files.

What's extremely useful about BTGuard's self-extractor is that it extracts all of the provider's config files right into the OpenVPN client's folder in Program Files, essentially saving users time and effort of having to manually transfer the files.
1. Launch OpenVPN client

Launch the OpenVPN client either from the Start Menu or from the desktop, after which you will see its icon appear in the taskbar. The fact that it is grey means that the VPN is not currently active: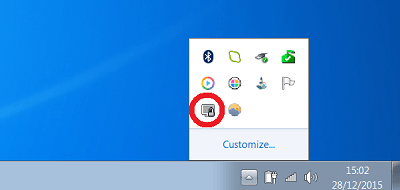 2. Select server and Connect
Right-click on the icon in the taskbar and the client will display the full BTGuard server list with the inclusion of options to connect to the fastest available node and to the nearest server over TCP: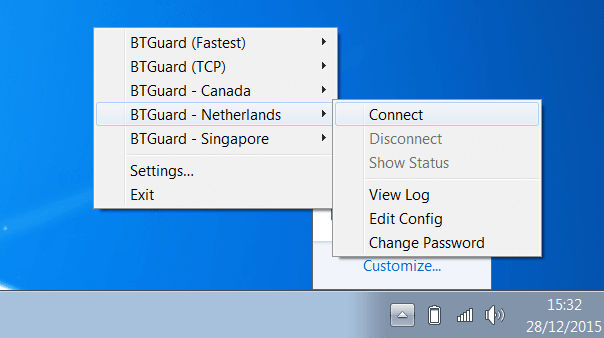 3. Enter your BTGuard VPN login and connect

At this point, you will be prompted to enter your VPN login details, as provided to you by BTGuard – the same login used to access the Members' zone on BTGuard's website. To initiate the connection, click OK: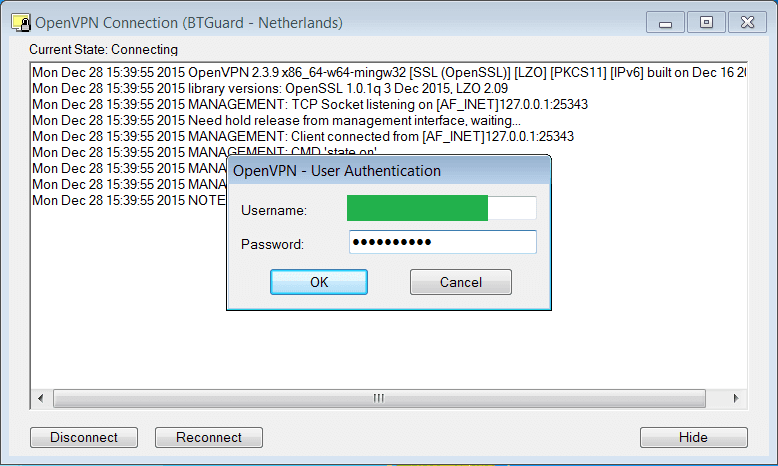 When the connection has established, the log window (from the above screenshot) will automatically disappear. In turn, you will see a notification near the taskbar confirming that your device is now connected to the selected VPN server:

In our test, we successfully connected to the Netherlands (UDP) server. A quick IP check confirmed that our location had changed to an address in the Netherlands: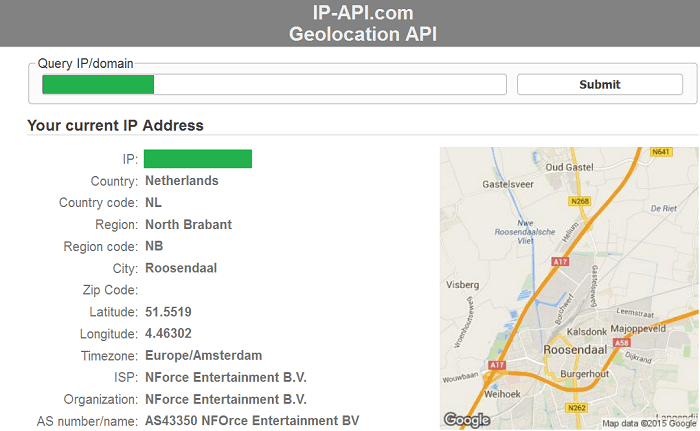 ---
---
Mobile setup (Android example)
1. Download OpenVPN Connect app

Head to the Google Play Store and download the application – OpenVPN Connect (iOS users can download the same app from the Apple Apple Store). This is the official mobile version of the OpenVPN Windows client.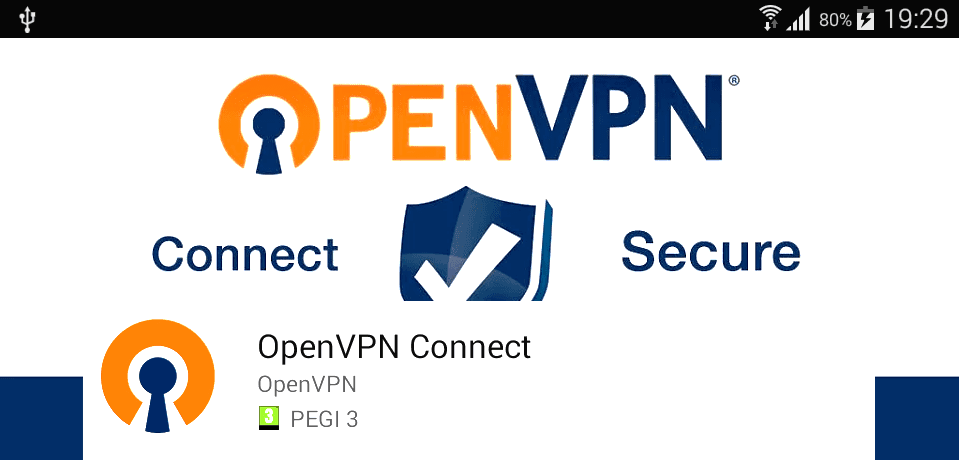 2. Download BTGuard OpenVPN config files

Firstly, download BTGuard's OpenVPN configuration files (the same files we linked to earlier in the article).
A file-unzip app, such as "RAR" for Android is also required to extract the config files from the initially compressed folder.
3. Import OpenVPN config files into OpenVPN Connect
Next, open up the OpenVPN app, choose Import from the menu and locate the config files in the folder they were downloaded/extracted to.
Among the files, you should see five server options including Canada, Netherlands, Singapore, TCP (i.e. nearest server over OpenVPN TCP) and Fastest, which would select the speediest available node to your location:
Choose the preferred connection option and hit Select.
4. Enter BTGuard login and install OpenVPN certificate
You will now be back at the VPN login page where you will see a message confirming the successful import of the server profile.
Now, enter your BTGuard username and password, then tap Connect.
When importing a provider's configuration files for the first time, the client will prompt you to install a certificate. This is located with the rest of the downloaded config files and is called btguard.ca.crt. Select and install the certificate:
5. Connect to VPN server
With the server profile imported and provider certificate installed, tap Connect once again, and the client will initiate the connection between your device and BTGuard's server:
When the connection has successfully established, you should see a key icon in the top left corner of the screen, together with the OpenVPN icon with a small green light. Both are indicators of an active connection.
As with the desktop connection earlier, it is worth running a quick IP check to ensure that your device is now accessing the web through a different IP address.
Our own test confirmed that we had successfully connected to the Netherlands server, and even Google Ads were now displaying advertisements in Dutch:
Speed Test
We tested BTGuard's servers from two locations: Midwestern United States and the United Kingdom. From the US, we tested using a 70Mb/s cable connection, and from the UK, we tested with a 17Mb/s ADSL connection.
Testing from Midwestern USA (original speed: 70Mb/s)
Toronto, Canada with OpenVPN 128-bit BF-CBC: 4.58Mb/s
Utrech, Netherlands with OpenVPN 128-bit BF-CBC: 3.19Mb/s
Singapore with OpenVPN 128-bit BF-CBC: 3.47Mb/s
Testing from UK (original speed: 17Mb/s)
Amsterdam, Netherlands with PPTP: 13.70 Mb/s
Toronto, Canada with PPTP: 3.51Mb/s
Singapore with PPTP: 9.51Mb/s
---
---
BTGuard Proxy
In addition to VPN, BTGuard offers a SOCKS5 proxy, which, when enabled, changes the IP location within specific applications.
BTGuard makes particularly emphasis on the benefits of using the proxy with BitTorrent clients to change the IP location of your torrent traffic. Nevertheless, it can likewise be used with other proxy-supporting programs, including web browsers.
Unlike VPN, the proxy does not implement encryption, but is still a viable option for masking your IP location.
Configuration (uTorrent + Windows example)
The proxy works with Windows, Macintosh and Android operating systems. Windows users can also take advantage of the uTorrent/BTGuard Easy Install, which comes with a pre-configured version of the popular torrent client.
For our test, we followed the manual process by setting up the SOCKS5 proxy through uTorrent settings. Here's how the setup should look like:
1. Go to uTorrent Preferences and open the Connection tab
2. Under Proxy Server, choose SOCKS5 from the Type dropdown menu
3. In the Proxy field, enter the address proxy.btguard.com; for port, enter 1025
3. Enable Authentication and enter your BTGuard username and password
4. Enable all remaining options below Authentication and Proxy Privacy, then click OK
Testing the proxy
The proxy will now be enabled and authenticated, but it's essential to run a quick test to ensure that it is working as intended. Here are the necessary steps on doing this:
1. Download BTGuard's tracking torrent
2. Open the tracking torrent in the client (torrent download progress will stay at 0%)
3. Check the Trackers info of the torrent: if you see the message "BTGUARD IS WORKING, New IP: xx.xx.xx.xxx (in uTorrent), then the proxy is working correctly (Vuze users will see the message "Error Failed – …" – this means the proxy is working):
As you can see in our example above, the proxy has successfully changed our torrent IP address.
MyEnTunnel encryption
Alongside the proxy, BTGuard offers an extra encryption layer, executable through MyEnTunnel. This will add SSH-based encryption on top of the IP redirection performed by the proxy.
The encryption layer is useful for BTGuard proxy users who are likely to encounter deep packet inspection (DPI) and other forms of traffic throttling over their network. It isn't, however, recommended when using the proxy for torrenting as the SSH tunnel supports TCP connections only, whereas most torrents require UDP trackers in order to work.
---
Tech support
BTGuard offers email-based technical support through an online ticketing system. In addition, the provider features its own, fairly detailed Wiki containing answers to frequently asked questions, installation tutorials for both its VPN and proxy as well as various useful links:
Price
BTGuard BitTorrent Proxy [$6.95/month or $59.95/year]
1 month: $6.95
3 months: $19.95 (5% discount)
6 months: $34.95 (15% discount)
1 year: $59.95 (25% discount)
BTGuard VPN [$9.95/month or $89.95/year]
1 month: $9.95
3 months: $27.95 (5% discount)
6 months: $49.95 (15% discount)
1 year: $89.95 (25% discount)
The provider does not offer a free trial and operates with a no-refund policy, but offers both VPN and its proxy at an average market price. Therefore, if you wish to just try the service out, the one-month subscription would be best suitable. However, if you would like to take advantage of available discounts, BTGuard offers plenty with lengthier billing cycles.
---
---