Canada-based Windscribe VPN has catapulted in popularity since its launch in 2015. And although it hasn't been around for quite as long as some of the more familiar VPN services, make no mistake – if you're shopping for a secure, legitimate privacy kit, Windscribe is one you should know about.
Looking for a better-rated VPN?

See our "Best VPN" list to find top services for speed, privacy and value.
But what exactly makes Windscribe stand out so much that it has attracted over 26 million registered users since its inception? Is it lightning fast speeds or an air-tight privacy policy? Does it have extra features – like ad-blocking – making it more than just a VPN? And, most importantly, does it enable you to 'browse the web privately', as advertised?
To find out all of this and more, I put the service and its features to the test in my Windscribe VPN review.
In this guide 🔎
---
Windscribe overview & key facts
| | |
| --- | --- |
| Based in | Canada |
| Price | Free or $4.08 /mo. |
| Speed | 321 Mb/s |
| Logs | Bandwidth & timestamps |
| Apps | Windows, Mac, Android, iOS, Linux, Chrome, Firefox, Opera, Amazon |
| Features | Ad blocker, anti-tracking, GPS spoofing, split tunnelling, port forwarding, double hop, kill switch, business VPN |
| Works with | Amazon Fire TV, Nvidia Shield, Kodi, DD-WRT & Tomato routers |
| Netflix | Yes |
| Torrents | Allowed |
| Works in China | Yes |
| Connections | Unlimited |
| Refund | From 3 to 30 days |
| Customer support | Email, chat bot, Reddit |
| Website | Windscribe.com |
What is Windscribe?
Windscribe was launched in 2015 by founder Yegor Sak, primarily as VPN service. Operating out of Canada, the provider grew rapidly, in part, thanks to its long-standing free VPN plan, which has no doubt helped Windscribe attract a large user base from many corners of the world.
The VPN works by encrypting your web traffic data and changing your IP address location.
Windscribe has compact and easy-to-use VPN apps for Windows, Mac, Android and iOS devices. It's likewise compatible with Linux systems and can be run on routers.
Aside from enhancing your internet security, Windscribe is well optimised for unblocking geo-restricted websites and accessing streaming content.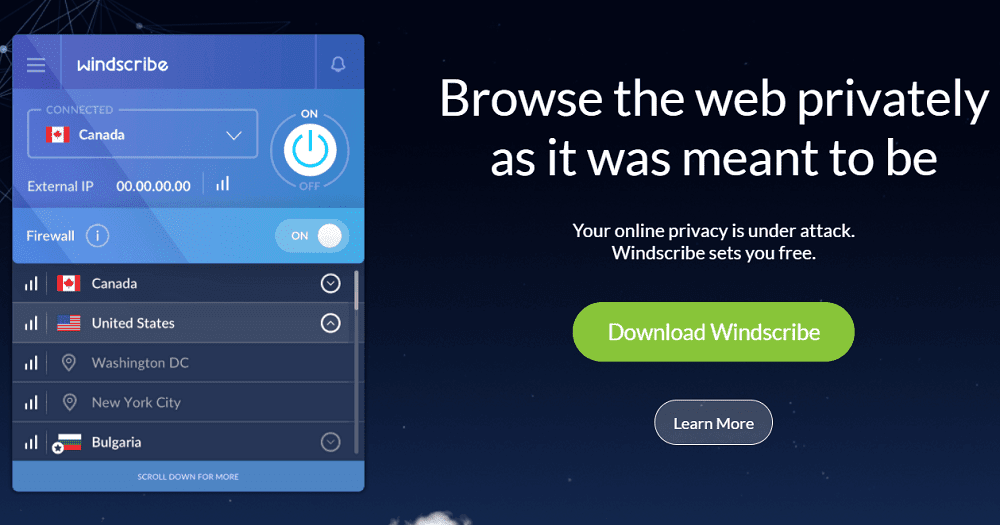 As a Windscribe user, at some point, you'll probably notice the provider doesn't always take itself too seriously.
For instance, when installing its VPN client, you'll see a fake option asking if you 'want errors to pop up randomly'. This is, of course, just a troll.
But make no mistake – the light hearted humour doesn't overshadow the fact this is a serious product, albeit with a slightly quirky side to it.
Pricing – how much does Windscribe cost?
Windscribe offers three paid subscription options – monthly, annual and the custom 'build-your-own' plans. The cheapest way to get unrestricted access to its Pro VPN is with the yearly plan, which works out as $4.08 per month. It also offers a limited free VPN service, access to which you can get just by creating a Windscribe account.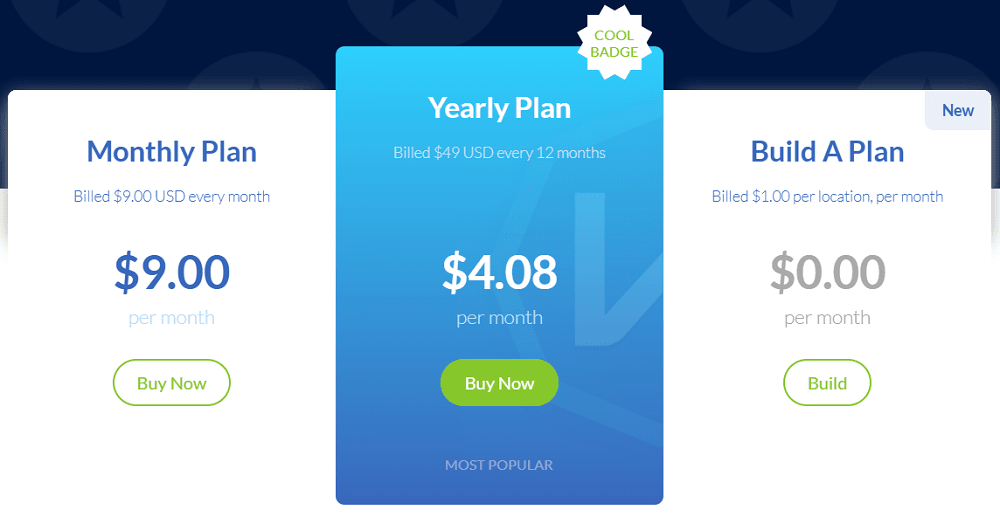 WindScribe recommends the yearly plan as its 'most popular' package, the cost of which comes to $4.08 per month. The actual payment is for the whole year upfront, but is still relatively cheap at just $49.
Most well-known, high-end VPNs usually cost more for a year's subscription.
With the build-a-plan package, you can customise your own virtual private network by choosing only the servers you need for $1 per location.
Bandwidth on this plan is limited, but you will get 10GB per month for each added server plus the 10GB free monthly allowance that already comes with every Windscribe account.
Windscribe voucher – how can I get free data?
These days, vouchers for free Windscribe data are hard to come by. However, there's another way to earn some extra bandwidth if you're not intending on paying for the Pro plan just yet.
You can get 5GB of data by tweeting about Windscribe, and then letting the provider know you've been spreading the word.
Windscribe promo code (Save 80%)
You can save up to a whopping 80% on Windscribe's Pro VPN service by subscribing to its 12-month package using the promo code below:
This subscription comes to $39 for the whole year, working out as just $3.25 per month if you were to pay in monthly instalments.
To get this VPN deal, head to Windscribe's website using the button below, and paste the code LNDBOX20 when on the pricing page.
Windscribe Lifetime subscription (discontinued)
Windscribe's Lifetime subscription has been discontinued and is no longer available.
At the time of writing this review, the lengthiest subscription term the provider offers is the 12-month plan.
Is Windscribe free, or does it have a free trial?
Windscribe offers all user accounts a free VPN service which comes with a 10GB monthly data limit along with access to a restricted number of VPN servers.
If you exceed the bandwidth limit before the end of the month, you'll no longer be able to connect to the VPN, and will either need to upgrade to the Pro plan or wait until the free monthly allowance gets renewed.
The free plan is great if you simply want to try Windscribe out before paying for the premium service, or if you simply don't consume that much bandwidth when using the internet.
What payment methods does Windscribe support?
Windscribe supports a variety of payment methods as listed below:
| | |
| --- | --- |
| Credit card (Visa, MasterCard, Amex) | ✅ |
| Cryptocurrency (CoinPayments) | ✅ |
| Paymentwall | ✅ |
| PayPal | ✅ |
| Direct debit / ACH transfer | ❌ |
| Google Pay | ❌ |
| Apple Pay | ❌ |
| Amazon Pay | ❌ |
| Alipay | ❌ |
Does Windscribe offer refunds?
Windscribe refund policy lets you claim your money back within 30 days of purchasing the service. But you should know about the (important) small print which can be found in the T&Cs.
The right to be refunded is invalid if You have violated the Terms of Service and/or if you send the request after having used the Service for more than 3 days and/or if you have used the Service for a global traffic volume exceeding 10 GB. Windscribe warrants a reimbursement within 30 days from receipt of reimbursement request.

Excerp from Windscribe's Terms of Use
Simply put, if you've been actively using Windscribe for more than three days or have used up more than 10GB in bandwidth, the refund window effectively narrows from 30 to 3 days.
That said, the free plan is available and is there to be used, so you can get a good idea about this product, risk-free.
Winscribe speed: fast & reliable? (320 Mb/s)
Windscribe is on the faster end of the scale when comparing it to other VPNs for speed. It supports the speedier, more efficient WireGuard protocol. My test clocked a max. download speeds of 320 Mb/s, which is very good for this protocol. With OpenVPN, my speeds topped at 187 Mb/s, which is just above average.
The drop-off in speed is expected to be around -35%, based on my tests. Also not bad.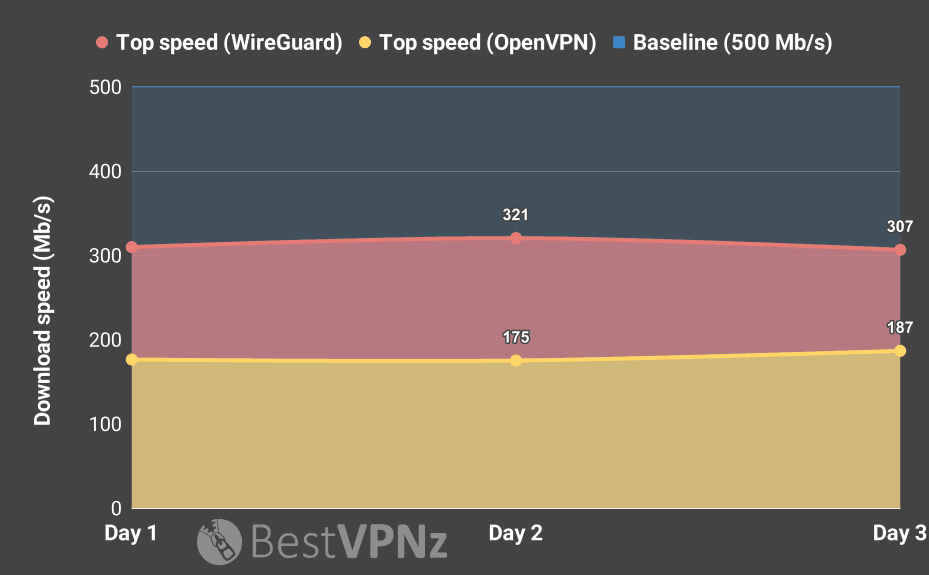 And, as you can see in the chart above, over three days of testing, my download speeds were very consistent and without any significant dips.
Speed test highlights
6 international locations: UK, Netherlands, US (East), Canada (East), UAE and Australia
WireGuard: Top speed 320 Mb/s; average speed: 188 Mb/s
OpenVPN: Top speed 187 Mb/s / average speed: 134 Mb/s
WireGuard download speeds by location
Here's a more detailed breakdown of my Windscribe speed test results using the WireGuard protocol:
| | | |
| --- | --- | --- |
| Server location | Top speed | Average speed |
| United Kingdom | 296.3 Mb/s | 294 Mb/s |
| Netherlands | 320.6 Mb/s | 312.4 Mb/s |
| United States (East) | 170.4 Mb/s | 140.5 Mb/s |
| Canada (East) | 283.3 Mb/s | 258.7 Mb/s |
| United Arab Emirates | 55.1 Mb/s | 43.4 Mb/s |
| Australia (Perth) | 82.6 Mb/s | 76.3 Mb/s |
Servers in close proximity to me – like in the UK and the Netherlands – were expectedly the fastest, with speeds reaching up to 320 Mb/s.
I also got fairly decent numbers in North America, with Canada reaching 283 Mb/s and US maxing out at 170 Mb/s.
As you can see with the more distant locations from me, the drop-off was at times more than 90%.
OpenVPN download speeds by location
As expected, my download speeds were slower with OpenVPN than when using the WireGuard protocol, but not bad overall (~190 Mb/s) when comparing Windscribe with other VPNs we've reviewed.
Surprisingly, UAE and Australia were noticeably faster for me over OpenVPN than with WireGuard.
| | | |
| --- | --- | --- |
| Server location | Top speed | Average speed |
| United Kingdom | 186.8 Mb/s | 174.1 Mb/s |
| Netherlands | 176.5 Mb/s | 167.4 Mb/s |
| United States (East) | 151.1 Mb/s | 138.9 Mb/s |
| Canada (East) | 144.3 Mb/s | 126.5 Mb/s |
| United Arab Emirates | 157.1 Mb/s | 122.0 Mb/s |
| Australia (Perth) | 120.7 Mb/s | 76.3 Mb/s |
Is Windscribe safe to use? (Yes)
Windscribe has a good reputation as a privacy-centric VPN, and this is largely thanks to its transparent and 'human' approach to communicating its policies with users. The provider doesn't keep any identifiable logs and seems to have a clean track record as a business. It also has some great security and anti-tracking features and is free of leaks that would otherwise compromise your identity online.
There is a drawback, however.
Although Windscribe is transparent about its limited connection logs, its privacy policy has not been scrutinised with an independent audit.
Privacy summary
| | |
| --- | --- |
| Logs | Bandwidth & timestamps |
| Audited | ❌ |
| Safe jurisdiction | ✅ |
| Clean track record | ✅ |
| Strong security features | ✅ |
| No IP / DNS leaks | ✅ |
| Passed virus & malware scan | ✅ |
| RAM-disk servers | ❌ |
Does Windscribe keep logs?
In its privacy policy, Windscribe says it keeps limited connection logs in order to 'prevent abuse and weed out inactive accounts'. Here's a quickfire summary of usage information it does and doesn't keep:
Logs it doesn't store
Your web traffic and browsing history
VPN session history
Your source IP address
Logs it does store
How much data you've used over 30 days
Timestamp of your last connection
On paper, this is a safe logging policy, as this means Windscribe does not keep any directly identifiable user data that could potentially be requested by authorities.
Limited connection logs shouldn't really be a cause for concern either, as many credible VPNs store this data in one way or other. Normally this is to prevent service abuse – as is the case for Windscribe.
Transparency report
To back its logging claims, Windscribe publishes a transparency report showing how many DMCA and law enforcement data requests it receives on a monthly basis.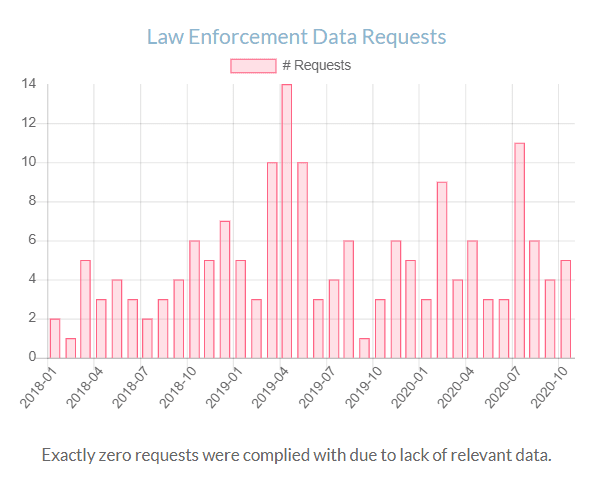 The data shows us that between 2018 and 2020, Windscribe received more than 150 user data requests from law enforcement agencies.
More importantly, it confidently states it didn't comply with any of the shown requests 'due to a lack of relevant data'.
If this all holds true, it means its logging policy does make it a safe VPN to use.
What is lacking, however, is an independent audit verifying that its limited logging practises are exactly as advertised.
I also recommend checking out Yegor Sak's Medium blog where he explains Windscribe's logging practises in detail.
Where is Windscribe Limited based?
Windscribe Limited – the company behind Windscribe VPN – operates out of Ontario, Canada.
Like in the US, there are no mandatory data retention laws in Canada. This means, Windscribe is not obligated by law to keep user logs.
As expected, VPNs are completely legal in Canada, though telecom giant Bell has in the past attempted to lobby the federal government in favour of banning VPNs on copyright grounds.
Note that Canada is a member of the infamous Five Eyes intel-sharing alliance. Although this doesn't directly impact VPNs, there are certainly broader implications involving mass surveillance and sharing of personal data across the network.
IP & DNS leak test (passed ✅)
As with any VPN test, I put Windscribe through an IP and DNS leak test. It passed all of them with flying colours.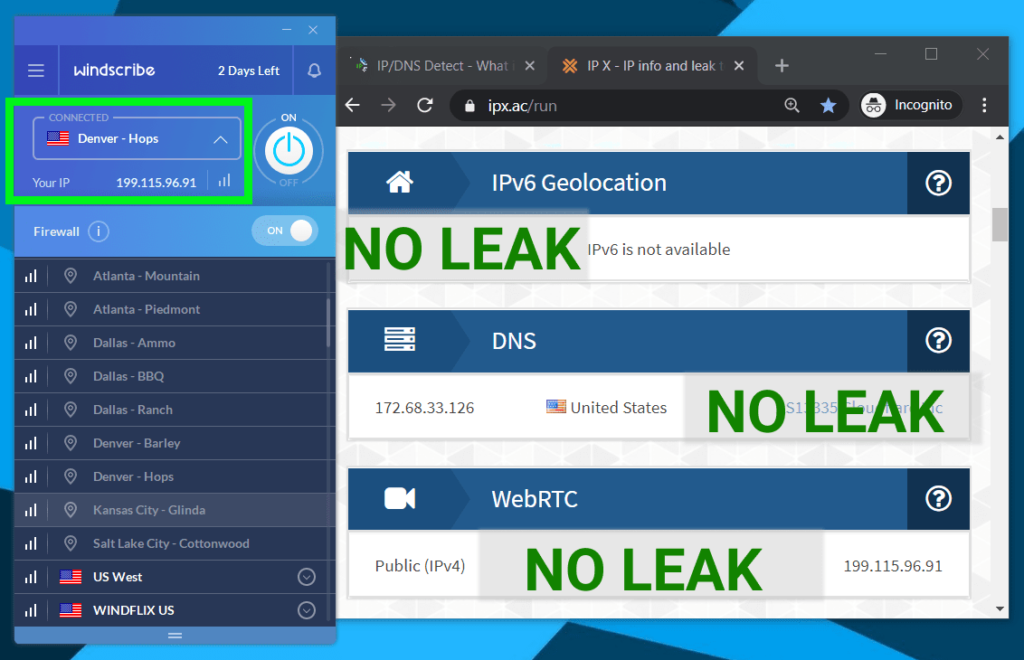 As you can see, my connection was assigned with a new IPv4 address (i.e. new IP address) by the VPN. This is also reflected in the WebRTC leak test at the bottom.
The DNS leak check picked up Cloudflare's DNS addresses, which is one of the options in the Windscribe client. Meaning no DNS leak here.
It's worth noting that Windscribe doesn't currently run its own, custom DNS servers. But in the VPN client, you can choose between the OS default DNS, OpenDNS, Cloudflare and Google DNS.
To strengthen your DNS settings regardless, I highly recommend configuring public DNS addresses in your network settings.
Which VPN protocols does Windscribe support?
Windscribe supports five VPN protocols for its connections including:
IKEv2 (default),
UDP (OpenVPN),
TCP (OpenVPN),
Stealth (OpenVPN),
Wstunnel (OpenVPN).
By default, the VPN runs over IKEv2, which is generally a safe option in terms of getting decent speeds out of your connection.
Another standard option for optimal performance is OpenVPN (UDP) – which many other VPNs default to.
However, if you're on a restrictive network, both of these protocols are easy to block. To avoid this, you have more sturdy OpenVPN options in TCP, Stealth and Wstunnel.
Stealth or Wstunnel in particular are recommended if you're planning on using Windscribe in a highly restricted network environment – like mainland China.
What encryption does Windscribe use?
For encryption, WindScribe uses the AES-256 cipher with SHA512 authentication and a 4096-bit RSA handshake.
It also supports perfect forward secrecy. This simply means that each time you connect to the VPN, Windscribe generates a brand new encryption key for your session.
So, in case one encryption key somehow gets compromised, only a limited amount of your data would potentially be exposed. And only until the next time you connect to the VPN – which is when a new key will be generated.
Deep packet inspection (passed ✅)
I checked if Windscribe's encryption actually works in practise. To do this, I inspected some of my own traffic data packets while running the VPN.
Below is an example of what a typical packet shows as I browsed a few websites while connected to a Windscribe server.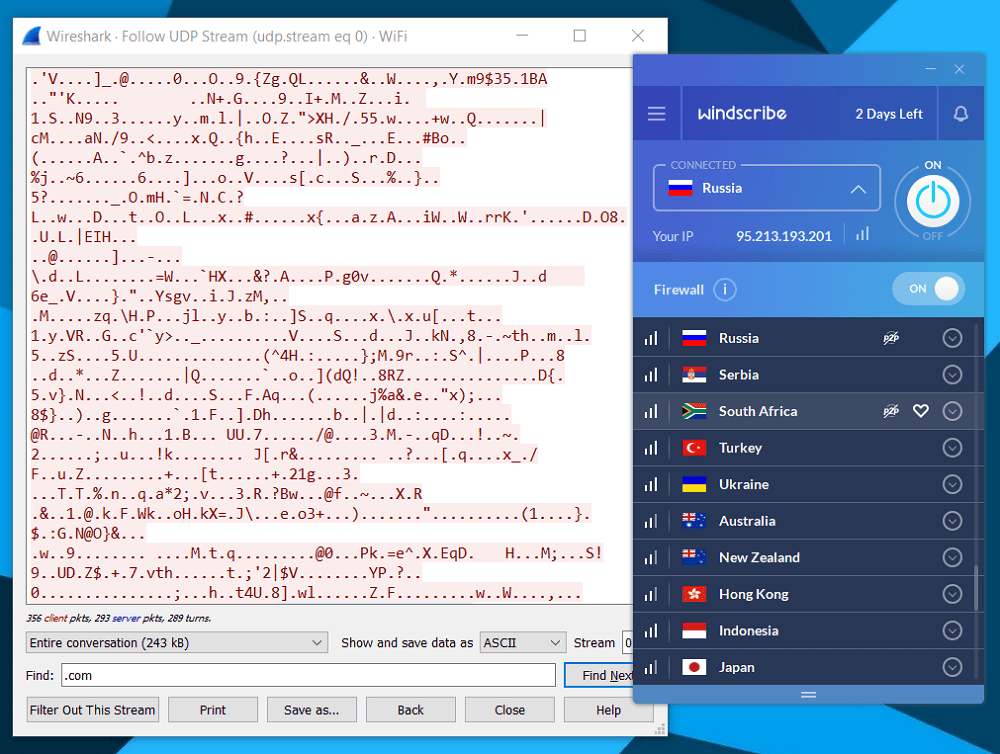 Essentially, there's nothing to make out from those symbols and characters.
This means the details of my browsing session are well and truly scrambled behind VPN encryption.
Virus scan (passed ✅)
I uploaded Windscribe's installation file for Windows to VirusTotal.com to check if any known anti-virus engines would spot risky components like viruses or malware.
The results came back completely clean. Windscribe is safe to install on your machine.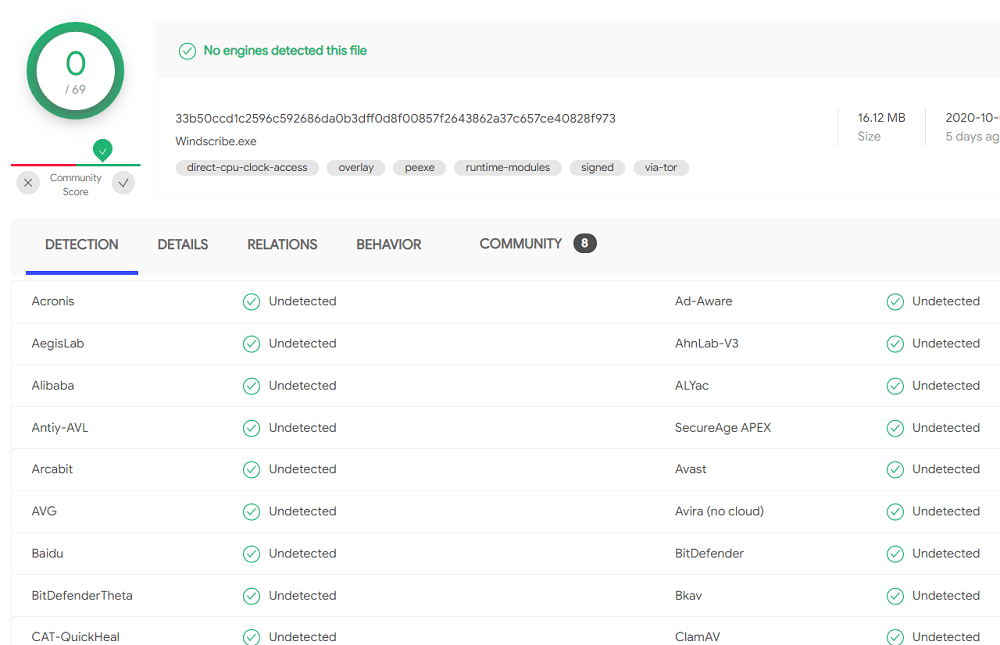 Often, these scans show at least one warning. In many instances, these are actually false positives (i.e. not a real threat).
But in this case, it was all green lights. Which is good, and likely means Windscribe keeps up with making sure its software is whitelisted by known anti-virus engines.
How to use Windscribe apps & features
Windscribe comes in a compact but easy-to-use VPN client. It also has apps for mobile platforms and is compatible with routers, Android TV, Amazon Fire TV and gaming consoles – PS4 and Xbox.

It offers access to over 60+ country gateways and is equipped with some very handy features like the Stealth and Wstunnel protocols making it one of the more viable VPNs to use in heavily censored regions.
| | |
| --- | --- |
| Server locations | 60+ countries |
| Apps (PC, Mac, Android, iOS, Linux, Amazon) | ✅ |
| Works with Netflix | ✅ |
| Works in China | ✅ |
| Torrenting | ✅ |
| Max. connections | Unlimited |
| Smart DNS | ❌ |
| SOCKS5 | ✅ |
| Browser extension (Chrome, Firefox, Opera) | ✅ |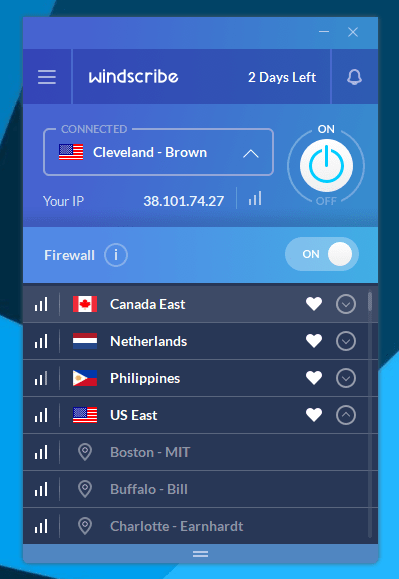 Windscribe servers – which locations can I connect to?
With WindScribe Pro, you get access to VPN servers in 60+ countries. Though this range is limited to 10 countries on the free plan.
It's not the largest VPN network I've ever come across, but it's certainly not the smallest either.
You have lots of international gateways at your disposal, including US, Canada, UK, Hong Kong, France, Germany, Netherlands and many more.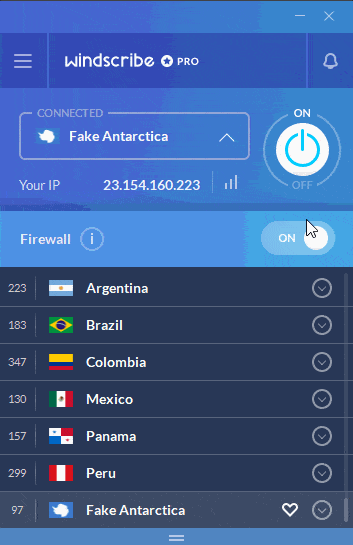 If you're using the free service, you'll see in the app which locations are available to you and those hidden behind the paywall.
A few countries are labelled with the 'P2P prohibited' badge, which actually means the majority of the gateways are compatible for torrenting.
Netflix-optimised nodes are highlighted clearly. These servers enable local library access for US, Canada, UK and Japan, and you'll see them listed as 'WINDFLIX'.
Apps & platform compatibility
Windscribe works on many platforms and devices and has apps for most of them.
For platforms not supported with an app, Windscribe offers simple enough configuration generators along with setup tips.
| | |
| --- | --- |
| Windows PC | ✅ |
| Apple Mac | ✅ |
| Android | ✅ |
| iOS | ✅ |
| Linux | ✅ |
| Amazon Fire TV stick | ✅ |
| Android TV | ✅ |
| Gaming (PlayStation / Xbox) | ✅ |
| Browser extension (Chrome, Firefox, Opera) | ✅ |
| Routers (DD-WRT, Tomato) | ✅ |
Windows & Mac client (desktop)
While writing my Windscribe VPN review, I did a lot of testing with the Windows PC client which works a lot like its macOS counterpart.
I personally like when a desktop VPN app is easy to use and not intrusive. And in this regard, Windscribe is a breath of fresh air – being a compact, little box of security features without any unnecessary bells and whistles.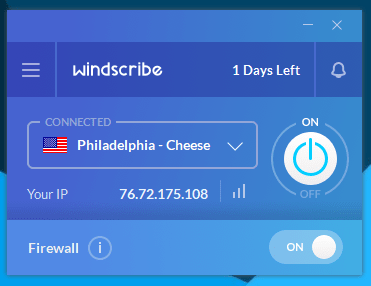 Although lacking search, finding a preferred server is still easy, as Windscribe's network isn't huge. Plus, you can bookmark your favourite nodes which pins them to the top of the server list.
Establishing a VPN connection is easy – you can't miss the ON/OFF button. While the kill switch toggle is directly below.
Easy to find. Easy to connect.
The VPN client is simple and lean.
Windscribe Android / iOS apps for mobile
Windscribe has apps for both Android and iOS devices – available to download from both the Apple and Google Play app stores.
The mobile apps work much like the desktop VPN client, featuring many of the same features like server, protocol and port selection as well as LAN traffic gating.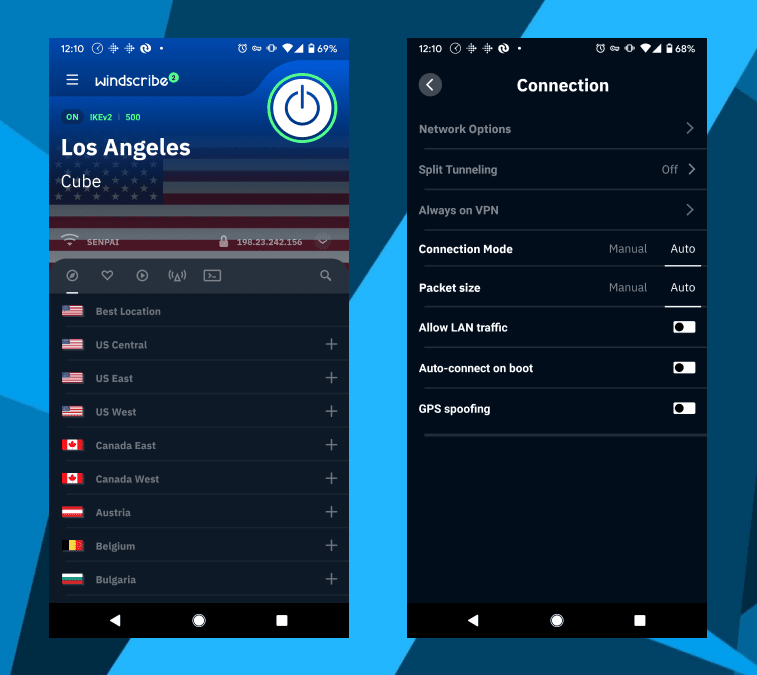 But there are a few differences.
For example, on mobile, you can make use of split-tunneling, which lets your filter specific apps through the VPN.
The app also enables you to spoof your GPS location to reflect the location of the VPN server you're connected to.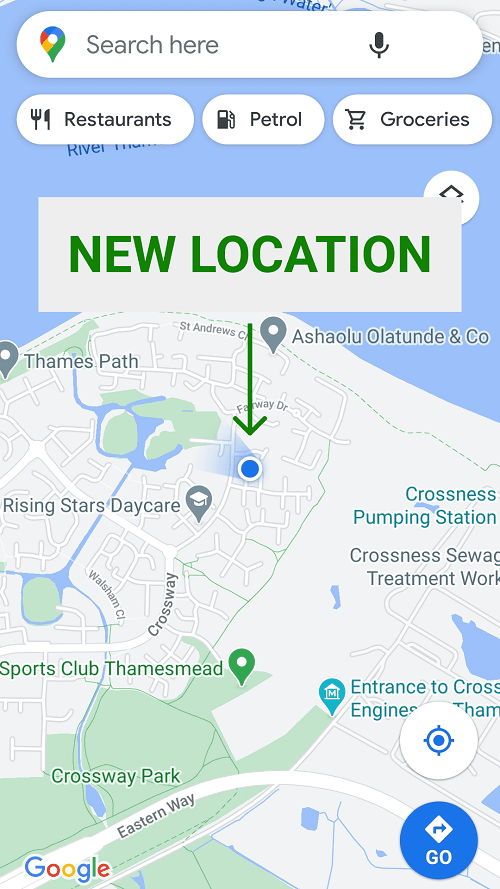 Above is an example of GPS spoofing in action while I was connected to a London VPN server.
Setting it up requires a couple of one-off tweaks in your phone's settings using Developer mode. Once this is done, the GPS location changes as soon as you run the VPN.
Another aspect of the connection you can tweak is data packet size, i.e. the maximum transmission unit (MTU).
By default, it's set to 1,250 bytes (on mobile). Lowering the MTU can improve your connection reliability and speed, but I suggest to play with this feature only if you're a more advanced user.
Windscribe Chrome extension (also for Firefox & Opera)
Windscribe has extensions for Chrome, Firefox and Opera browsers, and is a great, little tool if you just need a proxy for changing your virtual IP location directly in your browser.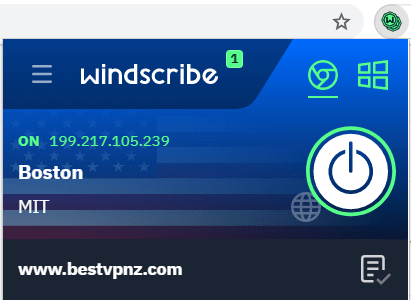 But apart from changing your location, the extension also bundles some very useful privacy features including:
Ad & cookie blocker
Tracking & malware protection
WebRTC leak protection
Location & time warp – like the GPS spoofing feature found on the mobile app
The extension also allows for a type of double hop connection when used alongside the VPN.
But bear in mind, unlike with a typical double hop VPN – where your data is routed through two VPN servers – Windscribe's method routes your connection through a VPN and then through a proxy.
Essentially, although your IP gets cloaked twice, only one encryption layer is applied.
Windscribe firestick compatibility
Windscribe is fully compatible with Amazon Fire TV stick devices, enabling you to access regional content for channels and services like Netflix, Disney+, Apple TV, BBC iPlayer, Hulu, Twitch and others.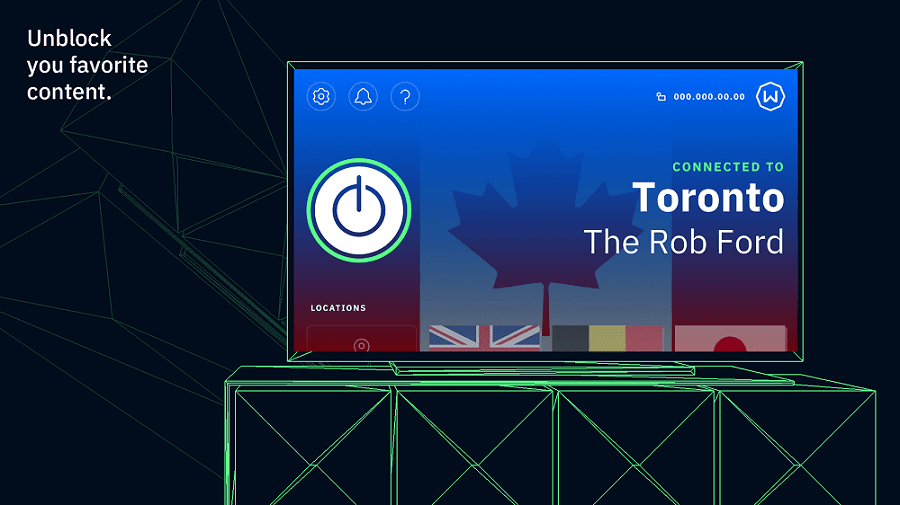 To start using the VPN on your firestick, you'll need to download the Windscribe app from the App Store using your Fire TV device.
Windscribe Linux support
You can set up Windscribe, including its free VPN service, on Linux operating systems with ease.
Detailed instructions for Linux distros – Ubuntu, Debian, Fedora and CentOS – can be found here.
Windscribe ROBERT (R.O.B.E.R.T.) DNS & IP blocker
In your Windscribe account, you'll see an interesting feature called R.O.B.E.R.T. – a DNS and IP-level blocking tool.
With R.O.B.E.RT. you can set up custom block lists directly form your account dashboard to protect your device against malware, ads, trackers and cryptomining scripts – all of which degrade your privacy as well as use up your data and CPU.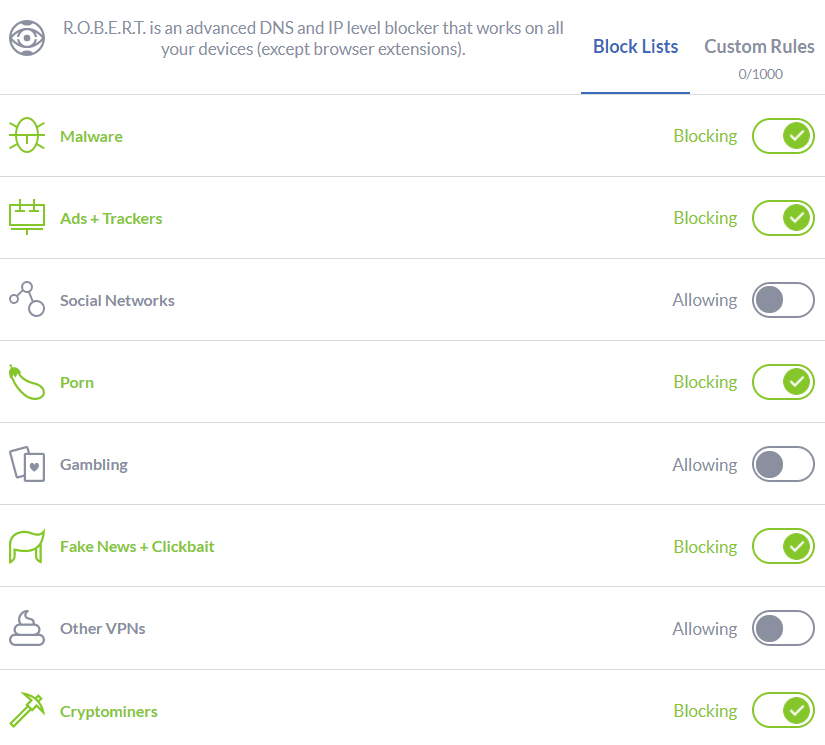 You can also use it for parental control to block out adult content, gambling sites and even resources known for distributing fake news using the Steven Black domain blacklist repository.
Port forwarding with a static IP address
Windscribe supports port forwarding, for which you'd need to buy a static IP address as an add-on.
You might want to use port forwarding to access your devices remotely or for hosting online gaming.
However, note that port forwarding is still widely regarded as a privacy risk, hence why few VPN services offer this feature.
Windscribe Netflix – does it work? (Yes)
Windscribe VPN is perfectly compatible with Netflix, and the service even runs dedicated servers for unblocking regional Netflix libraries in the US, Canada, UK and Japan.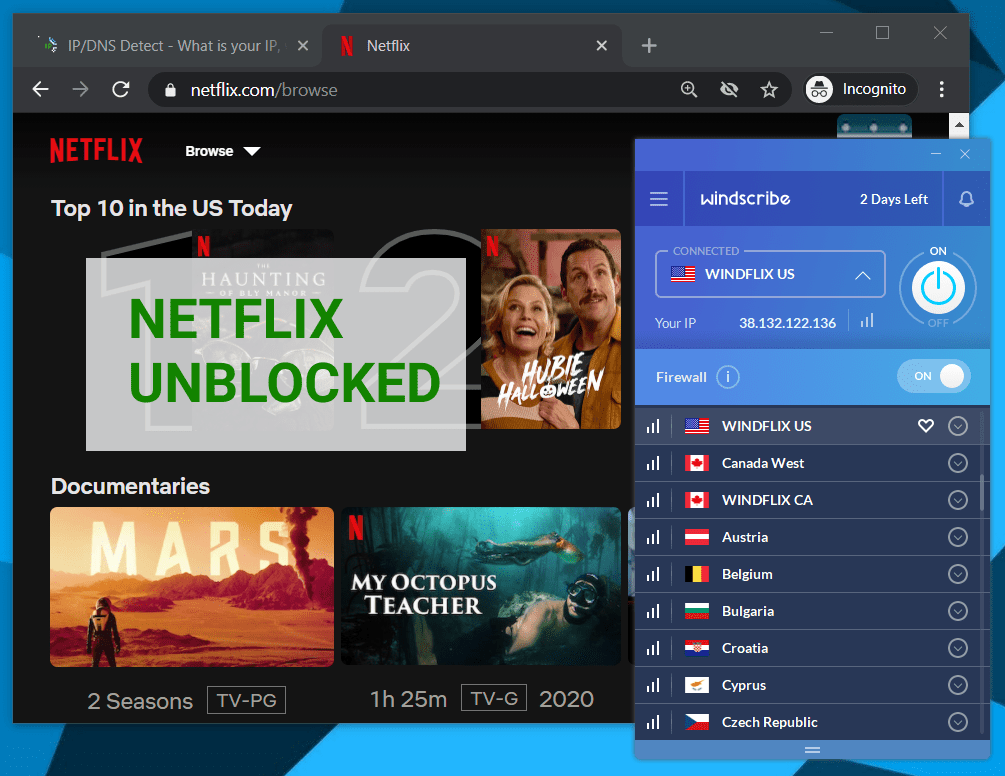 As you can see, my test shows I was able to access Netflix US from my non-US location by connecting to the special, optimised WINDFLIX US server.
Note that the WINDFLIX servers are not available on Windscribe's free plan.
Now, I also tried doing this with one of the free, non-optimised servers using Windscribe's Chrome extension. And I had success with unblocking and streaming Netflix.
However, these free nodes are pretty much guaranteed to offer slower speeds, plus their IP addresses are more likely to get blacklisted by Netflix, particularly as more people will be using the free service.
All in all, I had no problems with using Windscribe to watch Netflix in another country.
Windscribe torrenting – is it safe? (Yes)
Windscribe is a torrent-friendly VPN, allowing P2P traffic on the majority of its servers. The only exceptions being those nodes labelled with the 'P2P prohibited' badge.
But allowing P2P activity is not always enough to know the VPN is actually safe for torrenting. So, as a rule, I ran a quick torrent IP leak test to find out if my IP location was secure while torrenting through Windscribe VPN.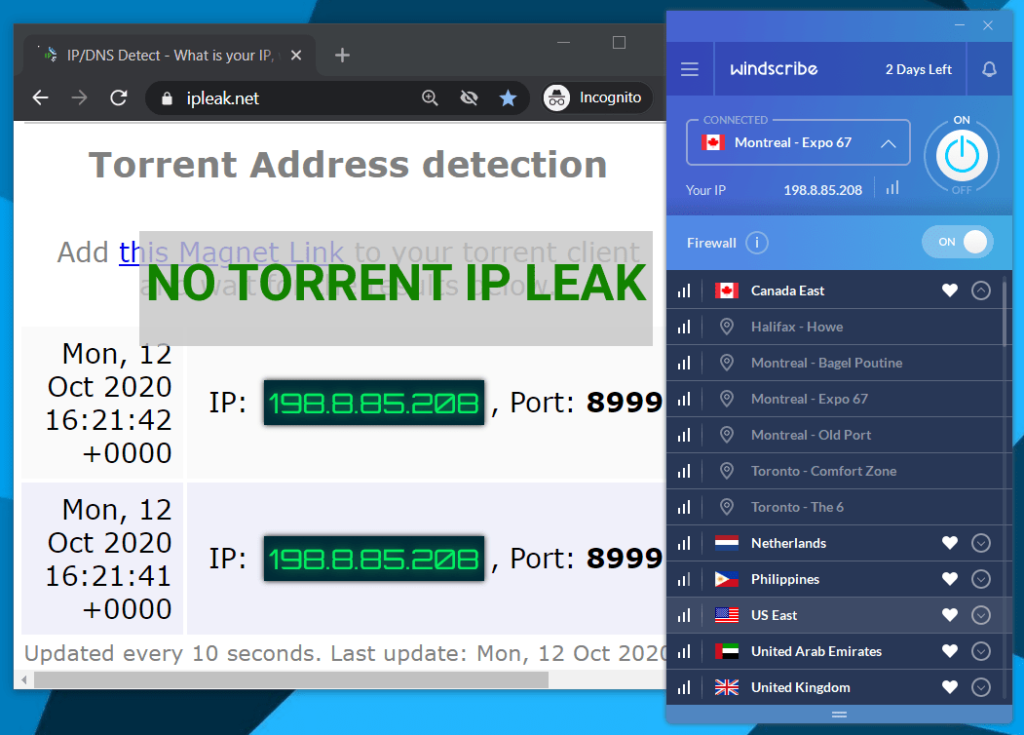 As you can see, my torrent IP matched that of Windscribe's VPN server, meaning my IP and location were not being leaked by my torrent client (qBittorrent).
So, I can conclude that Windscribe is safe for torrenting.
As a side note, always make sure to enable kill switch, so, in case the VPN connection drops, internet traffic on your device will be blocked – thus reducing the risk of any unprotected data.
Disclaimer: BestVPNz.com does not condone any unauthorised file-sharing or illegal activity related to torrents.
Does Windscribe work in China? (Yes)
Windscribe is one of the few VPNs known to give users success with accessing restricted web content in mainland China.
'Stealth' is generally the recommended VPN protocol to use, though it might also be worth trying Wstunnel as an alternative. Both of these protocols are available in the Windscribe VPN client.
If all else fails, you can access Windscribe's API using API Resolution directly in the client in order to bypass DNS altogether.
Windscribe vs NordVPN – which is best?
Let's see how Windscribe compares side by side with one of the biggest VPN services on the planet – NordVPN.
| | | |
| --- | --- | --- |
| | Windscribe | NordVPN |
| Price | Free | $3.71 /mo. |
| Logs | Limited | No logs (audited) |
| Jurisdiction | Canada | Panama |
| Top speed | 156 Mb/s | 340 Mb/s |
| Works with Netflix | ✅ | ✅ |
| Works in China | ✅ | ✅ |
| Torrents | ✅ | ✅ |
| No IP / DNS leaks | ✅ | ✅ |
| Smart DNS / proxy | ✅ | ✅ |
| Max. connections | Unlimited | 6 |
| Support | Email | Live chat, email |
| Website | Windscribe.com | NordVPN.com |
The advantages with NordVPN are clear – you'll get far better speeds and a verified no-log policy.
On the other hand, albeit a smaller company, Windscribe is not exactly a pushover, as with its VPN service you can take advantage of the free plan – which comes with 10GB of monthly data as well as an unlimited number of simultaneous connections.
Windscribe is definitely more of a niche VPN – and it's one of the reasons it's loved by many users.
But, if you're looking for a slicker, faster, more well-rounded service, then NordVPN is my recommendation.
Winner: NordVPN
If you want to find out more about NordVPN and how it works, check out our NordVPN review.
Windscribe support & customer service
Windscribe offers several ways to troubleshoot and get help when using its VPN. You can get technical support either by submitting an email-based ticket, using its web chat bot or by posting your issue on Reddit (r/windscribe) where you're likely to get a direct response from the Windscribe team.
Because the chatbot is fairly basic and isn't configured to provide in-depth answers to technical queries, I recommend exploring self-help guides and FAQs.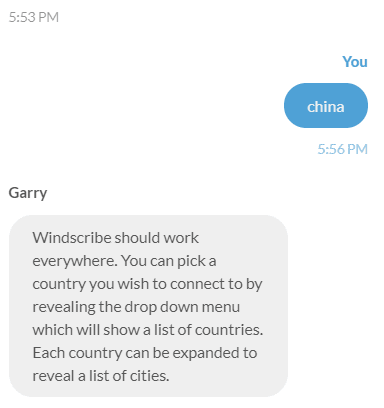 But if you actually need to speak to real person, you're much better off submitting a help request ticket with details about your issue.
And, based on my own experience, you're likely to get a same-day reply.
If you're a Reddit user, I definitely wouldn't look past the Windscribe subreddit, which has almost 20k members and is moderated by the provider.
Windscribe Reddit – subreddit & reviews
As mentioned earlier, Windscribe has a heavy presence and a decent following on Reddit.
Its subreddit (r/windscribe) has nearly 20,000 subscribers and is actually run by Windscribe.
There, you can easily post a question related to the service, and you're bound to get replies both from Windscribe and fellow users familiar with your query.
If you have more high-level questions that need answering, like "is Windscribe trustworthy?" or "is Windscribe safe to use", you can get a clear picture of what other Reddit users think, along with some healthy, comical gags from Windscribe themselves: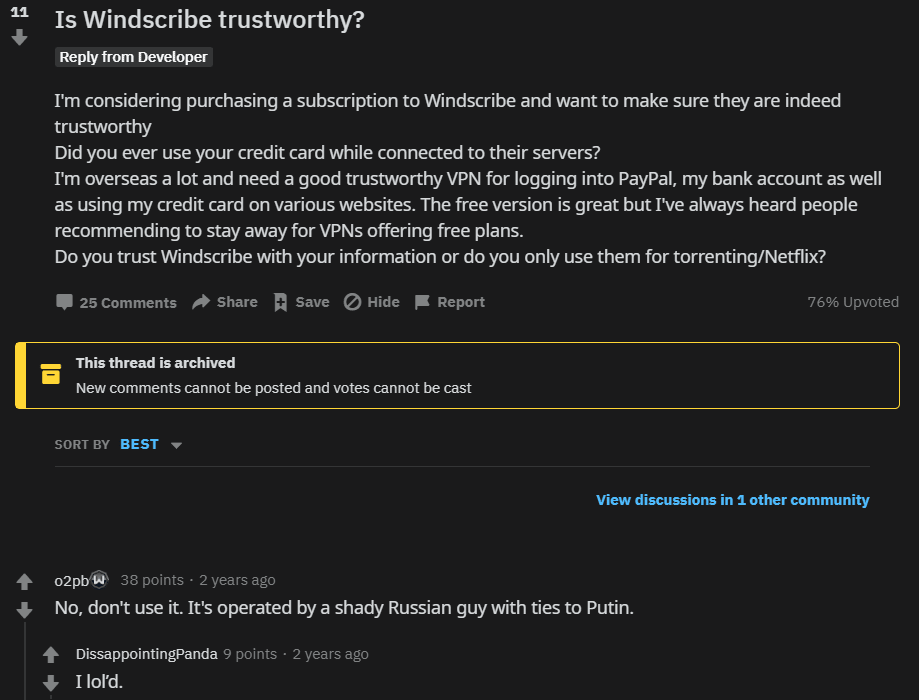 Actual users often post about their experience with Windscribe VPN in detail:
– I always have great (90-95% fullspeed) speeds on my favorite servers in Sweden, Luxembourg, the Netherlands, Switzerland and Austria.

– No disconnects and a stable VPN connection

– No identifying log-policy and transparency

– I appreciate having so many different locations to choose from

– Netflix US & UK works perfectly via the WINDFLIX servers

– Being able to connect as many devices as I want at the same time via the VPN

– The Windscribe app works perfectly on my MAC (not a single crash yet) and looks great, works well on my Android phone as well

– I feel like the suggested 'best location' has been greatly improved. Before, that usually didn't connect me to the 'best' (speed-wise), but now it works like a charm every single time. Did you change something here?

Source: user review on Reddit
So, when looking at most Reddit reviews, you'll see Windscribe is very much a respected VPN service with a legit following.
Windsribe review verdict (⭐ 8.8 / 10)
The most standout aspects with Windscribe are without a doubt its free VPN plan and the array of privacy features that you get with this niche, eccentric yet well regarded VPN service. Based on my own findings and insights from tests, I've rated Windscribe 8.8 out of 10.
Despite being based in Canada – a FVEY member country, Windscribe's logging practises are as about transparent as they can get. Though, this would be further boosted if its privacy policy gets an external audit, or if, as founder Yegor Sak once hinted, it one day enables public SSH access to its network.
Fast and reliable speeds test results over WireGuard and OpenVPN mean you should expect good performance.
Windscribe's excellent selection of privacy-enhancing features (e.g. ad & tracker protection, GPS spoofing), plus adequate support for streaming, torrenting and for usage on restrictive networks make this VPN a real gem.
What makes Windscribe great? 👍
Free VPN plan with 10GB of monthly bandwidth
Excellent privacy toolkit including the domain/IP blocking feature R.O.B.E.R.T.

No

IP or DNS leaks plus proven strong encryption
Dedicated Netflix servers
Works in China

with backup options in case connections gets blocked

Simple & compact applications including its proxy add-ons for web browsers
Unlimited connections based on fair usage policy
Transparent log policy
What needs to be improved 👎
Hasn't been audited

to 100% verify its privacy practises

Server network doesn't run on RAM-only (at this moment)
Windscribe alternatives
If Windscribe doesn't check all the right boxes for you, there are good, fully tested alternative VPNs I can recommend. Depending on what you prioritise the most in a VPN – more server locations or perhaps faster speeds – one of these high-end VPN services should fit the bill.
Our score
User rating
Our score
User rating
Price $3.75 p/mo
Pros
Based in Romania (privacy-friendly)
Lightning fast speeds
Advanced encryption & security features
Transparent log policy
Great for streaming & geo-unblocking
Works in China
Secure browser proxy extension
Our score
User rating
Our score
User rating
Price $6.67 p/mo
Pros
Audited no-log VPN
Based in the British Virgin Islands (no data retention)
Good connection speeds
Slick VPN apps
Strong encryption & security features
Allows torrents on all servers
I recommend VPN.ac if you still want a niche provider like Windscribe, but need even faster performance. And with VPN.ac, speed is certainly not an issue as my own test showed its maximum burst can peak in excess of 350 Mb/s (based on the same 500 Mb/s baseline connection).
ExpressVPN on the other hand gives you access to a huge server network with gateways in 90+ countries. It's not quite as fast as VPN.ac, but with an ExpressVPN subscription, you'll get a proven no-log VPN service. It's definitely a safe bet, only you'll be paying a premium price.
---
Leave your Windscribe review 👇
Are you a Windscribe customer or have used it the past? We want to hear about your experience. Share your Windscribe review with us in the comments below.